This article is about the event. For the episodes, see #HolbyRiot - Part One and #HolbyRiot - Part Two.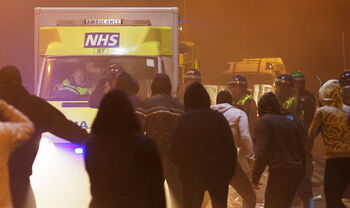 The Holby riots were a series of riots that occurred in 2012. The riots started after news became publicised of the death of Wesley Royce. Originally, it was only a planned memorial service for him, after he was tasered by a policeman after he was found to be in possession of a knife after recently being released from prison. The police were called after a disturbance where he had an argument with his girlfriend in his apartment, during which she hit him on the head with a knife block. (CAS: "Do the Right Thing")
After police started arriving at the memorial service, the people there started to get annoyed, and minor conflict escalated. When one of the people was apprehended, the rest of them rose into a full riot, growing in numbers and spreading across Holby. The riots resulted in an increased number of casualties admitted to the Emergency Department of Holby General Hospital. (CAS: "HolbyRiot - Part One") Eventually, the superintendent of police, Yvonne Rippon goes to the streets to meet Wesley Royce's girlfriend has agreed to meet her. In the end, his girlfriend never shows up, and Rippon decides to follow a youth who she believes is breaking into a shop. However, the shop owner mistakes her for a rioter, and stabs her and she falls down the stairs. (CAS: "HolbyRiot - Part Two") The next year, he admitted to it after she died.
References
Community content is available under
CC-BY-SA
unless otherwise noted.