This article is missing important information. You can help Holby Wiki by expanding it.
Adam Trueman (born 14 August 1970) is a consultant in emergency medicine who worked in the emergency department of Holby City Hospital from 2007 to 2011.
Biography
Early life
When Adam was a child, his parents were killed in a road accident. (CAS: "Bricks and Daughters") and his brother Alex Trueman was left severely disabled.
Adam graduated from St Peter's Medical School. (CAS: "A House Divided") At some point, Adam had a relationship with a woman named Sarah. When she and her family emigrated to Melbourne, they eventually ended up losing contact. (CAS: "Silent All These Years") Some time before September 2007, Adam started writing a book about his experience working as a consultant in NHS emergency departments. (CAS: "Meltdown")
Arrival at Holby City ED
On 15 September 2007, while Adam was jogging to Holby City Hospital's emergency department for his first shift, he encountered a woman named Lauren preparing to jump off the Lea Lane multistorey and managed to talk her out of it. Later that day, Adam shared a passionate kiss with Tanya Healy, a journalist for News Today and a witness to Lauren's suicide attempt, (CAS: "Meltdown") and divulged information regarding the department's handling of the bombing the week before. The next day, Tanya published an article that was highly critical of the department's performance which resulted in a visit from St James' Hospital's director of nursing and a colleague being pressured in resigning. (CAS: "No End of Blame")
In October, an online blog named Toxic Shark which disparaged the ED's staff surfaced, and Adam's colleagues believed that he was responsible. (CAS: "As One Door Closes...") Adam was determined to exonerate himself and reviewed recent patient cases to find the culprit. The evidence pointed towards F2 Toby De Silva, (CAS: "A House Divided") but it was eventually revealed that receptionist Terence "TC" Cockleton was responsible. (CAS: "How Soon Is Now")
On New Year's Eve, while Adam and HCA Alice Chantrey were taking a woman in labour named Marta to obs and gynae, the lift they were in stopped moving. As a result of Adam's claustrophobia, he was unable to assist in delivering Marta's baby and managed to talk Alice through the procedure. (CAS: "For Auld Lang Syne")
Developing relationship with Jessica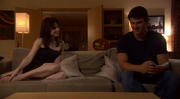 In January 2008, Adam met Jessica Harrison at his friend Thomas' engagement party and had a one-night stand. (CAS: "Adrenaline Rush", "Leave Me Alone") The next day, Adam was surprised to discover that Jessica was working in the ED as an agency nurse. After clinical nurse manager Tess Bateman asked the nursing agency to schedule Jessica for additional shifts in the department, Adam and Jessica agreed to maintain a professional relationship and forget about their one-night stand. (CAS: "Take It Back")
Despite this, their working relationship remained frosty, and their one-night stand continued to hang over their heads. (CAS: "Before a Fall", "To Thine Own Self Be True") However, in the middle of a difficult shift in April, Adam and Jessica had a heart-to-heart, and Adam invited Jessica out for breakfast. When Adam voiced his concerns about remarks that orthopaedic surgeon Sean Anderson had made towards Jessica, the two almost kissed, but Jessica pushed him away; unbeknownst to Adam, Sean was Jessica's husband. Nevertheless, Jessica accepted Adam's invitation, but she quickly changed her mind (CAS: "Someone's Lucky Night") and decided not to get involved with Adam any further. In spite of Jessica's declaration, and with the help of Alice Chantrey, Adam treated Jessica to engine-cooked brunch, and the two kissed. However, upon spotting Sean nearby, Jessica pulled herself away. Feeling played with, Adam demanded to know if there was something between them, and a tearful Jessica insisted that there wasn't. (CAS: "Walk the Line")
Following the incident, tension continued to build between Adam and Jessica, culminating in a devastated Adam weeping in the on-call room. Adam was confused about their incompatibility; Jessica kissed him and told him that they could not be a couple. Later that day, Adam was crushed when Sean revealed that he and Jessica were married. (CAS: "Love Is...") Jessica suggested that they move on, but Adam was unsatisfied by her lack of an explanation for deceiving him. After sniping at each other throughout their shift, Adam recommended that they keep out of each other's way, but the two ended up in each other's arms, marking the beginning of their affair. (CAS: "When Love Came to Town")
In June, while sleeping with Adam, Jessica missed a call from her childminder explaining that they were not available to pick her son Lucas up from school; when Jessica finally arrived to pick Lucas up, he was not there. In resus, Adam identified a young boy who had been involved in a road accident as Lucas and called a panicking Jessica in. Adam managed to reduce Lucas' displaced fracture, but Lucas' condition continued to deteriorate. Believing that God was punishing her for her affair, Jessica was willing to give Adam up so Lucas could live. (CAS: "Paradise Lost") The next day, after Lucas regained consciousness, Jessica pushed Adam away and told him that they could not continue their relationship. (CAS: "The Things We Do For...") However, after Zoe Hanna admitted at the inquest into Kris Kemp's death that she had been having an affair with Sean, Jessica told Adam that she still loved him, but she needed some time to process the revelation. (CAS: "This Mess We're In - Part Two") Jessica ultimately decided to stay with Sean for her children's sake. (CAS: "Farmead Menace - Part Two")
Apartment block fire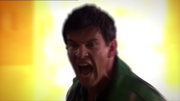 On 13 September, Adam was called to treat an elderly woman in a flat after she fractured her femur. However, a fire in the flat beneath caused a collection of gas canisters to explode, trapping Adam, paramedics Jeff and Dixie, and a documentary filming crew. Adam managed to rescue the burning flat's occupant and led the party up the apartment block, but they were forced back into the flat by an explosion. There, Adam and Jeff carried the woman on a stretcher while negotiating a fiery hole in the floor. Once they reached the flat window, they were rescued by the fire service. (CAS: "Farmead Menace - Part One")
Conflict with Nick Jordan
Once Adam returned to the ED from the burning apartment block, he decided to apply for the role of clinical lead, (CAS: "Farmead Menace - Part One") and Henry Williams — the hospital's director of critical care — assured him that he would get the job if he applied; Adam ultimately decided not to. (CAS: "Farmead Menace - Part Two") The following week, Nick Jordan was appointed the ED's new clinical lead and was immediately unimpressed by Adam arguing with other members of staff. (CAS: "Interventions")
Trivia
Behind the scenes
Tristan Gemmill portrayed Adam Trueman from his arrival in 2007 until 2011 on Casualty. In 2012, he appeared in a photograph.