Alice Chantrey (born 22 June) is a health care assistant and former receptionist who worked in the Emergency Department of Holby General Hospital from 2006 to 2010. She was transferred to the ED as a receptionist when she lost her job at North Wyvern Trust. She held the position for just over a year before moving on to become a health care assistant in the department. She left the hospital in May 2010.
During her time in the department, she built relationships with many of the staff. In late 2008, she began dating paramedic Curtis Cooper, but the following year just as they were about to get married he died whilst saving her from Callum Malone. This had a huge impact on both her personal life and career, and it was partially responsible for her departure the following year.
As of August 2016, she was working as a nurse, having presumably undergone further training from her existing knowledge as a health care assistant.
Early life
In around 2001, Alice's father passed away which caused her whole worlds to fall apart. This left her at home with her overbearing and emotionally needy mother, Julie. As a result, Alice surrounded herself with plans as a reminder of her dad who was passionate about plants and his greenhouse. Prior to starting work at the hospital, Alice worked in the archives department as North Wyvern Trust but was transferred to Holby ED after the department was disbanded.
Time in the Emergency Department (2006-10)
On her first day, Sam showed her the ropes of the reception area as her new receptionist for a four week trial. In the weeks after her arrival, Alice started to develop a soft spot for Guppy but was disappointed when he kept calling her Alex. The following month, Alice was preparing to pack up her plants and leave as she was sure that she wouldn't be offered the permanent position but to her surprise she was asked to stay on.
Charlie's anniversary (2016)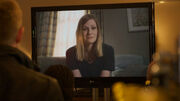 In August 2016, Alice recorded a video message for Charlie to congratulate him on his 30th anniversary. She thanked him for his support and friendship over the years, and said that he made her the nurse she was today.
Behind the scenes
Sam Grey portrayed Alice Chantrey on Casualty from 2006 until 2010. On 16 August 2016 it was announced that Grey would reprise her role as Alice in the 30th anniversary episode "Too Old for This Shift".
References