This article is missing important information. You can help Holby Wiki by expanding it.
Angel "Ange" Godard (born 1972/1973) is a consultant general surgeon who works on Holby City Hospital's Acute Admissions Unit as its clinical lead.
Biography
Early life
Ange was born in either 1972 or 1973 (HC: "Running") in Pollokshields, Glasgow.
In June 1986, while travelling to London to attend Wham!'s final concert at Wembley Stadium, Ange met a boy from Cheltenham named Jimmy, and the two had a one-night stand in a Bromley squat. (HC: "Pleased To Meet You") On 26 March 1987, at the age of 13 or 14, Ange gave birth to a son named Darren; she did not inform Jimmy about the birth. (HC: "Running", "Pleased To Meet You") In September, realising that she could no longer take care of Darren herself, Ange gave him away to two strangers — Carole and Barry Copeland. Each year, on Darren's birthday, Ange would "talk" to him, but this eventually became too painful for her, and she "buried" her memories of him in a shoebox. (HC: "Running")
Around the time that she began attending medical school, Ange was raped by an unknown assailant and gave birth to a daughter named Chloe nine months later; (HC: "A Simple Lie - Part Two") Ange could not face the pain of giving up another child and decided to "take control" and keep her. (HC: "Vinegar and Honey") While Ange was at medical school, her mother became Chloe's primary carer, and Ange did not become a major part of her daughter's life until Chloe was five years old. On Chloe's 12th birthday, Ange took her to a restaurant and explained the circumstances of her conception. (HC: "A Simple Lie - Part Two")
Arrival at Holby City Hospital
Around July 2017, Ange and fellow surgeon Tom Campbell-Gore began discussions with Holby City NHS Foundation Trust about opening a Young Adult Unit — a dedicated unit for young people aged between 14 and 24 — on Holby City Hospital's general surgical ward Keller. The plans were approved, and the unit was officially opened on 8 January 2019. However, when Tom collapsed in theatre and had to undergo coronary artery bypass surgery, Henrik Hanssen, the hospital's chief executive officer, decided to put the opening of the YAU "on ice" until Tom had fully recovered. However, Ange managed to convince Hanssen to allow her to lead the unit. (HC: "China Crisis")
Holly Cartwright case
On 29 January, Ange began treating Holly Cartwright — a 16-year-old girl with Marfan syndrome — for appendicitis. However, due to Holly's obstinance, Ange struggled to convince Holly to consent to an appendectomy and resorted to bringing in Chloe — her daugher and a cardiothoracic surgeon who bonded with Holly during a previous hospital admission. Holly eventually consented, but the appendectomy revealed that she also had an abdominal aortic aneurysm. (HC: "Mad as Hell")
The following week, Holly was scheduled to undergo surgery, but she refused to give her consent until her father Michael visited her; unbeknownst to Holly, her mother Ruth had switched his phone number with hers. Knowing that Michael would never come, Ange managed to persuade Holly to agree to the surgery. However, during the aneurysm repair, Ange encountered a bleed which eventually resulted in Holly's aorta being left clamped for over 90 minutes. Although the surgery was a success, Ange ordered a precautionary head CT scan; the results confirmed her suspicion that Holly had suffered a hypoxic brain injury. Holly was subsequently put on a ventilator, and Ange warned Ruth that it was not guaranteed that Holly would wake up. (HC: "Force Majeure")
On 12 February, after Michael finally arrived from Australia, he and Ruth agreed to having Holly undergo tests for brainstem death. Although the tests came back inconclusive, Ange told Holly's family that her chances of recovering were "extremely remote" and presented them with the option of turning off her life support; Ruth insisted that Holly was still alive and demanded that she continue receiving treatment. Eventually, Michael also advocated for Holly being kept on life support. (HC: "Good Side")
By 19 February, Hanssen, on behalf of the hospital trust, told Ange that Holly's parents needed to understand that it was time to "let go", but Ruth refused to listen. The situation was complicated further when Ruth and Michael got in contact with the spurious Keyson Institute of Medicine in Virginia who offered to enter Holly into an experimental drug trial. After Ruth and Michael requested that Ange be taken off Holly's case, Ange spoke to Michael, who she realised had doubts, and got him to accept that Holly was never going to recover, but her efforts proved futile when Ruth decided to go to the press. (HC: "Never Say Never")
As attention towards the case grew, Ange began receiving threatening text messages, and a protestor attempted to throw an egg at her, but Ange was steadfast in her refusal to acquiesce to mounting public pressure. Nevertheless, Serena Campbell, the hospital's medical director, proposed that Holly's case be taken to court so the hospital would be taken "out of the firing line". (HC: "Guts") On 5 March, when the hospital's computer systems were crippled by a virus, Ange vehemently opposed moving Holly to another hospital and physically prevented her from being moved, believing that she would likely die en route. Before Holly could be moved from ITU, the computer systems rebooted. (HC: "Powerless")
On 12 March, as public backlash against the hospital increased, Ange became an evermore prominent target for abuse, both on social media and in real life. When news circulated about the High Court siding with the hospital, Ruth made a statement promising to appeal the verdict, resulting in a protestor throwing cold tomato soup at Ange. Ruth and Michael agreed to speak to Ange in ITU, and Ange managed to persuade Ruth to let Holly go. Ruth finally agreed to take Holly off of life support, and Holly died shortly after. Despite Holly's death, Hanssen informed Ange that several credible threats against her life had been made after her personal information was leaked online, and she was escorted to a safe location by police. (HC: "A Simple Lie - Part One") However, Ange later returned to the hospital after learning that Theo — the son of the hospital's director of nursing, Adrian Fletcher — had been abducted by a protestor and rushed to help Fletch when it transpired that Amira Zafar, a former nurse and a patient who Ange treated at the Royal Marshall, was responsible. On the roof of the hospital, Ange persuaded Amira to release Theo and promised to get her support. (HC: "A Simple Lie - Part Two")
Familial fallout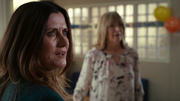 On 26 March, Ange recognised Carole Copeland, the mother of registrar Dominic Copeland, and demanded to know why she was the hospital; to Ange's horror, she soon discovered that it was Dominic's birthday and realised that Dominic was her son. Having not told Dominic that he was adopted, Carole begged Ange not to tell him, but Ange was furious with Carole and ordered her to stay away from her. Overwhelmed by the day's revelations, Ange called Tom Campbell-Gore in the evening and asked him to find her another job away from Holby. (HC: "Running")
The next day, Carole informed Dominic that he was adopted. When Dominic broke the news to Ange, she lent him her shoulder to cry on and assured him that his biological mother likely still loved him and that Carole and Barry had raised him well. However, Dominic did not recall himself telling Ange his father's name and soon realised that Ange was his biological mother. Later that night, a bewildered and grief-stricken Dominic pushed both Ange and Carole away and asserted that he wanted nothing to do with either of them. (HC: "Ask No Questions")
After discovering the truth about his family, Dominic could not look at Ange without feeling tormented and felt inclined to tell Chloe about their relation, but Ange urged him not to and claimed that Chloe was far more vulnerable than she seemed. When Dominic's working relationships with Ange and Chloe began to suffer, Dominic tried to ask Hanssen for a transfer to the Acute Admissions Unit but was unsuccessful. Later that day, Ange pressed Dominic to continue working on YAU and told him that she wanted to get to know him better. After Ange opened up to Dominic about his early life, Dominic decided to remain on YAU, albeit for himself rather than for Ange. (HC: "The Family Way")
Although Ange and Dominic managed to maintain a cordial relationship, Ange felt sympathy for Carole and encouraged her to apply for the vacant receptionist job at the Wyvern Wing reception to help "build a bridge" between her and Dominic. (HC: "North and South") However, Dominic misinterpreted Ange's involvement as an attempt to "put [him] back in her box" and told her that he did not want to have a relationship with either her or Carole. After Ange and Carole agreed to help each other find common ground between them and Dominic, Ange opened up to Dominic about his biological father Jimmy, inspiring Dominic to improve his relationship with her. (HC: "Pleased To Meet You") However, when Chloe returned from a holiday with her boyfriend Evan Crowhurst prematurely, Ange admitted to Dominic that she was actively trying to avoid him for Chloe's sake. When Dominic angrily accused her of trying to placate him and holding Chloe to a higher regard, Ange told Dominic that Chloe was conceived through rape, and she did not want it to "define" her. Dominic was still keen to tell Chloe about their relation, but Ange told him that it would exacerbate the situation and claimed that she was not willing to "bargain" with him. Dominic agreed not to tell Chloe and to give Ange time to process the situation, but Dominic asserted to Ange that he would not allow her to "abandon" him again. (HC: "Vinegar and Honey")
On 7 May, Ange decided that it was time to tell Chloe about Dominic and planned to discuss it with her that evening over dinner, but Evan, who was working on Keller as a locum, forwarded an email exchange between Ange and Dominic to Chloe. After Carole accidentally revealed to Chloe that Ange was Dominic's biological mother, Chloe refused to speak to Ange. (HC: "Ex Marks the Spot") When her relationship with Chloe continued to worsen, Ange reminded Dominic that he already had a family in Carole, Barry and his husband Lofty, and that Chloe needed her more than him. Coupled with the news that Lofty had recently cheated on him, being pushed away by Ange led Dominic to contact his abusive ex-partner Isaac Mayfield. (HC: "The Wrong Horse")
The following week, Isaac accompanied his father Jon to AAU when the latter needed an embolectomy. After finding out about Isaac's history with Dominic, Ange threatened Isaac if he ever attempted to contact Dominic, but this led to Isaac deducing that Ange was Dominic's biological mother. During a confrontation on AAU, Isaac revealed Ange and Dominic's relationship to their colleagues. (HC: "Unredeemed") Isaac was later arrested after he assaulted Lofty. (HC: "Over My Dead Body")
Blossoming relationship with Fletch
In May, after doing paperwork and having a drink at Albie's together, (HC: "Bloodline") Ange and Fletch began to grow closer. (HC: "Pigeon") However, on the day of their first official date, Hanssen instructed Fletch to warn Ange that the hospital board was going to crack down on her asking other members of staff to volunteer in completing unscheduled electives. Despite Fletch forcing her to comply with his proposal of a volunteer roster, Ange was still willing to go out on a date with him, and the two ended up sharing a kiss. (HC: "Kiss Kiss")
Chloe's situation with Evan
In July, the tension between Ange and Chloe started to alleviate. However, when Evan was stabbed by a patient, he insisted on marrying Chloe before undergoing surgery. Ange found the situation ridiculous and advocated for prioritising Evan's survival over waiting for the chaplain, but Chloe was keen to honour Evan's wishes, and the two were soon married. (HC: "Reckless") However, a series of suspicions led Chloe to contacting a woman named Sophie who was listed as Evan's next of kin and finding out that she was previously married to and had a family with Evan. Chloe ended the relationship (HC: "Honeymoon") and sought a divorce, but Ange urged Chloe to involve a solicitor and persuaded Chloe to delete Evan's messages from her phone. (HC: "Things My Mother Told Me") However, Evan continued trying to contact Chloe and entered her flat without permission. (HC: "When Worlds Collide")
Ange supported her daughter and turned down dinner with Fletch when he sympathised with Evan. (HC: "Work-Life Balance") Upon witnessing Fletch shaking hands with Evan after delivering the contents of his locker, Ange was furious and, when Fletch began concurring with Evan's claims about her attitude towards men, broke up with him. (HC: "Where Does It Hurt?") In September, Fletch continued to defend Evan's actions. After hearing Ange talking to the police about Evan, Fletch offered Chloe his support, but he paradoxically decided to meet up with Evan at Albie's. Ange felt that Fletch had betrayed Chloe's trust, but Fletch was deliberately getting Evan drunk in an attempt to find evidence of him stalking Chloe. After it was discovered that Evan had planted cameras around Chloe's flat, Ange was grateful to Fletch, and the two decided to resume their relationship. (HC: "Gods and Monsters")
Later that month, Cameron Dunn lent Chloe the keys to his mother's cottage for a brief escape from the hospital and the situation with Evan. (HC: "Circle of Life") Evan followed Chloe to the cottage, and Chloe frantically tried to escape him, but Evan found Chloe hiding in a nearby field and raped her. Ange, upon hearing the terror in her daughter's voice over a phone call, rushed to the cottage with Fletch and found Chloe injured and Evan stabbed. Despite her wish to see Evan dead, Ange prevented Evan from the removing the knife in his chest and had Fletch drive them to the hospital. (HC: "Retreat")
Behind the scenes
Dawn Steele has portrayed Ange in Holby City since January 2019.