This article is missing important information. You can help Holby Wiki by expanding it.
Charles Robert "Charlie" Fairhead (born 26 January 1951) is a nurse who holds the positions of emergency nurse practitioner and senior charge nurse in the emergency department of Holby City Hospital. He is the longest-serving nurse of the ED, having started working there in 1986. Charlie has a background in psychiatric care and completed a trauma nursing course which led to him working at the ED of the hospital. Prior to arriving at Holby, Charlie gained experience elsewhere working as a staff nurse.
He used to have one of the most stressful jobs in the ED but stood down to spend more time with his son, Louis. He took a sabbatical and then a demotion to do this. When he started at the department, he was a charge nurse and he held this position until 2003 when he was promoted to band 7 senior charge nurse, a position he still currently holds. In 2005, he was also given another role of emergency nurse practitioner.
He was married to Barbara "Baz" Wilder for three years and they had a child together, Louis. He has been romantically involved with several women in the past, but this was the only significant relationship. In recent years, his top priority has been his son, as he has found himself needing Charlie's help on several occasions including rescuing him from Romania, helping him come off heroin and giving him a deposit for a flat he wanted. Despite the fact Charlie wants to help Louis, he has had trouble trusting him in the past and therefore has a hard time doing so now.
During his time working at the emergency department, Charlie has seen nearly all staff members come and go since 1986 including his ex-wife Baz, his good friend Tess Bateman and Martin Ashford. In 2016, Charlie became engaged to staff nurse Lisa "Duffy" Duffin and they married the following year.
Biography
Early life
In 1964 during Charlie's childhood, his mother passed away, and his father remarried. Charlie first went into nursing in 1972 at around eighteen years old. At age nineteen in early 1974 Charlie first visited the emergency department of Holby City Hospital at which point he decided that he wanted to work there. (CAS: "A Child's Heart - Part One") (CAS: "A Child's Heart - Part Two") He started working in the ED in August 1986. By September, he had been promoted to charge nurse. (CAS: "Gas")
For the beginning of his career as a charge nurse, he worked closely with Baz Wilder, a doctor in the ED. Their romance began in October, but she soon told him that she couldn't commit to a proper relationship. (CAS: "Professionals") That November, they worked together to save the life of a drowned boy, but were later shocked to see the arrival of one of their staff who had been injured. (CAS: "Drunk") In mid-December, Baz discovered that she was pregnant but had an abortion without telling Charlie. (CAS: "No Future") The following week, she admitted the truth to him as a result of all the rumours flying around. He was initially shocked and angry but she told him that she didn't regret it. (CAS: "Survival")
Just after Christmas, Charlie noticed that the department was lacking Christmas cheer, and set up an impromptu pantomime for staff and patients to enjoy. This was a result of the threat of closure of the night shift that the ED had been facing, but the pantomime cheered everyone up, and the night shift eventually didn't close. (CAS: "Closure")
In September 1987, Charlie received a note from Baz telling him that she'd left Holby for a new job. On the rebound from her, Charlie spent the nights with staff nurse Karen but later informed her that it was a one-off. (CAS: "A Little Lobbying") The following month, Charlie continued to uphold his respected attitude in the ED but encountered hostility from some cavers when they were admitted in the ED following an accident. Matters were only made worse when Charlie narrowly avoided falling down an underground crevice in the cave himself. Despite the hostility he initially got from the cavers, the other staff soon stepped in to help and the situation diffused. (CAS: "Lifelines") On Halloween, Charlie received a letter informing him that he had won £5000 on the premium bonds. He initially wanted to treat himself to a Cadillac but opted for a £600 Land Rover. (CAS: "Cross Fingers") Later in the year, Charlie treated an elderly lady who was on the list for an operation. Out of kindness, Charlie decided to go the extra mile to make sure she got it in time. (CAS: "Rock-a-Bye-Baby")
Following the arrival of David Rowe in 1988, several disputes occurred between him and Charlie. Notably, they saw conflict regarding patient confidentiality. Charlie also took Duffy to see Peter's grave for the first time. (CAS: "Absolution") On Bonfire Night, hospital administrator Valerie Sinclair expressed concern to Charlie regarding the need for cutbacks in the ED, but Charlie was preoccupied with Kuba Trzcinski's threat of resignation. (CAS: "Inferno") Just before the end of the year, Charlie was able to help Valerie, but Kuba left the department anyway. He later asked Valerie out on a dinner date, to which she accepted. (CAS: "Caring")
In 1989, nurse Cyril James became annoyed with Charlie after he didn't select him to get the ITU job. Also in September, Charlie told off Jimmy Powell, a porter. Jimmy pleaded with him not to tell the head of portering. (CAS: "Accidents Happen") Charlie later caught Megan taking Valium and urged her to stop as both her friend and colleague. (CAS: "A Grand in the Hand") In October, Charlie learned that it was Queens, not Holby, that was being chosen for the new trauma centre, much to his disappointment. (CAS: "Victim of Circumstances") Later in the year, Charlie faced more issues from Valerie, after he complained at her about the bed shortage. (CAS: "Deluge")
Almost a year later in September 1990, Charlie was saddened to hear about the death of one of his close friends after he collapsed and died after recovering from a broken leg. (CAS: "Results") He soon started drinking after becoming depressed and relied on Megan to advise him. (CAS: "Close to Home") His emotional distress continued through much of the following month. Things only worsened for Charlie, as in October he witnessed a lorry crush a man on his way to work. He travelled with the man in the ambulance, but he later died. (CAS: "Hiding Place")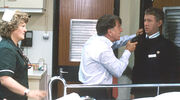 Later in October, Charlie allowed a drunk man to sleep in a cubicle, much to Julian and Ash's disapproval. When another seemingly drunk person came in, Charlie sent him to the other cubicle but it was later found out that the man was diabetic and had a hypo. (CAS: "Salvation") Megan expressed the risks of heavy drinking after Charlie brought in a friend after he had cut his wrist on broken glass. (CAS: "Say it With Flowers") Just before Christmas that year, Charlie was wounded when a schizophrenic man shot him in the chest in a panic when he saw a policeman. Having just murdered someone, the man was getting Charlie to dispose of the body whilst holding Megan hostage. After being shot, Charlie was quickly treated and suffered no major damage. (CAS: "A Reasonable Man")
In September 1991, Charlie took a liking to a social worker, Trish Baynes, who he met at a counselling session. (CAS: "Humpty Dumpty") They had a few dates but Trish didn't like the fact he was obsessed with his job and they stopped seeing each other. In October, Duffy and Charlie warned student nurse Kelly Liddle about her lax attitude at work. (CAS: "Living in Hope") The following week, Charlie talked to her again but she ended up crying in the toilets. When she got home, she took a lethal cocktail of pills and vodka, killing herself. (CAS: "Making the Break") The team were all devastated to hear about her death. (CAS: "Sins of Omission") In November, Charlie clashed with Julian over the ethics of organ donation.
In February 1992, disaster struck at Holby International Airport after a plane full of holidaymakers returning from Greece crashed into an embankment. Back at the ED, Charlie assisted in the mass casualties being admitted as a result of the accident through the night. At the end of the stressful shift, Ash and Charlie pondered about the future success of Holby General as a trust hospital. Charlie later reunited with Trish and suggested that they get married, but she just walked away. (CAS: "Cascade")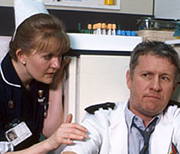 Later in 1992, the hospital's general manager Simon Eastman visited the ED and allowed Charlie to go ahead in hiring new agency nurses, but the job proved more difficult than he had first expected. (CAS: "Profit and Loss") Charlie started to find himself more withdrawn and lonely, and Duffy invited him to have Christmas dinner with her. Following a series of bad experiences through the new year, Charlie was diagnosed with depression by a psychiatrist in 1993 and even walked away from Ash's celebratory drinks after he was promoted to a senior staff nurse. (CAS: "Dividing Loyalties") After a shift, he argued with Duffy, messed up his office and later collapsed on the floor from stress. (CAS: "Child's Play") At the end of February, some troublesome youths set fire to the ED. Following a death, Charlie vowed to repair the damage done to the department. (CAS: "Boiling Point")
In Autumn 1993, clinical nurse specialist Ken Hodges took a romantic interest in Charlie, and upon realising that Charlie didn't feel the same way, told him they shouldn't be friends anymore. (CAS: "Good Friends") Charlie was upset by this. A few weeks later, Charlie was ordered to tell Ken he no longer had a job, something he found hard to do. (CAS: "Kill or Cure") Charlie was later left upset when his close friend Duffy chose to quit the department. (CAS: "The Good Life") At Christmas, Charlie was still missing Duffy which caused him to be short-tempered. However, Charlie later relied on porter Frankie Drummer's quick actions to save his life with the Heimlich manoeuvre when he started to choke on a piece of bread. (CAS: "Comfort and Joy") On his 40th birthday in February 1994, Charlie turned up to work out of uniform and threatened to resign. He was also left questioning why he entered the nursing career and even wrote a letter of resignation, only to throw it away after. Shortly after, he was given more self-confidence after he was able to get a gun off a suicidal man in the ED who had caused the department to be evacuated. (CAS: "Hidden Agendas")
In September 1994, Charlie applied for the Contracts Manager post and learned he had been successful but still turned down the job. (CAS: "Blood's Thicker") The following month, Charlie noticed that Mike was being snappy with the rest of the staff, but he later revealed that his wife had left him. (CAS: "Keeping It in the Family") However, on Christmas Eve, Mike was invited to spend Christmas with Rachel, which Charlie witnessed. (CAS: "Talking Turkey") In January 1995, Ash asked Charlie and Mike to be character witnesses in his court case, after he lashed out at a patient who was in possession of a knife, but other people failed to see it. (CAS: "End of the Road") In February, Charlie and Mike attended the court case. (CAS: "Trials and Tribulations") Following this, both Mike and Ash took temporary leave and a locum consultant was hired to fill in for them. However, to Charlie's surprise, it was his former lover, Baz, who left the department almost 9 years ago and had remarried. (CAS: "Branded") Charlie later confided in Kate about his history with Baz. (CAS: "Exiles") In March, Charlie agreed to join Baz and her husband Peter for dinner. (CAS: "Not Waving but Drowning") When Charlie turned up, he was annoyed to discover that Baz had actually invited him to a large dinner party. However, Charlie took Baz back to his place instead of the party and they kissed. (CAS: "Duty of Care")
Later that year, Mike returned to the department, with his marriage over for good and Baz continued having an affair with Charlie. (CAS: "Family Values") He was later left feeling guilty when he met Peter, Baz's husband, and liked him. (CAS: "Sacrifice") Nevertheless, Charlie was annoyed to witness Baz and Peter enjoying an anniversary meal. (CAS: "Halfway House") In October, Charlie later tried to end the affair with Baz, but she took him back to her flat and seduced him. (CAS: "Turning Point") He called things off with her again when she cancelled a date to see Peter's mother. (CAS: "Battling On") However, in November Baz told Charlie that she had left Peter. (CAS: "Release") Charlie later attended a ball with his new romance Zoe, along with Baz and Peter. That night, Baz also discovered that she was pregnant and said that she was leaving Peter. (CAS: "Lost Boys") In January 1996, Baz told Charlie that she was pregnant and that he was the father, much to his shock. (CAS: "Land of Hope") After this, Charlie decided enough was enough and prepared to tell Peter about the affair and the pregnancy but Baz told him before Charlie could. (CAS: "Asking for Miracles") Following the wedding of Martin Ashford and Laura Milburn, Baz showed Charlie the first ultrasound of their baby. (CAS: "Night Moves")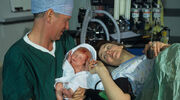 That September, Baz was heavily pregnant and in the maternity ward and Charlie was jumping between the ED and being by her side. Eventually, their son Louis Charles was born via caesarean. (CAS: "Chain Reactions") The following week, Charlie interviewed for a new staff nurse position and decided to hire Sam Colloby. (CAS: "Relative Values") Baz and Charlie later hired a nanny, Margaret, to look after Louis. However, they later discovered that she'd been mistreating Louis and even tried to smother him. (CAS: "Tall Tales")
In January 1997 a female patient became uncomfortable around Charlie when he attached ECG wires to her chest, and decided to make a sexual harassment complaint. (CAS: "Tall Tales") Shortly after, Charlie and the rest of the staff were interviewed by personnel regarding the incident, and Charlie was ordered to take a temporary leave. A reporter later tried to get in to see him by acting as a patient, but Baz realised and kicked him out. (CAS: "Déjà Vu") Charlie returned to work in February having received a formal reprimand. (CAS: "Make Believe") In September, Charlie was left worried about Baz and Louis when a bomb went off in a van whilst she was out shopping. However, he was relieved to find out from Penny that she was at the scene attending to casualties. (CAS: "Give My Love to Esme")
In October, an elderly woman named Hannah was admitted after having a heart attack. She arrived in the ED with her friend Phylidda, but Jack refused to resuscitate her as he believed she had a chance of survival. Charlie informed Phylidda that Hannah was dead but when Kate and Mark checked on her later they discovered that she still had a faint pulse. Phylidda walked in on an unsuccessful resuscitation attempt and Jack shifted the blame onto the nursing staff for the earlier mistake. (CAS: "Always on My Mind") The following week, Elliot asked Charlie for a statement on Hannah's death after Phylidda made a complaint, but Charlie soon began to realise that Jack had lied about what happened. (CAS: "Finders Keepers") The statements were found to conflict, and eventually, the truth surfaced (CAS: "Whatever It Takes") and Jack resigned. (CAS: "Bad Company") Despite this, Charlie ultimately sided with Mark when Baz revealed she was the one who made the complaint. (CAS: "Bad Company") Baz later informed Charlie that she didn't want him going on the holiday with them, and he returned home from his shift to find that they'd already left. (CAS: "Moving On") Charlie later joined them, eager to earn back Baz's acceptance. (CAS: "Power of Persuasion")
In mid-December, they both returned to work after their unsuccessful holiday where Charlie left after the first week. (CAS: "Love's Labour") Just a week after their return, Charlie and Baz were both put on the interview panel for the new charge nurse post. Things were still frosty between them and Charlie ended up spending his break with personnel officer Zoe Garrard. (CAS: "Facing Up") Things only got worse for Charlie as just before the new year, Baz told him that she was going to move in with her mother. (CAS: "The Golden Hour") The news of the break up soon became the gossip of the department (CAS: "Loco Parentis") and Charlie soon told Baz that he was moving out. (CAS: "Degrees of Separation") Towards the end of January, Charlie went for dinner with Zoe. (CAS: "Secrets") Just a week later, Baz walked out of work when she walked in to find Charlie and Zoe kissing. (CAS: "Love Me Tender")
In February, Baz found herself in a hostage situation when she went to see her solicitor and had to call Charlie for help. Shortly after, Charlie proposed to Baz and she accepted. The kidnapper tried to shoot Baz but was soon killed by a police sniper. (CAS: "We Can Be Heroes") At the end of the month, the date had arrived of Charlie and Baz's impromptu wedding. The wedding was forced to conclude early though as a fire had broken out at St Thomas'. They returned to work, but a gangster had hijacked an ambulance and run over a man and when Charlie went to help he was run over too. (CAS: "Everlasting Love - Part One") They both escaped with minor injuries and later that day the wedding went ahead as planned and Charlie and Baz got married. (CAS: "Everlasting Love - Part Two")
By September, Baz had got a new job elsewhere and Charlie went to visit her every weekend. Despite the strain it put on him of not seeing his son or wife, he was glad to have his old colleague Duffy back working in the ED. (CAS: "Internal Inferno - Part One") The following month, Charlie was on his way to work when a man summoned his help as his wife had been attacked by intruders. However, once at the hospital, they suspected that the husband had raped her but it transpired that a defendant's brother had tracked him down and abused his wife because he gave evidence at a court case for manslaughter. (CAS: "Public Service") In early November, Charlie reprimanded Eve after she booked her holiday and disregarded him. (CAS: "Next of Kin") Drugs also began going missing from the ED and Sam discovers it to be agency nurse Lee who's responsible. Sam later told Lee to leave, but Charlie confronted Sam at the Christmas party and was annoyed that he knew and didn't tell him. (CAS: "Miracle on Casualty")
In March 1999, a reporter annoyed Charlie by coming into the department and questioning him on the press leak regarding the department's closure. (CAS: "Love Over Gold - Part One") That September, the whole team including Charlie were shaken following Sam's attack which led to him falling from a balcony. (CAS: "Calm Before the Storm - Part One") Later in the shift, the staff were all forced to stay inside after a patient was admitted covered in radioactive waste. Also in the ED, Charlie felt sorry for a Marine, Jack, who was on the run for attacking his wife's lover but had just saved the life of a young girl's mother. He stayed with the girl as opposed to running from the police, something which Charlie admired. (CAS: "Calm Before the Storm - Part Two")
In October, Adam asked for Charlie's advice on applying for a nursing post due to the fact he had HIV. Charlie told him that if he declared the fact he would still have a chance of the job. After giving Adam advice, Charlie was forced to suspend Sunny after he hit a patient. (CAS: "Words and Deeds") Later in the month, Charlie heard that Eve was thinking of resigning. He went to look for her and tried to persuade her not to leave but she did anyway and hugged Charlie goodbye. (CAS: "Seeing the Light") In November, Duffy applied for the sister post and Charlie reminded Max not to give her any preferential treatment. He gave Duffy a hard time in the interview and when she confronted him after, they ended up kissing. Charlie saw through the window and wasn't impressed. (CAS: "Benny and the Vets - Part One")
Duffy soon realised that Charlie knew about her and Max, and he reminded her that she had a husband and kids at home. (CAS: "Sins of the Mother") This prompted Duffy to end things with Max. Max later confronted Charlie thinking he was responsible and told him that they couldn't be friends anymore. (CAS: "Looking After Number One") Duffy later thanked Charlie for being right and asked Max to apologise to him. Max did this but said to Charlie that he thinks he only ruined their relationship because he had feelings for Duffy himself. (CAS: "Free Fall") On Christmas Day, Charlie and Duffy were both on shift and Charlie was missing Louis so Duffy comforted him. (CAS: "Peace on Earth") After their new year's shift, Charlie asked Duffy if she wanted to go for dinner with him. She looked at him and he knew it was a no, but she kissed him and they headed off in separate directions. (CAS: "The Morning After")
In February, a regular patient, Leona, came into the department demanding to see Charlie. She kept missing her psychiatric appointments but Charlie finally persuaded her to go. (CAS: "Burned Out Hearts") Later in the month, Charlie was there to support Max following his son's death. (CAS: "Tough Love") In March Charlie was saddened when Tina told Charlie that she was leaving. (CAS: "Blood Brothers") Towards the end of March, Leona once again showed up in the ED wanting to see Charlie. Exasperated, he tried to avoid her but she continued following him trying to tell him her news. He managed to escape into the toilets where he suffered a pulmonary embolism which nearly killed him. (CAS: "Being There - Part Two")
Still on recovery leave, Charlie was contemplating what he really wanted from life whilst sitting on the waterfront when he met a young mum who was finding it hard to be a single mum. However, she disappeared when she went to buy an ice cream leaving Charlie with her baby. He eventually found her and took her into the ED with him. Upon arriving in the ED, Charlie was bombarded by questions from his colleagues about when he was going to be returning to work. The young mum whom he had come in with later tried to commit suicide but Charlie was able to stop her. His colleagues' demands led him to return to work the following week. He came back with a stern approach and soon informed manager Dan that he wouldn't tolerate money or policy issues coming before patient care. His approach to work left Duffy concerned about the effect throwing himself back into work was having on his health. (CAS: "Phoenix")
At the end of September, Charlie revealed to Duffy that following his split from Baz, she was moving to Canada with Louis, and he feared that Louis would forget him. (CAS: "Getting to Know You") In early October, a reporter heard from Holly that one of the nurses in the department had HIV and Charlie successfully persuaded her to stop him before it got out of hand. However, a patient overheard and sold the story anyway. Charlie and Dan discussed how to protect Adam from the press and when he arrived for work, Charlie showed him the front-page headlines. (CAS: "Too Tight to Mention")
Later in October Leona returned to the department presenting stomach pains. It later transpired that she was pregnant and later gave birth to a baby girl whom she named Charlie. However, the turn of events resulted in Charlie being late to Adam and Reuben's wedding, and it was only worsened by the fact he had the rings. (CAS: "Choked - Part Two") In the following weeks, Charlie was let down by his childminder and fatherhood started to become more stressful for him. (CAS: "Travelling Light") In November, Charlie took Louis to the local zoo as one of their last trips together before he flew out to live with Baz. However, the day soon turned into a nightmare when Charlie went to help a man who was having an epileptic fit and Louis wandered off. Charlie frantically began to search for him and eventually found another man looking after him. Once back from their trip, Charlie organised a surprise party for Duffy's 40th birthday. (CAS: "States of Shock")
A few weeks after the party, Charlie told Duffy that he was going to need some time off work to take Louis to Canada but was still dreading the thought of giving up his son. (CAS: "Starting Over") He later flew with Louis to Canada and returned in mid-December feeling down as Baz had met someone else and was asking for a divorce. (CAS: "A Turn of the Scrooge") Things only got worse for Charlie when Baz told Charlie that she'd only let him see Louis in Canada. Charlie was left feeling helpless until he treated a lawyer with a broken hand who encouraged him to speak with a family lawyer. (CAS: "Epiphany")
In January 2001, the ED was extremely busy and Charlie was inundated with complaints. He asked for Dan's help to find more beds but Dan said he'd only do it if Charlie implemented new hospital guidelines on patient delays. Although Charlie followed Dan's plan, it backfired and he was left to apologise to a number of patients. To add to Charlie's worries, a series of patients were admitted with a mystery disease which turned out to be Legionnaires disease. The outbreak was found to have perhaps come from the hospital, and Dan was annoyed when Charlie and Max contacted Public Health. (CAS: "Better Safe Than Sorry")
At the beginning of February Charlie went to see a solicitor regarding his custody case but she informed him that he didn't have much chance of winning his son back. Despite this, Charlie told Duffy that the news was positive even though he'd have to sell his house to pay the legal fees. (CAS: "Big Mistake") Two weeks later, Charlie went to court to discuss his application for custody but his solicitor again urged him to drop the application which left him disheartened. His day went from bad to worse when he arrived at work to find that a major incident exercise was taking place that he didn't know about. Charlie later decided to drop the proceedings against Baz as he didn't want to lose contact with Louis. Duffy attempted to cheer him up and asked him to supper. (CAS: "Scent of the Roses")
Later in the month, Charlie was annoyed to hear that due to budget cuts agency nurses were to be lost. He also blamed Dan for Duffy's earlier collapsed and claimed she was under too much pressure. When the ED became overcrowded later that day Charlie contacted the Director of Nursing who allowed him to shut down the hospital until the backlog of patients was cleared. (CAS: "Breaking Point") Dan wasn't happy and the two had a heated argument the following week. (CAS: "Lost and Found") In mid-April Charlie returned from another trip to Canada and told Max that Louis wanted him to stay, but he told him that his life was in Holby. By this time Charlie had also sold his house and was due to move into his new flat only to be told last minute that he couldn't have it. Left homeless, Max offered Charlie his spare room although Max's partner Amanda wasn't so keen. (CAS: "Mix and Match") Just weeks after this, Charlie had to break the news to Duffy, who was heavily pregnant, that her husband Andrew had been killed which left her distraught. (CAS: "Breaking the Spell - Part Two")
In September 2001, Charlie went to visit Duffy at home to see how she was coping following Andrew's death. However, she suddenly went into labour and refused to go to hospital and Charlie was forced to deliver the baby at her home. (CAS: "Holding the Baby") Later in the month, Charlie met a woman named Jan at a supper club held by a dating agency. They got on really well, but the following week Charlie discovered that she was his boss. Although Jan still wanted to see Charlie, he felt uncomfortable with the situation and turned her down at the end of their shift. Despite this, she encouraged him to apply for the clinical nursing specialist job. (CAS: "All's Fair")
In October, Charlie was left furious with Lara and Dillon after Lara broke hospital procedure and delivered a baby in the ED. (CAS: "Bringing Up Baby") Just weeks later Jan arrived to take a tour of the department and Charlie was concerned that everything may not go smoothly following the incident with Lara. Jan later questioned Charlie as to why they hadn't seen each other much lately and they agreed to go for a meal out. At the meal, Jan informed Charlie that he had got the job and reminded him that their work and personal life was completely separate and he didn't get the job on merit. (CAS: "Facing the Future")
Duffy's departure
In November, Charlie and Jan attended a charity dinner together but she was annoyed when he abused his position to have a rant about hospital issues. Despite this, they managed to later reconcile. (CAS: "For My Next Trick") Later in the month, Charlie's friend Leona once again visited the department worried about her baby who had developed some spots. Patrick concluded that it was the result of Leona overdressing her, after which Leona left with free nappies and wipes. Duffy was more concerned over the welfare of her Leona's baby. Charlie later argued with Jan over the hospital's security but she reminded him that they were on the same side. Also, Duffy broke down in front of Charlie because she missed Andrew. (CAS: "It's a Family Affair")
Near the end of the month, Spencer was attacked by an irate man and Charlie confronted Security Officer Mr Dobbs and Jan demanding extra security. However, he let it slip to Mr Dobbs that he was dating Jan, who proceeded to send an email to all the staff. Duffy was annoyed that she didn't know about the relationship and Jan eventually agreed to get some security. (CAS: "The Morning After")
In September 2002, Duffy confided in Charlie about Andrew's life policy money that she'd received. She didn't want the money but Charlie persuaded her that it's what Andrew would have wanted. (CAS: "Déjà Vu") Later in the month, Duffy's mother was brought into the ED with cancer and as her condition deteriorated she told Charlie that she wished not to be resuscitated. Although Duffy was upset about her death, she came to realise that Charlie simply did what she wanted. Charlie later clashed with Harry and Dillon over how to deal with an illegal immigrant who'd swallowed drugs. (CAS: "Judgement Day") The following month, Dillon grew annoyed with Charlie again when he called social services on a case involving a down syndrome mother. (CAS: "What's Love Got to Do With It?")
In November, Charlie discovered that Duffy was dating security guard Ryan Johnson and was left wondering why he was last to know. (CAS: "Return of the Native") Later in the month Josh confided in Charlie about his marriage problems. (CAS: "Gimme Shelter") Just before Christmas in 2002 as recently promoted clinical nurse manager, Charlie temporarily left the department, only to return with the same role the next month. In January 2003, Duffy told Charlie of her plans to marry Ryan and asked if he would give her away. (CAS: "Spiteful God") At the beginning of March, Charlie was unhappy about Selena's arrival in the department. (CAS: "Dire Straits") Towards the end of the month, Charlie was upset to hear that Ryan had run off with all of Duffy's money, so he offered her a place to stay with him. (CAS: "Side Effects") However, just two weeks later an apologetic Ryan returned to Duffy and asked her to go to New Zealand with him. Charlie wasn't pleased and Duffy found it hard to say goodbye to him. With Ryan having returned the money, Charlie and Duffy shared a kiss goodbye and she flew off to Auckland with him. (CAS: "The Point of No Return")
In September 2003, there was a major train crash in Holby and the team discovered that staff nurse Anna Paul had been badly injured. They managed to get her out of the wreckage and initially held back on telling her how ill she really was. (CAS: "End of the Line - Part One") Despite this, she knew they were holding back and Charlie told her the truth (CAS: "End of the Line - Part Two") and she died shortly after. (CAS: "Breathe Deeply...") The following month, still recovering from the events of the train crash, Charlie and Josh went AWOL for the day and went for a drink at the pub. (CAS: "Against Protocol")
Baz's return and death
In November whilst Charlie was on his way to the airport he bumped into Baz's father Kenneth leaving the hospital. He discovered that he had lung cancer and also that Baz had remarried. When Charlie met with Baz, things were awkward between them as he broke the news about her father's illness. Charlie was made to feel even more uncomfortable after Baz's new husband Dan Wilder arrived and walked away with her. (CAS: "Second Best") In early December, Charlie invited Baz to join him and Louis on their day out bowling together. However, Louis took a turn for the worst and ended up in the ED where Jim diagnosed him with a rare fever which panicked Charlie. Although Dan felt useless, Louis turned to him when he woke up. Following the eventful day, it was clear that something had been reignited between Charlie and Baz. (CAS: "Christmas Spirit")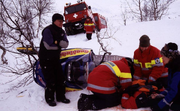 A week after the disastrous bowling trip, Louis was recovering and was told that he could go within the next week. Baz's father bought the whole family tickets to Lapland but the party mood was soon spoilt when a major RTC shout came in. (CAS: "Never Judge a Book") They all travelled to Lapland the following week once Louis had recovered, but Charlie and Dan found it very awkward around one another. Dan got very competitive over several family games, but when he later pulled a reckless stunt he got trapped under a ski mobile. Baz and Louis went for help, and Charlie was forced to think fast. He stemmed the bleed on Dan's leg and used his own body heat to keep Dan warm. During this time, Charlie admitted to Dan that he still loved Baz. Whilst Dan was recovering in hospital, Charlie and Baz shared an embrace under the Northern Lights. (CAS: "Eat, Drink and Be Merry") After Christmas, Baz informed Dan that she and Charlie slept together. In a rage, he stormed into the hospital and punched Charlie. (CAS: "I Got It Bad and Ain't That Good")
In January 2004, Baz reluctantly travelled with Dan to appease a defiant Louis but as his tantrum spiralled, Baz attempted to restore order in the car. In the commotion, Dan got distracted whilst driving which resulted in a car crash which Charlie witnessed whilst driving past. (CAS: "Ahead of the Game") Baz was left struggling for her life and after tests, they decided that it was time to give up. Dan and Charlie later clashed over organ donation and Baz's wishes. (CAS: "Where There's Life") Later in the month at Baz's funeral, Dan attempted to stake claim over Louis and announced his plans to bring him back to Canada. An argument ensued between them and Charlie threatened to contest custody. (CAS: "No Weddings and a Funeral") The following week, Charlie got an injunction to prevent Dan from taking Louis out of the country. He rushed out of work only to find that they'd already left, and ultimately caught him at the station and presented him with the court order. (CAS: "Emotional Rescue - Part One")
Charlie later took Louis to the department with him but realised that he hadn't been back there since Baz died. (CAS: "Emotional Rescue - Part Two") In early February, Charlie had a meeting with the children's welfare officer and began to doubt his worth as a father. (CAS: "Passions and Convictions") Later in the month, Charlie custody hearing was adjourned when Louis discovered his grandfather fighting for breath. He was rushed to hospital and Dan was granted custody, but on his death bed, Baz's father asked Dan to let Charlie and Louis be together. Unable to ignore this, Dan dropped the case when Louis told him he wanted to stay with Charlie. (CAS: "Taking Care")
Conflict with Jim Brodie
In May, Jim was covering as clinical director and was annoying everyone in the department by trying to implement new systems he had learnt in America. He discussed abolishing the three-hour rule with the hospital's Chief Executive, Helen Grant, but Charlie was furious with Jim's intended changes and confronted him. (CAS: "Breaking Point") The following week, a patient died in reception and Charlie was quick to blame Jim who'd just implemented unpopular changes in the department. However, Helen took Jim's side and Charlie, speaking for the rest of the staff, threatened industrial action. (CAS: "Don't Go There") Harry was horrified when he returned to work the following week to find that all the nurses were on strike. Although he managed to put the doctors' rota back to normal, Charlie felt betrayed and wrote his resignation letter. (CAS: "World Gone Wrong - Part One")
Sabbatical in Canada
By the end of May, Charlie felt increasingly disillusioned with the hospital procedures and systems, and Josh pleaded with him not to abandon his career. Charlie later got a call from Canada informing him that Baz's homeless project was in danger of losing funding, and needed to employ someone with nursing experience in order to keep it going. (CAS: "World Gone Wrong - Part Two") This ultimately led Charlie to take a six-month sabbatical to work on Baz's project. The staff all bid him a temporary farewell. (CAS: "The Good Father")
Claire Guildford and murder attempt
Charlie returned to work on New Year's Day in 2005, oblivious to the hospital explosion which occurred in his absence which resulted in Jim's death. Charlie also decided to cut down on his hours, leaving Tess to carry on his position. (CAS: "Secrets That We Keep") The following week as Charlie realised that it was nearly his birthday, he asked Bex to organise a party for him. (CAS: "Fathers, Mothers, Daughters, Brothers") Bex was busy preparing for his party in reception, and set the dress code as "come as you dressed when you were 18". (CAS: "First Do No Harm") Later in the month, Charlie received an email from a mysterious woman asking to meet him in the on-call room at 4.30 pm. Upon arriving there, he found Harry and they were soon interrupted by Selena who asked where the two old men needing assistance were. Luke and Woody appeared laughing, and Charlie and Harry realised that they'd fallen victims to a practical joke. (CAS: "The Cost of Honesty") The following week they tried to get their revenge on the paramedics after pretending that they'd need injections after getting parrot droppings on them. However, the plan backfired. (CAS: "Truth Will Out")
In March, Bex went home early after being tormented by Claire but when Charlie and Selena went to check on her they found her collapsed in the bathroom after a hypo. (CAS: "Animals") Later in the month, Charlie asked Claire if she wanted some time off, but she reacted negatively and assumed Charlie simply wanted her out of the way for Bex's sake. She later interfered with a patient's personal business and Charlie had stern words with her and advised her to consider his previous offer. Charlie later correctly diagnosed one of Selena's patients. (CAS: "Forbidden Love")
In April, Charlie tried to intervene in an argument between Claire and Bex after it was revealed that Luke was going out with Claire. (CAS: "In the Dark") During Pete's court hearing the following week, Bex and Charlie turned up to hear Pete's evidence. Charlie told Luke that he shouldn't be there with Claire and that she's being very courageous and as her ex-husband, he should show some loyalty. (CAS: "Desperate Measures") In May, Charlie couldn't find some patient records and Tess told Charlie that Sam destroyed them when he was ill. Charlie couldn't understand how this could have happened and clearly disapproved. (CAS: "A Question Of Loyalty") He later told them he wouldn't take the matter further on the day of Bex's court case. Charlie also worried that Bex was getting her hopes too high, and he was right when a verdict of not guilty was passed. (CAS: "Fat Chance")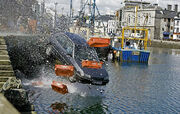 At the beginning of July, Pete was threatening Bex in an unusual corridor of the hospital. In defence, she pushed him down the stairs and he fell to his death. Luke and Charlie discovered them and urged Bex to leave. (CAS: "A Fathers Love") The following week, Luke begged Charlie to lie to the police about Bex's involvement and he reluctantly agreed. Claire later discovered the CCTV footage of Bex pushing Pete to his death and planned revenge. (CAS: "There Are Worse Things I Could Do") Towards the end of August, Claire convinced Charlie and Luke to go with her to scatter her brother Pete's ashes with her by the sea. However, she soon started to behave erratically and demanded to know what happened to her brother. Later when they all got in the car to go home, Claire deliberately drove off the harbour into the water. Luke managed to pull Charlie out of the water to safety but Claire didn't survive. (CAS: "Truth, Lies and Videotape")
Relationship with Helen
Following the dramatic car accident, Charlie took another sabbatical. He returned to the department in December 2004 when he attended the Trust's party with his girlfriend Helen. However, whilst there he got a call from the babysitter to tell him that Louis had gone missing. The couple headed home but on the way were involved in a tunnel collapse where Charlie tended to the injured and trapped. (CAS: "Deny Thy Father - Part One") Charlie was later reunited with Louis who was worried he'd been killed like Baz. Charlie and Helen later agreed that it would be best to split up for Louis' sake. Towards the end of January 2006, Charlie started to become suspicious of Bruno's dodgy dealings and he later started an investigation which led to his arrest. (CAS: "It's a Man Thing")
Involvement with Maggie
In February, Charlie tried to keep the Hepatitis B clinic open by handing out leaflets to prostitutes but got into trouble with an angry pimp and was arrested by the police. Josh later came to his rescue. (CAS: "Worlds Apart") In April, Louis skipped his youth club to go to a bike club with his friend Niall. However, he was admitted after a skating accident caused him a leg injury. Louis took a shine to Maggie and after Niall teased him that his dad was gay because he lived with Josh, he claimed that Maggie was his girlfriend. (CAS: "Going Under") The following week, Maggie received a romantic email from a stranger. She asked Alice to find out who was behind it and was surprised to find out it was Charlie. However, when she subtly tried to bring it up with him, she wasn't convinced that he knew what she was talking about. (CAS: "Blind Spots") Midway through the month, Maggie and Charlie went on a date but soon realised that they'd been set up and the culprit was Louis. (CAS: "First Impressions")
Conflict with Nathan Spencer
At the end of July, Nathan was on the warpath following his needle prick injury and blamed Sam. Charlie was furious when he discovered a tearful Sam packing up his locker and later told Nathan that he was a bully. Although he got on the wrong side of Nathan, Charlie wasn't bothered as he had stood up for Sam and what he believed in. Although he was packing up his locker, Sam later decided to stay at the hospital. (CAS: "Perfect Day")
Trip to Cambodia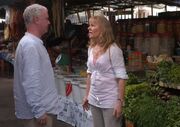 In September, Charlie headed to Cambodia with colleagues Guppy, Abs and Comfort to assist Duffy in the opening of a new clinic. Charlie had his doubts about Duffy's new boyfriend Mike which didn't go down well and the pair argued. (CAS: "Different Worlds - Part One") After some heated arguments, they finally made peace and Charlie revealed his feelings for Maggie. (CAS: "Different Worlds - Part Two") After returning from Cambodia by the following month, Charlie cancelled a drink with Maggie after he learned from Kelsey about her romance with Somnang. Meanwhile, he was involved in a tragic case involving a young boy who'd accidentally killed his baby brother. (CAS: "Sons and Lovers")
Fall-out with Josh
At the beginning of December, Charlie and Maggie were called out to the scene where a homeless woman had become trapped. Maggie later agreed to go out on a date with Charlie and Josh looked after Louis. Whilst looking after him, Louis fell over and cut his face and although Josh tried to help him, Louis lied to Charlie and told him that Josh had hit him. (CAS: "No Place Like...") The following week Charlie was still angry with Josh after believing Louis' story and failed to back him up with a patient's case. (CAS: "The Edge of Fear") Later in the month Louis went to visit Charlie at the hospital and ran into Josh. Charlie and Josh argued because he wouldn't apologise for hitting Louis and harsh words were exchanged. (CAS: "In Good Faith") Following Josh's stabbing, Charlie went to see him on Christmas Eve. Whilst Louis confessed to Charlie that Josh didn't hit him, Charlie simply told Josh that they shouldn't waste any more time arguing. (CAS: "Silent Night")
At Ellen's funeral just before the new year, Charlie persuaded Josh to do something pro-active with his time off work. (CAS: "The Sunny Side of the Street - Part One") The following day Charlie found Harry upset in his office and took him up to the hospital roof to chat. (CAS: "The Sunny Side of the Street - Part Two") In March 2007, Charlie shared an emotional reunion with Megan after she came into the ED with her ill grandson. (CAS: "Sweet Charity")
Disillusionment from the NHS
On 8 September 2007, Charlie was disappointed to receive a letter of commendation for his 35 years of service in the NHS and dismissed his colleagues when they presented him with a celebratory cake. Josh confronted Charlie for his disrespectful attitude, and he claimed that he thought it was a typical working day and that he failed to not let "them" win. With Josh's encouragement, Charlie prepared to apologise to Maggie, but new F2 Toby De Silva forgot to cap off a patient's tube, causing them to bleed profusely.
On his way home, Tess called Charlie and informed him that a major incident had been declared on Hesketh Road, and Holby City was the designated hospital. He reluctantly agreed to be put on the medical team and drove to the scene of the incident. Inside a destroyed shop, Greg asked Charlie to calm a young girl named Angela down, but Charlie instead berated her into silence. Outside, a woman named Nell asked for his help, but he became irritated when she urged him to treat an injured dog and left them. After a man named Denny commanded a patient whose intestines had been eviscerated to control their temper, Charlie thanked him and suggested accompanying the patient to the hospital, claiming that the walking-wounded were welcome if they were "on [their] side". Outside, Charlie allowed Toby to borrow his Morris Traveller to track down an ill child who had been taken by their hysterical father. Once Maggie informed him that they had been relieved of their duties, Charlie returned to the ED.
At the ED, Charlie was surprised to find one of Louis' primary school teachers Margaret Stubbs on the mezzanine complaining of back pain. He asked Guppy to write up a prescription for codeine and diclofenac and gave Margaret the medication. She thanked him for the pain relief and contended that he should have been prioritising the victims of the bombing, but he posited that "sometimes, procedure [could] go whistle". However, Margaret later went into anaphylactic shock, and Connie Beauchamp, who was in charge of running the department during the incident, reprimanded him for giving her unprescribed medication. Consequently, Tess told Charlie that she did not want him administering medication or treating category red patients and directed him towards cubicles.
After witnessing Nell collapse, Charlie took her into resus. Connie found that she had a heart murmur as well as suspected eczema on her hands and asked for chlorpheniramine, but Nell refused all medication. Soon, her hands and lip began to feel numb, and Maggie found that a small piece of metal had moved into her cerebral artery as a result of cerebral emboli and atrial septal defect, causing her to have a stroke on her left side. Fearing that the shard could damage her right side and kill her, the medics insisted on removing it as soon as possible, but Nell refused to be given medication that had been tested on animals. As she confirmed that she wanted to be allowed to die, she claimed that she "never meant for this to happen". After Charlie suggested that her hand injuries were chemical burns, they asked Nell if she had been handling explosives. She confirmed that she was, but she became stroked out on her right side before she could confirm there were more bombs.
Upon the discovery of an unattended rucksack, the entire department was evacuated, and Charlie was left to find Toby, who was not accounted for, and wait to the ITU team to collect Nell. However, he found Denny and Saeed Khan, the father of a victim of the bombing by Nell's bedside. Denny had removed all of Nell's tubes, citing her beliefs, and revealed that the bombs were intended for an animal testing facility. A furious Saeed threatened Denny with a scalpel for killing his daughter, but, with Charlie and Denny's encouragement, he relinquished it. Denny decided to kill himself, but Charlie led him to the staff room which was being used as a temporary mortuary. He stated that the victims' families and friends would want justice for their deaths, but Denny was adamant on not going to prison and prepared to slit his neck. However, when Toby suddenly woke up, Charlie restrained Denny and urged him to do what was right. After the three exited the hospital, and Denny surrendered to the police, Toby showed Charlie the damage to his car, and Charlie invited him to the pub for a drink. (CAS: "Charlie's Anniversary")
Bringing up Louis and resignation
In October, Marilyn decided that the department only needed one band 8 nurse so either Tess or Charlie needed to be replaced by a band nurse in order for the department to save £1500. (CAS: "As One Door Closes...") Harry tried his best to prevent either of them getting fired, but came to the realisation that one of them would need to go by Christmas. (CAS: "Finding the Words") Over the next few months, tension rose between Charlie and Tess over who would be leaving the department. (CAS: "A House Divided") In November, Charlie was left worried after a fire broke out at Louis' school and he was nowhere to be seen outside. Charlie later found out that Louis was safe, as he had skipped school after starting the fire. (CAS: "How Soon Is Now") The following month, Charlie began to find coping with Louis hard, and he was later expelled from school. (CAS: "Inheritance")
With Charlie's feud with Louis growing, Louis raided Charlie's locker and took his phone. (CAS: "Behind Closed Doors") Louis' new school phoned Charlie to let him know Louis had been caught with cannabis. Although it was the day Harry would be deciding who would be fired, Charlie ended up missing part of it because of Louis' misbehaviour. At the end of the day, Tess approached Harry and let him know that she would resign after he told them both it would be favourable if one of them volunteered. (CAS: "Snowball") In December on Tess' last day before redundancy, Louis once again escaped from Charlie after he dropped him off at a friend's house but Louis managed to get away. At the same time, Charlie and Tess noticed a woman being dragged under a car. Back at the ED, Charlie informed the man who was responsible that the woman died. In anger after the man made remarks about the woman, Charlie punched him. As a result, Harry asked for Charlie's resignation, to which he agrees in order for him to spend more time with Louis and let Tess keep her job. (CAS: "(What's So Funny 'bout) Peace, Love and Understanding?")
Return to the emergency department
During his absence, Charlie was working in a health centre. In March 2008 upon Harry's departure, he invited Charlie back to work at the ED. (CAS: "Thicker than Water") Shortly after his arrival, he confronted Marilyn about the atrocious security at the hospital. (CAS: "Diamond Dogs") In August, Maggie decided to leave the department to go travelling and asked Charlie to go with her but he said no as he had a son to look after. Just before her departure, Charlie and Maggie shared a kiss. (CAS: "This Mess We're In - Part Two") In October 2009, Charlie visited a depressed Nick who was unhappy with his condition following his operation. (CAS: "Love Is a Sacrifice")
Heart attack and Shona's pregnancy
In January 2010, Charlie began to experience health problems just as Louis arrived at the ED asking him for money. (CAS: "Dark Places") However, things suddenly turned around for Charlie when one of Louis' lovers, Shona, arrived at the ED claiming to be pregnant with Louis' child. (CAS: "Last Roll of the Dice") Charlie had multiple talks with Louis about parenting, as he didn't feel that he was responsible enough to care for a child. (CAS: "The Cradle Will Fall") Due to the fact that Louis was uninterested in the child, Charlie provided support for Shona by giving her money and attending parenting classes. However, Shona instead decided to waste the money on pills and cigarettes, despite acting genuinely grateful for the money. (CAS: "An Ugly Truth") The stress soon got to Charlie though, and in February his health took a turn for the worst when he was admitted after his chest pains worsened and he started coughing up blood. (CAS: "Love Is a Battlefield") In June, Shona once again arrived at the ED to speak to Charlie about aborting the baby, but she realised that she couldn't do it, and when Charlie suggested that she sought social services, she stormed out. (CAS: "In Your Debt") The following week, Charlie was able to secure her a job at reception alongside Noel. However, her position wasn't held for long as Charlie fired her when he discovered that she hid the manual check-in book. After this, he felt bad and offered her a roof to stay under for the night. (CAS: "Inconvenient Truths") After a couple of weeks with him, her bad behaviour became too much for Charlie and he asked her to leave. (CAS: "Die and Let Live")
Helping Megan to die
In July, a surprise reunion with a terminally ill Megan left Charlie devastated. (CAS: "I Am Mine") However, he was forced to choose between her and everything he believed in when she asked him to help her die. (CAS: "The Enemy Within") Tess tried to get her to not take drastic action. When Charlie asked Megan what she would do if she had three wishes, she said to go to Las Vegas and drink cocktails and dance to her favourite songs. After this, Charlie, Tess and Megan's carer Lily Knowles recreated Vegas in her living room in an attempt to fulfil her wishes. Eventually, Tess and Charlie went to visit her to complete her final wishes of helping her to die and provided her with a lethal cocktail of drugs. (CAS: "Nice and Easy Does It") The following week, Tess was going to go to the police and tell them about her role in Megan's death (CAS: "What Tonight Means to Me - Part One") but eventually decided not to after realising that she did what Megan wanted. In August, Shona gave birth to a baby girl, Megan, and Tess and Charlie gathered round, prepared to make a new start. (CAS: "What Tonight Means to Me - Part Two")
Transfer to the psychiatric ward
In September 2010, a series of shootings in Holby had the department on edge. With leadership from Adam and Charlie, they coped with the situation until they discovered that one of the shooters was in the department. (CAS: "Entry Wounds") With the media scrutiny that followed the week after the shooting, there was a strain on the ED when patients started to refuse treatment. An incident with grenades the following week only made things worse, and Charlie was left inside the ED whilst it was evacuated after an explosion. (CAS: "The Blame Game") In October, Louis' daughter Megan was abandoned in Charlie's care. That same day, Charlie Edward kissing his lover whilst married to Ruth, but decided to keep it quiet. (CAS: "Employee of the Week") However, when Ruth found out that Charlie had known, she had him transferred out of the department. (CAS: "The Enemy Within") Although the team confronted Ruth about her decision to make Charlie a victim of the budget cuts, she refused to reinstate him. (CAS: "Guilty Secrets") In March 2011 after being put in a psychiatric ward, Ruth went out shopping but forgot to take her medication and it was down to Charlie to fetch her before she got arrested. (CAS: "Only Human")
Mentoring new nurses
In August 2011, Charlie welcomed two new nurses into the department; Lloyd Asike and Scarlett Conway. Whilst Lloyd got off to a good start, Scarlett failed to make as good of an impression when she took more of an interest in the hospital's anaesthetist rather than the patients. (CAS: "Starting Out") In October during a traffic jam, Charlie discovered that a girl had fainted on a road bridge and had fallen onto his car. The girl later claimed that Charlie was the saviour of the Earth. (CAS: "Charlie's Angels") Just before Christmas when a fire broke out in the ED, Scarlett once again failed to impress Charlie when she re-entered the burning ED to rescue some elderly patients, something which broke the fire evacuation rules. (CAS: "Next of Kin - Part Two")
In January 2013, Charlie began mentoring a new student nurse, Ally Hunter. (CAS: "Rabbits in Headlights") Despite getting off to a good start, Ally decided to leave following an incident involving some schoolchildren in a coach crash. (CAS: "Smoke and Mirrors") After Yvonne Rippon's death, Nick Jordan returned to work, against the advice of Charlie and Zoe. (CAS: "Broken Heart Syndrome") In February, Charlie was delighted to see the return of his old friend and colleague Martin Ashford, however, Zoe wasn't as happy. (CAS: "If Not for You...") In August, Charlie helped figure out that a man who was admitted to the ED had been involved in a crash which sent casualties in earlier that day. (CAS: "Waiting for a Star to Fall") In January 2014, Charlie spent an evening frustrated, and trying to contact Louis. (CAS: "For Auld Lang Syne") In April, he helped a man come to terms with his wife's dementia. (CAS: "The Quiet Man")
Issues with angina
Charlie later visited Louis in New Zealand, and upon returning in August 2014 Connie Beauchamp, the new Clinical Lead after taking over from Zoe, raised her concerns that Charlie didn't seem interested in his job anymore, but little did she know of his health problems. Charlie arranged an appointment with Elliot Hope where he believed Charlie had a high possibility of angina. (CAS: "Learning to Fly") Charlie later became irritable towards Tess when she recommended a retirement care plan. (CAS: "Fallen Stars") When Connie, Tess, Ash, Ethan and Lily were involved in a minibus crash, Charlie took charge of the ED and ensured that Connie did not attempt a risky procedure on Ethan due to her own injuries. When Connie went to him later in his office, he launched a tirade about how he loved his job too much and refused to retire. Connie conceded and stated that the team would need him when she discovered that Jeff was killed when the minibus exploded. (CAS: "Born Lucky") In February 2015, Charlie gave Connie a few harsh words after she made the rash decision to ask Cal for his letter of resignation. He managed to make her reconsider. (CAS: "Sweetie")
In April, Charlie managed to save Connie from wrongful imprisonment after Rita hid vital evidence that would prove that she didn't murder a patient of hers. Eventually, Charlie convinced Rita to hand over the evidence so he could set Connie free. (CAS: "The Department of Secrets") When Connie found out it was Rita, she was furious. (CAS: "Exile")
Louis' drug addiction
In May 2015, just after returning to the ED from the police station with Connie, he got a phone call from his son Louis' girlfriend Sofia in Romania, telling him that his son has been attacked by drug dealers and needed urgent medical attention. He said to Connie, who had just got out of police custody after a wrongful accusation, that he needed to catch a flight there. Connie then offered to join him as they left the ED for the airport. Once he was there, he went to the hospital where Louis was and spoke to one of the doctors there after seeing him. However, he later noticed that Louis had gone missing, and he and Connie started searching for him across Bucharest. After they eventually found out that Louis was on the run from drug dealers who he owes money to, they attempted to track Louis down. Things only got worse when they found out from some locals who know about the local trade in the area that he may be being used for organ harvesting. They went to the hospital that they were told about, and Charlie found Louis with the doctor from earlier performing the operation. He pushed him in anger which caused him to accidentally cut one of Louis' arteries. Whilst he was recovering afterwards after Connie saved him, Sofia told them that Christian, the man who orchestrated it and the one Louis owes money to, was on the way. Charlie managed to escape the hospital with Louis, and Christian chased them down the motorway, but Charlie swerved his car into Christian's, causing it to flip over. (CAS: "Exile")
After returning to Holby with Louis, Charlie attempted to get him off heroin although his attempts were futile. (CAS: "Against the Odds") In June, Charlie gave Louis a wake-up call by taking him to see a dead drug addict and warned that it could be him if he didn't get his life on track again. When they returned home, Charlie locked Louis in the attic of his house to ensure that he wouldn't go for drugs in the night. (CAS: "The Golden Hours") At the start of August, Charlie was furious with Louis when it transpired that he'd sold Tess' crucifix necklace to get money for drugs. Louis later apologised to Tess and Charlie bought her a replacement. Although it lacked the sentimental value of the original, Tess appreciated the thought. (CAS: "The Long Haul") A week later, Tess left the ED to spend more time with her son, Sam, after he revealed to her that he had a child and couldn't raise him alone. Charlie was upset by this but understood that Tess must move on. (CAS: "Knock Knock Who's There?")
Heart attack
Later in August at Zoe and Max's wedding, a drunken Louis started taunting Max, which caused him to punch Louis. After Charlie intervened, Louis pushed him over, which caused Max to punch him again. Lofty tried to break up the argument but his clumsiness led to a patio heater being knocked over and fire starting, which quickly spread throughout the marquee. However, Zoe had meanwhile escaped on Dylan's houseboat with Dylan, but one of the embers from the fire landed on their boat and resulted in an explosion. (CAS: "Forsaking All Others - Part Two") Realising the danger that Zoe was in after drowning, Charlie jumped in and swam across to rescue her from drowning. A freezing Charlie succeeded, but he started to experience chest pains on his way back to the ED. At the ED, he suffered a heart attack and was discovered by one of the hospital's cleaners. After a long night and extensive efforts from the staff, Charlie was successfully resuscitated, and took the next few weeks off work to recover. (CAS: "A Child's Heart - Part One") (CAS: "A Child's Heart - Part Two")
Supporting Cal
After returning to work, Charlie helped a father and young girl come to terms with the loss of her mother. (CAS: "Flutterby") In December, Charlie accompanied Cal in going to visit his biological mother, after a paternity test inadvertently revealed that Cal was adopted. However, they were soon shocked to discover that she had Huntington's Disease. The care worker told Cal that two children were given away, which was a relief to Cal as it meant that him and Ethan were still brothers. However, this also meant Ethan was at risk of inheriting Huntington's too. (CAS: "Home for Christmas")
In January 2016, Charlie made frequent attempts to speak to Cal and encouraged him to tell Ethan the truth about their birth mother and the fact they were adopted. (CAS: "Black Alert") Eventually, Charlie threatened to break the news to Ethan himself but Cal eventually confessed the truth when Ethan came upon them in cubicles. (CAS: "Step Right Up")
Drug theft
In 2016 Charlie and Rita were forced to make tramadol a controlled drug following several incidents where stock levels were lower than usual. When the levels seemed to have returned to normal, Charlie's suspicions dissipated. However, at the end of May, a patient's relative had some tramadol stolen and when he noticed Big Mac was acting differently, Charlie spoke to him. Mac revealed that he was the one who had been taking the drugs and gave him the ones he stole from the patient. Charlie told Mac he'd hide the pills in his locker for a short while and then put them somewhere they'd be found so there was no connection to Big Mac. (CAS: "This Life")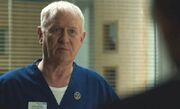 The following week, Hanssen told both Elle and Connie separately outside the ED about the severity of the situation, as the relative from the previous week had gone to the press about the theft. Hanssen implied to Elle that Connie's job could be on the line as a result of the chain of events which had happened in the ED in the previous months and that the trust would want someone to blame. Elle later suspected Charlie after he told her that he'd closed the investigation into the missing drugs which had been stolen prior to the previous week's events. Later when Charlie left the key in his locker, Elle looked inside and found the pills. She went to Rita and they went to Connie, but Connie insisted that they not report it to Hanssen yet and although Elle tried to warn Connie of what Hanssen had said earlier, she asked her to leave. (CAS: "The Best Day of My Life")
When Elle later saw Hanssen exit the ED, she assumed he knew and dropped Charlie's name in a conversation to his surprise. Rita was then forced to suspend Charlie after he couldn't provide a valid reason as to why the drugs were in his locker, and when Jacob asked why Charlie had been suspended Connie told him and the rest of the staff it was Elle's fault for targeting him. (CAS: "The Best Day of My Life") A week later, Charlie was still on suspended leave. However, Big Mac helped a young girl during his shift which made him realise that he should own up to what he'd done. He admitted everything to Rita and although she told him he wouldn't have to resign, he said he would anyway. After his final shift he went to the NA meeting and Charlie was also there, presumably by his request. He apologised to Charlie and left the meeting. (CAS: "You Make Me Sick")
30th anniversary and Duffy's return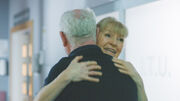 Towards the end of the month, Charlie visited the ED prior to his official start date. Despite knowing Elle was responsible for his suspension, he told her that she did the right thing. During the day, Charlie was also reunited with Duffy once again, who was working in the UK once again in the obs and gynae department of the hospital. She revealed to him that New Zealand was still her home and that she was just over in the UK for a couple of weeks doing some agency work. (CAS: "History Repeating")
In August 2016, Charlie was celebrating his 30th anniversary of working at the hospital but encountered a grumpy patient named Sally Hodge. As they were treating her, it transpired that she'd had a failed abortion when she was younger and the baby hadn't come out of her but was dead. She later inadvertently revealed the party plans to Charlie, but he acted surprised anyway. At the party, Charlie watched clips of his old colleagues congratulating him but he was soon interrupted by Henrik who informed him that Connie and Grace had been in a car crash. However, things only worsened when the helicopter carrying Grace back to the ED crashed outside, destroying the entrance to the department. Charlie took control and helped with the casualties alongside his old friends Duffy and Josh. Charlie later had an angry confrontation with Jacob after he tried to storm up to get revenge on Steph Sims. Jacob later apologised and when it transpired that Grace had sustained a subdural haematoma Charlie encouraged Jacob to be the one to break the news to Connie. Charlie later celebrated his anniversary with the staff in the staff room as they prepared to stay the night to aid with the cleanup. (CAS: "Too Old for This Shift")
The following week, Duffy had once again gone down to the ED and whilst she was there Jacob offered her the vacant band 7 position, but she initially declined. However, Charlie bet her £20 that by the end of the day she would have applied for the job. When Louise inquired about the status of Grace, Charlie informed the team that her operation to insert an ICP bolt went well. Later in the day, Charlie paid a visit to Connie and Grace along with Louise and Jacob and they were concerned about Connie's own recovery. (CAS: "Fall on Me")
Just a week after, Charlie was delighted to discover that Duffy had applied for the job and was on her first official shift. Charlie had pledged to stay until news of Grace's operation got back to the ED staff. At the pub after their shift, Charlie received the good news of Grace's successful procedure but he and Duffy decided to stay to continue the game of Monopoly as he wouldn't be able to sleep anyway. (CAS: "Strike Three") Later in the month, Charlie received an invite to a 50-year school reunion and Duffy agreed to go with him. (CAS: "Pride Comes Before a Fall")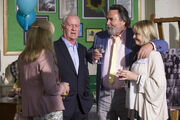 At the reunion, they bumped into Charlie's old crush from school, Gloria, and discovered that she was married to Allan, a man who'd bullied Charlie at school. When Charlie and Gloria began talking, a drunken Allan angrily intruded and pushed Gloria aside which prompted Charlie to punch him in the face in her defence. As Allan ran towards Charlie, he stepped aside and Allan fell onto a table which collapsed. Charlie was able to relocate his shoulder and was praised by everyone. Back at the hospital, Gloria broke up with Allan who'd later suffered a stroke, and later asked Charlie to call her. She gave him her card, but Charlie later threw it away. (CAS: "Schoolboy Crush")
In November, Duffy's son Peter arrived in the ED with his heavily pregnant wife, Tanya. Shortly after their arrival, Charlie discovered that Tanya had been acting strangely as she'd seen her birth mother also in the ED as a patient, who abandoned her a child. As they were about to leave in the ambulance for St. James Hospital, Tanya's mother threw the keys down a drain. Although Peter and Tanya were trapped inside with Jez, Charlie was able to break the window so he and Duffy could climb in to help. They successfully delivered the baby in the back of the ambulance just before the fire crews arrived to get them out. Whilst recovering, Peter gave Charlie an old photo of him and Duffy that she used to carry around with her. Upon finding her crying in a storage room, they both gave in to the temptation and shared a kiss. (CAS: "Thirty Years")
Later in the month, Charlie had a chat with Connie outside on the day of the ED's inspection when she became stressed during the shift. He tried to get her to consider taking Grace home with her as it was for the best. Shortly after this, Charlie was left shocked when Duffy told him she'd asked her husband for a divorce. (CAS: "About My Mother") A week later, the inspection report came back and it wasn't good. Charlie had a bet with Jacob that he could get through to the staff better by encouraging them instead of bossing them around. However, Duffy actually had another agreement with Charlie that if he could stop Jacob from behaving the way she was, she'd buy him breakfast. (CAS: "Not in Holby Anymore")
In December, Jez caught sight of Charlie and Duffy kissing during the shift although he decided to keep it quiet. However, they ended up revealing their relationship to everyone at the staff Christmas party that evening. Having had too much to drink, the two were asked to leave the pub. Shortly after leaving, they both shocked to see Ryan there after flying over from New Zealand as he wished Duffy a merry Christmas. (CAS: "All I Want for Christmas Is You")
Marriage to Duffy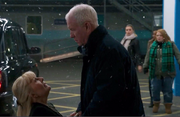 The following day, it was Christmas Eve and Charlie and Duffy awkwardly confronted each other, as she felt bad for leaving with Ryan the night before. Later in the shift, Ryan was admitted after being involved in some chaos at a local shop. However, Charlie soon began to have suspicions about how ill he actually was, even after he fainted in reception. Duffy became irritated with Charlie for trying to dispute Ryan's illness, but he later admitted that he was simply putting it on to get her attention. He later pressured Duffy to tell Ryan the truth about their relationship, especially after he'd screwed up the divorce papers earlier in the day. Duffy agreed to go for dinner with Ryan, but she realised midway through that she really loved Charlie. He agreed to sign the divorce papers, and Duffy proposed to Charlie later that evening outside the ED, just as it started to snow. (CAS: "Bah Humbug")
By mid-January 2017, the wedding plans were underway and Charlie was trying to ensure that it would be the best day. However, he was irritated when the wedding invites were printed on black card by mistake and he had to get a reprint. (CAS: "Back to School") The following month, Charlie trusted Louise to continue with some of the wedding planning. However, Duffy was shocked when she found Noel and Max modelling wedding dresses in the staff room. Irritated that Charlie had got over-involved, she told him to organise it himself if it meant so much. Realising what Duffy really wanted, Charlie brought the wedding forward from July to the next day and told Duffy that his stag party would be taking place that evening in Barry. (CAS: "Crazy Little Thing Called Love")
That evening they all went out on the stag night, and Josh even joined them for the occasion. However, the following morning they were unable to find Charlie. They all retraced their steps from the night before, and, eventually, a police officer recognised Dylan's name as the one that Charlie had given as a contact. It transpired to the others that Charlie had been arrested for resisting arrest the night before and was at the police station. Despite the eventful night, Dylan speedily drove them all back to Holby in time for the wedding. Duffy was relieved to see him and they got married, with the reception taking place over the road in the pub. (CAS: "The Stag, the Dog and the Sheep") Two weeks later, Charlie and Duffy returned from their honeymoon from Tenerife and went straight into work after missing their next plane. (CAS: "Binge Britain") The following week, Charlie was furious with Connie when she hesitated in saving Steph Sims, the woman who had caused her car accident the previous year. (CAS: "Slipping Under")
Promotion to clinical nurse manager
In April, Charlie was promoted back to clinical nurse manager, following Jacob's resignation from the role. Although he delighted in the job, Duffy was not impressed when he arrived at work at the crack of dawn and decided to take on a night shift. (CAS: Episode 1079) Later that month, he clashed with Connie over her plans to open a trauma theatre in the department and criticised her for using Cal's death as a means to promote her pitch. (CAS: Episode 1082)
Separation from Duffy
In September, Charlie interviewed Louise for the band 6 post. Later, he informed her that she unofficially got the job, but she became irritated with him when he disclosed that she was the only applicant. That evening, after Duffy was diagnosed with clinical depression that morning, she lied to him about her absence and told him that she went to have a jab. (CAS: Episode 1099) In October, due to a shortage of nursing staff and budget limits, Charlie was forced to call Duffy, who had just finished a night shift, into work. He asked her to administer a local anaesthetic to a patient, but she failed to inflate the cuff before attempting to do so. Charlie managed to stop her just in time, and told her that she was not fit for duty; she took umbrage and left. (CAS: Episode 1102) The next day, Duffy arrived at the ED in an ambulance after she helped a woman who was drowning in a hotel swimming pool, and Charlie apologised to her for his words the day before. Over the course of the day, he became increasingly concerned about her behaviour and decided to search through her phone for suspicious messages; he found nothing. Later, Duffy broke down in his arms, and Charlie admitted that he hadn't been there for her recently. (CAS: Episode 1103) The following month, Duffy became concerned when Charlie started answering her phone for her. (CAS: Episode 1105)
In December, Duffy called Charlie for help after she fell down the stairs, and he sent an ambulance. At the ED, while she waited for an X-ray, Charlie gave her a tablet and suggested finding out her diagnosis; she later inputted her psychological symptoms and was told that she could have dementia. Once she was given the all-clear, Charlie apologised to her for not being fair to her and promised to spend more time with her. (CAS: Episode 1107) The following day, with their relationship rekindled, Charlie planned to take Duffy on a romantic hot-air balloon flight. In cubicles, he treated Bill Crowthers after he had collapsed, and the two started to get on with each other. When Bill mentioned that he knew Duffy, Charlie asked him how, prompting him to talk about his affair with her and leaving Charlie lost for words. Duffy soon realised that Charlie had found out about her and Bill, and the two talked in a corridor. She insisted that her night with Bill was a mistake, but, before she could explain herself, David interrupted and asked them to help treat Bill whose condition had worsened. Later, Charlie assured Duffy that they were still a team, and they agreed to go out for dinner together. However, he soon spotted her holding Bill's hand and told her that he didn't trust her. When she tried to tell him about the possibility of her having dementia, he dismissed her. She then decided to move out. (CAS: Episode 1108)
In January 2019, Charlie and Duffy agreed to keep the news about their separation private for the time being. Robyn gave them a doily she made at an arts and crafts class, and, when Duffy couldn't bear to keep it, Charlie threw it in the bin. Robyn later found it and asked him what was going on between him and Duffy, and he told her that they had split up. (CAS: Episode 1110) The following week, Robyn repeatedly encouraged them to talk to each other. Later, she told Louise about their separation, and the news spread throughout the department. (CAS: Episode 1111)
Duffy's dementia diagnosis
In March, Charlie told Duffy that he needed one of her cubicles, and she told him to back off. He asked her what was wrong, and, in his office, he was left shocked when she informed him that she was in the early stages of vascular dementia. He asked her if anybody else knew, but she assured him that he was the only one and allowed him to decide whether or not the rest of the team needed to know. Later, Charlie told her that he had taken her off night shifts. She implored him to make her diagnosis public, but he insisted on keeping it between themselves. (CAS: Episode 1120)
The following week, concerned about her symptoms manifesting, Charlie tasked Duffy with doing admin. The department began to struggle with understaffing, and he was repeatedly asked for Duffy's assistance, but Charlie insisted that they could cope without her. However, he soon started to crack under the pressure and snapped at Robyn when she asked for Duffy's help. Later, he thanked Duffy for her work, but she told him that he was making her look incompetent. He tried to motivate the nursing staff to work hard to overcome the issues caused by the stretched resources and understaffing, but Jade questioned why Duffy was allowed to go home early. Furious, Charlie admonished her and ordered the nurses to get back to work. (CAS: Episode 1121)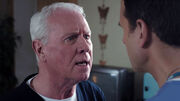 In April, Charlie continued to reprimand Jade for making minor mistakes. David confronted him about his unfair treatment of her and questioned his decision to keep Duffy in admin despite the department being short-staffed. Charlie snapped at him, but David told him that he had already asked Duffy to help out in cubicles. Connie called Charlie to her office, and she informed him that the trust was incurring substantial fines for mismanagement, prompting him to go off on a tirade. Later, David told Charlie that Jade couldn't become a registered nurse due to her criminal record, and he asked him to be one of her referees. However, Charlie dismissed his request and put it on the back-burner. That afternoon, David asked him again, but Charlie stormed off to the staff room. After hearing that Dylan stepped in to be Jade's third referee, David confronted Charlie and told him that he needed to support his team. When David asked if there was something wrong with Duffy, Charlie chastised him and started pushing him. In self-defence, David pushed back, knocking him to the floor. Other members of staff noticed and stepped in to help Charlie, believing that David instigated the confrontation. (CAS: Episode 1122)
The next day, David apologised to Charlie for pushing him, but Charlie told him to forget about what happened. However, he later complained to Fletch about his behaviour. In a meeting, David admitted that he pushed Charlie and expressed his bewilderment at the situation. Afterwards, Fletch informed Charlie that David would be suspended until an investigation was carried out, but he also asked Charlie why he didn't resolve the situation himself. Outside the ED, Charlie told Duffy about David's suspension, leaving her feeling guilty. Later, despite his objections, Duffy made her dementia diagnosis public. (CAS: Episode 1123)
Later that month, in a bid to make the department more accommodating to vulnerable patients, Duffy unveiled her new dementia-friendly cubicle. Charlie asked her if there was any way that he could help out, but she coldly inquired about the completion of the off-duty rotas. In his office, he found a selection of old photographs and a scarf that Duffy thought she lost and suggested putting them on display in the cubicle, but she turned down his suggestion. Later, as he watched her preparing the cubicle, Charlie informed David that he had arranged the rotas so that they didn't have to work the same shifts as him and Duffy. David assured him that it wasn't necessary and told him that he should be looking out for her. Charlie asserted that he let Duffy down when she needed him the most, and, when David spoke of the cruelty of her illness, Charlie acknowledged that he hoped that she would forget about the past few weeks and come back to him. David comforted him as he pondered whether he was worthy of being remembered by her. (CAS: Episode 1124)
On 11 May, Charlie offered Duffy a blueberry muffin and a coffee as a "peace offering", but she declined. He asked her if they could talk at some point, but she asserted that there was nothing for them to discuss. He praised her campaign to spend awareness of the department's accommodation of dementia sufferers, but she told him that, if he wanted to help, he could stop giving her special treatment and allow her to start tackling more challenging cases again. When she informed Andy - the father of a patient named Katy - that she had dementia, Charlie assured him that Duffy was the best nurse he ever worked with and claimed that she had more experience and knowledge than some of the doctors. However, Andy later started to believe that she made a clinical error and referenced Charlie's remark about her expertise, angering her. In the staff room, Charlie apologised to her and explained that he was trying to get through to Andy that the hospital did not tolerate any form of prejudice towards members of staff. She told him that she would deal with the fallout from making her condition public herself and ordered him to stop controlling her.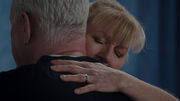 That afternoon, after Duffy figured out what was causing Katy's symptoms, Andy told her that he should have listened to Charlie's high praise of her skills. David gave her the blueberry muffin that Charlie bought for her and recounted the battle he fought to get it for her, remarking that it was an act of "true love". Later, Duffy told Charlie that she slept with Bill because she wanted to feel like herself again, and she did not feel that way with him. She posited that, since her dementia diagnosis, he had been treating her like a patient. She told him that she wanted to be his wife, and they needed to make the most of their remaining time together. The two reconciled and shared a loving embrace. (CAS: Episode 1126)
The following week, Charlie and Duffy anticipated their first day off together since "what [felt] like [their] marriage". Charlie claimed that he would happily marry her again, leading David to suggest renewing their vows. They showed interest in the idea while insisting on not doing anything extravagant, but David recommended throwing a party at The Hope & Anchor, and Noel volunteered to call the owners to see when it was available. That afternoon, he informed Charlie and Duffy that the pub was only available that night, and he offered to step in as their celebrant. Charlie reluctantly agreed. Noel continued to prepare for the ceremony, but Charlie and Duffy's hesitance continued to build.
At the end of their shift, Charlie decided to take Duffy to the place where he used to have a cigarette and realised that he loved her. They took each other's hands, and Charlie vowed to remain by her side. Duffy vowed to love and cherish him "till death [did them] part", and she acknowledged that it could "come sooner than [they'd hoped]". However, she insisted that she was complacent as she knew that she would love every minute they had left together, and the two shared a kiss. That evening, they arrived at the party in The Hope & Anchor and apprised the guests of their private ceremony. (CAS: Episode 1127)
On 22 June, under pressure from troubleshooter Ciaran Coulson, Duffy decided to leave nursing and take up a non-clinical role in the department. Despite being disheartened by the news, Charlie supported her with her decision and informed the rest of the nursing team before leaving the department hand in hand. (CAS: Episode 1132) On 14 July, the day after an incident occurred in resus where a patient went into cardiac arrest after accidentally being given lidocaine instead of saline, Charlie staunchly objected to Connie's plan to resign and warned her that she would not be given a second chance. She ultimately decided to gaslight Duffy into believing that the syringes were labelled, and she told Charlie that her dementia was worse than she was letting on. He called Duffy into his office and informed her that an investigation would be carried out. When he mentioned Connie asking her about the label, she opened up to him about her recent memory issues. Later that day, Duffy decided that "[it was] time" and resigned. (CAS: Episode 1136)
Following Duffy's resignation, David voiced his concerns to Connie about Charlie struggling to cope with Duffy's dementia diagnosis, but she saw no reason to intervene unless his competency was compromised. Later, when he overheard troubleshooter Ciaran Coulson discussing "recent mistakes in the department" and consultant Will Noble being "an example to others less diligent" for admitting to making a clinical error, Charlie believed that he was referring to Duffy and confronted him. He asserted that she tried patients with "great care and diligence", and he threatened to resign.
David found Charlie asleep in his office and tied him to his chair with a bumbag. Despite initially asking to be let go, he admitted that he was not sure about who Duffy's dementia would turn both of them into, and he was not sure if he could take care of her on his own. David assured him that, even though Duffy no longer wore a uniform, she was still a part of the team, and they would never allow either of them to "fall through the cracks". He subsequently untied him and volunteered to cover him for the remainder of his shift. (CAS: Episode 1137)
On 28 July, Noel informed Charlie that a girl named Shanti was waiting at reception after being hit by Duffy's car. Robyn triaged her, but she found no bone tenderness, meaning that she had not fractured her arm; Shanti demanded a second opinion from a doctor. Charlie assured her that Robyn was "the best", but Duffy humoured her request and got Will to assess her. In the staff room, Charlie pointed out that Shanti's injuries were not consistent with those of an impact and suggested that she was faking them. When he posited that, as she had a "stressful" morning, she may not have been able to see what was truly happening, she insisted that she had not forgotten how to drive and accused him of treating her "like some fragile little thing that [needed] her hand holding". He claimed that he did not want her taken advantage of, and she asked him if, before the dementia diagnosis, he would have given her the benefit of the doubt "as a functioning, intelligent adult". In cubicles, Will told Duffy that Shanti did not need an X-ray and asserted that she was a "chancer" who was potentially taking advantage of her dementia, but she argued that her condition was not obvious without prior knowledge, and she did not need neither him nor Charlie "protecting" her. However, both he and Charlie were impressed when she presented them with a poster from 2017 declaring Shanti missing and revealed that she was always aware of her scam.
Later that day, in resus, registrar Archie Hudson was taken in after receiving a stab wound in Connie's company. When Connie started hearing her voice in her head and broke down, Charlie moved her out of the way, and she stumbled out of resus. Outside, he found her sobbing and gently escorted her to his office. He assured her that she was just "shaken up from what happened", but Connie insisted that he did not know the full story and admitted to becoming addicted to diazepam following her assault. When she took responsibility for the lidocaine incident that left Duffy without her job and dignity, a furious Charlie walked away. In the staff room, he told Duffy that he needed to stay on, and she understood, claiming that Connie needed him to be there for her. She told him that having someone come to her for advice made her realise that she did not need to be a nurse to be there for people. She thanked him for helping her through her struggle and kissed him before leaving for home.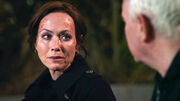 After Connie returned from visiting Archie on ITU, Charlie led her out of the department. In the peace garden, she promised to write a letter absolving Duffy of all responsibility for the lidocaine mix-up, but Charlie pointed out that she had been robbed of her dignity after being forced to resign. Connie offered to resign, but he claimed that she stole Duffy's chance to do the same, and she should have been ashamed of her lies. He told to "go" and returned inside, leaving Connie alone. (CAS: Episode 1138)
Duffy's deterioration
On 24 August, Duffy's power of attorney forms arrived, and she insisted on filling them in whilst he was at work. However, when she struggled to complete them, she repeatedly called Charlie. Once he returned home, she apologised and asserted that she needed a job to help keep her mind active whilst she still could. (CAS: Episode 1140) The following week, Duffy began volunteering at the Middleshill Grange care home and accompanied a vulnerable resident with advanced dementia named Maisie to the ED for treatment for a fall. Following his shift, Duffy told Charlie that she wanted him to support her once she became unable to fight for herself, and he promised to take care of her. (CAS: Episode 1141)
On 12 October, Charlie came to Duffy's aid after she suffered a transient ischaemic attack and forgot how to turn right while driving. Consequently, Duffy asked Charlie to inform the care home that she would not be able to volunteer there again. However, after Duffy managed to deescalate a confrontation between a bereaved mother and her child's killer, Dylan offered Duffy a voluntary position in the ED. (CAS: Episode 1146) On 26 October, Duffy began her first shift as a volunteer, but her colleagues noticed that she was exhausted and struggling. Robyn and Jade voiced their concerns to Charlie, but he insisted that Duffy was fine; he later found Duffy asleep in the relatives' room. After Charlie vented his frustrations about getting Duffy help to Robyn, Robyn offered him money for a private dementia clinic. (CAS: Episode 1148)
On 9 November, in the wake of a surprise CQC inspection and a shortage in nursing staff, Charlie asked Robyn to help out in the ED and convinced her to allow Duffy to babysit Charlotte. However, Duffy soon returned to the ED without Charlotte. After it was feared that Charlotte had been involved in a road accident, Robyn later found her safe at Coliscliffe Park. Knowing that Duffy was Charlie's priority and feeling that she let Charlotte down badly, Robyn told Charlie that it was just "[her] and Charlotte" from that point onwards. (CAS: Episode 1150)
Three weeks later, Charlie became concerned when Duffy could see Jinny — their pet cat that had been killed two years prior — in their garden and brought her to the ED for treatment. However, registrar Archie Hudson diagnosed Duffy with a urinary tract infection and told her that it was responsible for her hallucinations. Realising that they needed more support and wanting to maintain their independence, Charlie and Duffy decided to trial a home care package. (CAS: Episode 1152)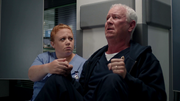 On 7 December, Duffy's carer Sian arrived at her and Charlie's house, but Duffy had completely forgotten who she was and was preparing for a shift in the ED. However, Sian was forced to leave due to her child falling ill at school, leaving Charlie to deal with caring for Duffy. At home, Duffy believed that Charlie was having an affair with Sian and became aggressive, ordering him not to allow the replacement carer in. At work, Charlie berated a homeless patient with a drug dependency named Garth and got into a public argument with Robyn who was still angry at him for the situation with Charlotte. David soon found Charlie sat mute in a corridor and convinced Robyn to sit with him. After Charlie broke down and opened up about his difficulties looking after a deteriorating Duffy, Robyn and the other nurses devised a timetable to help Charlie with taking care of Duffy. (CAS: Episode 1153)
On 21 December, Charlie prepared a Christmas dinner for him and Duffy, but she was convinced that she was going to the cinema with Bill Crowthers. While eating, Duffy chastised Charlie, telling him that she would rather be alone than spending the rest of her life with him, and asserted that he was "nothing next to Bill". However, in the evening, Robyn gifted Duffy with a photo album, cheering her up and helping her bond with Charlie. (CAS: Episode 1154)
In January 2020, Duffy began repeatedly calling the house where Bill used to live believing that they were attending a concert. As a last resort, Charlie agreed to meet up with Bill at The Hope & Anchor in order to ascertain the significance of some of her mementoes. Bill suggested that he visit Duffy in a friendly capacity, and Charlie reluctantly agreed. However, Bill was shaken by how much Duffy had deteriorated and left prematurely. (CAS: Episode 1158) Later that month, Charlie and Duffy decided that the latter should move to the Edwalton Mansions care home, and she was moved there on the 25th. However, after finding that Duffy had been sat waiting in her room for him to return, Charlie decided to take Duffy home. (CAS: Episode 1159)
Duffy's death and resignation
"
It's a funny old thing, time, isn't it? One minute, you've got so much of it that you don't know what to do with it. And the next... We wasted a lot of time, you and me. We're here - together. Exactly how it was supposed to be. You're the love of my life, and it's alright now. I'll be alright. You can go now, sweetheart. You can go.
"
— Charlie's final words to Duffy (CAS: Episode 1160)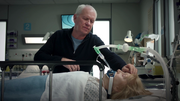 On 1 February 2020, Charlie was horrified to discover that Duffy had left the house while it was snowing and reported her missing to the police. After finding the watch from her uniform, Charlie realised that Duffy was making her way to work and soon found her hypothermic. Duffy was rushed to the ED, and the team discovered a bleed on the right side of her brain. After Duffy suffered a seizure, Charlie was informed that it had exacerbated the bleed and caused near-irreversible brain damage. Charlie initially demanded the hospital to continue treating Duffy, but he eventually came to accept the graveness of Duffy's condition and gave his permission for her organs to be donated. After saying his final goodbyes to Duffy, Charlie accompanied her to the transplant team. (CAS: Episode 1160)
On the day of Duffy's funeral, Charlie felt that he had betrayed Duffy by feeling relieved both for her and himself, and he tried to walk away, but David convinced him to seize his opportunity to say goodbye to Duffy and attend the funeral. After the service, Charlie told David that he was ready to face his grief, but, at home, he began sobbing after unconsciously retrieving two cups from him and Duffy. (CAS: Episode 1161)
Sick of staying at home, Charlie returned to the ED on 29 February. However, he soon confronted Jacob after he rearranged the nurses' timetables without consulting him, and Henry Gabbot — an old friend of Charlie and Duffy's who had been admitted as a patient — accused him of neglecting Duffy and failing to save her. (CAS: Episode 1164) On 14 March, Jacob felt that Charlie was not coping when he was avoiding his clinical duties and was cleaning cubicles instead. Jacob urged him to take some more time off, but Charlie asserted that Jacob had "a problem" and needed to deal with it. Left with no other option, Jacob reluctantly contacted Fletch. (CAS: Episode 1166)
On 21 March, Charlie treated a woman with dementia named Cynthia and neglected to make a record of her DNR. When she was found unresponsive by reception, the resus team managed to revive Cynthia before Charlie could inform them of the document; the amount of the time her brain had been starved of oxygen meant that she had potentially sustained brain damage. Fletch questioned Charlie about his failure to note the DNR, but Charlie asserted that he was being used as a scapegoat. After learning that a colleague had voiced their concerns about his wellbeing, Charlie berated David, Jade and Fletch. Feeling betrayed and believing that the NHS itself was "knackered", Charlie publicly quit his job. (CAS: Episode 1167)
Following his resignation, Charlie could not bear to return to a home without Duffy and started sleeping rough; he also began to develop an alcohol dependency. In April, a bystander found Charlie drunk and sleeping in a park and called for an ambulance. After being taken to the ED, Charlie resisted treatment and even attempted to steal drugs from a cabinet. Connie urged Charlie to accept help from his friends. Charlie appeared to acquiesce, but he later left his cubicle for the pub. (CAS: Episode 1170)
Return to nursing
"
You saved a boy's life today. That is who you are. We need you here, Charlie, and I think you need us. You've got a chance to do something with your life. Don't waste it.
"
— Connie urges Charlie to return to being a nurse. (CAS: Episode 1173)
On 16 May, Charlie was forced to return to the ED to hand in his uniform and ID badge after his final wage was withheld. However, while he publicly chastised Connie for her role in Duffy's departure from the hospital, Mick Baxter — the heroin-addicted father of a patient named Connor — held Connie at gunpoint and dragged her and Charlie into resus. When Ruth, Connor's social worker who Mick had shot, started to deteriorate, Charlie managed to convince Mick to allow the team to treat her. When Connor developed an internal bleed, and Charlie and Connie were unable to treat him, Charlie claimed that he had nothing left to lose and volunteered to remain with Mick while Connie and the others were freed. Charlie managed to convince Mick to take responsibility for his actions and give himself up to the authorities for Connor's sake, but Mick was killed by armed police after failing to lower his gun. In the staff room, Connie told Charlie that she could not forgive herself for her actions towards Duffy and urged him to not waste his chance to doing something with his life; Charlie finally accepted Connie's regret and agreed to return to the department. (CAS: Episode 1173)
Charlie returned to work the following week and was immediately confronted with a patient named Hafiz who had recently undergone a heart transplant. When details surrounding the donation sounded familiar, Charlie began to suspect that Hafiz had received Duffy's heart and reprimanded Hafiz for failing to keep on top of his immunosuppressant drugs. Later, Charlie admitted that he was being too harsh to Hafiz and apologised. (CAS: Episode 1174) On 30 May, Charlie reassumed the role of clinical nurse manager. However, after being impressed by Jacob's management of the department in his absence, he suggested that Jacob carry on as clinical nurse manager and decided to step down, claiming that he needed to be with the patients. (CAS: Episode 1175)
Personal life
Charlie has one child with Barbara "Baz" Wilder, Louis, born in 1992. (CAS: "Exile") The couple married in 1998 but divorced in 2001. After Baz died in 2004, Charlie was left as the sole carer for Louis.
In November 2016, Charlie shared a kiss with Duffy after a particularly emotional and stressful shift. (CAS: "Thirty Years") They began seeing each other but decided to keep it a secret. On the day of the staff Christmas party, Jez witnessed them kiss, but they later announced it to everyone anyway. (CAS: "All I Want for Christmas Is You") After Duffy's divorce was in the works, she proposed to Charlie outside the ED on Christmas Eve, to which he accepted. (CAS: "Bah Humbug")
Trivia
The mother of his child, Baz, died in a car crash. (CAS: "Where There's Life")
Has a background in psychiatric care and has completed a trauma nursing course.
Never forgets that he almost lost his son, Louis.
When lifelong friend, Megan turned up in Holby, he was faced with a difficult decision and chose to assist in Megan's suicide. (CAS: "Nice and Easy Does It")
He has a granddaughter who is aptly named Megan. (CAS: "What Tonight Means to Me - Part Two")
After having an Angina attack he was pestered by Connie to retire. She later apologised to him.
Charlie suffered a heart attack in 2015 after jumping into a freezing lake to save Zoe's life. (CAS: "A Child's Heart - Part One")
Behind the scenes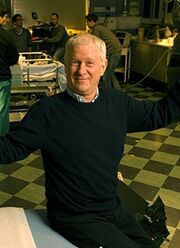 Derek Thompson, who plays Charlie, has been on Casualty since the show began in 1986 and is currently the only cast member to still be in it continually since the first episode. Cathy Shipton is also currently a series regular and was a part of the initial cast, but has been absent for long durations of time during departures and returns. Thompson is also the longest-serving cast member to date.
In flashbacks shown in the 30th series premiere "A Child's Heart - Part One" an 11-year old Charlie is played by Baxter Westby and 19-year old Charlie by Ryan Owen.
Reception
He is described by the BBC as "the lynchpin of Holby's ED. [...] an indispensable, trustworthy and a diplomatic member of the team." Series producer Oliver Kent has described Charlie as "by far our most important character" and "absolutely core to the show's success". In 2012, Inside Soap described Charlie and Tess as 'the mum and dad of Casualty'. Current producer Nikki Wilson talked about the importance of Charlie and Tess saying, "I think it's really crucial that we keep them around. Charlie has been in the show for nearly 30 years, and he's such an iconic character. It's fantastic he's still here.
His relationship with Tess is quite important - as you say, they're like the parents of the whole department - so long may it continue." In 2014, series producer, Erika Hossington spoke to Digital Spy about the show's plans for Charlie, saying that they have big plans for Charlie, "We've got a small story that will show in the first third of series 29. However, we've also got bigger plans for him, which will begin in the final third of series 29 and continue towards the thirtieth anniversary." She continued to say how Charlie will be "centre of the thirtieth anniversary" and "in order for that to be impactful, they have to really build up to that". "Charlie's older fans will have complete satisfaction. I think Charlie is the heart of the show and always should be central, hence why he is going there."
Appearances
See also: Character appearances
Charlie has appeared in over 850 episodes of Casualty, making him the character to have appeared in the most episodes. He made his first appearance in the series 1 episode "Gas".
References