REDIRECT Template:Character InfoboxCharlie Fairhead is a nurse who currently holds the position of emergency nurse practitioner and senior charge nurse in Holby City Emergency Department . He is the longest serving nurse of the ED, having started working there in 1986. Charlie has a background in psychiatric care and completed a trauma nursing course which led him to working at the ED. Prior to arriving at Holby, Charlie had experience elsewhere working as a staff nurse.
He used to have one of the most stressful jobs in the ED but stood down to spend more time with his son, Louis. He took a sabbatical then a demotion to do this. When he started at the department, he was a charge nurse and he held this position until 2003 when he was promoted to senior charge nurse, a position he still currently holds. In 2005, he was also given another role of emergency nurse practitioner, another of his current roles in the ED.
He was married to Barbara "Baz" Wilder for three years and they had a child together, Louis. He has been romantically involved with several women in the past, but this was the only significant relationship. In recent years, his top priority has been his son, as he has found himself needing Charlie's help on several occasions including rescuing him from Romania, helping him come off heroin and giving him a deposit for a flat he wanted. Despite the fact Charlie wants to help Louis, he has had trouble trusting him in the past, and therefore has a hard time doing so now.
During his time working at the Emergency Department, Charlie has seen nearly all staff members come and go since 1986 including his ex-wife Baz, his good friend Tess Bateman and Martin Ashford.
Early life
During Charlie's childhood, his mother passed away, and his father remarried. He then spent his teenage years growing up with his father and his new wife until he was an adult, at which point he decided to become a nurse.
Time in the Emergency Department (1986-)
Charlie is one of the most respected nurses and has been in the ED longer than anyone else. He has many friends in the ED over time, such as Tess Bateman and Jay Faldren, although he gets on with everyone of his colleagues.
Megan Roach, one of Charlie's friends who was a nurse years ago, came into the ED with cancer. Charlie and Tess eventually ended up helping her commit suicide by providing her with a lethal cocktail of drugs.
Charlie briefly was fired when one of the senior nurses had to go after a fight with a patient. He returns several months later, working in the private sector and becomes a grandfather after Louis' brief relationship with a woman named Shona results in a daughter. Shona, unable to cope, leaves her with Charlie and he named her Megan, after his long term friend and one time colleague, Megan Roach, who he and Tess recently helped commit suicide. While searching for his missing granddaughter, who had been taken by a mentally ill patient, Charlie sees Ruth Winters' husband kissing his lover, James. Charlie debates whether to tell Ruth and confesses when comforting her. Hurt and humiliated by his deception, Ruth has Charlie transferred, but he moves back when Ruth is admitted to a psychiatric hospital. Ruth later returns to the ED and makes amends with Charlie. When Zoe Hanna begins looking for a new consultant, following her promotion to Clinical Lead, and Charlie recommends a former nurse of Holby, Martin Ashford, and he later wins the job and begins working in the ED. He also begins mentoring new student nurse, Ally Hunter, but after realising that she doesn't want to be a nurse and that she doesn't need to follow her mother and grandmother's footsteps, she leaves the ED and decides to travel the world.
Charlie later visits Louis in New Zealand, and upon returning in August 2014 Connie Beauchamp raises her concerns that Charlie doesn't seem interested in his job anymore, but little does she know of his health problems. Charlie arranges an appointment with Elliot Hope where he believes Charlie has a high possibility of angina. Charlie later becomes irritable towards Tess when she recommends a retirement care plan. When Connie, Tess, Ash, Ethan and Lily are involved in a minibus crash, Charlie takes charge of the ED and ensures that Connie does not attempt a risky procedure on Ethan due to her own injuries. When Connie goes to him later in his office, he launches a tirade about how he loves his job too much and refuses to retire. Connie concedes and states that the team will need him, when she discovers that Jeff was killed when the minibus exploded. In February 2015, Charlie gives Connie a few harsh words after she makes the rash decision to ask Caleb Knight for his letter of resignation. He manages to make her reconsider.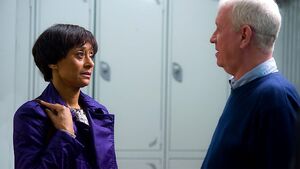 In May 2015, just after returning to the ED from the police station with Connie, he gets a phonecall from his son Louis' girlfriend Sofia in Romania, telling him that his son has been attacked by drug dealers and needs urgent medical attention. He says to Connie that he needs to catch a flight there. Connie then offers to join him as they leave the ED for the airport. 
In August 2015, Charlie's good friend Tess leaves the ED to spend more time with her son, Sam, after he reveals to her that he has a child and can't raise him alone. Charlie is upset by this, but understands that Tess must move on.
Personal life
Charlie has one child with Barbara "Baz"  Wilder, Louis, born in 1996. The couple married two years later but divorced in 2001. After Baz died in 2003, Charlie was left as the sole carer for Louis. 
In August 2015, Charlie suffered a heart attack after diving into a lake to save Zoe from drowning, following an explosion on the boat that she was on. He was taken back to the ED and treated by Connie, Rita and other members of staff as they successfully managed to resuscitate him.
Trivia
The mother of his child, Baz, died in a car crash.
Has a background in psychiatric care and has completed a trauma nursing course.
Never forgets that he almost lost his son, Louis.
When lifelong friend, Megan turned up in Holby, he was faced with a difficult decision and chose to assist in Megan's suicide.
He has a granddaughter who is aptly named Megan.
After having an Angina attack he was pestered by Connie to retire. She later apologised to him.
Behind the scenes
Derek Thompson
, who plays Charlie, has been in 
Casualty
 since the show began in 1986 and is currently the only cast member to still be in it since the first episode. 
In flashbacks shown in the 30th series premiere A Child's Heart, Part One an 11-year old Charlie is played by Baxter Westby and 19-year old Charlie by Ryan Owen.
Reception
He is described by the BBC as "the lynchpin of Holby's ED. [...] an indispensable, trustworthy and a diplomatic member of the team." Series producer Oliver Kent has described Charlie as "by far our most important character" and "absolutely core to the show's success". In 2012, Inside Soap described Charlie and Tess as 'the mum and dad of Casualty'. Current producer Nikki Wilson talked about the importance of Charlie and Tess saying, "I think it's really crucial that we keep them around. Charlie has been in the show for nearly 30 years, and he's such an iconic character. It's fantastic he's still here.
His relationship with Tess is quite important - as you say, they're like the parents of the whole department - so long may it continue." In 2014, series producer, Erika Hossington spoke to Digital Spy about the show's plans for Charlie, saying that they have big plans for Charlie, "We've got a small story that will show in the first third of series 29. However, we've also got bigger plans for him, which will begin in the final third of series 29 and continue towards the thirtieth anniversary." She continued to say how Charlie will be "centre of the thirtieth anniversary" and "in order for that to be impactful, they have to really build up to that". "Charlie's older fans will have complete satisfaction. I think Charlie is the heart of the show and always should be central, hence why he is going there."
Appearances
Main article: Appearances of Charlie Fairhead.
Charlie Fairhead has appeared in over 650 episodes of Casualty, making him the character to have appeared in the most episodes.
This article is a part of a series on Charlie Fairhead
Community content is available under
CC-BY-SA
unless otherwise noted.