This article covers a real-world subject which should not be taken as part of the Holby universe.

This article is missing important information. You can help Holby Wiki by expanding it.
"Code Orange" — alternatively billed as "The Lost Episode" — is the 1181st episode of Casualty and the 43rd and final episode of series 34. It was directed by Steve Hughes and written by Simon Norman.
This episode was originally scheduled to air on 2 May 2020 as episode 1171. However, due to similarities between the episode's plot and the ongoing coronavirus pandemic, the BBC deemed the episode inappropriate to broadcast and pulled it. In its place, the following episode aired in its place with an extended recap segment at the beginning showing significant events from the dropped episode.
On 16 September of that year, the BBC announced that the episode would be broadcast on 26 September.
Plot
Lev and Fenisha are called to tend to a woman who has been found unconscious in a field. The paramedics initially suspect that she has overdosed on heroin, but Fenisha soon finds a boy writhing in pain nearby and calls for backup. Elsewhere in Holby, a woman named Julia witnesses a man dumping a spray bottle into the hedge and scolds him; she takes the bottle inside her home and cleans it.
At the ED, Jacob informs Connie that Fletch has granted them permission to ask the nursing agency for additional staff while Robyn and Faith are on leave and Charlie is "still MIA", and he informs her of the two incoming patients who are not responding to naloxone. The woman — 52-year-old Naomi Johnson — and the boy — her son Aaron — are taken into resus. Despite the mysterious circumstances behind the pair's conditions, Connie instructs her staff to treat Naomi and Aaron's symptoms as those of a drug overdose.
Meanwhile, at a clinic, Marty has a blood sample taken to be tested for HIV and discusses his indulgence in chemsex and course of PEP with Dr Durham; she explains that his results will be available in a few days. Marty believes that he has been "a bit stupid", but Durham assures him that he has taken all the necessary steps to minimise his risk of infection since.
At home, after making herself breakfast, Julia begins to feel unwell. At the ED, Jade spots Marty in cubicles and asks him about his tardiness and the empty wine bottle she found in his room; Marty tells her that he left early to undergo the HIV test and needed the wine to help him sleep. Jacob, unaware of Marty's circumstances, reprimands him for arriving late for his shift. Meanwhile, outside Julia's house, Graham — her neighbour and Marty's father — knocks on her door to deliver a parcel, but she does not answer. Noticing that her television is on, Graham opens the door and comes into contact with the liquid from the spray bottle. He finds Julia on her knees in the living room and calls for an ambulance.
Outside the ED, Will confronts Fenisha about their recent breakup and asks to know who the father of her baby is. She refuses to disclose the father's identity and is subsequently called away to a shout. In the ambulance, Lev asks Fenisha if she wants to talk about "whatever is making [her] sad"; she sarcastically turns his question back on him, but she quickly learns that his son Luka is currently undergoing chemotherapy. At Julia's house, Lev and Fenisha assess her and decide to take her to the ED. With Julia being a widow and her daughter not living locally, Lev suggests that Graham accompany her; Graham reluctantly agrees.
In resus, while Julia's symptoms fail to alleviate, Ethan asks Will about his conversation with Fenisha, and Will claims that "another one bites the dust". Nearby, Aaron explains that the last thing he remembers is getting into his mother's car and denies taking any drugs. In the bay opposite, Naomi's condition deteriorates, forcing Ethan to perform a rapid sequence induction. Meanwhile, as Julia is taken into resus 3 and begins foaming at the mouth, Fenisha realises that she and Lev should never have taken Julia there. She stops Dylan from entering the room and explains the similarity of Julia's symptoms to those of Naomi and Aaron. Dylan takes Fenisha to Connie and Jacob to explain the situation to them. Connie realises that they are dealing either a nerve agent or organophosphate poisoning and orders for Naomi, Aaron and Julia to be isolated with restricted access immediately; she promptly decides to initiate the procedure for a "code orange" and lock the department down.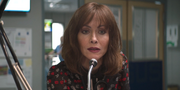 At reception, Noel begins researching Naomi and discovers that she is the CEO of a multi-billion pound agricultural solutions company named JMD Leech. When Marty approaches him at his desk, Noel tells him that Graham is sitting nearby. Marty approaches Graham and, when Graham struggles to talk to Marty, remarks that "a polite homophobe does not make you a good one; [it] just makes you harder to spot". As Graham prepares to leave the department, Connie announces over the intercom that "code orange" has been implemented, and all patients and visitors need to remain in the department. She asks for Fenisha, the other attending paramedics and any self-presenting patients to decontaminate as soon as the tents are set up outside. She promptly organises her staff and asks them to treat the situation as "the real deal".
In resus, while Ethan informs Aaron of the situation, Will tells Fenisha that she should notify someone about her pregnancy and warns her that she is putting her baby at risk; Fenisha contends that it is her decision. Will suggests to Ethan that Fenisha be relieved of all her duties and, to Ethan's shock, reveals that she is pregnant. Connie calls Fenisha away to get her decontaminated. In resus 3, Rash expresses his concerns about the lack of protective equipment and asks David if he believes that the poisoning is a terror attack; David assures him that there are many nerve agents that share the same chemical makeup as agricultural pesticides and advises Rash to follow protocol and to "keep calm and carry on". Outside, as Dylan helps Jade into her hazmat suit, she complains of being unable to hear anything. Dylan assures her that they will work it out as they go along, and the pair, Connie and Jacob return to the ED.
Back in resus, after reassuring Aaron about the circumstances behind his and Naomi's poisonings, Ethan assures Will, who he believes is the father of Fenisha's child, that he will keep the details surrounding Fenisha's pregnancy confidential; Will states that the child is not his, leading Ethan to conclude that he himself is the father.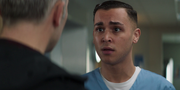 At reception, Graham begins to experience shortness of breath and a low heart rate as news of the poisonings makes national headlines. At the scene of Naomi and Aaron's collapse, DI Cooke is called to the ED by his superiors. Back at the hospital, Graham tries to help Marty calm the other visitors down, but an ungrateful Marty shoots him down. An exhausted Graham tells Marty that they will never see eye-to-eye about the latter's sexuality and suggests that Marty does not need to "make it obvious". Marty takes umbrage and reveals to Graham that he underwent an HIV test earlier that morning. When Graham tells Marty that him developing AIDS was what he was afraid of, Marty walks away.
Outside the ED, DI Cooke introduces himself to Connie and Jacob and informs them that a substance found on Naomi's car door handle was confirmed to have an acetylcholinesterase inhibitor present. When he requests access to Naomi and Aaron for questioning, Connie tells him that nobody apart from her staff are allowed inside the department until gold command has confirmed that it is safe. In resus, Connie and Jacob take over from Ethan and Will. Connie encourages Aaron to cooperate with the police and assures him that he and his mother will be moved to a designated clean area once they are decontaminated; Connie is taken aback when Aaron asks if the incident is related to his mother's past job.
After Ethan is decontaminated, he approaches Fenisha about the paternity of her child and asks her if she is going to tell Will. She refuses to tell Will and is called away by Lev before she and Ethan can discuss a plan of action; unbeknownst to them, Will overhears their conversation. Nearby, a group of armed police officers arrive, and Cooke explains to Connie that Naomi formerly worked in the Ministry of Defence's Science and Tech lab, and Julia's contamination was "collateral damage".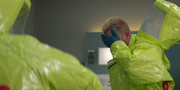 In resus 3, Dylan and Jade take over treating Julia from Rash, and Dylan asks Rash to ask if another suit has been found for him as the fan in his is malfunctioning. When Julia starts fitting, Dylan begins to hyperventilate and opens his suit; he wipes his face and immediately realises his mistake. Rash decides to take over Julia's treatment and works with Jade, who is struggling to understand his instructions with her compromised hearing, to stabilise her. Eventually, Dylan regains his composure and offers to help Rash. Once Julia is stabilised, Dylan, Rash and Jade are decontaminated.
Later, Jade finds Graham by reception and is concerned by his symptoms. Graham explains that someone he attended school with killed himself after being ostracised for cheating on his girlfriend with another man; he asserts that he just wants "what is best for Marty". Suddenly, Graham begins fitting and foaming at the mouth. He is rushed in resus 3, and a scared Marty wants to know what is happening to him; Jade escorts Marty out of the room to be decontaminated. At reception, Connie, Noel and DI Cooke watch a video of a man named Andrew Garrett explaining that he poisoned Naomi as revenge for her pesticides killing his child. Noel recognises Andrew from earlier in the day, and Connie realises that the video was filmed in the department's pharmacy; Cooke orders the armed response to the first floor of the ED. Connie and the police locate Andrew in the pharmacy; the former is shaken to find that he has succumbed to the effects of the nerve agent.
Outside resus 3, Jacob informs Marty that Graham is responding well to the antidote and suggests that he go home, but Marty is keen to stay. Speaking to Jade, Marty regrets telling Graham that he is ashamed of him, but Jade assures him that Graham will recover and offers to buy him a takeaway. Elsewhere, DI Cooke informs Connie that the substance used has been confirmed to be an organophosphate pesticide, and Aaron was the intended target. In HDC, Aaron watches Andrew's video and begins to believe that his mother is a "monster", but Connie reminds him that Naomi is still his mother, and she will need him when she awakes. Overwhelmed by the day's events, a tearful Connie decides to call Grace.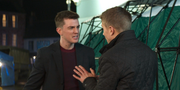 Outside, Dylan thanks Rash for his help in resus; Rash assures him that he does not have to explain himself. Meanwhile, in resus 3, Julia notices Marty and recalls the day Graham and Bibi brought him home from the hospital; she tells him that there is "nothing like" the love a parent has for their child. On their way out of the ED, Will confronts Ethan about him sleeping with Fenisha; Ethan tries to explain that their one-night stand happened before Will met Fenisha, but Will does not care and continues pushing him. After Lev and Fenisha break up the fight, Will tells Ethan and Fenisha that they are "welcome to each other" and walks away.
Cast
Kate Anthony

as

Julia Ford

Vikash Bhai

as

DI Cooke

Gus Barry

as

Aaron Johnson

Simon Nehan

as

Andrew Garrett

Tonya Smith

as

Dr Durham

Fay Barker

as

News reporter

Simon McCoy

as

BBC News reporter

Debbie Cameron

as

Naomi Johnson
Production
Filming
The episode was filmed in December 2019.[1][2]
References
External links