Comfort Jones is a paramedic who worked for the Holby Ambulance Service from 2001 to 2006.
When Comfort first joined the service, she was happily married and a devout Catholic. She thrived on danger despite being a solid and dependable person whose opinions were tested to the limit.
However, Comfort and her husband Rob divorced in 2002 which made her explore being single more.
Charlie's anniversary (2016)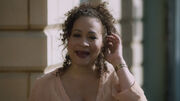 In August 2016 for Charlie's 30th anniversary of working in the ED, Comfort recorded a video message congratulating him. She noted that whenever she returned to the ED and saw his face, she knew she was home.
Behind the scenes
Martina Laird portrayed Comfort Jones on Casualty from 2001 until 2006. She reprised her role as Comfort as a guest star in the 30th anniversary episode at the start of series 31.