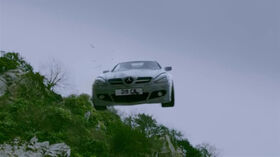 Connie's car was a car owned by Connie Beauchamp. From her arrival in the ED in 2014, she had owned the car and often used it to travel to work. It was a Mercedes SLK 350. When Connie first joined the department the registration was AO55 POH, but she later had it personalised to 219 CB. It was destroyed in the car crash in August[1] 2016. Her new car is a grey Range Rover Evoque, and the registration is again, 219 CB
She usually parked in the bay near the entrance of the ED. Connie often gave other members of staff her keys to go and collect items from her car which she had forgotten to take into work.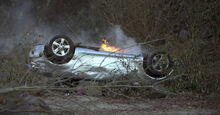 In August 2016 just before Charlie's 30th anniversary celebrations, Connie was driving home with Grace when Grace's friend's mum Steph Sims attempted to get them to pull over. When their speed was too high on a corner and they were unable to turn, Connie ended up driving off the road and straight off a high cliff. The car was severely damaged upon impact and landed upside down. It was later destroyed completely when it exploded.
New car
In 2017, Connie got a new car; a grey Range Rover Evoque. She kept her number plate of 219 CB.
References
↑

Events partially took place in an episode that aired in July, but took place in-universe in August.
Community content is available under
CC-BY-SA
unless otherwise noted.