This article is missing important information. You can help Holby Wiki by expanding it.
Daniel "Dan" Clifford is a consultant general surgeon who worked on Holby City Hospital's Keller Ward from 2006 to 2007.
Biography
Early career
Prior to 2006, Dan got engaged to two women and jilted them. (HC: "The Bitterest Pill")
At some point, Dan worked at The Middlesex. In 2006, he and a colleague named Camilla Patterson began dating and got engaged six weeks later. In November of that year, the two were scheduled to marry, but Dan jilted Camilla and decided to visit Barbados — their intended honeymoon destination — on his own; he subsequently resigned as a physician at The Middlesex. (HC: "It's Been a Long Day")
Employment at Holby City Hospital
Following the departure of consultant general surgeon Ric Griffin, Holby City Hospital's chief executive officer, Christopher Sutherland, agreed to give Dan the vacant position in exchange for running errands, such as "rooting out" and "exposing" troublesome individuals. (HC: "The Games People Play", "The End of the World as We Know It")
In December, Dan returned from the Caribbean and immediately began working on the hospital's Keller Ward. On the ward, an irate Camilla confronted Dan about his actions and struck him after learning about his trip to Barbados. (HC: "It's Been a Long Day") Later, Camilla returned to the ward with Dan's luggage and started publicly destroying it, but she was promptly escorted away by security. At reception, Dan apologised to Camilla for humiliating her, but Camilla was not interested in an explanation and left in a taxi. (HC: "The Bitterest Pill")
Xenotransplantation investigation
That same day, Dan removed an unusually-shaped kidney from a patient named Pete Golding who later claimed to have paid for a transplant in Kosovo. Citing the competence of the original surgeon, Dan was unconvinced by Pete's explanation and had the kidney tested; the results showed that it was of mammalian origin but was anatomically different from human tissue. (HC: "It's Been a Long Day") Dan asked fellow consultant Percy "Abra" Durant to retrieve the medical notes of his most recent transplant patient, but Abra had them destroyed after he performed a xenotransplantation on Pete with a pig's kidney. Abra later presented Dan with another patient's file and claimed that one of the histologists was adamant that the kidney originated from a pig; Dan, who was already suspicious after finding HIV medication hidden in a drawer, felt that there was not any need to review the notes and commended the conmen's cunning. (HC: "The Bitterest Pill")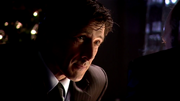 On 4 January 2007, Sutherland informed Dan that a Holby City Hospital doctor had attempted to send antiretroviral drugs from the hospital's HIV pharmacy to Lesotho and instructed Dan to find the culprit as he believed that it was linked to Ric Griffin's sudden departure. Dan grew increasingly suspicious of Abra after bumping into him on the way to the pharmacy and finding him a plastic bag filled with what Abra claimed to be tea for his missionary nephew in Africa. Later, Dan had security break into Abra's locker and found a parcel, but it was a decoy filled with teabags. (HC: "The Games People Play") On 9 January, a plastic bag containing antiretroviral drugs was discovered in the women's toilets, and Sutherland was certain that Abra was responsible. In theatre, Dan confronted Abra with what he knew and later invited him to a cigar bar. There, Dan gave Abra the opportunity to quietly leave Holby that night to escape punishment; Abra reluctantly accepted Dan's deal. (HC: "The End of the World as We Know It")
On 30 January, Dan took a patient to a theatre on Darwin when there were no available theatres on Keller. Cardiothoracic consultant Connie Beauchamp vehemently objected to Dan's actions and had the patient removed, but Dan later defied Connie and operated in a Darwin theatre. In spite of Connie's criticisms, Dan's defiance, which he marketed as a "flexible" working scheme intended to maximise theatre usage, was favourably received by the hospital board. (HC: "Into the Dark")
Two months later, when Lord Byrne and Dr Costello of St Raphael's Institute in Cincinatti were scheduled to demonstrate groundbreaking telesurgery at Holby City, Dan was selected as the Holby team's lead surgeon. The demonstration was almost jeopardised when signs emerged of a quid pro quo between the recipient and the American institute and when the recipient's step-daughter was also admitted to the hospital. Eventually, the procedure went ahead, but Dan decided to take over from Costello prematurely when a bleed occurred. (HC: "Paranoid Android")
Behind the scenes
Peter Wingfield initially portrayed Dan in Holby City from November 2006 to October 2007 before making two guest appearances in 2008 and 2009.