This article is missing important information. You can help Holby Wiki by expanding it.
David Hide (born 1970/1971) is a nurse who currently works in the emergency department of Holby City Hospital as its acting clinical nurse manager. He started working in the department at the end of April 2016 as a replacement for Ben "Lofty" Chiltern who left the previous month.
Prior to joining the ED, David had taken a two-year break from his career following a split from his wife, Rosa. Suffering from bipolar, David found it hard to control his emotions during this time and was deemed unfit to work by the Department of Work and Pensions.[1] However, after getting his life back on track, he joined Holby in need of a fresh start.
Biography
Early life
David was married to Rosa Hide until 2014 for an unknown amount of time. During their marriage, she gave birth to their son, Ollie in 2005 or 2006. Shortly before their break-up, David kidnapped Ollie and went off to Acapulco with his new girlfriend, which led to Rosa taking primary care of Ollie and cutting David off. (CAS: "Schoolboy Crush")
Following his divorce, he had some time off from work, and he joined Holby ED after the Department of Work and Pensions decided that he was ready to return to nursing after a two-year break.[1]
Joining the emergency department
David Hide had his first shift in the ED on 30 April 2016. Rita informed Dylan that she had been unable to get a word out of him, and thought that Charlie hadn't chosen the right person based on the interview. Nevertheless, he proved his abilities during the shift by providing comfort to a recovered alcoholic who later became involved in an incident outside the ED. Although she ultimately died, David impressed Connie and Dylan with his sound nursing skills. (CAS: "Tangled Webs We Weave")
In May, new consultant Elle Gardner was unhappy with David when he loudly stated a patient's injuries in reception and a local woman who knew him heard. He was frustrated with himself for this, although Elle was friendly to him after. However, Elle kept referring to him as Dave, something he didn't like, although he didn't want to mention it to cause a problem. (CAS: "Hello, I Must Be Going")
Later in the month, David overheard Robyn telling Louise how hard he was to talk to although he didn't appear to be that bothered by it. They later worked together in bringing a couple back together and after their shift, went to watch them get engaged at their mortality cafe. Robyn also suggested setting one up at the hospital too. (CAS: "This Life") The following week they were preparing for their first meeting in the The Hope & Anchor after their shift. David baked a cake and Robyn met Glen Thomas, a man whom she took an interest in. (CAS: "The Best Day of My Life") In July, David discovered that Glen had been lying about having a wife who'd died. He eventually confronted them and Glen was forced to admit the truth which resulted in Robyn going to David for support. (CAS: "Where the Truth Lies")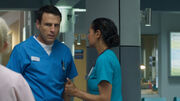 The following month[2], Glen was admitted to the ED with some severe facial lacerations and was seemingly drunk. However, it was later discovered that he had a brain tumour and that he'd lied to Robyn as she didn't want her having pity on him. David worked to get them back together and get him to tell her the truth which he eventually did. Despite initially rejecting treatment, Robyn was able to make him reconsider. (CAS: "Sticks and Stones") Later that day, David accidentally nearly revealed the surprise party plans to Charlie for his 30th anniversary of working in the ED. Later in the day, his congratulation video to Charlie was shown where he summed up Charlie in one word as calm. Following the helicopter which Grace was inside crashing into the ED, Elle and David worked together in treating and calming down Connie. They eventually helped Connie get to her daughter, but she too had sustained a nasty head wound from the car crash. As Elle was later preparing to move Grace, she was alerted by David of Jacob in reception who had become angry at the child whose drone accidentally collided with the air ambulance causing it to crash. David attempted to intervene but Jacob pushed him away. After the situation had been resolved, David was among the staff who agreed to stay until the mess was cleaned up. (CAS: "Too Old for This Shift")
Reunited with Ollie
In September at the pub, David shared a conversation with Duffy whom he opened up to about his son. She encouraged him to try to contact his son, despite the fact he was estranged from his ex-wife. This prompted David to leave his ex-wife Rosa a message asking her to call him back. (CAS: "Strike Three")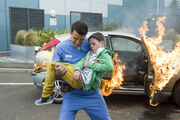 Later in the month, David's son Ollie visited the ED by stealing his mother's car. David was delighted to see him, but an angry Rosa found him there and tried to get Ollie to go back with her. David later told Ollie that he couldn't live with him and he reacted badly. He went to sit in the car and burned a posted he had of him and his dad, but in the process the car caught fire. David rescued Ollie, but a nearby patient was injured when the car exploded. Later on, Ollie took to the roof when Rosa inadvertently branded him as "crazy", which prompted David to come clean about his own condition of bipolar disorder. Eventually, David and Rosa set their past aside and decided to try to figure out a way to make their situation work. (CAS: "Schoolboy Crush")
In October, David and Dylan discovered Robyn's boyfriend Glen having a seizure on the floor of a corridor of the hospital. They were able to get him back down to the ED and stabilise him. Later in the day whilst taking him upstairs, David got stuck in the lift with Glen, Dylan and Max. Together, they were forced to help Dylan perform life-saving surgery on him. (CAS: "Too Much Love Will Kill You") The following week, wedding plans for the pair were going ahead. David, Max and Noel helped Glen celebrate a stag do by his bedside. David later visited Glen just before the wedding was due to take place and Glen asked him for a pen and paper. David assumed he was writing his vows, but it transpired that he was actually leaving an apology note for Robyn. David was forced to break the news and give Robyn the letter as she broke down in tears. (CAS: "The Big Day")
Two weeks after Glen's disappearance, David and Max were out in Robyn's car whilst she tracked Glen's phone on her computer. They eventually discovered that a man had Glen's phone in his bag and in the chase he ended up badly wounding himself on some barbed wire. It transpired that Glen had given the man, Paolo, his belongings before his disappeared and told him to get rid of them. Later in the day, David found Robyn outside the toilets in severe pain thinking she was having a miscarriage. David and Dylan performed a test on her with the Doppler to try to hear a heartbeat. Although they were initially unsuccessful, David noticed that the sound was turned down. When they turned it up, they heard the heartbeat, which made Robyn change her mind on her earlier idea of terminating the pregnancy. (CAS: "Night of the Loving Dead")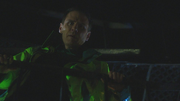 In November, Dylan became annoyed with David when he and Seb failed to inform him about a patient's suspected meningitis. Unfortunately for them, Archie, Seb's father, overheard them arguing about it amongst other things with the rest of the staff in reception at the end of the day. Shortly after, Archie revealed himself as the undercover inspector in the ED. (CAS: "About My Mother") The following week, Jacob sent David out with the paramedics in an attempt to boost his confidence. When a fire alarm was set off and the exit blocked by a car, David faced his fears and jumped down from the building and moved the car. Later in the ED, he shouted at a man who was responsible for an 18-year old being admitted after using drugs. (CAS: "Not in Holby Anymore")
In January 2017, David was struggling to connect with Ollie. When he arrived at work, David was surprised to see Ollie's teacher in the ED as a patient. David was even more puzzled when he found out that Ollie was in a school play that evening and hadn't told him about it. It eventually transpires that the teacher has an extra female chromosome and had taken an overdose of foreign tablets, resulting in his illness. However, David was humiliated as he discovered that he was the gossip of the school regarding the Acapulco incident. Despite the eventful day, David attended the play anyway to surprise Ollie, and he discovered that the reason Ollie didn't tell him about it was because of the rumours at school and that he knew how much David liked to avoid it. After the play, David admitted to Robyn that he'd have to reduce his bipolar medication in order to be the father that Ollie deserved. (CAS: "Back to School")
Psychosis
At the beginning of March, David prepared to send Ollie off to Spain to live with Rosa. Spending one final day together, David finally realised how reducing his medication had made him feel more human that he had ever felt whilst taking the lithium. With this, he told Robyn that he intended to come off his medication completely. (CAS: "It Starts With the Shoes") The following week, the staff became concerned with David's erratic behaviour when he turned up to work in a trendy new car and clothes. After helping Sally Hodge during the day, his confidence in himself was boosted, but he soon went off the rails at Duffy's birthday party. Robyn took it upon herself to intervene, telling David to take her for a drive in his new car. (CAS: "The Good Samaritan")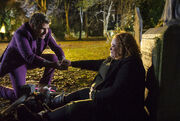 In the car, David's behaviour became increasingly concerning for both Robyn and the staff back at the ED whom she was communicating with on the phone. Dylan informed her that his psychologist was simply a figure of his imagination. David became frustrated when Robyn told him to stop the car and proceeded to throw her phone out of the window. He eventually stopped at a church to see his brother's gravestone. Shortly after, Robyn went into premature labour, giving birth to the baby in the graveyard. Charlie, Duffy and Max were able to track them down and get Robyn and her baby back to the ED. Dylan told David to get help, at which point he willingly sought psychiatric help, realising he wasn't fit to go back to work. (CAS: "Mobile")
Three weeks later, David returned to work and planned on resigning. Although Robyn and Max both showed hostility towards him during the shift, Robyn eventually let David hold her baby, Charlotte, in an attempt to made amends. Jacob handed back his resignation letter, unopened, assuming that this small act of kindness may be enough to make him stay on. (CAS: "Child of Mine")
Trip to France and smuggling Sanosi
Following Cal's death in April (CAS: "Reap the Whirlwind - Part Two"), David began to see his life as underwhelming. Dylan gave him a book by Friedrich Nietzsche to act as inspiration. (CAS: "Do Not Stand at My Grave and Weep") David compiled a list of goals based on Nietzsche's philosophies and asked Dylan to help him reach them. However, David ultimately ended up comforting Dylan after he had experienced a panic attack. At the end of his shift, David checked the 'work' box after befriending a difficult patient and moved onto love. (CAS: "War of the Roses") In July, Dylan agreed to attend a charity speed-dating session at The Hope & Anchor. (CAS: "Somewhere Between Silences - Part One") Later that day, David started talking to a woman called Gillian via text. He was saddened when he discovered that she didn't exist and that Noel and Grace were playing a prank on him. Afterwards, Dylan signed him up for the humanitarian trip to France. (CAS: "Somewhere Between Silences - Part Two")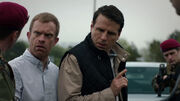 A few weeks later, David went to France with Dylan, Alicia and Louise. When they arrived at the refugee camp, David and Dylan bonded with Sudanese orphans Mariam and Sanosi. Later that night, they treated Mariam after she was attacked by traffickers. The following night, David and Dylan raced to a port to rescue Mariam and Sanosi after they made a break for it with the traffickers. However, disaster struck when one of the chains attached to the container they were in and the two children were left holding on for dear life. David and Dylan managed to catch Sanosi but Mariam lost her grip and fell to her death. (CAS: Episode 1049) Two days later, David refused to leave Dylan after the latter decided to leave early. When the pair reached the border, David was horrified to learn that Dylan was attempting to smuggle Sanosi into the UK. When their vehicle was searched by border security, they were questioned when another refugee was found underneath the car. After they were cleared, David, Dylan and Sanosi made it to Holby. (CAS: Episode 1050)
In August, Dylan called David for help when he became trapped inside a dilapidated boat. When David tried to pull him with some rope, he lost his footing and fell in too. After relocating Dylan's knee and escaping, the pair panicked when Sanosi wasn't on Dylan's houseboat, resulting in Dylan injuring his knee again. They decided to go to the ED to treat Dylan before resuming their search for Sanosi. When they returned to the boat, they were relieved when they found Sanosi safe and sound. David also gave Dylan the phone number of Sanosi's uncle Kamal which he found online. (CAS: Episode 1051) Later that month, after Dylan reunited Sanosi with Kamal, they were shocked when Kamal was admitted to the ED with abdominal pains. When it was revealed that Kamal had swallowed condoms filled with heroin, he was reported to the police. When Dylan decided to continue looking after Sanosi, Dylan warned him of the potential legal consequences. (CAS: Episode 1052)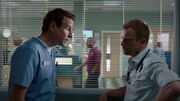 In October, David argued with Dylan about Sanosi's future; Sanosi overheard the feud and escaped the houseboat. When they found him injured, they decided to take him into the ED to treat him. They became agitated when Louise questioned the story they concocted surrounding his injuries and suggested calling social services. In cubicles, Dylan began to panic at the prospect of getting caught, prompting David to slap some sense into him. In the corridor, David implored Dylan to work out a plan for Sanosi. Unbeknownst to them, Louise found Sanosi's jacket and discovered a food token in his pocket; Louise soon began to connect the dots. (CAS: Episode 1055)
Later that month, Louise found out the truth about Sanosi and argued with David and Dylan at work. When Connie overheard their quarrel, she demanded to know what was going on. After digging up Dylan's patient notes from the day Sanosi was taken into the ED, Connie asked him and David to meet her in her office. When Dylan suggested lying to social services about Sanosi's current location, David was disgusted and asked him if he ever stopped to remember that he had his own son to look after. When Dylan failed to turn up at her office, David told Connie that he didn't remember what happened on that day, infuriating her. (CAS: Episode 1057) The next day, after learning that Dylan had given Connie his letter of resignation, he stopped him as he tried to leave Holby with Sanosi and implored him to do the right thing. After Dylan took Sanosi to the police, David handed his letter of resignation back to him. (CAS: Episode 1058)
In November, junior doctor Rash joined the ED. On his first day, Rash lost his nerve and vomited. David advised him to ease himself in slowly. (CAS: Episode 1059) On his next shift, David gave Rash a few lessons after he nearly gave a patient the wrong fluids. By the end of the day, Rash's confidence in his own abilities was restored. (CAS: Episode 1060)
In June 2018, David was attacked in resus after he was recognised by a patient's friend as a wanted sexual harasser. He soon discovered that there was a story in the newspaper about a wanted criminal with a picture of a man who looked identical to him. Paranoid, he donned several disguises to avoid suspicion, but his colleagues told him not to worry about it. Later that day, he was shocked to find that his doppelgänger had been admitted to the ED. (CAS: Episode 1087)
Dylan's relationship with Ciara
In September, David treated Ciara Cassidy and did not inform Dylan of her presence in the ED. She soon found him, and David told him that he believed that she had been drinking. However, her blood tests revealed no traces of alcohol. They soon found her unresponsive in The Hope & Anchor and took her into the department. Later, after she discharged herself and left Dylan a farewell note, David suggested that it may have been for the best. Outraged, Dylan berated him and made a crude remark about his bipolar disorder. (CAS: Episode 1097)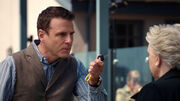 In October, David became concerned when Dylan failed to turn up for work, prompting Robyn to suggest calling his old tutor Zsa Zsa Harper-Jenkinson. Later, she arrived in Holby and got David to take her and her assistant Jeffers to Dylan's houseboat. Once Jeffers managed to break into the boat, they found Dervla alone as well as suitcases filled with clothes. Zsa Zsa soon received a call from Dylan's father Brian who was with him at a pub. They soon set off again to find him, but they soon arrived at the wrong pub. David noticed Dylan's passport fall out of Jeffers' pocket, triggering a confrontation between him and Zsa Zsa. She told him that she was going to take Dylan to the United States with her to take care of him, but he called her motives selfish. They soon found Dylan trying to save Brian's life after he hit his head. Once they stabilised him and took him to the ED, David escorted Zsa Zsa and Jeffers to the airport. (CAS: Episode 1101)
In November, David encouraged Dylan to call the police after he heard Ciara's husband Joel Dunns abusing her on the phone. Later, David reluctantly agreed to help him talk to Ciara by preventing Joel from following her and signalling Dylan towards her location. (CAS: Episode 1105) Later that day, David treated Dylan after he was involved in a car crash, and he drove Dylan back to the houseboat to meet with Ciara. She later left the country. (CAS: Episode 1106) During the early hours of Christmas Day, David kept an eye on Dylan in resus. When he questioned his decision to work over the festive season and suggested that it had to do with Ciara, Dylan assured David that he was alright and told him to drop the subject. At the end of their shift, Dylan asked David to read a card that Ciara had sent him. Dylan told him that he missed her, and David invited him over to his place for a Christmas dinner. (CAS: Episode 1109)
Iain's suicide attempt
In March 2019, David helped Connie treat Iain following his suicide attempt. After he developed a cardiac tamponade and the trauma theatre was left inaccessible due to a computer virus, David, Connie and Fletch took Iain to Darwin via the lift. However, it suddenly stopped, leaving them trapped. (CAS: Episode 1118) Rash, Marty and Gem managed to free them from the lift, and David, Connie, Fletch and Jac Naylor took Iain to the theatre on AAU. However, as they prepared to operate, Ric Griffin found Sacha Levy unresponsive, and Jac decided to prioritise Sacha, leaving David and Connie to operate on Iain in the anaesthetic bay. When Xavier "Zav" Duval struggled to treat Sacha, Jac convinced Connie to switch patients with Zav. David and Zav soon discovered a tear in Iain's right ventricle, and Iain started to deteriorate. They desperately tried to revive him, but, when they saw no signs of improvement, Zav decided to call it. However, Jac subsequently took over the procedure and successfully revived him, and David thanked her. (HC: "Powerless") Later that week, David scolded Charlie for his treatment of Gem, and Elle asked him what was going on. David explained to her that Iain's situation had reminded him of his own brother's suicide. Sympathetic, Elle encouraged him to go outside for some fresh air before returning to work. Later, David visited Gem and Iain on ITU, and he implored Gem not to blame herself for not stopping Iain in time. (CAS: Episode 1119)
Conflict with Charlie and suspension
In April, David confronted Charlie about his unfair treatment of Jade and questioned his decision to keep Duffy in admin despite the department being short-staffed. In the staff room, Jade told David that she hadn't been given her nursing registration because she stole a car when she was 16. She explained to him that she needed at least three references for the decision to be reconsidered, and David agreed to be a referee and told her that he would speak to Charlie about the matter. However, Charlie said that he would do it later. That afternoon, David queried him about the reference, and Charlie snapped at him and stormed into the staff room. A delighted Jade informed David that she had received three references, but she revealed that Dylan was the third referee and not Charlie. David confronted Charlie and told him that he needed to support his team. When David asked him if there was something wrong with Duffy, Charlie became aggressive and started pushing him. In self-defence, David pushed him to the floor. Other members of staff noticed the confrontation and rushed to Charlie's aid, believing that David was the instigator. (CAS: Episode 1122)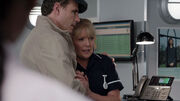 The next day, David apologised to Charlie, who told him not to worry about it. However, unbeknownst to him, Charlie reported him to Fletch. During a meeting with them, despite admitting that he pushed Charlie, David expressed his bewilderment at the situation as he thought that their feud was settled. Afterwards, Fletch was left with no choice but to suspend David until an investigation was launched. Devastated, David decided to clear out his locker, believing that he no longer belonged at the ED. Feeling guilty, Duffy stopped him as he walked out of the department and announced to the rest of her colleagues that she was living with dementia. (CAS: Episode 1123)
Later that month, Charlie informed David that he had arranged the off-duty rotas so that he didn't have to work the same shifts as him and Duffy, but David assured him that it wasn't necessary and told him that he should be looking out for her. However, Charlie asserted that he had let her down when she needed him the most, and, when David spoke of the cruelty of dementia, he acknowledged that he hoped that she would forget about what happened between them and come back to him. David comforted him as he started to question whether he was worthy of being remembered by her. (CAS: Episode 1124)
On 14 July, David took issue with the department's new porter Rosa Cadenas removing his car's flat tyre due to her not being a mechanic and him having to pay a call-out charge to the mechanics earlier regardless; she told him that a "thank you" would have sufficed. When a young man named Ben arrived in the department with an antenna element stuck in his leg and an alleged hornet sting on his buttock, Rosa sternly ordered him to lay on a trolley. David reprimanded her for "barking" at him, but, when Ben complied, she suggested that he should consider doing it more often.
Ben's mother Gail complained to David about Rosa getting involved in her family's business. He confronted Rosa for her actions, but she insisted that Gail was being overprotective. He reminded her that she was not a counsellor and not qualified to talk to Gail like she did, but she posited that he was getting "flustered" and assured him that she was only trying to help. Passing by, Dylan pointed out to David that Rosa shared the same first name as his ex-wife. (CAS: Episode 1136)
On 19 July, following Duffy's resignation, David voiced his concerns about Charlie to Connie and suggested that he was struggling to cope with Duffy's dementia, but she saw no reason to intervene unless his competency was compromised. Later, he found him asleep in his office and tied to his chair with his bumbag. Despite initially asking to be let go, he admitted that he was not sure about who Duffy's dementia would turn both of them into, and he was not sure if he could take care of her on his own. David assured him that, even though Duffy no longer wore a uniform, she was still a part of the team, and they would never allow either of them to "fall through the cracks". He subsequently untied him and volunteered to cover him for the remainder of his shift. (CAS: Episode 1137)
Ollie's return
On 17 August, Ollie visited the emergency department to speak to David, but, as the hospital had declared a major incident following a terrorist attack on Holby Market, he was too busy. Later that day, he was relieved of his duties and returned to talk to Ollie, but Rosalene came to collect him. She questioned if Ollie coming to the ED was his idea and that he seemed "wired", but David flippantly dismissed her concerns. As she left, he asked her to tell Ollie to call him. (CAS: Episode 1139)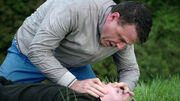 On 31 August, David was alarmed to learn from Rosalene that Ollie was missing. He took issue with her new partner Mark's decision to take her home and prioritise his work, but Mark claimed that Ollie running away was "routine". Nevertheless, David remained concerned about his son's wellbeing, and Dylan granted him an hour to search for him. He soon found him sitting on the Brinley Road bridge and asserted that he was there for him, but Ollie argued that he was more concerned about his work. Suddenly, Ollie slipped and fell in the river, and David dived in after him. He managed to rescue his son and drag him to the bank, but he was forced to resuscitate him in a hysterical state.
Once Ollie was admitted to the ED, he was delighted to hear that his father remained by his side, but he began experiencing sharp pains in his chest, and Dylan suggested that he had developed a cardiac tamponade as a result of a fractured sternum. David vehemently opposed his suggestion of a full thoracotomy, but Dylan overruled him and paged Jac Naylor to operate on Ollie in the department's trauma theatre. Although the operation was successful, David blamed himself for causing the tamponade, but Mark reminded him that, without CPR, Ollie would have died. Regardless, he decided that he was unfit to take care of Ollie, and Rosa scolded him for not heeding his son's overt cries for help. Once Ollie woke up, he expressed his wish to live with David, and Rosalene reluctantly allowed to stay with him for the duration of his recovery. (CAS: Episode 1141)
After recovering from surgery, Ollie confided in Rosa after becoming conscious of his incredibly short temper and feared that he was bipolar like his father. In the ED, Rosa, who was in the process of losing her flat, castigated Ollie for threatening to return to his mother if David refused to allow Rosa to live with them, and she urged David to start properly disciplining Ollie and teaching him to stand up for himself. David and Ollie reconciled, and David invited Rosa to live with them. As a gift, Rosa gave David and Ollie a kitten named Frimp. (CAS: Episode 1144) In September, David received a formal letter from Rosalene demanding that Ollie return home. Ollie was bothered by his father's complacency with the request and decided to move back in with his mother on his own, but David — inspired by words of encouragement from Rosa — managed to catch up with Ollie and told him that he wanted him to stay. (CAS: Episode 1145)
Marriage to Rosa
In October, David was shocked to find a letter from Rosa's mother Xiomara referring to him and Rosa as a loving couple; Rosa explained that she created a fictitious "David" because Xiomara did not want her being on her own. After David accidentally patronised Rosa when the latter started to fret over Xiomara's imminent arrival, Rosa opened up to David about the death of her eight-year-old son Gabriel and the deep depression she experienced as a result. Later, Rosa told David that Ollie believed he had bipolar disorder, but David berated her for not telling him sooner. Privately, David assured Ollie that he might not necessarily have it, but he would help him deal with it if he did. Believing that David was furious with her, Rosa decided to move out of the house, but David expressed his appreciation of her attitude towards Ollie and volunteered to pretend to be her boyfriend. (CAS: Episode 1148)
On 23 November, Xiomara arrived in Holby and was keen to know if David and Rosa were planning on marrying. In confidence, Xiomara told David that she had a terminal heart condition and urged him to always stand by Rosa; David agreed and swore himself to secrecy. Believing that David and Ollie had given Rosa hope, Xiomara gave David her engagement ring. David approached Rosa about the two of them getting married, but Rosa wanted him to wait until he found someone he truly loved. Nevertheless, with Xiomara in view, David proposed to Rosa, and she agreed to marry him "for practical reasons". (CAS: Episode 1151) The following week, while organising their wedding, David unintentionally referred to Xiomara's "rude health" which led to Rosa finding out about her mother's lie. Xiomara asserted that her duplicity had helped inspire David and claimed that it was obvious that Rosa was in love with him. Rosa reluctantly decided to play along and, with David, announced their engagement to their colleagues, but, thanks to Xiomara, they were already well aware. (CAS: Episode 1152)
On the day of their wedding, David was aggrieved to learn that Xiomara had lied and that Rosa had willingly played along, but he began to realise that he had feelings for Rosa. However, a guilty Rosa felt that it was too late and cancelled the wedding, much to David's disappointment. Despite this, Xiomara and Ollie forced the couple into a room to reconcile and kickstarted the wedding again. After David and Rosa admitted their feelings for each other, they rushed to the ED chapel only to find that their colleagues had already left. Nevertheless, David and Rosa married and celebrated "La Hora Loca" at The Hope & Anchor with their friends. (CAS: Episode 1154)
Promotion to band 6
In March 2020, Rosa was forced to return to Uruguay to take care of Xiomara after she had a fall. (CAS: Episode 1165) In June, David was promoted to band 6, and Rosa informed him that she was returning to England. However, in the time that Rosa was away, David had slipped back into his pre-marital routine and began ruminating over the fact that they knew little about each other. (CAS: Episode 1177) David was keen to keep the details surrounding his bipolar disorder private from Rosa. However, he was shaken when John Barker — the psychiatrist who sectioned him in 2017 and received a punch from David — was paged to the ED to evaluate a patient named Matt who was presenting with severe psychosis. After the two reached an understanding, David decided to open up to Rosa about his bipolar and explained that he feared that Rosa would want to leave him if she knew the truth. Rosa assured David that she wanted to get to know him better and promised that she would not leave him. (CAS: Episode 1178)
Ollie's choking incident
In April 2021, Ollie started choking on a sweet that he threw into his mouth while on a walk with Grace Beauchamp. When Grace concluded that CPR was not helping Ollie, she followed an online tutorial on how to perform a cricothyroidotomy. Ollie started breathing again, but David and Rosa were concerned that Ollie could have sustained a hypoxic brain injury from the lack of CPR and damaged vocal chords from Grace's procedure. Fortunately, the following day, Ollie's CT scan showed no evidence of brain damage. (CAS: Episode 1194)
Trivia
Behind the scenes
Jason Durr began filming in mid-January 2016. His first scenes aired on 30 April 2016 in the episode "Tangled Webs We Weave", the 33rd episode of series 30.
"I'm delighted and thrilled to be joining this iconic BBC flagship show in its 30th year," said Jason. "I have to confess that I have a huge phobia of blood and needles so I'm hoping my time in Holby will help me overcome my lifelong fear!"
References