This article is missing important information. You can help Holby Wiki by expanding it.
Dylan Keogh (né Carroll; born 27 February 1976) MRCGP FRCEM is a consultant in emergency medicine who works at Holby City Hospital's emergency department. He initially joined the department in 2011 but left at the end of 2012. He returned to work there in 2014.
Upon joining the department in 2011, he immediately had a big impact on the rest of the staff due to his sincere approach to dealing with things. Throughout his time there, he has hit many obstacles, notably his past with Sam Nicholls being exposed after the fire in 2011, his battle with OCD in 2015 and smuggling a child into the country in 2017. Since starting work there, Dylan has built connections with a few members of staff including Zoe Hanna, Ben "Lofty" Chiltern and David Hide but has proven himself to be hard to get along with due to his bluntness and sharp attitude.
Biography
Early life
Dylan was born in February 1976. (CAS: Episode 1049) His mother was a devout Catholic; although her husband and Dylan's father Brian Carroll loathed her stern attitude, Dylan was deeply connected to her and was thankful for her presence in his life as an adult. As a young child, he had two imaginary friends named Harvey and Sheila and would often play chess with them; he continued talking to them until adolescence.
At the age of 11, Dylan walked in on Brian having an affair; Brian laughed it off and claimed that it would not happen again, but he ultimately did. Four years later, Brian left Dylan and his mother; (CAS: "The Long Haul") Dylan's mother failed to overcome her grief and committed suicide. (CAS: "The Long Haul", "She's My Baby") Consequently, Dylan spent nine months in foster care. (CAS: "The Long Haul", "Remember Me - Part One")
When he was 14, Dylan started drinking; he soon stopped, but he continued six years later and eventually became an alcoholic. (CAS: "Next of Kin - Part Two") While attending medical school in the late 1990s, Dylan was mentored by Miriam Turner. (CAS: "Only Human") At around this time, Dylan assumed his mother's maiden name. (CAS: "The Long Haul")
Marriage to Sam Nicholls and sobriety
In the mid-2000s, Dylan married army medic Sam Nicholls. (CAS: "Next of Kin - Part Two") However, not long after, they started to feel miserable in each other's company, and they would often argue, leading Sam to act "recklessly" and put herself in danger to scare him. (CAS: "Duty of Care") Their marriage also began to suffer on account of Dylan's alcoholism, (CAS: "When the Gloves Come Off") though Sam was not aware of the extent of Dylan's issues. (CAS: Episode 1078) In 2008, (CAS: "Do the Right Thing") Sam began having an affair with corporal Iain Dean while serving in Afghanistan; (CAS: "Under Fire") when Dylan found out, Sam explained that she did it to "save their marriage". (CAS: "When the Gloves Come Off") They separated not long after (CAS: "Duty of Care") and did not remain in contact. (CAS: "Do the Right Thing")
In 2009, a woman named Saskia Welch was admitted to an emergency department he was working in needing an emergency appendectomy. While Saskia was awaiting surgery, Dylan caught her drinking and asked her, "if [she could] have a drink, why [he couldn't]"; he promptly began drinking her alcohol in front of her. Dylan's actions quickly became public knowledge, and he was suspended and had all of his most recent cases reviewed. After three days of extremely heavy drinking, Dylan decided to get himself sober. (CAS: "Natural Selection") To help stop himself from drinking, Dylan kept himself distracted by serving as a BASICS volunteer in his free time. (CAS: "Memory Games") Following the incident, Dylan secured a job as a consultant general practitioner in a surgery in the countryside away from Holby; he enjoyed the serenity and even spent time talking to Arthur — a sheep that lived in the field adjacent to the surgery. (CAS: "Only Human")
Employment at Holby City ED and Polly's death
In 12 March 2011, after trust doctor Ruth Winters was sectioned, Nick Jordan — a lead consultant at Holby City Hospital's emergency department — began interviewing for a replacement; Miriam Turner asserted that she already knew the ideal candidate and contacted Dylan. Dylan initially refused her offer and expressed his disdain of Holby, but he eventually acquiesced and agreed to a coffee. However, while Dylan rode a bus to the hospital, the driver, Filip Zielinski, lost consciousness and crashed into a road sign. While Dylan treated the injured passengers at the roadside, sales assistant Hannah Fleet returned to the bus to retrieve her face cream, but she was left with her face impaled by a seat frame when a careless driver crashed into the side of the bus. As fuel leaked out of the vehicles and was ignited by the driver's cigarette, Dylan was forced to pull Hannah out seconds before the bus exploded.
At the ED, Miriam told Dylan that he had secured the trust doctor position, but Dylan restated his preference for the countryside and general practice and even squandered an opportunity to impress Nick. However, when Filip told Dylan about issues with his vision and later had a seizure, Dylan asked for his medical records and found that Filip had failed to follow up on an EEG that had identified complex partial seizures. Nevertheless, Dylan did not want the job in the ED, but Miriam told him that he had been given the job, forcing an exasperated Dylan to admit defeat and take the job. (CAS: "Only Human")
Three weeks later, Dylan moved into the houseboat Beachley, which was situated within the city, to prepare for his first shift at the ED. On that day, Hannah was brought into the department with a leg injury and was distraught when Dylan was dismissive of her. Dylan soon caught Hannah talking to Tom Russell — a barratrous lawyer who was lingering in the ED for potential clients — and expressed his feelings of disgust towards her. Later, Hannah developed a fever and was taken into resus; she was subsequently diagnosed with osteomyelitis. Paramedic Polly Emmerson believed that Hannah was lonely and suggested that Dylan visit her, but he was far from keen. That night, Dylan was informed that Hannah had requested to see him after tearing her wound open with a nail file, but Dylan remained at home. (CAS: "Just Because You're Paranoid")
On 23 April, Hannah was taken into the ED after sustaining scalds and insisted on being treated by Dylan. Polly believed that Hannah's injuries were self-inflicted and told Dylan that she wanted to speak to him specifically, but Dylan contended that Hannah's case would be better handled by psychiatric professionals and refused to speak to her. Unsatisfied with Dylan's response, Polly brought Hannah down to the basement to speak to Dylan personally; Hannah was mortified to discover that Dylan was more concerned about concealing his pet dog Dervla. Dylan continued to dismiss Hannah's accusations of trying to ruin her life and left for the lift, prompting Hannah to grab a kitchen knife and lunge at Dylan; the lift doors closed before she could reach him, but she ended up accidentally stabbing Polly instead. (CAS: "Before the Fall")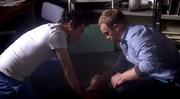 Upstairs, Hannah insisted on speaking to Dylan, but he ignored her once again. Believing that Hannah needed a psych assessment, consultant Zoe Hanna told Dylan to persuaded Hannah to speak to psych, but Dylan brashly asserted that Hannah was "disturbed", and talking to her was out of his remit. In the Clinical Decisions Unit, Hannah told Dylan that they were connected and claimed that, if he did not "walk out", "none of this would have happened". Dylan tried phoning Polly, but she failed to return his calls. Dylan and Zoe soon found that Hannah had left her cubicle and discovered Polly's phone there. Concerned, Dylan soon found Hannah and demanded to know where Polly was; Hannah failed to give a concise answer and threatened Dylan with the knife. Dylan managed to wrestle it out of her hand and pursued her through reception; Hannah was apprehended by police, and Dylan alerted the other staff about Polly's whereabouts. A dying Polly was rushed out of the basement and into resus; despite the team's best efforts, Polly was later pronounced dead. Overcome with guilt, Dylan attested that he should never have got involved in Hannah's case and left the hospital. (CAS: "Momentum")
Return to work
By 11 June, Dylan had resigned and was preparing for a job interview at a private hospital in Harrogate. Zoe visited Dylan at his houseboat to convince him to ask Nick Jordan for his job back, but Dylan was unmoved. On his way to the train station, Dylan found a box of loperamide prescribed to Joe Shawcross and was intrigued by a young boy who was struggling to stand up while running away from a crashed car that was about to explode. When Zoe failed to return his call, Dylan decided to ditch the train and go to the ED to inform her that Joe could potentially have Guillain–Barré syndrome. When Dylan continued to hound Zoe about Joe's case, she argued that Dylan actually wanted to return to the ED but was "scared".
Later, Dylan was sceptical when Zoe informed him that Joe tested negative for GBS and confronted Simon Roper, the locum treating him, who believed that Joe's symptoms were caused by the car accident; Dylan was quickly escorted out of the building by security when he began berating Simon for not considering acute intermittent porphyria as a diagnosis, but he immediately went back inside. With the help of new clinical nurse manager Linda Andrews, Dylan found a urine sample from Joe's father William that clearly showed porphyria and managed to stop Joe from receiving unnecessary surgery. After Zoe spoke to Nick about Dylan's position in the department, Nick offered him his job back; Dylan accepted it. (CAS: "One Good Day")
On 2 July, Linda informed that several patients needed to be transferred to CDU, but Dylan told her that he could free one bed for one intriguing case. Staff nurse Madiha "Mads" Durrani asked Dylan to assess Ani Murad, the daughter of her friend Rani, who was suffering from abdominal pain, but Dylan dismissed her condition as a non-emergency. However, when Mads discovered a mass and pressed Dylan to treat Ani properly, he was delighted to find that Ani had Rapunzel syndrome. (CAS: "Rogue")
By the following fortnight, Dylan had become tired of treating patients with common ailments on CDU and demanded to only be presented with interesting cases. Later, Dylan treated a young homeless woman named Becca who was attacked and temporary lost her eyesight. While Dylan waited for her test results, he also managed to diagnose cyanide poisoning in one of Adam Trueman's patients, but Becca's symptoms continued to leave Dylan stumped. However, with the help of Ruth Winters, Dylan eventually diagnosed Becca with nyctalopia caused by vitamin A deficiency. Ultimately, Becca discharged herself before the test results confirming the diagnosis came back. That night, Dylan encountered Becca on the streets and ordered her to find somewhere to stay. However, she followed Dylan to his houseboat and told him that she trusted him because of his honesty; he begrudgingly allowed her to sleep in his home. (CAS: "Divine Intervention")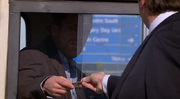 In the morning, Dylan returned to the houseboat after sleeping in the car with Dervla and found Becca unconscious. When he discovered Cullen's and Grey Turner's sign, Dylan put her in his car and drove to the ED. Zoe urged Dylan to move Becca to resus, but Dylan was focused on trying to interpret her symptoms and working on a diagnosis. Zoe soon discovered that Becca was only 15 and warned Dylan about the potential consequences of his actions, but he persisted. In the end, his efforts proved fruitless, and he was forced to take Becca to resus. There, Dylan handed Nick his hospital badge, and Nick immediately accepted his resignation. Nevertheless, Dylan remained in the department and reviewed her bloods; he rushed into resus as Nick was about to perform a laparotomy on Becca and told him that she had congenital analgesia and retroperitoneal bleeding. Nick initially did not give Dylan his job back, but he later gave him his hospital badge back after Zoe assured him that Dylan did not act inappropriately with Becca the night before. Dylan thanked Zoe for her help, and the two agreed to be friends. (CAS: "Pascal's Wager")
On 27 August, Dylan treated a patient named Chris who claimed to have contracted food poisoning from a restaurant in Edwalton; he was left puzzled when Chris began experiencing respiratory problems. As more patients were brought in with similar symptoms to Chris, Dylan suspected that there was a common vector. He warned his colleagues of the possibility of an outbreak, but he quickly learned from Lenny Lyons that another patient had developed an infection after sustaining a needle stick injury. After the other patients showed puncture marks, Dylan deduced that they had injected heroin contaminated with Clostridium botulinum bacteria. (CAS: "Common Vector")
The following week, Zoe was surprised to discover that Dylan was a BASICS volunteer. In CDU, they treated a woman named Rachel who claimed that a man was following her; her husband Matt explained that the man was a hallucination. Dylan believed that her symptoms were indicative of Lewy body dementia and attempt to inform the Greers, but Zoe told him that he was being "brutal" when Matt struggled to accept the diagnosis and urged him to stop "being so pleased with [his] own brilliance". Eventually, Dylan and new nurse Scarlett Conway managed to calm Rachel and help her take control of her hallucinations. In the morning, Zoe invited Dylan out for a drink, prompting him to explain that he became a BASICS volunteer to keep himself sober. (CAS: "Memory Games")
Sam's employment at the ED
On 22 October, Dylan was taken aback upon discovering that Sam Nicholls had started working in the ED as a registrar the week prior; (CAS: "Mea Culpa", "Sanctuary") Sam agreed to keep their relationship discrete. In CDU, he treated a young autistic girl named Angela who was complaining of chest pains; he quickly deduced that she had taken her mother Janice's digoxin. After noticing Angela's discomfort towards sensory stimuli, such as Janice's vividly-coloured clothing, Dylan realised that she was hypersensitive. When Janice tried to force Angela back to her care home, the latter took more digoxin and ran off; she was soon found zip-tied to a staircase. To calm Angela down, Dylan constructed a tent with cubicle curtains and bedsheets. (CAS: "Sanctuary")
On 5 November, Dylan treated a girl named Esther who was admitted to the ED with a sore throat. When he assured her that she had not developed lymphangioleiomyomatosis from her mother, Saskia Welch — a neighbour claiming to be Esther's mother — demanded a second opinion. Dylan immediately deduced that Saskia was unrelated to the girl, prompting Saskia to publicly out Dylan as an alcoholic. After learning that Esther's real mother had died six months prior, Dylan insisted that her father Billy come and collect her, or he would be forced to contact social services; Billy failed to make an appearance, prompting Tess Bateman to make the call. Taking matters into his own hands, Dylan visited Billy at home and urged him to start protecting Esther, but the grief of losing his wife had left Billy severely agoraphobic and caused him to suffer a panic attack. After calming Billy down, Dylan gave him diazepam and managed to convince him to accept any help that was available; he eventually accompanied Dylan back to the ED and was reunited with Esther. (CAS: "Natural Selection")
The following week, Sam treated a teenaged mother named Debbie and her infant son Rhys. She found that Rhys had sustained multiple bruises over a period of time; although she firmly believed that Debbie was not responsible, she had no other explanation for Rhys' injuries. Determined to exonerate Debbie, Sam begrudgingly enlisted Dylan's help in finding a diagnosis, and the two concluded that Debbie and Rhys both had von Willebrand disease. After finding Debbie collapsed in a toilet cubicle, Dylan and Sam performed paracentesis together to drain the free fluid in her abdomen and stabilise her. (CAS: "No Goodbyes")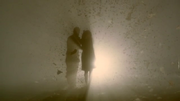 On 3 December, a Christmas tree caught fire in the ED's basement, (CAS: "Next of Kin - Part One") resulting in the department being evacuated. However, due to the extent of fire officer Frank Malloy's injuries, Dylan and Zoe opted to ignore Nick Jordan's orders and treat him in resus. The fire quickly reached the reception area, but Frank's condition was still critical. Once he was stabilised, Dylan and Zoe attempted to escape the building, but an explosion blocked their path and forced them back into resus. There, they were informed that, while the fire service was working on freeing them, there was a chance of resus' walls and ceiling collapsing. Fearing that they would not be rescued, Dylan retrieved several ampoules of fentanyl as a "get-out clause", but Zoe refused and insisted that they would survive. However, as the fire approached resus, the two shared a kiss as they prepared to kill themselves. Before they could, the fire service entered the room and rescued them and Frank. Due to Sam being listed as Dylan's next of kin, the rest of the team found out that she was Dylan's wife. (CAS: "Next of Kin - Part Two")
In January 2012, following the construction and opening of the new emergency department, Dylan took issue with his colleagues gossiping about his and Sam's marriage and angrily confronted Linda after she pinned their wedding photo onto the staffroom wall. Despite asserting that he and Sam were miserable throughout their marriage, Dylan was concerned when he heard that Sam was assisting at the scene of an explosion and hydrogen chloride gas leakage on the Silverton housing estate, though he believed that she had deliberately put herself in danger to "make [him] sweat". Later that day, in the staffroom, Keith Parr — the son of a patient named Jean who had previously been incarcerated for having a relationship with a minor named Peter — confronted Dylan after he allowed Peter to visit Jean for closure. When Keith shoved Dylan against the lockers, Sam restrained him. (CAS: "Duty of Care") The next day, Dylan felt that Sam was becoming too invested in Jon Marston's case and criticised her for contacting his ex-wife Heather. However, following Jon's death, Heather sent the two a bouquet of flowers, thanking them for helping her and Jon find closure; Dylan told Sam to keep the flowers. (CAS: "Death and Doughnuts")
On 11 February, Dylan was staggered to hear that Keith was considering suing the hospital after sustaining a C-spine fracture that could have potentially been caused by Sam restraining him. Later that day, Dylan warned Sam that a tribunal could find against her and urged her to accept the offer of a conversation with Keith to deescalate the situation. (CAS: "Confidences") Two weeks later, Keith made an official complaint against Sam, and Dylan was asked to testify at her upcoming General Medical Council hearing. (CAS: "Grand Canyon")
On 4 March, a woman named Anna was admitted to the ED following an RTC. Dylan decided to look after her dog Cadmus in the back of an ambulance and left to collect some provisions, but he returned to find the inside of the ambulance covered in vomit and realised that Cadmus had consumed "industrial amounts" of chocolate. With the help of receptionist Noel Garcia and porter MacKenzie "Big Mac" Chalker, Dylan managed to treat Cadmus' chocolate poisoning, but Zoe reprimanded him for not fulfilling his duties in the department. When a group of gang members barged into resus and started causing havoc, Dylan defended Sam against Zoe accusing her of overreacting when she fought back against them to protect her patient. (CAS: "What Goes Around Comes Around")
Divorce
On 17 March, Jacob Morton — a lawyer from the GMC — began interviewing the ED staff linked to Keith Parr's case; Dylan was keen to avoid talking to him and buried himself in the case of a man named Mick Statham who sustained an ulnar collateral ligament injury and claimed to have asthma. Dylan was intrigued by his symptoms and was about to diagnose him with Churg–Strauss syndrome, but Nick forced him to attend his interview with Jacob. Not interested in discussing the incident with Keith, Dylan handed Jacob a written statement and insisted on returning to his patients. Later, Sam thanked Dylan for supporting her, but Dylan misinterpreted her gratitude as her insinuating that he still had feelings for her and walked out the staffroom. (CAS: "Lest Ye Be Judged")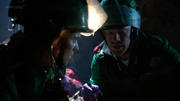 On 7 April, dog walkers Amanda Franks and David Hooper fell into a deep cave and required rescuing; Sam immediately volunteered to be the on-site doctor and was granted permission to extricate them. However, when a large rock fell onto David, Sam demanded that Dylan be called to the scene as she knew that he could abseil. In the cave, Dylan and Sam attempted to elevate the rock off of David's abdomen, but, when he became tachycardic, they deduced that he was suffering from "catastrophic" internal bleeding that was been stopped by the rock. While David was being treated, Amanda developed a tension pneumothorax, so Dylan and Sam were forced to guide David through performing a needle decompression. When the cave rescue team began descending into the cave, Dylan and Sam decided to prioritise Amanda and moved the rock off David. Dylan accompanied Amanda in an ambulance and managed to stabilise her in resus, but David died of his internal injuries shortly after being freed from the cave. At reception, Dylan apologised to Sam for the hurtful comments he made about her and their marriage in the cave and some of his past actions; Sam thanked him for "being a man about it" and helping her think straight. Later that night, Sam contacted a solicitor regarding a divorce. (CAS: "When the Gloves Come Off")
On 22 April, the day of Sam's GMC hearing, Dylan was concerned when she was late for a meeting with her legal team and was stunned when Sam decided to fire them, so she could represent herself in court. When Dylan was called to testify, he remarked that Sam did not "suffer fools gladly" and was shocked to learn that Sam shot a patient of hers dead while serving at Camp Bastion. However, when Sam tried to explain her actions during a break, Dylan interrupted and assured her that he was cognizant of the fact that the incident happened in the middle of a war; the two subsequently shared a hug. After Zoe presented evidence to the committee that showed that Keith's bones had been weakened due to undiagnosed cancer, Sam was cleared. On their way to The Hope & Anchor, Sam thanked Dylan for his support and kissed him. (CAS: "Appropriate Force")
Following the kiss, Dylan's feelings for Sam began to re-emerge, and he began to work towards rebuilding their marriage. However, on 28 April, Sam's solicitors sent Dylan his divorce papers in error. Sam managed to intercept it and take the envelope before the papers could reach Dylan. She asked him if he could speak to her after work; he gladly obliged and even booked them a table at a restaurant. When Sam failed to inform Dylan about the divorce, Zoe urged her to consider his feelings and tell him the truth. Later, as Dylan was prepared to leave for the restaurant, Sam handed him the divorce papers, leaving him heartbroken and angry. (CAS: "Happily Ever After")
The following week, Sam tried to talk to Dylan about the divorce and clear the air between them, but Dylan refused to cooperate with her. However, as Dylan was the duty consultant, Sam was forced to ask him for a second opinion on a patient with sciatica named Martin. Sam decided to perform a rectal examination and diagnosed Martin with cauda equina syndrome, but Dylan berated her for not immediately recognising his symptoms. Sam apologised and explained that she was hoping to improve their working relationship by collaborating on a case, but Dylan claimed that he did not know if he could handle constantly bumping into her. Later that day, after Dylan and Sam managed to remain civil while treating Martin's daughter Jenny who had become addicted to her father's pregabalin, Sam decided to re-enlist in the army (CAS: "Home Truths") and later handed in her notice. (CAS: "Zero Sum Game")
On 12 May, Dylan diagnosed a young boy with scarlet fever, but paediatric specialty doctor Tom Kent disagreed and believed that he was suffering from Kawasaki disease which irritated Dylan; later that day, test results showed that Dylan's diagnosis was correct. (CAS: "Teenage Dreams") The following week, Dylan and Tom treated a teenager named Matthew Chilcot who had suffered a transient ischaemic attack; Dylan quickly realised that he had sickle cell disease. When Dylan informed Zoe that Matthew's brother George was a match for a bone marrow transplant, Zoe allowed Dylan to perform an exchange transfusion in the ED. However, after Dylan made a flippant remark about "saviour siblings", George discovered that he was conceived as one and walked out of the hospital in anger. In resus, Tom suggested that Dylan had stolen his case, but Dylan viewed his assertion as farcical. (CAS: "All in a Day's Nightmare - Part Two")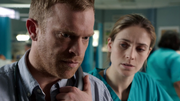 In June, Dylan was shocked to learn from Zoe that Sam had resigned. After Sam accompanied a car crash victim to the ED, she apologised to Dylan for not informing about her departure and misleading him about their relationship; although he appreciated her apology and her decision to leave, he insisted that they stay out of each other's way until she was gone. However, later that day, Sam informed him that she had been given her job back, much to his displeasure. (CAS: "Zero Sum Game")
On 11 July, Sam hoped that Dylan had finally signed his divorce papers, but she only found adverts for health service jobs; Dylan was deliberately putting off the divorce as payback for her putting him "in a difficult situation". In the waiting area at reception, Dylan found that Stephan Peake — a patient of Sam's who she had dismissed as merely being drunk — was diabetic and hyperglycaemic and accused Sam of abandoning him. After being informed that Stephan had recently been receiving treatment in a psychiatric unit for alcoholism and depression, Dylan instructed Sam to keep an eye on him and his "nephew" Danny; she failed to do so, and Danny's brother Leon ended up getting hit by a car outside the department. Dylan claimed to have viewed Leon's soft tissue X-rays and determined them to be clear, but Sam doubted his judgement and carried out an ultrasound near Leon's leg laceration which showed evidence of remaining debris; Dylan was horrified to discover that Leon still had a large shard of glass from a picture frame embedded in the wound. In the staffroom, Sam admitted to Dylan that she chose to work with him following the incident at Camp Bastion because she saw him as a "safe harbour", and she only decided to stay at the hospital because the army turned her down. Shortly after, Dylan decided to fill in his divorce papers and left them in Sam's locker. (CAS: "Do the Right Thing")
On 25 August, Dylan treated a baby girl named Lucy who was left at home alone. While waiting for a bed to become available in paediatrics, Dylan was forced to look after Lucy. He was initially uncomfortable with the idea, but he quickly bonded with her. When Lucy's mother Taylor was taken in and tested positive for opiate use, Dylan accused her of transmitting the drugs to Lucy through her breastmilk. However, when Lucy developed a fever, Taylor admitted to mixing vitamins in her baby formula to compensate for not breastfeeding, and Dylan realised that the formula the department had been giving Lucy had been giving her iron poisoning. (CAS: "Cuckoo's Nest")
Following the divorce
On 13 October, Rachel Tailor — an elderly woman with Alzheimer's disease — was found drinking tea with porter MacKenzie "Big Mac" Chalker in his cubbyhole and later collapsed; an X-ray showed that she had mistakenly swallowed a coin-shaped object, but her symptoms also suggested that she had also consumed a toxic substance. After staff nurse Lloyd Asike pointed out that Big Mac had been handling bleach granules, Dylan berated Big Mac for his error and told him that he should have stuck "to emptying bins". However, Big Mac later discovered that the lithium battery from Rachel's watch was missing and reported it to Dylan who promptly performed a gastroscopy and retrieved the battery. At reception, receptionist Louise Tyler forced Dylan to apologise to Big Mac; Dylan reluctantly obliged. (CAS: "The Kindness of Strangers")
On 30 October, Dylan treated an elderly woman named Agnes who was complaining of severe chest pains. After reviewing her symptoms, he and Zoe concluded that she had been contracted an E. coli infection. Dylan quickly took a shine to Agnes and her husband Ray, but the former soon went into cardiac arrest. Although Ray informed the resus team that Agnes had signed an DNR, she was resuscitated before the directive's existence was verified. Nevertheless, Agnes arrested again before she could be taken to ICU, and Ray was allowed to sit with his wife as she passed away. (CAS: "Harvest Festival") The next day, Ray returned to the department to thank the staff responsible for treating Agnes, but he collapsed in the waiting area. After Ray arrested and was brought back, Zoe noticed marks on his fingernails and suggested that his symptoms were not related to an E. coli infection; Dylan quickly deduced that he was suffering from arsenic poisoning and found a bottle of Fowler's solution that Ray had been taking. (CAS: "Seeing in the Dark")
Amanda Franks
On 31 October, Dylan walked into the staffroom and found Sam and Tom sharing a kiss. (CAS: "Seeing in the Dark") On 3 November, Amanda Franks — the woman Dylan and Sam rescued from the cave in April — accompanied her friend Helen who was experiencing constipation. She thanked Dylan for saving her life and told him that visiting the ED and seeing him had been "therapeutic" after experiencing survivor's guilt. After Amanda complained of pain around her chest drain scar, Dylan volunteered to check it and found no problems. She asked Dylan out for a drink, but Dylan was hesitant. However, Sam encouraged him to accept Amanda's offer to help him "move on" and gave her Amanda's phone number. Dylan decided to call Amanda and joined her for a drink at The Hope & Anchor, but he quickly became distracted when he witnessed Sam speaking to Tom. (CAS: "When Love Breaks Down")
Two weeks later, to Dylan's surprise, Amanda appeared at the ED and announced that she had started volunteering there. In CDU, Tom noticed that a young boy named Owen had corneal clouding and believed that he could possibly have Morquio syndrome. Although Dylan was content with Tom's diagnosis, he quickly abandoned ship when Tom intended to inform Owen's parents that they were potentially blood-related. Meanwhile, Amanda asked Dylan if he wanted to walk Dervla with her and her dog Ziggy, and Dylan obliged. However, after Linda told Dylan that Amanda fancied him, he harshly turned Amanda down and asserted that a relationship between them was "never going to happen". (CAS: "Out of the Blue")
The following week, Dervla went missing while Dylan was walking her through a park. At the ED, Dylan apologised to Amanda for the way he spoke to her before, but she assured him that she had put it behind her and recommended that they concentrate on finding Dervla. After Dylan left the hospital in the middle of his shift and failed to find Dervla, Amanda volunteered to search the park herself, but Dylan was not optimistic. Nevertheless, to Dylan's joy and surprise, Amanda managed to find Dervla by calling for her. However, as Dervla had never gone missing before, and Amanda happened to be the person who found her, Dylan began to suspect that Amanda had developed an obsession with him and manufactured Dervla's disappearance to win his affections; Sam and Tom were shocked at Dylan's assessment of the situation and urged him not to read too much into it. (CAS: "Sixteen Candles")
By December, Dylan was convinced that Amanda was responsible for the incident with Dervla and later discovered that she had been carrying around a photograph of Dervla. That night, at the ED's Christmas party, Amanda tried to give Dylan a present and a platonic kiss, but Dylan immediately backed away and accused her of either having de Clerambault's syndrome or just stalking him. In reality, Amanda was leaving the hospital to work at her sister's café, and Sam had given her the photograph of Dervla so she could print it onto a mug as a present. After Amanda's true intentions were revealed to him, Dylan left the party feeling total embarrassed. (CAS: "My Aim Is True")
Resignation
"
Sam: Dylan. Why do you have to go?
Dylan: Because you can't ask me to stay.
Sam: Well, I'm glad our paths crossed again.
Dylan: Yeah, so you should be.
"
— Dylan bids Sam farewell. (CAS: "I Saw Mommy Killing Santa Claus")
On 8 December, Dylan witnessed Tom punching locum consultant Dominic Carter in the face and reluctantly informed Zoe of the incident, resulting in Tom's suspension. (CAS: "The Blame Game") The following week, in resus, Dylan and Dominic fought to revive a baby named Mark that had been hypothermic for over an hour, but their efforts seemed futile, and they prepared to pronounce the baby dead. However, despite Dominic's insistence that Mark was dead, Tom and Dylan continued performing CPR; to everyone's surprise, Mark's heartbeat soon returned. Outside the department, Dominic was keen for him and Dylan to "get [their] stories straight", but Dylan wanted him to tell the truth and apologise to Tom and Mark's parents.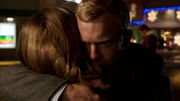 When speaking to Zoe, Dylan admitted his error but also asserted that Dominic had proven Tom's view of him being "arrogant" and "complacent" correct through his actions in resus. Tom appreciated Dylan's support, but Dylan dismissed him. Realising that Dylan took issue with his relationship with Sam, Tom urged him to move on, but Dylan asserted that he was not good enough for her and revealed that he was responsible for his suspension. Sam intervened before Dylan and Tom's confrontation became physical and reminded Dylan that they were divorced and no longer loved each other. Once the news of the confrontation reached Zoe, Dylan admitted that he provoked Tom. Privately, Dylan told Zoe that he was not over Sam, and he needed to leave the department as soon as possible. Zoe initially rejected Dylan's resignation, but Dylan convinced her, as a friend, to allow him to go. As Dylan was leaving, Zoe bade him farewell, and Sam told him that she was "glad [their] paths crossed again". (CAS: "I Saw Mommy Killing Santa Claus")
Return to Holby
Following his resignation, Dylan served as a medic in Mogadishu; although he hated it there, he appreciated the lack of small-talk. (CAS: "Asylum") At some point in 2014, Dylan moved back into Holby and purchased a new houseboat — Flat Over Crest — at Holby Marina. Following Zoe's resignation in August, (CAS: "A Life Less Lived") she moved in with Dylan. When she returned to the ED in October, (CAS: "Return to Sender") she convinced Dylan to help out there as a locum; on 11 November, he was summoned as the department was consumed by violent football hooligans. (CAS: "Entrenched") Since Dylan's resignation in 2012, Sam and Tom had married and left Holby together, (CAS: "Away in a Manger") and Zoe had handed the reigns of Clinical Lead to former cardiothoracic surgeon Connie Beauchamp. (CAS: "Falling - Part One")
After his one locum shift, Dylan reluctantly decided to sign up for more. On 22 November, Connie asked Dylan to review Jess Harper, a patient of registrar Ethan Hardy who had demanded a second opinion; Jess was convinced that she had developed ovarian cancer as her mother Suzanne had, but her urine sample showed that she had porphyria. At the end of his shift, Ethan remarked that working with Dylan had left him feeling as though he had been "run over by a bus". (CAS: "Asylum") The following week, Ethan treated a bank robber named Kieran; Dylan asserted that his symptoms were merely alcohol-related, but Ethan later noticed copper rings around his eyes and diagnosed Kieran with Wilson's disease. (Cas: "Losing Grip")
On 6 December, Dylan was instructed by Connie to supervise fellow consultant Martin "Ash" Ashford whose behaviour had becoming increasingly erratic after a car crash that had left paramedic Jeff Collier dead. They treated a young man named Jude who had overdosed on drugs; Ash insisted on getting Jude's father Phil to drive home to find the drugs, but Dylan believed that they had got Jude's condition under control and was convinced Jude had overdosed on benzodiazepines. However, Ash ignored Dylan's decision and encouraged Phil to retrieve the drugs, resulting in Phil hitting a pedestrian with his car and being arrested. Ash managed to resuscitate the victim, but Dylan was astounded when Ash asserted that he had made the right call. (CAS: "Feeling Good")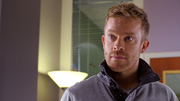 On 7 February 2015, when the trust decided to perform an inspection of the emergency department to check if there was a need for a staff reshuffle, Dylan was chosen for the inspection team. Connie was taken aback when Dylan approached her about complaints that were made about her management style, prompting her to lash out at clinical nurse manager Rita Freeman and accuse her to "stabbing [her] in the back"; after the inspection was completed, Dylan clarified that he was referring to the recent legal issues surrounding Hailey Blake. (CAS: "Front Line") On 14 February, Connie informed Dylan that there was a consultant post available in the department, and she was willing to endorse him for it; Dylan agreed. (CAS: "Sweetie")
The following week, Dylan and staff nurse Ben "Lofty" Chiltern treated a woman named Beth Fox who was presenting with abdominal pain and claimed to be in ovarian cancer remission; Lofty was concerned about the scars on her abdomen and suggested asking for a psychiatric assessment, but Dylan insisted on concentrating on Beth's immediate symptoms. After Dylan failed to find any records of Beth undergoing cancer treatment at St James' Hospital, Beth admitted that she never had cancer. Beth's test results showed that she had a gastrointestinal obstruction that required surgery, but she refused all further treatment. Lofty urged Dylan to consider involving psych and managed to pique his interest when he questioned the cause of Beth's hair loss. After a distressed Beth locked herself in a toilet, Lofty forced his way in and found her pulling her hair out and eating it. Later, Dylan praised Lofty's work as "invaluable"; Lofty was pleased and remarked that they made a good team. (CAS: "Sweet Little Lies")
On 14 March, while Dylan and F2 Lily Chao treated a man named Bryan who had an arrow embedded in his buttock, Lily fainted due to exhaustion and snapped the arrow. Despite the concerns of her colleagues, Connie both allowed and encouraged Lily to continue working. Struggling with the excessive workload brought about by Connie's inflexible rota, Dylan voiced his concerns to Connie about the junior members of staff, but Connie dismissed them and branded the doctors "weak". After noticing that Lily had developed a stress rash, Dylan ordered her to go home and prepared to call a taxi, but she insisted that she could make her own way home. (CAS: "Excess Baggage") However, while riding her moped, Lily began to fall asleep and collided with a girl named Kiah. (CAS: "Toxic Relationships")
First stint as acting clinical lead
On 9 May, due to Connie being in Romania and recently being suspended after being charged with the murder of Alfred Maxwell, Zoe and chief executive officer Henrik Hanssen believed that Dylan would make an "absolutely outstanding" acting clinical lead. Dylan initially loathed the idea, but he was quickly won over when Zoe told him that, as the clinical lead, he could give her her annual appraisal and accepted the temporary promotion.
In resus, Dylan and Lily treated a Chinese woman named So-Fang who claimed to have leukaemia; her blood test results showed otherwise, but it was possible that she could have had a form of gastrointestinal cancer. However, So-Fang refused treatment and urged Lily to allow her to sign an advance directive, but Dylan suggested that alcohol was impairing her judgement and deferred to So-Fang's daughter Sau-Lai who wanted her to receive treatment. Lily soon learned that people were betting on So-Fang's date of death, and So-Fang obliged to pay off her debt to a man named Keong Murong and to fund Sau-Lai's future. Lily was willing to respect So-Fang's wishes, but Dylan believed her stance was a "dereliction of [her] duty of care". Shortly after the betting scheme was exposed, So-Fang's CT scan results showed that she had Hodgkin's lymphoma — a form of cancer that responded well to chemotherapy. (CAS: "Against the Odds")
By the following week, Hanssen was breathing down Dylan's neck about patient breaches and missed budget deadlines, and Rita criticised Dylan for making the nursing staff undergo training exercises while saddling her with healthcare assistants instead of agency staff. When eight people were confirmed to have been injured in a multi-vehicle crash, Dylan decided to declare an internal major incident to prepare for the worst-case scenario. Although patients continued to breach the four-hour rule and despite a few clinical errors, Dylan's confidence was boosted when staff nurse Robyn Miller praised him for getting the ED to "run like clockwork" because of his decisions. After Hanssen praised his work, Dylan felt content in his new role, but his hopes were shattered upon finding Connie, who had returned to resume her role as permanent clinical lead, in the office. (CAS: "Fix You")
Growing superstitions
"
Big Mac: Oh, it's like a talisman, you know. Like a—
Dylan: A what?
Big Mac: Well, a good-luck charm. The state her leg was in, I thought she could do with all the luck she could get. You'd be amazed, right. I—
Dylan: This is a hospital. We are doctors. We trust in science, not this tat! Get out!
"
— Dylan harshly rebukes Big Mac. (CAS: "The Way Home")
The next day, Zoe tried to speak to Dylan about him losing the clinical lead role, but he claimed to be indifferent. However, he later admitted to feeling humiliated by the demotion, asserting that he would have made "a fantastic clinical lead if [he] had been given a fair crack at the whip". Still bitter, he volunteered to attend an incident involving a woman named Kelly caught in an animal trap. At the ED, Big Mac gave Kelly a talisman that he found on the tarmac outside the ED, believing that it would bring her good luck, but Dylan harshly rebuked Big Mac for his superstitions. Later, Kelly's condition deteriorated, and she died. When Zoe tried to reassure Dylan after Kelly's death, Dylan explained that everyone responds to situations in different ways, and some people are "habitually lucky". (CAS: "The Way Home")
On 30 May, Dylan treated a woman named Sophie who had overdosed on heroin. After she was given naloxone, she walked out of the hospital, but she was brought back in a little over two hours later after overdosing again; this time, Dylan was unable to resuscitate her. Afterwards, Dylan reviewed Kelly Foster's post-mortem and believed that he had missed something important while treating her. (CAS: "The Golden Hours")
By the following week, Dylan had continued reviewing Kelly's post-mortem to prepare for the upcoming morbidity and mortality meeting. In resus, he treated an elderly woman named Anne who had been injured in a road accident. While Dylan was trying to uncover the cause of Anne's erratic driving, he noticed that she was exhibiting parkinsonism. Anne soon began complaining of radiating chest pains, and her carboxyhaemoglobin levels showed that she had carbon monoxide poisoning. She rapidly deteriorated, and Dylan fought to revive her, but the carboxyhaemoglobin failed to break down, and Dylan was forced to cease treatment. Anne's son Sam was later taken into resus with the same condition, but he was stabilised. After finding the talisman again earlier during the day, Dylan decided to start wearing it. (CAS: "A Moment of Clarity")
Fixation with the number four
On 13 June, at the M&M meeting, when Dylan's resus deaths were highlighted, he mentioned that he had recommended systematic checklists to "formulate common practice amongst the doctors". Afterwards, Dylan told Zoe that he believed that he was missing something regarding the deaths, but Zoe assured him that his treatment of the patients was flawless. In cubicles, Dylan and Lofty treated a man named Morris who was experiencing abdominal pains and nausea. Dylan quickly took issue with Andre Benson — Morris' holistic therapist and spiritual healer — and confronted him, but Andre pointed out the talisman Dylan was wearing and remarked that belief "is a very powerful medicine". After Dylan apologised to Morris, the latter's blood pressure began to crash, and Morris was taken to resus. However, much to Dylan's confusion, Morris demanded not to be treated in bay 4.
Dylan diagnosed Morris with a bleeding gastric ulcer and assured him that he would be back to normal soon, but he was confused by the high levels of aspirin in Morris' blood. He decided to have Andre's herbal extract tablets analysed, and the results showed that Andre had been mixing medicinal aspirin into them. Dylan told Morris that he was within his rights to sue Andre for exacerbating his condition, but Morris still venerated Andre for helping him after the death of his wife. Irritated, Dylan branded Lofty as "gullible", but Lofty suggested that he was being hypocritical as he had allowed Andre into resus. Outside the hospital, Dylan approached Andre about Morris' fear of bay 4. Andre explained that, in Chinese numerology, the number four is homophonous with "death". When reviewing the cases of his recent resus patients, Dylan noticed that all of the deaths occurred in bay 4. (CAS: "Heart Over Head")
By July, Dylan's behaviour had become more erratic. He had trouble sitting still, he would often clutch the talisman while walking, and he developed the tendency to write the same words over and over again. On 18 July, Dylan threw the talisman away in frustration, but a man named Simon who had severed his index finger tried to return it and approached him for treatment. Dylan was amazed at how well Simon had managed to preserve the finger and the amputation site. Dylan was soon called to resus to treat a burns victim in bay 4. He was tasked with performing a rapid sequence induction, but he froze and left Zoe to complete the intubation. He returned to Simon's cubicle and demanded him to return the talisman. Upon returning to resus, Dylan managed to successfully guide Lily through performing an escharotomy. In cubicles, Dylan and Rita confronted Simon after his records showed that he had received treatment at St James' for a foot injury; when he revealed that two of his toes had been severed, Simon admitted that he had deliberately tried to obtain compensation to woo the women he had become obsessed with. (CAS: "If You Could Bottle It")
On 24 July, a schoolgirl named Carly was taken to resus after falling from her school's roof and moved into bay 4. Dylan's colleagues were disconcerted by his excessive fastidiousness; he ordered registrar Caleb Knight to double-check Carly for midline shift, and he instructed senior staff nurse Jacob Masters to record full observations every 10 to 15 minutes. When Carly's classmate Aisha collapsed, Dylan suspected that their MenC vaccines came from a bad batch; his public speculation resulted in Aisha's classmates turning up at the ED after she messaged them about her supposed connection between her illness and the vaccine. Aisha soon admitted to Zoe that she and Carly had both taken cannabis earlier that morning, but Dylan insisted on moving the other schoolgirls into cubicles against Connie's orders. As Carly's condition began to worsen, Aisha admitted that the drink she had given Carly contained mephedrone, meaning that her symptoms were unrelated to the vaccine. (CAS: "The Next Step")
The next day, Dylan tried not wearing the talisman, but he immediately donned it upon hearing that an incoming patient was the fourth to fall off a building in two days; he grew more superstitious after finding out that the patient had fallen through four floors. In resus, to avoid treating the patient in bay 4, Dylan claimed that the bays' lights were flickering and compromising his vision. Later, a girl named Rosie was taken into the bay after crashing her go-kart; Dylan complained about the lights again, but Rita asserted that they had been checked by maintenance. Desperate to move Rosie to another bay, Dylan disconnected the cardiac monitor's power supply and lied about it being broken. Realising that Dylan was responsible for the problems in resus, Rita confronted and warned him that he was putting patients' lives at risk; Dylan took umbrage, but he eventually opened up to Rita about his "rituals" and his fear that patients would die if he did not carry them out. After coming to an understanding, Dylan asked Rita not to tell others about their conversation. However, when a man was taken to bay 4 after collapsing, Dylan lost his nerve and left to fetch another doctor. Concerned about Dylan's behaviour, Rita reviewed the case notes of his previous resus patients, and the prominence of the number four caught her eye. Outside The Hope & Anchor, Rita voiced her concerns to Zoe, but Dylan overheard and felt betrayed. (CAS: "Dark Horses")
On 20 August, Dylan was shaken to witness his father Brian being taken into resus following a road accident. Although Brian initially taunted Dylan in front of his colleagues, Brian claimed that he wanted to put their past behind them and that he was happy for Dylan's successful medical career, but Dylan was unmoved. Dylan was subsequently hurt further when he overheard Lofty mocking his atypical demeanour. While treating Brian's partner Hazel, Dylan discovered that she was pregnant with his half-sibling; when Brian found out, Dylan was astounded when he immediately suggested aborting it. In admin, Lofty apologised to Dylan for his callousness and suggested that, in another life, they "might have been mates". As Brian was being discharged, Dylan took issue with Brian valuing his lorry-driving job over his narcolepsy; Dylan branded him a "thoroughly contemptible human being" and asserted that he was "going to die a very lonely old man". After informing Hazel that Brian had left, Dylan prescribed her some more pain relief and, after being pressured by Hazel, recounted his troubled relationship with Brian to her.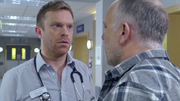 After Rita pulled Dylan up for prescribing Hazel with tramadol instead of paracetamol, Zoe suggested that he go home, but Dylan refused. Brian soon returned to make amends with Hazel, but she started struggling to breathe, leading Dylan to conclude that he had developed a haemothorax. Hazen was taken into resus and — despite Dylan's objections — put in bay 4. Fearful and frustrated, Dylan angrily ordered Lofty to leave and reluctantly proceeded with inserting a chest drain; despite initially struggling, he managed to fit the drain. Once Hazel was stabilised, Brian claimed that he was tired of being on his own, and he told Hazel that he wanted to be with her and the baby; Hazel reaccepted him. Outside, Dylan told Brian that he was happy for him and Hazel, but Brian accused Dylan of trying to turn Hazel against him. Furthermore, Dylan was crushed when Brian claimed that he left him and his mother because he was not "normal" and called him a "freak". At the houseboat, an angry Dylan admonished Dervla for eating his food, causing her to run away. (CAS: "The Long Haul")
A week later, Dervla was still missing, and Dylan was beginning to lose hope. With Dylan becoming increasingly ill-mannered and uncooperative towards his colleagues, Zoe and Rita were forced to tell Connie about Dylan's worsening mental health. In her office, Connie suggested that Dylan take some time off work to recuperate, but Dylan detested the idea and insisted that he was fit to practise. In resus bay 4, Dylan treated a man named Richard who had sustained injuries after falling from a height. Richard's ECG showed that he had gone into an episode of torsades de pointes, and he soon went into VT. After several cycles of CPR, Richard appeared unlikely to recover, but Dylan was amazed when Richard's sinus rhythm returned to normal. After it transpired that Richard was aiding people smugglers, Richard tried to pursue his mortified wife Sarah and removed an object that was embedded in his leg, causing him to bleed profusely. Dylan froze and dropped his checklist; Zoe and Rita were forced to deal with Richard's injury while Dylan kneeled in pools of blood to retrieve the paper. Connie subsequently walked in and ordered a blood-soaked Dylan to leave immediately. As Dylan left the department, still smeared in blood, he put Dervla's missing poster back up and left the checklist on the tarmac. (CAS: "Knock Knock Who's There?")
Obsessive-compulsive disorder diagnosis
The following morning, Zoe visited Dylan on his houseboat and informed him that she had made an appointment for him to visit psychotherapist Ben Harding; Dylan was unhappy with the idea, but Zoe warned him that he risked being struck off if he did not comply. He decided to visit the department to attend his appointment, but he soon lost his confidence and left. Outside, Zoe assured Dylan that his colleagues only wanted him to get better and told him that she needed him to get better so he could walk her down the aisle the next day, but Dylan walked home when Rita tried to speak to him. That night, Dylan was overjoyed to find Dervla outside the houseboat and finally agreed to see Ben Harding in the morning. (CAS: "Forsaking All Others - Part One")
The following morning, Dylan attended his appointment with Ben, and Ben diagnosed Dylan with obsessive-compulsive disorder. At work, Connie informed Dylan that he would be treating minor cases for the time being; Dylan felt embarrassed when he overheard her instructing Cal to supervise him. Despite Cal's warnings, Dylan decided to breach protocol and treat a woman named Laila in resus who appeared to be pregnant; her beta-hCG test came back negative, and a gastroenterology diagnosed her with cirrhosis. As Dylan was preparing to leave for the registry office, Connie informed him that Barney Glynn — a patient Dylan was treating in cubicles — was suspected to have Lassa fever, and Dylan was forced to remain in isolation with Barney and Rita. However, after learning that Barney's condition would worsen at night, and he had not taken the appropriate medication before visiting Nigeria, Dylan realised that Barney was actually suffering from malaria. Dylan confronted Connie in resus about her attitude towards him and suggested that the ED might not have been the best place for him.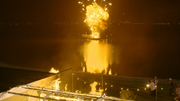 Dylan soon arrived at Zoe and Max Walker's wedding party. After Zoe had confided in Dylan earlier that day about sleeping with another man on the hen night, Dylan asked her if she had told Max; an aloof Max overheard, forcing Zoe to admit her infidelity. When Dylan returned to his houseboat, he found a heartbroken Zoe sobbing and agreed to drive the boat away from the party. However, the marquee caught fire, and some of the embers ignited a gas canister on the boat. Dylan and Zoe prepared to abandon the boat and swim to shore, but Dylan suddenly rushed back inside the cabin to retrieve the talisman. Suddenly, the boat exploded with Dylan still inside. (CAS: "Forsaking All Others - Part Two") Dylan escaped mostly unharmed, save for sustaining burns to his hands, and swam to the shore.
At the ED, Dylan felt a sense of impending doom and admonished a pregnant woman named Sarah for refusing to undergo an X-ray. (CAS: "A Child's Heart - Part One") He managed to collect his thoughts and took control of Sarah's treatment, but he feared that his lapse in judgement had resulted in Charlie Fairhead's death after he was forced to wait for a referral to the cath lab on account of Sarah taking priority. Sick of "tearing [himself] up", Dylan acknowledged to Zoe that he needed help with his OCD. (CAS: "A Child's Heart - Part Two")
Friendship with Lofty
In September, Dylan returned to work on minors after a period of leave and several meetings with Ben Harding, and was unusually polite and tolerant towards his colleagues and patients. Dylan's patience was snapped when Lofty disregarded the wishes of a terminally-ill patient named Sheila and called her niece to the hospital, but his faith in Lofty was restored when he instead brought Sheila's dog in to visit her. Dylan told Lofty that he had "a gift for human connections" and suggested that they could be friends; an ecstatic Lofty hugged him with joy. (CAS: "Cradle to the Grave")
On 3 October, Dylan and Lofty treated a woman named Florence who had suffered a staggering number of injuries since 2010. Dylan was stumped and inclined to agree with Florence that she was naturally unlucky, but Lofty, fearing for Dylan's mental health, rebuked him and urged him to find a medical reason for Florence's numerous incidents. Using a fridge magnet that Lofty had given to him as a present, Dylan discovered that a nail was embedded in the back of Florence's head from a previous fall that had created pressure around her cerebellum. Later that day, Dylan allowed Lofty to take of Dervla until he found a new home for them. (CAS: "All the Single Ladies")
By the following week, Dylan had grown tired of being relegated to minors and urged Connie to show faith in his abilities as a physician; Connie's concerns lied with his bedside manner. When Dylan's patient Claire appeared to be a victim of domestic abuse, Dylan attempted to coax her into opening up about her experience by discussing his OCD, but Claire insisted that her husband Alex did not abuse her. After Claire was diagnosed with deep vein thrombosis, Dylan urged her to get out before Alex could kill her; Claire promptly told him everything that Alex had done to her. Convinced that Dylan was capable, Connie put Dylan back on full-term duties. (CAS: "Rules of Attraction")
Dylan soon started living with Lofty, Max and Robyn in their house, but the latter two soon grew tired of Dylan's idiosyncracies and Dervla's mess and wanted them gone. Lofty approached Dylan about a houseboat that was for sale; Dylan was initially apprehensive, given the fate of the last one, but he later decided to buy it and invited Lofty over for a small housewarming celebration. (CAS: "Flutterby") On 12 December, when a band 6 position in the department became available, Dylan encouraged Lofty to apply for it. (CAS: "Silence Speaks") On Christmas Eve, Dylan invited Lofty over to the houseboat for his "Christmas tradition" — an evening listening to an old recording of A Christmas Carol. (CAS: "Home for Christmas")
In January 2016, Dylan tried to help Lofty prepare for his band six interview, but he was irked by Lofty's lack of assertiveness. (CAS: "Lie to Me") Dylan was impressed the following week when Lofty volunteered to run a triage station outside the department after a red alert was declared. When Lofty was given the band six job, he thanked Dylan for his help and support. (CAS: "Black Alert") After Lofty's promotion, some of his colleagues feared that he was overworking, but Dylan was impressed by his dedication. (CAS: "Hearts and Flowers")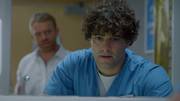 On 27 February, while Charlie and Rita were away on a course, Dylan recommended that Lofty lead the nursing staff instead of Jacob; Lofty reluctantly assumed the role. An agency nurse named Diane Stuart was brought in to help with the patients and backlog, but Dylan was forced to intervene when she almost administered potassium to a patient named Kylie requiring saline. Later, Lofty insisted that Kylie be transferred to CCU, but Kylie's condition deteriorated in the lift. However, as Lofty prepared to defibrillate Kylie, Diane failed to move away in time and was electrocuted. Diane was rushed into resus, but the team were unable to resuscitate her. Dylan assured Lofty that the incident was not his fault, but he advised him to think carefully about his statement. (CAS: "Fatal Error - Part One") Before Lofty was scheduled to discuss the incident with Rita and Deputy Director of Operations for Unscheduled Care Michael Hall, Dylan apologised to Lofty for strongarming him into the leadership role and trusted that he would give an honest account of the incident; Lofty ultimately decided to take full responsibility and claimed that he shocked Kylie without checking first. (CAS: "Fatal Error - Part Two")
On 12 March, with the hospital panel making their decision about Lofty later that day, Dylan suggested that the department show solidarity with him by getting him a card. When Lofty was unable to attend his hearing, Dylan vouched for Lofty's clinical skills and told the panel that his colleagues valued him, proving the card as proof. The panel decided that Lofty would have to undergo defibrillator training, but Lofty decided to resign and thanked Dylan and the rest of the team for their support. As Lofty left the ED for good, he hugged Dylan and invited him to a leaving party at The Hope & Anchor, but Dylan remained stoical and asserted that he needed to work. In the staff room, Zoe was surprised that Dylan was not attending Lofty's leaving party and acknowledged their friendship; Dylan dismissed Lofty as a barely competent nurse. (CAS: "High Tide")
Despite Dylan's cold response, he was saddened by Lofty's departure. (CAS: "Sweet Child of Mine", "Buried Alive") Realising that Dylan was missing Lofty as much as she was, Robyn endeavoured to "turn two negatives into a positive" and become friends with Dylan. Robyn's initial attempts at small talk were met with disinterest, but the two worked well as a team while they treated a woman named Alexa who was suffering from cyanide poisoning after consuming a bag of apricot kernels. (CAS: "Survivors") On 30 April, Dylan was pitted with new nurse David Hide. Although Dylan was at first concerned about his taciturn demeanour, Dylan was impressed by David's attentiveness and tenderness towards a dying patient. (CAS: "Tangled Webs We Weave") The following week, Dylan was devastated to learn that Zoe was leaving Holby for Michigan and, in a rare display of affection, hugged her goodbye. (CAS: "Hello, I Must Be Going")
Brian's return
"
That baby didn't ask to be born, you know? It is your duty to look after her. Why do you care so little about the damage that you've done to her? You pathetic fraction of a man! She's innocent! She is a baby! Why can't you love us—? Why can't you love her enough to care?
"
— Dylan berates Brian for his neglectful treatment of Rihanna. (CAS: "History Repeating")
On 8 May, Brian was taken into the ED after sustaining a hand laceration while smashing his car window to free his daughter Rhianna who had been locked inside. Hazel tried to persuade Dylan that Brian was a changed man and regretted his treatment of him, but Dylan was unconvinced. When Brian suffered a major coughing fit and collapsed, he was diagnosed with COPD; Brian believed that Dylan was relishing in his misery, but Hazel forced to him to apologise and invite Dylan to Rihanna's christening so he could become her godfather. As Dylan was becoming more willing to make amends with Brian, his good will was shattered when he found Brian smoking. However, Hazel assured Dylan that Brian had a support network, and she would not allow Rihanna to experience the same upbringing as him. (CAS: "Chain Reaction")
On 25 June, Hazel brought Rihanna into the ED after she developed a fever and asked for Dylan to treat her; Dylan initially refused, but he soon took over and concluded that Rihanna's condition was caused by second-hand smoke from Brian's cigarettes. Despite Dylan's warnings, Brian refused to quit smoking and taunted Dylan. Outside the department, Dylan berated Brian for his neglectful treatment of Rihanna, leading to Brian wheezing and collapsing. In resus, Dylan tried to treat Brian, but he caved and was unable to complete a procedure. Despite Brian's actions, Hazel insisted that Brian was trying to change and left Dylan to look after Rihanna. Later that evening, Brian announced that he was giving up smoking and claimed that he wanted to make amends with Dylan. (CAS: "History Repeating")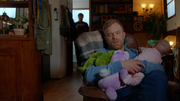 In July, Dylan was willing to mend the relationship between him and Brian, and decided to take him to watch a football match. That day, Brian, Hazel and Rihanna were brought into the department after a fire started in their flat. Dylan believed Brian's version of events at first, but, after Brian was caught nursing a "blister" on his foot, Dylan discovered that it was actually a burn that was sustained while attempting to extinguish a burning cigarette and concluded that Brian would never change. In resus, Dylan was forced to intubate Rihanna after her blood gases showed that she had carbon monoxide poisoning. Once Rihanna was moved to PICU, Brian accepted that he could not change who he was and told Dylan that he was leaving Hazel and Rihanna for their sakes; he left after calling Dylan a "good son". On PICU, Dylan volunteered to take care of Rihanna for a while; Hazel accepted his offer. (CAS: "Where the Truth Lies") Being an inexperienced carer, Dylan enlisted the help of Max who he had bonded with in the wake of Zoe's departure. (CAS: "The Fear")
Supporting Robyn
In October, Dylan and David discovered Robyn's boyfriend Glen Thomas after he'd collapsed and had a seizure in a corridor of the hospital. Robyn discovered this later, but Glen told her to leave as he needed time alone. After she'd left, David found a wedding ring by Glen's bed. Dylan managed to persuade Robyn to come back and Dylan sent her a picture of the ring over text. However, when Glen vomited during the scan, they had no choice but to take him up to neurology. In the lift disaster struck as it broke down and Dylan was forced to treat him in the lift alongside Max and David. They were able to contact the ED via the emergency telephone in the lift, and they requested for the medical kit to be sent down through the lift shaft. The operation was successful, and they were able to get Glen out of the lift and onto neurology. (CAS: "Too Much Love Will Kill You")
The following week, Dylan carried out a blood test for Robyn after she fainted in cubicles. When a patient had Robyn pinned against a wall during a fit of rage, Dylan informed him that Robyn was pregnant. Although she thought this was just a way of getting him to let go, Dylan later admitted to her that it was true. After this, Dylan agreed to keep things under control in the ED if she went up to see Glen to tell him of her news before their wedding later that day. However, she decided not to tell him of her pregnancy, and her day took a turn for the worse when Glen left just before the wedding was due to take place. (CAS: "The Big Day")
Towards the end of the month, Dylan supported Robyn and went with her to her meeting regarding the termination of the pregnancy. Following the meeting, Robyn went to the toilets and felt a sharp pain in her stomach and instantly assumed that she was having a miscarriage. She got Dylan and David to examine her secretly and although they initially heard no heartbeat, they realised that the volume on the Doppler wasn't on. Upon turning it up, they were able to hear the baby's heartbeat which changed Robyn's opinion on getting an abortion. (CAS: "Night of the Loving Dead")
Sexual harassment allegations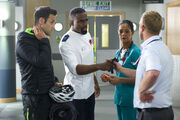 Later in October, Dylan offered to mentor the new F1 joining the department, Sebastian Grayling. However, during the first part of the shift Dylan was preoccupied with finding Dervla who had gone missing. Dylan was unimpressed with his new mentee after he went missing during his shift, discussed test results with a patient's daughter and jumped to a conclusion on a diagnosis. Things only got worse when Noel got some CCTV footage through from the Holby Pulse which showed Seb accidentally hitting Dervla on his bike on the way to work, and her running off. Once again, Seb broke the rules when he resuscitated a patient who had a DNR in place. In a meeting with Elle, Dylan told Elle that Seb had failed to follow instructions, and she informed Seb that she'd have to suspend his rotation. However, on his way home Seb found Dervla and brought her back into the ED. Only then did Dylan decide to give Seb a second chance, providing he followed all of the rules. (CAS: "Shock to the System")
In November, Dylan started to have empathy for Seb after he noticed how much his father Archie pressured him. On multiple occasions, Seb froze in treating patients and Dylan soon attributed this to the fact he was distracted by his father. Although Archie tried to get Seb to change mentors, he refused to and pledged to stay with Dylan. (CAS: "Thirty Years") Two weeks later, Dylan became frustrated with both David and Seb when they failed to inform him about a patient's suspected diagnosis. Although the patient was fine in the end, he was left angry that neither of them had approached him, especially considering that it was the day of the department's undercover inspection. At the end of the shift in reception, a heated discussion ensued between the doctors and nurses, at which point Seb's father Archie happened to be passing. It was then that he revealed himself as the undercover inspector, surprising and upsetting Elle and the rest of the team. (CAS: "About My Mother")
In December, Dylan once again showed a harsh side to Seb during the shift despite the fact he was doing well. Although the patient ultimately died, Dylan informed Seb that it wasn't his fault and that he did everything right. Feeling bad for Seb, Dylan agreed to go to the staff Christmas party after work. When he failed to show up, Seb turned up at his houseboat sad and drunk. However, Seb mistook Dylan's empathy for flirting and went in to kiss him. When Dylan backed away in shock, Seb ran out, mortified. (CAS: "All I Want for Christmas Is You") The following day it was Christmas Eve and Seb brought Dylan a gift in an attempt to apologise for the night before. However, it was clear that Dylan was prepared to put what happened behind him. During the shift, Dylan found a rash on a young boy's stomach which Seb hadn't noticed when he tried to discharge the boy. This resulted in Dylan issuing him with a final warning, and he threatened to fail him in the new year if he didn't get his act together. Upset and annoyed, Seb told Elle that Dylan tried to kiss him the night before in an attempt to drop Dylan in trouble and deflect away from his own poor judgements. (CAS: "Bah Humbug")
On New Year's Eve, Dylan arrived for work and was friendly and encouraging to Seb, willing to give him one final chance to prove himself. Seb later spoke to Elle about not getting HR involved in the complaint and asked if he could swap mentors, but she told him that he'd have to start the whole rotation again. After Seb told Louise the lie, she quickly spread the story, and Max warned Dylan to be careful around Seb, sensing that something wasn't right. Dylan spoke to Elle, and she told him about the allegation. He told her that it was a complete lie, but she told him that she'd deal with it and not to make anything worse. After stabilising a patient later in the shift, Dylan told Seb to think carefully before he went ahead with the allegation. However, Louise had already forwarded an image onto Elle that showed Seb hugging Dylan in the background. She called him up on it, which led to a public confrontation between Dylan and Seb. Elle assured Seb that she'd be contacting HR, whilst Dylan went home in a rage and trashed his boat. (CAS: "New Year, New Me, New You")
The following day, Dylan was awoken in his mess of a houseboat by Max and Jez, who'd arrived to try to get him to go back to work. During the shift, Jez attempted to record Seb confessing the truth, but when Seb found out he went straight to Elle. She instructed Dylan to stay non-clinical for the day and reminded him of their meeting with Ric Griffin. However, when Seb later froze in resus, Dylan talked him through the procedure, believing that he could be a good doctor. Although Dylan missed the meeting, Seb later withdrew his complaint and admitted to lying. After work, Seb told Dylan he was leaving, at which point Dylan informed him that he'd secured him a placement at St. James Hospital and wished him the best of luck. (CAS: "What Lurks in the Heart")
Helping Glen
In February, Dylan attended Charlie's stag party in Barry. However, when Charlie went missing Dylan led the investigation into where he was. When he visited a pub during the search, he found Glen Thomas who later took him to his house. (CAS: Episode 1061) Meanwhile, Ethan and Cal got into trouble with a man who had accused them of stealing a briefcase from him. When the police arrived, they recognised Dylan's name as the one that Charlie had given as his emergency contact; Charlie had been apprehended for resisting arrest. Charlie was released and Dylan managed to drive them all back to Holby in time for the wedding. (CAS: "The Stag, the Dog and the Sheep")
The following day, Dylan returned to Barry to inform Glen that Robyn was pregnant with his child. Having previously resigned himself to his fate, he now wanted to prolong his life to be able to hold his child before he died. Dylan began looking for a specialist and found his old tutor and renowned surgeon Zsa Zsa Harper-Jenkinson who sympathised with Glen's plight and travelled to the UK to operate on him for free. (CAS: Episode 1061)
Later that month, Dylan attended Elle's tribunal hearing to give evidence. Although he thought of it all as unfair on Elle, Connie's legal aid cleverly worded questions so he was forced to admit that he would have acted differently. Either way, Connie dropped the case later in the day when Elle saved her life. (CAS: "You Are Your Only Limit") The following week, Dylan became infuriated with the influx of binge drinkers in the department. He told Louise about an idea he'd seen where medics would go out on the streets to prevent drinkers wasting time in EDs. (CAS: "Binge Britain")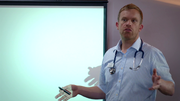 In March, Dylan presented his ideas to the board about the booze bus, but they only listened when Louise showed them first-hand the effects binge drinkers were having on the department. They later agreed to fund it. (CAS: "It Starts With the Shoes") The following week, Dylan became concerned about David's manic behaviour at work, and his concerns grew upon discovering that David's psychiatrist was simply a figment of his imagination. (CAS: "The Good Samaritan") After Robyn gave birth to a daughter named Charlotte later that day, (CAS: "Mobile") Dylan informed Glen and let him secretly visit her. (CAS: Episode 1061)
In April, Sam Strachan, as the hospital's new Medical Director, announced that budget cuts would be taking place and that all consultants would have to re-interview for their jobs. (CAS: "Sleeping With the Enemy") A few weeks later, Sam sent Dylan home as a result of the budget cuts, which left the other staff furious. (CAS: "When the Whistle Blows") During the month, Dylan visited Hadlington Clinic to assist in Glen's operation. When Dylan asked him questions to test his memory and speech functions, Glen suffered a bleed and seized. After Zsa Zsa removed a large portion of his tumour, he fell into a coma. (CAS: Episode 1061)
Cal's death and aftermath
Later in April, Dylan was shocked when Lily was admitted to the ED after having been hit by a car. He later found Iain's sister Gemma crying in a storage cupboard and discovered that she had got something in both her eyes. He suspected that she was responsible for hitting Lily, but Iain instantly rejected these claims, although she later took responsibility and handed herself in. Later that day as Dylan was leaving work, he found Cal lying on the pavement near the car park with a bleeding stab wound to his chest. He rushed him into the ED but they were too late and Cal died. (CAS: "Reap the Whirlwind - Part Two")
The week after Cal's death, Dylan was able to get through to a patient and convince him to receive treatment. This boosted Dylan's confidence after being annoyed with himself for not being able to save Cal. At the pub after the shift, Dylan put Sam's phone in his pint of beer out of anger for his lack of compassion for the events surrounding Cal's death. (CAS: "Break Point") Later in the month, Sam informed Dylan and Elle that the consultant interviews would be taking place in the next few weeks. (CAS: "End of the Road")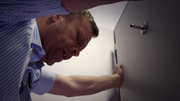 In June, Dylan visited Glen who had regained consciousness but had suffered the loss of all vocal capacity and diminished physical movement on his entire right-hand side. When Zsa Zsa had to return to the US, he apologised for not keeping in touch and bid her farewell. (CAS: Episode 1061) Later that month, the date of Dylan's interview arrived. He was reluctant to cooperate with Sam's budget cuts and therefore attempted to cut the interview short. When Sam questioned why Dylan was doing this, he admitted to questioning himself since Cal's death. Ultimately, Sam stepped down as Medical Director, eliminating the need to get rid of one of the consultants. (CAS: "It Had to Be You") The following week, Dylan continued to struggle in the aftermath of Cal's death. Whilst treating a feisty retired nurse, he suffered a panic attack. However, David ensured that he was there to support Dylan and together they got to the bottom of the woman's symptoms. (CAS: "War of the Roses") When he visited Glen after he injured his knee during physiotherapy, Glen decided to give up. However, determined to see him reunited with Robyn and his daughter, Dylan convinced him to carry on, even resorting to having Zsa Zsa coach Glen during physio. (CAS: Episode 1061)
Later in July, Dylan began looking into online dating websites for David, who'd been working his way through a checklist to improve his confidence at work. (CAS: "Man Up") Max managed to set up a speed dating session at the pub over the road the following week. Dylan attended but was unimpressed with his match, Pam, a cleaner from the hospital. His attention was soon diverted when Max's date Tara fainted and had to be rushed over to the ED. (CAS: "Somewhere Between Silences - Part One")
Trip to France and meeting Sanosi
In August, Dylan travelled to Northern France to volunteer at a refugee camp with David, Alicia and Louise. Once there, Dylan bonded with 12-year-old Sanosi, who was at the camp with his older sister Mariam. With relatives in the UK, they were desperate to make it across the border, but Dylan's sympathy for the duo was reduced when Sanosi contemplated stealing Dylan's wallet. As a result of this, they decided to make a run for it and go with the human traffickers to the container port. When the cables holding the crate snapped, Mariam fell to her death, whilst Dylan rescued Sanosi. (CAS: Episode 1049)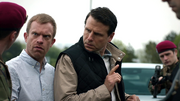 Following Mariam's death, Sanosi pleaded with Dylan to smuggle him back to the UK, but Dylan refused. This caused a rift in their bond and Dylan soon started to reconsider. He decided to leave the camp early, taking David with him. Just before boarding the ferry, David noticed that Dylan had hidden Sanosi in the back of the vehicle. They narrowly avoided getting caught by border control officers, due to the fact another man from the camp had hidden underneath their car. They managed to get back to the UK with Sanosi, and went to a drive-thru, something that Sanosi had always dreamed about doing in the UK. (CAS: Episode 1050)
Later that month, Dylan followed a woman who saw running away with a man's possessions onto an abandoned boat and demanded her to return the items. However, the floor beneath him gave way and Dylan fell through the boat's deck. Dylan called David to come to rescue him as he had dislocated his knee. Unfortunately, when trying to pull Dylan out with a rope, David accidentally lost his footing and fell into the boat too. They soon found a ladder and escaped. David took Dylan back to his houseboat but Dylan began to panic when Sanosi was nowhere to be seen and injured his knee further. Consequently, they went to the ED to quietly treat Dylan's knee so they could resume their search for Sanosi. However, when they returned to Dylan's home, they were elated to find Sanosi. Upon mentioning Sanosi's uncle Kamal, David provided Dylan with his phone number. (CAS: Episode 1051)
After a week of trying to contact Kamal, Kamal returned Dylan's call and the two agreed to meet at the former's apartment to give him Sanosi. Later, Dylan was horrified when Kamal was admitted to the ED with sharp abdominal pains. Upon learning that he had consumed condoms filled with heroin, Dylan promptly contacted the police and decided to give Sanosi to the authorities. However, after Sanosi pleaded with him to stay and despite David's cautioning, Dylan chose to continue looking after Sanosi. (CAS: Episode 1052)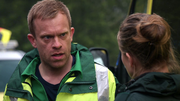 In September, Dylan was shocked to discover that Sam Nicholls had returned to Holby as a paramedic. After she had clamped a patient's femoral artery with a non-sterile instrument and potentially compromised their leg, Dylan told Connie that he carried out the procedure. (CAS: Episode 1053)
In October, Dylan argued with David about Sanosi's future; Sanosi overheard the feud and escaped the houseboat. When they found him injured, they decided to take him into the ED to treat him. They became agitated when Louise questioned the story they concocted surrounding his injuries and suggested calling social services. In cubicles, Dylan began to panic at the prospect of getting caught, prompting David to slap some sense into him. After treating him, Dylan quickly returned home to look after Sanosi. Unbeknownst to him, Louise found Sanosi's jacket and discovered a food token in his pocket; Louise soon began to connect the dots. (CAS: Episode 1055)
Later that month, Louise found Sanosi living on Dylan's houseboat. They argued as they went into work, attracting Connie's attention. Soon, a woman from social services arrived at the ED after they were alerted by someone who saw Sanosi at the boathouse. After being questioned, Dylan suspected that Louise reported him and began fighting with her and Elle in cubicles, prompting Connie to reprimand them. When she noticed that Dylan had been buying computer games, she dug up his patient notes from the day in question. Later that day, Connie asked Dylan and David to meet her in her office but Dylan failed to attend. Frustrated, she met Dylan at his houseboat and invited herself in. When she found nothing suspicious, she warned him that he should expect dire consequences if his actions implicate the ED. (CAS: Episode 1057)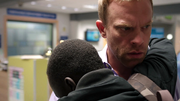 The following day, after Sanosi spent the night at Louise's house, she demanded that he be gone by the end of the day. Left with no other options, Dylan tendered his resignation and told Sanosi to pack his bags. However, when Dylan got caught up with a patient, Sanosi made his way to the ED. Dylan found Sanosi upset after he followed a woman he thought was Mariam into the hospital lift and began having flashbacks of France. Dylan decided to leave Holby with Sanosi but, after David intervened, he took Sanosi to the police to hand himself in. Later, after David visited to return his letter of resignation, Dylan turned to alcohol. (CAS: Episode 1058)
Alcoholism
In November, Dylan took Glen to the ED to meet Robyn again. Robyn was angry with Glen for abandoning her and Charlotte but, after Dylan gave her a video message from Glen addressed to her and Charlotte, she allowed him to be there at their daughter's christening. (CAS: Episode 1061)
In January 2018, Dylan was made acting Clinical Lead in Connie's absence. He woke up hungover and almost ran over a woman on his way to work. Although his breathalyser test came back clear, the woman blackmailed him into finding her a place which would allow her to keep her dog. After he diagnosed her with Gerstmann syndrome and helped her find a suitable place, she admitted that she wasn't going to tell the police, but she encouraged him to seek help. The following morning, Dylan called Zoe and told her that he felt that everything was falling apart. (CAS: Episode 1066) The following week, she briefly returned to Holby. After she left for the airport later that day, Dylan emptied a bottle of liquor down the drain. (CAS: Episode 1067) The next day, his alcoholism began to affect his work as he allowed a woman to discharge herself after refusing treatment. She soon collapsed outside and nearly died as a result of sepsis, which he failed to diagnose. Ethan reprimanded him for his mistake, prompting Dylan to resign as acting Clinical Lead. (CAS: Episode 1068)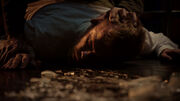 Later that month, Dylan caused a scene at a bar and was subsequently taken to the ED's booze bus where Louise treated him. In the morning, Dylan threw himself into work, but his hangover soon began to affect his performance. Feeling unwell, Dylan asked Ethan, who assumed the role of acting Clinical Lead, if he could leave early, but Ethan refused to let him go, citing staffing shortages. Dylan continued drinking and endangered a patient's life when he insisted on performing an unnecessary procedure whilst drunk. Louise informed Ethan, prompting him to hand over Dylan's cases to Elle. Later, after tackling a domestic abuse case, Ethan gave Dylan a few weeks off work to sort himself out. That evening, Dylan decided to attend an Alcoholics Anonymous meeting. (CAS: Episode 1069)
In March, Dylan met Ciara Cassidy at an AA meeting, and she tried to persuade him to join her for a drink. He turned her down, prompting her to take fellow alcoholic Joseph to the pub instead. The following day, Ciara and Joseph arrived at the ED after the latter suffered a stroke. Dylan tried to save Joseph, but the damage dealt to his brain was catastrophic. Ciara walked into resus as Dylan let him go, leaving her devastated. Believing that Dylan was incompetent due to his alcoholism, she told his colleagues about his conditions and left before being treated. Dylan later found her at The Hope & Anchor and convinced her to seek treatment for her alcoholism. That evening, inspired to beat his addiction, he attended another meeting. (CAS: Episode 1074)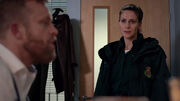 Later that month, after Glen told him that he had experienced a seizure, Dylan took him for a CT scan and found that there was a midline shift. Dylan told him that he required immediate medical attention, but Glen decided to prioritise his wedding. After trying to call Glen numerous times, he left Robyn a voicemail telling her to return to the department with Glen as soon as possible. (CAS: Episode 1077) Later, Bea, who had learned from Ciara that Dylan was an alcoholic, asked to shadow him, fearing his addiction was affecting his work. After she questioned his judgement in front of a patient, he became embarrassed when she unintentionally made his alcoholism public. Concerned, Sam asked him why he kept his problems secret during their marriage, but Dylan coldly dismissed her. Afterwards, he gave Glen a DNAR form to sign when he decided to end his treatment. He passed away later that day. Bea apologised to Dylan, and he agreed to continue teaching her. (CAS: Episode 1078) In April, wanting to understand why he kept his alcoholism a secret from her, Sam suggested going out for a meal together, but he declined. (CAS: Episode 1079)
In May, Dylan treated Bea's father Dougie and suggested that he had been drinking whilst taking disulfiram. Later, after learning that Bea had resigned, Dylan caught her on her way out and encouraged her to stay. She subsequently decided to remain in Holby. (CAS: Episode 1083)
Sam's death and relationship with Ciara
In July, Dylan, Sam and Jan attended the scene of a crash involving Iain, Ruby and Alicia. Sam was unknowingly injured by shrapnel after a fuel tanker exploded, and she succumbed to her injuries later that night. (CAS: Episode 1093) Later that week, Dylan had a meeting with his AA sponsor who was concerned about hitting the bottle again in grief. At work, a patient named Amy, who was taken in after drinking methylated spirits, specifically asked Dylan to treat her, and he soon found out that Ciara was accompanying her. Believing that she was responsible for Amy's methanol poisoning, he asked her to wait in the relatives' room, but he soon found her outside experiencing DTs. After telling him that she and Amy went cold turkey so the latter could retain custody of her son, Dylan promised to find her help with her addiction. David told him that there was nobody available, and Dylan ordered him to take her off the system. However, she later had a withdrawal seizure, forcing him to put her back on it. Connie confronted him when she found out that Ciara had breached the four-hour rule by a staggering eight hours, and told him that a CQC investigation was inevitable. In cubicles, he agreed to look after Ciara's dog Bacchus while she received treatment, and he later decided to become her sponsor. (CAS: Episode 1094) In August, Dylan received a letter from human resources asking him to clear out Sam's locker, and he asked Jacob to take part. Later that day, after walking Dervla and Bacchus together, Dylan and Ciara shared a passionate kiss and decided to spend the night together. (CAS: Episode 1095)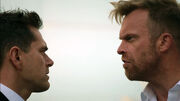 In September, at Sam's funeral, Dylan interrupted Iain's speech and publicly blamed him for her death. Iain confronted him outside the ED. When Dylan called him a brute and told him that Sam deserved better than him, Iain punched him and knocked him to the ground. After Jan pulled Iain away, Connie ordered Dylan to go to her office. Later, Ciara arrived at the ED and persuaded him to walk the dogs with her instead of going to The Hope & Anchor. (CAS: Episode 1096)
Later that month, Dylan arrived at Ciara's house, and she didn't answer the door; unbeknownst to him, she was at a pub. The following day, he became more concerned when she didn't turn up at an AA meeting. Later, David treated Ciara after she was admitted to the ED and deliberately did not inform Dylan of her presence. She soon found him, and David told him that he believed that she had been drinking. She became frustrated when Dylan asked her where she was the night before, and she stormed out of the department. Once her blood results came back and showed no traces of alcohol, Dylan and David searched for her. They soon found her unresponsive in The Hope & Anchor and took her into the hospital. However, she decided to discharge herself and left Dylan a farewell note. Distraught, he lashed out at David. Later, he went to her Ciara's house to make amendments, but he was saddened when he was greeted by her husband Joel. (CAS: Episode 1097)
The following week, Dylan tried to avoid Ciara when she was admitted to the ED with abdominal pain, but he was forced to treat her due to a lack of available consultants. She described her symptoms to him, and he asked David to run a pregnancy test; it comes back positive. Dylan takes Ciara into resus and, upon hearing the news, she asked him not to tell Joel since it wasn't his child. When she showed signs of vaginal bleeding, Dylan solemnly told her that he believed she was suffering from a ruptured ectopic pregnancy. Joel entered resus and asked what was going on, prompting Dylan to tell them that he didn't know yet. Dylan successfully resuscitated Ciara after she began to rapidly deteriorate, and Joel thanked him for saving her life. In the staff room, Dylan tried to process what happened, but he was soon dragged back into cubicles to treat two trauma patients. In a side room, Ciara told Dylan that she was living with Joel because she was lonely. Dylan told her that, as much as he wanted them to be together, he believed that their relationship was toxic and broke up with her. However, upon reflection, he returned and told her in vague terms that he had a change of heart. He was left saddened when she assured him that his initial decision was the right one. Distraught, he went to a pub and started drinking again. (CAS: Episode 1098)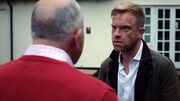 In October, Dylan struggled to cope with his breakup with Ciara and the loss of their child, and he decided to pack his bags to leave Holby. However, he was interrupted by Brian who turned up at his door to make amends. Dylan dismissed him and decided to go to the pub, prompting Brian to offer him a lift and to bet that he could resist the urge to drink. At the pub, Brian told him about his moment of clarity, but Dylan left to go to the toilet as soon as he mentioned his realisation that he didn't want to die. Unbeknownst to Dylan, his father called Zsa Zsa after she repeatedly tried to call him, and he told her the name of the pub they were at. After buying another glass of whiskey, Dylan told Brian about his relationship with Ciara and her ectopic pregnancy, and Brian apologised to him for his treatment of him and his mother. Dylan indulged him and told him that he could make it up to him by drinking with him. Brian refused and tried to leave, but, after Dylan criticised him for not having the guts to make a sacrifice for his son, he bit the bullet and started drinking. Once Brian became drunk, Dylan secretly went to the toilets and called Hazel. Shortly after, outside the pub, Brian got into an argument with her over the phone, and he was devastated when she broke up with him for good. He soon realised that Dylan called her and asked him if he wanted blood. Dylan told him that he wanted more than that, prompting Brian to goad him into "[being] a man" and hitting him. Dylan punched him in the face, causing Brian to hit his head on a nearby table. After Dylan briefly assessed him, Brian staggered up to him and collapsed in his arms. He carried him back inside, and he began to panic when Brian fell unconscious. David, Zsa Zsa and Jeffers soon arrived, and Dylan begged Zsa Zsa to save his father. She reluctantly agreed and drilled a makeshift burr hole to evacuate a clot. When the clot was found, she persuaded Dylan to remove it. He managed to successfully extract it, and he accompanied Brian to the ED. Upon arriving, an irate Connie ordered him and Zsa Zsa to see her in her office. There, she reprimanded Zsa Zsa for her recklessness and told Dylan that, if he didn't want help from his colleagues, he could pack his bags and leave. Outside, Dylan thanked Zsa Zsa for everything she did for him and declined her offer to go to the US with her. After they hugged each other goodbye, David escorted her and Jeffers to the airport. (CAS: Episode 1101)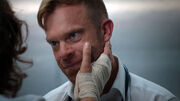 Later that month, on his first day back at work, Joel asked Dylan to treat Ciara after she fell and cut herself on broken glass. Dylan planned to have her discharged as soon as possible, but she soon collapsed and believed that her symptoms were being caused by damage to her liver. Joel told him that Ciara had been acting different for the past few days and asked him if there was anything that he needed to know; Dylan admitted that he met her at an AA meeting. Her obs showed that her symptoms were being caused by an infection, rather than liver disease, and, once Joel left to get her a drink, she showed Dylan and Louise a cyst on her leg. After he drained it, she told him that Joel knew that something was wrong. Unbeknownst to them, after David unintentionally mention to him that Ciara had a salpingectomy, Joel found out about her ectopic pregnancy. Dylan asked Ciara if Joel was responsible for her injury, but she insisted that she hurt herself by accident. After he asked for Ciara's GP notes, Connie ordered him to discharge her. As Joel left to pick Ciara up by reception, Dylan confronted him after he realised that he had laced her drink with alcohol. In the lift, Dylan told her that he knew that their relationship could work and implored her not to go home with Joel. They shared a kiss, and she asked him if she could go home with him. When he said that she couldn't, she decided to go with Joel, leaving Dylan devastated. On the houseboat, Dylan contemplated drinking again, but he threw his glass of whiskey on the floor, shattering it. (CAS: Episode 1102)
In November, Dylan called Ciara, and he was horrified to hear her screaming as Joel physically abused her. He decided to go to her house to stop Joel, but David persuaded him to call the police instead. Once Ciara and Joel were taken into the ED, Connie warned him to back off. He tried to ask Ciara if she was alright, but she told him to go away. After viewing her X-rays that showed healed broken ribs and hearing from Robyn that she had bruises, Dylan interrupted a meeting Ciara was having with an IDSVA, undoing all of the progress she had made in confronting her abuse. Later, Ciara ran to the women's toilets after she became uncomfortable with Joel repeatedly kissing her, and David signalled to Dylan as he blocked Joel's path. Dylan found her and told her that he loved her. She walked out of the cubicle, and the two embraced. Back at the ED, Dylan supported her as she told Joel that their relationship was over. Dylan told her that she would likely have to go to a women's refuge, but she asked him if she could stay with him. He agreed, and they left together in his car. However, as they made their way to the houseboat, Joel pursued them and rammed his car into Dylan's. As they drove around a corner, Joel crashed into a parked car. As they looked back at the accident, Dylan unintentionally drove directly into an approaching van. (CAS: Episode 1105)
Following the crash, Dylan tried to treat all of the casualties, including Joel who had an open fracture, and he gave Ciara money for a taxi so she could collect her belongings and wait for him at the houseboat. At the ED, after David treated his head wound, he was summoned by Connie to her office, and he told her that, as he was Ciara's AA sponsor, it was his responsibility to take her to a place of safety. He subsequently began to experience post-concussion syndrome, and he was taken to a cubicle for treatment. Despite Rash and David's orders to stay in bed, Dylan went to resus. There, Joel demanded to know where Ciara was, and Dylan told him that they were going to get as far away from him as possible. Furious, Joel tried to attack him, but he immediately collapsed and had a seizure. Connie told David to take Dylan to the staff room, but, instead, he took Dylan back to the houseboat to meet Ciara. There, Dylan found her carrying bags of her belongings and clothing. She told him that she was going to the airport and asked him to look after Bacchus for her. After Ciara promised him that it wasn't the end, they shared one final kiss before she left in a taxi. (CAS: Episode 1106)
On the night of Christmas Eve, Dylan was pulled back into resus after a busy shift to help out with a patient. Once they were treated, he decided to clock off, but he decided to stay as two men were taken in following an explosion. When David questioned his decision to work over the festive season and suggested that it was to do with Ciara's departure, Dylan assured him that he was alright and told him to drop the subject. Later, a patient named Joe suffered a haemothorax and required the rapid infuser, but it had been stolen. Dylan and David struggled to keep Joe alive, and Dylan made a deal with him where Joe would admit to his colleague Alun that he loved him if he survived. The rapid infuser was still nowhere to be found, and Dylan became increasingly frustrated. Fortunately, it was soon recovered, and Joe's life was saved. Outside the ED, Dylan asked David to read a card Ciara had sent him. Dylan told him that he missed her, and David invited him over to his place for a Christmas dinner. (CAS: Episode 1109)
Interest in larval therapy
In March 2019, Dylan became interested in maggot therapy after a homeless patient was admitted to the ED with a maggot-infested wound that was surprisingly clean. (CAS: Episode 1117) The next day, Dylan and Marty took Sacha Levy's daughter Beka to AAU after she was involved in a nasty car crash. There, Sacha disagreed with Dylan's decision to reduce her open femur fracture, but Dylan reminded him that he was not in charge and decided to go ahead with the procedure. Following several unsuccessful attempts, Dylan and Marty managed to reduce the fracture, and Sacha thanked him. (CAS: Episode 1118) Later that month, a patient agreed to participate in Dylan's larval therapy trials, but they soon felt uncomfortable with the maggots and dropped out. After he explained to Jade how the treatment worked, she managed to convince the patient to continue taking part in the trial. (CAS: Episode 1120) In April, Dylan overheard Jade saying that her nursing registration was being withheld due to her criminal record, and he decided to help her by being one of her referees. That afternoon, she was delighted to learn that she had received three references and thanked Dylan for helping her. (CAS: Episode 1122)
On 8 June, Dylan treated the foot of spiritual healer Magdalena Spellbinder after she allegedly stepped on burning coal, and Jade enthusiastically agreed to help him with administering larval therapy. However, he instructed her not to leave the patient as he investigated her foot's sensation. Dylan returned and confronted Magdalena about the circumstances of her injury, and she admitted that she was already aware that she was suffering from peripheral neuropathy and that she actually fell asleep drunk whilst soothing her feet with a heat bag. Dylan subsequently found Jade in resus with a deaf patient named Jason and reprimanded her for abandoning her post. Later, he found her with Jason again and prepared to reproach her, but she pointed out that his injuries were hiding a rash and suggested that he was suffering from meningitis; her suspicions were later confirmed to be correct.
In cubicles, Dylan informed Magdalena that her peripheral neuropathy was the result of an underactive thyroid gland. When he offered her literature about alcohol abuse, she offered him some about how to behave towards others in return, explaining that she specialised in employment tribunals. In the evening, Jade visited Dylan in his office and apologised for not spotting Jason's rash earlier, but she also asserted that she was tired of being forced to perform menial tasks, such as the larval therapy, and wanted to be challenged. Dylan apologised to her for dismissing her concerns about Jason, but he maintained that he gave her the maggots as he believed that she was good at it and posited that she did not believe in her own abilities. (CAS: Episode 1130)
Promotion to clinical lead
On 17 August, after Connie took a "leave of absence due to personal reasons", Dylan was appointed as the department's acting Clinical Lead. In the morning, he made a prolonged speech about operational plans, and David stuck a post-it note with a caricature of him to his jacket. However, it was interrupted when a major incident was declared after someone deliberately drove a lorry into Holby Market. As the department prepared for an influx of patients, Dylan appreciated Rash returning to work to help out, and, at the end of the day, he recommended applying for a clinical fellowship position; given that Gem was waiting for him thousands of miles away, Rash was torn. In the staff room, Dylan praised the team for the work during the major incident, but David distracted him as he tried to remove the post-it from his jacket. After the drawing was passed around, Dylan played along when the rest of the team laughed and joked about his tedious speech. (CAS: Episode 1139)
On 31 August, David's son Ollie went missing, and David assured Dylan that he would resolve the situation. However, when Ollie failed to turn up at the ED, Dylan granted him an hour to find him. David soon found his son sitting on the Brinley Road bridge and was forced to rescue him from the river below after he fell in. Once Ollie was admitted to the ED, Dylan discovered that he had a cardiac tamponade due to David's intense CPR and abrasively ordered Jac Naylor to perform a full thoracotomy on him in the trauma theatre. Regardless, she agreed to operate, and Ollie soon stabilised. (CAS: Episode 1141)
On 28 December, F1 Mason Reede was found dead in a store cupboard. Marina Kovac — the on-call manager — was called into the department to help deal with the aftermath, but Dylan took issue with her line of questioning when she scrutinised him and Ethan about Mason's time in the ED and career progression. (CAS: Episode 1155) On 4 January 2020, after Mason's post-mortem showed that he died of hypertrophic cardiomyopathy, Dylan publicly denounced the system for contributing to his death and asserted that the ED was "an accident waiting to happen". Feeling that Dylan was not coping, Connie, who had returned to the ED and was set to reassume the role of Clinical Lead, encouraged him to lead by example and later suggested that she take over immediately. He later agreed, and Connie took over as Clinical Lead the next day. (CAS: Episode 1156)
Growing feelings for Faith
On 18 January, advanced clinical practitioner Faith Cadogan brought her son Luka into the ED after falling off a bed. Although Dylan managed to treat Luka's physical injuries, Dylan was concerned about his poor vision and developmental issues, so he took Luka for a CT scan; the results indicated the presence of a brain tumour; (CAS: Episode 1158) it was later shown to be malignant and had grown around Luka's brainstem. (CAS: Episode 1160)
On 22 February, Dylan contacted Zsa Zsa about Luka's case, and she agreed to speak to his physicians. He promptly informed Faith and her husband Lev of the news, and the two were ecstatic. Later, Dylan told Faith that Zsa Zsa was going to operate on Luka, and Faith thanked him. (CAS: Episode 1163) The following week, Zsa Zsa arrived at the hospital to remove Luka's tumour, but she discovered additional tumour in the cavity. Dylan found Faith reeling in the relatives' room and led her back outside the operating theatre to be with Luka. Zsa Zsa eventually had to stop the operation when she failed to remove any of the additional tumour. (CAS: Episode 1164)
On 28 March, Dylan gave Faith a biscuit that he got with his coffee and made a donation to Noel's charity bike ride on her behalf; David suggested that Dylan was attracted to her, but Dylan rebuked him and claimed that he would have to be "literally certifiable", given her marriage to Lev. Later that day, Faith invited Dylan out for a drink, and he eagerly accepted. However, when Dylan heard that Lev was joining them, he told them that he was feeling "peaky" and left them alone. (CAS: Episode 1168)
The following week, Faith informed Dylan that she was working with him in resus during the shift, but Dylan was keen to avoid working with her and told her to help clear the backlog in cubicles. Nevertheless, Jacob sent Faith to assist in resus. Later, Faith approached Dylan and said that he seemed "a bit off" and offered herself up for a conversation if he needed one; Dylan put his behaviour down to his personality and dismissed her concerns. (CAS: Episode 1169) On 25 April, Dylan relieved Faith of her clerical work so she could attend Luka's chemotherapy session. (CAS: Episode 1171)
Code orange
On 18 April, the emergency department went into lockdown after the admission of three patients with organophosphate poisoning. While treating one of the patients, Dylan began to overheat in his protective suit due to one of the fans not functioning correctly and opened it. However, he was left staggered when he unconsciously wiped his face, potentially exposing himself to the substance. After they were decontaminated, Dylan thanked Rash for covering for him in resus. (CAS: "Code Orange")
Admitting his feelings for Faith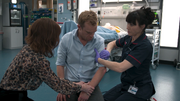 Later that month, while working with Dylan in cubicles, Faith noted his "brilliant" treatment of children and asked if he did not have children of his own because he struggled with commitment. Later that day, Mick Baxter — the father of a patient named Connor — entered resus with a gun and held Dylan, Faith, Connie and Charlie hostage. Faith quietly suggested that they try to take Mick on as a group, but Dylan called it a "mad" suggestion. When Mick allowed Dylan and Faith to treat Ruth Wadsley, Connor's social worker who Mick shot, Dylan told Faith to retrieve some blood from the fridge, but she also pocketed a syringe. While Mick was distracted, Faith lunged at him with the syringe; as Dylan tried to pull her away, Mick fired a shot which hit Dylan's arm. Once they were released, and Dylan's arm was treated, Dylan told Faith that he did not have a problem with commitment as long as it was with the right person, and he admitted that he had feelings for her. (CAS: Episode 1173)
In June, after Luka's scan results showed that his tumour had not been affected by chemotherapy, Faith called Dylan asking for a "friendly face" to keep her company. At the ED, when Dylan claimed that he had been trying to maintain a professional distance and questioned her motives for calling him in, Faith broke down and told him about Luka's condition. After Faith affirmed that he was the only person she could trust to be honest with her and asked him to be there for her, Dylan agreed to offer her his support. (CAS: Episode 1176) After Dylan witnessed Lev kissing a man in the ambulance station. (CAS: Episode 1177), he realised that Xander Hayes — the sperm donor of one of his patients — was the man he saw with Lev. Despite Lev's denial of the event, he eventually begged Dylan not to tell Faith and insisted that he still loved her. (CAS: Episode 1178) Nevertheless, when Dylan unconsciously made a derisive noise when Faith commented on Lev's honesty, she forced him to admit what he saw. However, Faith refused to believe Dylan and accused him of acting on his "crush". (CAS: Episode 1179)
COVID-19 pandemic
In July, when the number of confirmed COVID-19 cases in Italy reached 15,000, Dylan followed David's lead and bought his own respirator mask to shield himself from infection. After the number of cases in Holby rapidly increased, and a national lockdown was implemented, Dylan contracted the disease and was admitted in September when his symptoms worsened; he eventually recovered. (CAS: Episode 1182)
Ambulance crash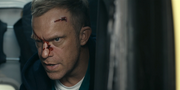 In October, Faith confronted Lev with Dylan's accusation and discovered that Dylan was telling the truth about Lev sleeping with a man. (CAS: Episode 1183) The following month, while transferring a patient to St James' Hospital, Faith apologised to Dylan for accusing him of lying but was suspicious of his motive for telling her about Lev. After being offered a lift home by paramedic Pravi Lakhani, a lorry crashed into the ambulance they were in, leaving the ambulance teetering over the edge of a bay. Dylan managed to free himself and anchor the ambulance with rope, but Faith suspected that she had sustained internal bleeding. While trying to retrieve Faith from the back of the ambulance, Dylan explained that he told her about Lev because he believed that she deserved someone with honesty. When his attempts at trying to rescue Faith failed, Dylan admitted his love for her, and she reciprocated. After tracking Faith's phone with an app, Lev arrived at the scene and managed to rescue Faith seconds before the ambulance fell into the bay. Once Faith was taken to the ED, she began asking for Dylan, prompting Lev to punch him in the face. (CAS: Episode 1185)
In December, Dylan was delighted to see Faith back at work and offered to take her out for dinner. However, after a conversation with Lev, Faith decided to prioritise saving her marriage and turned down his offer. (CAS: Episode 1188) Dylan assured Faith that he was there for her if her attempts at rescuing her marriage failed, and he started booking viewings for family homes for him, Faith and her children. Lev soon found out about Dylan's plan and threatened to kill him, but Faith demanded that Lev apologise to him. (CAS: Episode 1190)
One-night stand with Faith
In March 2021, after Lev refused Faith's demands to have sex with her in the ambulance station to prove his heterosexuality, Faith declared that their marriage was over. That evening, Faith visited Dylan's houseboat (CAS: Episode 1192) and slept with him. However, the following morning, Faith confronted Dylan after answering a call from his AA sponsor Reg and forced him to disclose that he was a recovering alcoholic. Later that day, Faith's daughter Natalia, who Faith pocket-dialled while calling Dylan back to bed, was admitted to the ED after having a reaction to synthetic cannabinoids, and Faith demanded that Connie treat her instead of Dylan. Once Natalia was stabilised, Dylan criticised Faith for humiliating him and attested that her being at home was "killing" her, but Faith maintained that her children would always be her priority and accused him of being as dishonest as Lev by not telling her about his alcoholism sooner. Dylan was devastated when Faith decided that their relationship would have never worked out. (CAS: Episode 1193)
In April, Dylan continued to show animosity towards Lev, but Dylan claimed that he "would rather be shot, again, than have anything to do with [Lev's] family". (CAS: Episode 1195) Faith later concluded that her relationship with Dylan was born of successive trauma and was destined to fail once they passed. (CAS: Episode 1197)
Becoming the permanent clinical lead
Following Connie's decision to leave Holby to spend time with Grace, Dylan was appointed to the role of acting clinical lead, despite Dylan not wanting the job. In July, Henrik Hanssen informed Dylan that he had been slacking in his duties. (CAS: Episode 1207) However, by October, when Dylan was set to relinquish his duties, the board praised Dylan's performance and encouraged him to remain in the role permanently. Dylan was initially steadfast in his decision, but he soon realised that Stevie Nash — the department's new consultant and the board's reserve candidate — was pursuing a vendetta against Ethan, who Dylan recently learned had Huntington's disease. In order to protect Ethan, Dylan decided to accept the permanent position. (CAS: "Two Tribes")
In November, as part of the hospital's Green War of the Wards initiative, Dylan installed separated recycling bins near admin and urged his staff to more attentive when disposing of waste. (CAS: "Two Minutes") Later that month, in an attempt to reduce the number of "time wasters" in the department, Dylan authorised a new system that allowed patients to book themselves in before arriving in the ED. However, Dylan's move garnered criticism for failing to factor in accidents and forcing staff to face patients who had made appointments and were frustrated with not being immediately treated. Dylan later decided to abandon it. (CAS: "Retribution")
Helping Paula Kettering
In November, Dylan treated Paula Kettering — a recovering alcoholic with cerebral palsy — after she slipped on wet flooring. Paula reluctantly disclosed that she was around seven-months pregnant, but she was appreciative of Dylan's kindness and respect towards her. However, when Paula's social worker Adi Kapadia claimed to have serious concerns about her capability as a mother, Paula admitted to Dylan that her last child Maisie was taken into care because of her abusive ex-partner, and she warned Dylan that he would be to blame if social services took away her new baby. (CAS: "Retribution")
In January 2022, on the day that she was due to attend a meeting with social services deciding whether or not she was going to keep her baby, Paula was readmitted to the ED after falling from her apartment balcony. With several witnesses suggesting that Paula's fall was deliberate, Dylan felt obliged to inform Adi and the hospital's crisis team, but Paula insisted that her railing broke, and she had stop taking her baclofen to prevent her baby from becoming addicted. Feeling responsible for exacerbating Paula's situation, and having experienced the care system firsthand, Dylan decided to take Paula to the meeting himself and advocate for her. Despite Paula's efforts to remain sober and her repentence for her treatment of Maisie, it was decided that an application would be made to the courts to have Paula's baby removed at birth. Desperately, Paula sneaked out of the ED and returned to her apartment. (CAS: "She's My Baby")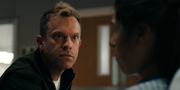 After making failed attempts at finding out about Paula's condition, (CAS: "Delayed Reaction") Dylan accompanied the paramedics to Paula's residence when it was reported that she was in labour. Despite Paula's protests, Dylan delivered the baby — who Paula later named "Ena", and the mother and child were taken to the ED when the former felt faint. Adi informed Dylan that, due to the circumstances in which Ena was born, social services wanted to have her removed as soon as possible. A devastated Paula was forced to hand Ena over to Adi, and Ena was given to an experienced couple. Paula felt hopeless, but Dylan insisted that she remain sober and vowed to have Ena returned to her. (CAS: "Ena")
To help demonstrate to social services that Paula was a reformed and capable mother, Dylan helped Paula make her flat as presentable as possible, (CAS: "Break Your Heart") accompanied her to her Alcoholics Anonymous meetings, (CAS: "Trigger") and found her a solicitor. In April, Paula reluctantly tried to help cover up the cause of an injury an old friend of hers named Ellen had sustained. Dylan quickly deduced that Ellen was an alcoholic, but he saw Paula carrying Ellen's bottle of vodka and, believing it to be Paula's, accused her of relapsing and refused to help her any further. After Ellen told the truth, Dylan told Paula that he still wanted to help. To help Ellen, Paula decided to become her accountability buddy. Paula was later informed that the tribunal regarding Ena's care had been moved forward to the following week, but Paula told Dylan that she was not ready. (CAS: "Judgement Call")
Dylan and Jan Jenning accompanied Paula to the tribunal, where Paula insisted that she would die before she ever allowed what happened to Maisie to happen to Ena. To Paula's delight, it was ruled that Ena would be returned to her. For the first few days, Paula struggled to look after Ena on her own, and she was forced to take Ena to the ED after noticing a rash. After Dylan treated Ena's symptoms, Ena agreed to accept help with looking after Ena. (CAS: "I Will Trust In You")
Supporting David
In June, David's son Ollie and Rob Tranter perpetrated a mass shooting at Carsbury Park High School. As the clinical lead, Dylan led the department's response to the incident and was responsible for liaising with the police. When an ostensibly innocent Ollie was admitted with gunshot wounds, Dylan offered David his support. However, after shotgun shells fell out of Ollie's clothing, Dylan urged David to hand them over to the police; David eventually accepted his son's involvement and began co-operating with the authorities. On his way to theatre, Ollie went into cardiac arrest, and Dylan attempted a clamshell thoracotomy to save his life, but Ollie's injuries were too severe, and Dylan was forced to stop. Worried for his friend, Dylan allowed David to stay with him overnight and assured David that he was not responsible for Ollie's actions. (CAS: "Wednesday's Child")
Personal life
Dylan lives with his dog, Dervla. At some point in or before 2011, Dylan married Sam Nicholls. During her time in the army, she had an affair with corporal Iain Dean which Dylan was unaware of. Her working at the hospital after her army career was the primary reason for Dylan's departure in 2012. (CAS: "I Saw Mommy Killing Santa Claus")
In March 2018, Dylan met Ciara Cassidy at an AA meeting. (CAS: Episode 1074) Later that year, in July, he met her again in the ED and decided to become her sponsor. (CAS: Episode 1094) The following month, they shared a passionate kiss and spent the night together. (CAS: Episode 1095) However, in September, the two fell out, and Ciara decided to stay with her estranged husband Joel. (CAS: Episode 1097) The following week, Ciara was admitted to the ED, and she and Dylan were devastated to learn that she was suffering from an ectopic pregnancy. Feeling that their relationship was toxic, he decided to break up with Ciara, but he soon changed his mind. Unfortunately, she turned him down and decided to stay with Joel. (CAS: Episode 1098)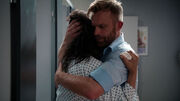 In October, Joel took Ciara to the ED, and Dylan realised that he had been exacerbating her alcoholism. He tried to convince her to leave him, but, when he admitted that she was not able to stay with him, she went back to Joel, much to Dylan's dismay. (CAS: Episode 1102) The following month, after he learned that Joel was physically and mentally abusing her, he told her that she didn't deserve his abuse and admitted that he loved her. The two reconciled, and Ciara decided to end her relationship with Joel. (CAS: Episode 1105) Later that day, Ciara left the country for a fresh start, but she assured Dylan that it wasn't the end. (CAS: Episode 1106)
Trivia
Behind the scenes
William Beck has portrayed Dylan Keogh on Casualty since his arrival in 2011. He left in 2012 before returning in 2014. Dylan has been well received by fans and critics alike; since his introduction, he has become a fan-favourite character. His initial time on the show was from March 2011 to December 2012. Over 18 months later, Dylan made a surprise return to the show in episode 8 of series 29. He remains a regular on the show.
Appearances
See also: Dylan Keogh - list of appearances
Dylan made his first appearance in the series 25 episode "Only Human" which aired in March 2011. He was absent from December 2012 to October 2014 during which time he left the ED.
References