This article covers a real-world subject which should not be taken as part of the Holby universe.
Episode 1034 of Holby City is the 26th episode of the show's 22nd series. It was directed by Steve Brett and written by Patrick Homes.
This episode was the first to be filmed after the show's production was suspended as a result of the COVID-19 pandemic which the plot of the episode and the theme of the remainder of the series will be based on.[1]
This episode saw the arrival of many new characters. Trieve Blackwood-Cambridge, Chan Woo Lim and Phoebe Pryce are introduced as F1s Josh Hudson, Jeong-Soo Han and Skylar Bryce respectively. Sian Reese-Williams also joins the cast as Jodie Rodgers, and Xavier "Zav" Duval's brother Alex makes a return though is portrayed by Miles Mitchell rather than his original actor Leemore Marrett Jr. The episode also marked the final appearance of the show's longest-serving cast member, Hugh Quarshie, as consultant general surgeon Ric Griffin, 19 years after his first appearance in Holby City in October 2001.
Plot
Two weeks after his operation, Ric wakes up from his coma and is confused to find a darkened AAU completely devoid of patients and in the process of a deep clean. As Max informs Ric about the ongoing COVID-19 pandemic, she also assures him that his cyst has been totally removed, and he is set to make a full recovery. Ric asks about Sacha and Essie's wedding, unaware of the latter's sudden death.
Two days later, Donna gives a dejected Sacha the notes for a patient named Jodie Rodgers — a childhood leukaemia sufferer who was suspected of having cancer; Sacha maligns her as a "hypochondriac" and goes to deliver the "bad news". Sacha informs Jodie that there is nothing wrong with her and puts her symptoms down to unrelated causes such as ME, Jodie's diet or her being "clumsy". Jodie accuses Sacha of giving up on her, and her partner Carl complains about the time they have wasted; Sacha bluntly tells them to "count their blessings". Fletch informs Sacha that Max is calling a meeting about the virus and reminds him that that he is allowed to take time off work to grieve for Essie and take care of Isla, but Sacha tells Fletch that he gave Isla back to Frankie almost immediately after Essie's funeral. Fletch questions whether Essie would have wanted that for Isla, but Sacha claims that there would have been many things that Essie would have wanted, like not dying of cancer.
At the meeting, Max explains that Darwin will be massively scaled down with all elective surgery cancelled, and Keller will be divided into "hot" and "cold" zones, meaning that all medically fit patients need to be discharged. On AAU, a patient named Martha Ridgeway tells Cameron about her son, who shares his name and is busy backpacking around Peru, and explains that she advised him not to return home when he heard about the pandemic. Martha asks Cameron if he is worried about contracting COVID-19, but Cameron dismisses the possibility and claims that it mainly affects elderly people with underlying health conditions like diabetes and COPD. Martha points out that she actually has some of those conditions; Cameron advises that she practises social distancing, but Martha claims that it is difficult to do so as she works in a care home. Cameron decides to discharge Martha, but she is concerned that it is not safe for her to return to work; Cameron reckons that a care home would be safer than remaining at the hospital. However, Cameron's concerns grow when he notices that a young male patient who had been admitted earlier after presenting with symptoms of COVID-19 has been put on a ventilator; Louis explains that his condition rapidly deteriorated and that the virus was "nasty".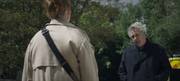 Outside the hospital, Carl asks Sacha what he should do regarding Jodie and explains that he had been having doubts about marrying her but did not want to leave her while she was ill. An apathetic Sacha gives Carl "his blessing", claiming that the result is the same irrespective of when Carl decides to leave Jodie. Nearby, Jac overhears and asks Sacha if he is proud of himself for his response; Sacha is not interested. Jac tells Sacha that he has to give himself time to grieve and that giving Isla up will not make his memories of Essie go away, but Sacha berates Jac for "abandoning" Emma and tells her to "stay the hell away" from him. Jac warns Sacha that he is going to hate himself when he looks back on his behaviour right now, but Sacha pays no heed.
11 days later, while watching an address by Prime Minster Boris Johnson, Ric warns Max that she has not been sufficiently increasing PPE levels and that the hospital could run out in days. Max claims to have been assured that they will have access to the pandemic stockpile, but Ric asserts that she will need to find alternative lines of supply. Given that Ric was only discharged earlier in the day, Max asks Ric why he is in her office; Ric announces that he is returning to work. Max reminds Ric that the coronavirus is seemingly targeting males that are over 60 and have underlying health conditions, and insists that it is too dangerous for him to work, but Ric refuses to shield, asserting that the pandemic is the biggest public health crisis in a century and the hospital is not even close to being prepared to tackle it. Max tells Ric that they are "in this together" and urges him to trust her; Ric tells her to "earn it".
Three days go by, and Ric is stationed on Keller — the receiving ward for mild COVID-19 cases. Ric instructs Donna to disregard Max's orders regarding PPE level updates and direct them to him instead. In the hot zone, Ric tends to a Ghanaian patient named Abena Sekyere and remarks that, like him, she is a "Tuesday's child". Abena tells Ric that she is due to give birth in six weeks; Ric informs her that she cannot have visitors, but Abena explains that her baby's father is not around, and her family moved back to Accra two years prior. Ric asks Abena if there is anything that he could do for her, and she asks for vermillion wool for the Kente cloth she is weaving. Abena asks Ric if he has thought about going back home to Ghana, but Ric states that Holby is his home now; Abena suggests that fate might take him home one day.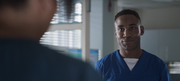 Outside, F1s Josh Hudson, Jeong-Soo Han and Skylar Bryce wait to be introduced to the hospital. Josh tells a fretful Skylar to calm down and "think of it as the first day at a new job", but Skylar rebukes him. Henrik greets the three juniors and expresses his regret that their welcome to the hospital "were under better circumstances". Meanwhile, Jac approaches Fletch and offers to work as a nurse, claiming that she needs to be of use. A perplexed Fletch reluctantly agrees to see where her "particular skill-set" would be of most use. On Keller, Max informs Donna that she has brought in some NHS volunteers, but Donna is shocked to be greeted by Zav's brother Alex. Donna explains Alex's relation to Zav and her barring from Zav's funeral to Max; Alex apologises and claims that he and Reg could not talk Nanette out of her decision. Max asks if Alex's presence is going to be an issue, and Donna claims that it would not be. Alex confirms that he has taken to the new PPE to the relevant wards but points out that they were originally issued in 2016; a horrified Donna assures him that it is not an issue. On AAU, Josh, Jeong-Soo and Skylar are tasked with moving patients' clothes and belongings into a storage room; Josh complains about being given menial tasks.
On day 21, Ric brings Abena the wool she wanted, but he is forced to increase her oxygen when her COVID-19 symptoms worsen. Ric remarks that he has never seen lung inflammation spread so quickly but decides to put her on CPAP rather than move her to ITU. Ric tells Abena about his treatment plan and urges her to eat more for the sake of her baby. Abena asks Donna what it is like as a health professional fighting against the virus; Donna describes it as "walking into hell". In her office, a frustrated Max tells the trust that the hospital is hours away from running out of gowns and demands to know a precise date for a new shipment; she is not given an answer. Ric confronts Max about the expired PPE and suggests that she go public about the situation. Max asserts that doing so would result in her automatic dismissal and, when Ric questions her priorities, loudly proclaims that her job is the safety of her staff.
In the corridor outside AAU, Fletch and Ange catch up after seeing little of each other since Essie's death. Ange proposes that they live together during lockdown, but Fletch snaps and suggests that they concentrate on what is more important. Fletch apologises, but Ange tells him that she understands. Chloe arrives on the ward and informs Ange that Cameron "has gone AWOL". Ange finds Cameron sitting in his car and scolds him for shirking his responsibilites on AAU. She soon realises that he is scared of contracting COVID-19, but she suggests that Cameron is not cut out for being a doctor. Cameron maintains that she is wrong; Ange berates him for wasting her time and tells him to "go hard or go home".
Four nights later, as the hospital staff reel from a horrific day, Donna is confused when she hears banging and clapping from nearby; Max explains that the general public is clapping for all of them. In the morning, Jodie confronts Sacha outside the hospital and claims that Carl threw her out shortly after their conversation, leaving her homeless. Sacha asserts that he is not a social worker and suggests that her break-up with Carl was likely for the best. On Keller, Abena opens up to Ric about her baby's future and tells him that she is not sure about bringing him up in Holby; Ric urges her not to worry about that at the moment and assures her that they will beat the virus. In the ward's cold zone, Max informs the staff that they have ran out of fluid-resistant gowns and will not be able to supply adequate PPE for all nurses on the ward until a new batch arrives the following day. Max asks the nurses if they would volunteer to continue working despite the increased risk; Donna instructs her staff to continue working on the condition that the scheduled delivery is guaranteed.
On AAU, Cameron tells Martha, who has been readmitted after catching COVID-19, that the Foreign Office is attempting to organise a charter from Peru so her son can visit her in a few weeks. Martha informs Cameron that she has signed a DNR and asks for someone to sit with her if she dies. She regrets returning to work, but Cameron claims that nowhere is safe. Elsewhere on the ward, Josh, Jeong-Soo and Skylar continue to move bags into the storeroom, but they are shocked to find that it is almost full. Outside the hospital, while Donna talks to Amber about her homework, Alex passes and makes a comment about Zav. He swiftly apologises and gives Donna a box filled with PPE that he bought using money from Zav; Donna is speechless and touched. On Keller, Abena — now so ill that she is on a ventilator — gives Ric her parents' address in Accra and makes him promise that her baby must be safe and loved. In her office, Max resorts to buying over £10,000 worth of PPE with her own money.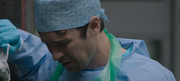 On day 37, Jac sends Sacha photographs of him and Essie to remind him that Essie would want him to be happy, but Sacha asserts that he does not want to remember Essie and would erase every memory of her if he could. Jac tells him that he cannot erase pain, and he will have to reconcile with it one day. On AAU, Donna brings Cameron to visit a dying Martha who has been apparently asking for him. Martha tells Cameron, who he has mistaken for her son, that she is proud of him and that she is scared, but Cameron walks away, stating that he has other patients to treat. However, Cameron has a panic attack and runs out of the building where he is photographed. Meanwhile, Fletch approaches Ange after learning that Dominic is symptomatic; Ange assures Fletch that Dominic's symptoms are only mild. Ange asks what happened between the two of them and asks Fletch when he realised that he no longer loved her, but Fletch is equally clueless. By the entrance, Max's PPE order arrives; Ric asserts that it is "too little too late". However, Max notices that Ric is in discomfort and is immediately concerned. Nearby, Sacha weeps to himself and is spotted by Jodie who asks if he is okay. Sacha realises that she is sleeping rough and offers to let her stay with him through lockdown, claiming he needs "the diversion".
On AAU, Ric tells Max that he has been experiencing anosmia. Max instructs him to go home and isolate, but Ric argues that he is otherwise healthy. After telling Ric to check his sats, Max quickly makes the diagnosis and prepares to organise a bed for him, but Louis calls Ric over to Abena's bay. Ric decides that Abena only has a few minutes left to live and instructs the staff to prepare for an emergency caesarean. Max urges Ric to step aside due to his own declining health, but Ric is determined to keep his promise to Abena. As Abena finally succumbs to the virus, Max tells Ric to walk her through the caesarean. Max manages to deliver the baby and attempts to resuscitate him, but Ric's breathing is quickly compromised by the virus, and he falls unconscious.
In the month that follows, Sacha and Jodie forge a romantic relationship, and Cameron is lauded as a "hero" after the photograph of him is obtained by the press. Max makes a celebratory speech stating that Holby has passed the peak of the pandemic and praises the hospital's staff for their hard work. After recovering from COVID-19, Ric decides to honour his promise to Abena and leaves the hospital to take her son back home to Ghana. Max asks Ric if he will come back; Ric smiles and assures her that she has "got this". As Ric leaves with the baby, his colleagues loudly applaud him. Once Ric is gone, Max tells her staff that it is time to "get back to work".
Cast
References
External links