This article covers a real-world subject which should not be taken as part of the Holby universe.
Episode 1093 of Casualty is the first episode of the show's 33rd series. The episode was directed by Steve Brett and written by Simon Norman. This episode features the death of paramedic Sam Nicholls, portrayed by Charlotte Salt, who had previously returned to the show in September 2017.
The events of this episode take place before and immediately after the events of the previous, which took place in-universe on 29 July.
Synopsis
Iain and Ruby arrive at a block of flats to tend to Mia, a frequent flyer with suicidal tendencies, who claims to have overdosed. Iain points out the lack of empty drug packaging, leading her to admit that she did not take anything. Iain accesses her and concludes that she is not at any immediate risk of harming herself and answers a call from Alicia's residence, despite Mia and Ruby's objections.
At the ED, Ethan queries Connie and Charlie about Eddie and Alicia's whereabouts. Upon learning that Eddie had been arrested and Alicia is allegedly ill, he grows suspicious of Connie's ambiguous answers.
On a dual carriageway, Iain rushes to the hospital while Ruby tries to treat a hysterical Alicia. Suddenly, he notices Mia sitting on the edge of the footbridge above and desperately tries to avoid hitting her when she jumps. He drives in the crash barrier, causing the ambulance to flip onto its side. A petrol tanker swerves to avoid the ambulance and smashes through the guard rails, blocking the road. One car hits the ambulance, causing Ruby and Alicia to be thrown across once again, and collides with the tanker, as do many other vehicles. Iain climbs free from the ambulance while Ruby and Alicia are left battered and trapped in the back of the ambulance.
News of the accident hits the department, and Sam, Jan and Dylan are dispatched to the scene. The fire service also arrives and frees Ruby and Alicia from the ambulance, allowing them to be escorted to the ED with Mia. As the petrol tanker catches fire, pressure mounts on the emergency services to free the remaining casualties, Kelly and Jodie, who are trapped in their car. They are both freed with only seconds to spare as the petrol tanker explodes.
Back at the ED, Alicia is treated and sent for a CT scan, and Ethan asks her why she did not come to him for support after her rape. She says that she wanted to deal with the situation in her own way. After Duffy speaks to him about how Alicia does not need his pity, he assures Alicia that he will be there for her.
Meanwhile, in resus, Elle and Rash fight to save Mia's life but their attempts of resuscitating her are fruitless. As they pronounce her dead, Iain demands them to keep trying but Connie forces him to leave. Angry and grief-stricken, Base - Mia's boyfriend - lashes out at Iain for not heeding her warnings and breaks down.
At the ambulance station, Sam tries to contact Iain so they could talk about Mia, but she receives no response. Exasperated, she feels a sharp pain in her abdomen - shrapnel from the tanker explosion has ruptured her liver. She limps to a nearby ambulance and tries to treat herself. Iain soon finds her scared and bleeding out, and tries to call for help. However, Sam quickly loses consciousness and dies as Iain desperately tries to revive her.
Cast
Max Parker

as Alasdair "Base" Newman

Simona Zivkovska

as Mia Bellis

Claire Lams

as

Kelly Shearwood

Elen Rhys

as

Jodie Salsmann

Leila Ayad

as

Shelly Collard

Alexander Newland

as

Jerome Coxley

Natalie Radmall-Quirke

as

Kimberley "Kim" Simson

Daniel Attwell

as

Jake Salsmann
Production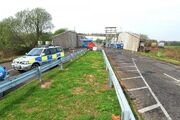 The episode was produced by Carol Harding. The scenes depicting the crash and the exploding petrol tanker were some of the show's most expensive to produce.[1]
Filming
Filming was set to take place between 28 April and 5 May on the 'Road to Nowhere' in Yate, Gloucestershire. A footbridge was created by set builders to allow residents to access the Common. However, filming took longer than expected and the tanker explosion was filmed on the night of 10 May.[2]
Additional scenes were filmed on the M32 in the Newfoundland Road area in Bristol. Natalie Moore of Bristol Film Office said "Bristol was home to Casualty for 25 years and this longstanding connection makes it a production that remains close to the city's heart. It was great to welcome the show back earlier this year for the making of these dramatic scenes, expertly executed by the show's skilled cast and crew."[3]
Reception
Following the series 32 finale, which showed the ambulance crash, fans were busy speculating who would die in the following episode; popular predictions included Alicia, Iain, Eddie and even Bea.[4][5] Consequently, when the episode aired, many fans were shocked and saddened to see Sam lose her life.[6] The episode was also praised for its emotional intensity, with Alison Graham from the Radio Times saying that it was "an episode that will wring you out."
References
External links