This article is missing important information. You can help Holby Wiki by expanding it.
Ethan Hardy (born Michael Hardy; 28 November 1986) is a consultant who currently works in the emergency department of Holby City Hospital. He joined the department in 2014. The week after he joined, his brother Caleb Knight also started working in the department. In the following weeks, they clashed frequently at work, and even had a stern talking to from Zoe Hanna when they began arguing in front of patients.
Ethan took his FCEM exams in 2015, but he and Cal failed theirs to become consultants. During this time, Cal's competitive streak got in the way of him building a strong relationship with Ethan. Later in the year, Cal made the shocking discovery about their adoption but decided to keep it from Ethan. When Ethan found out the following year, this once again drove them apart, especially when Ethan discovered that he'd inherited Huntington's disease from their biological mother.
Upon Alicia Munroe's return to the department in 2016, Ethan and Cal both developed feelings for her. Cal initially went out with her, but in April he gave Ethan his blessing to go on a date with her. However, Cal was stabbed later that day and died in the ED, leaving Ethan devastated. This led Ethan down a dark path which culminated in him allowing his brother's killer to die when he ended up in his care. He struggled with his guilt and contemplated coming clean to the authorities, but Connie helped him cope by assisting him in preparing for his consultancy exams. In January 2018, he was jubilant when he became a consultant, but he was soon thrown in the deep end after assuming the role of acting Clinical Lead. Unhappy with the job, he resigned from the role three months later.
Biography
Early life
Ethan was born in November 1986 to Emilie Groome. At a young age, Ethan and his older brother were taken away from Emilie due to her poor mental state as a result of her early symptoms of Huntington's disease. Shortly after they were adopted by another couple. Prior to the adoption, Ethan's name was Michael. (CAS: "Home for Christmas")
During their childhood, Ethan and Cal had different upbringings despite sharing the same parents. Cal had to achieve by himself because he had fallen out with his father, also an ED doctor. Cal frequently argued with his father and left home at a young age, whilst Ethan remained at home and was exposed to a more family-orientated upbringing. Cal later changed his surname to their mother's maiden name of Knight.
At university, Ethan joined its Classics Society; there, he met Theo Laurence. (CAS: Episode 1140) Ethan also befriended Will Noble who later started working at the ED in March 2019. (CAS: Episode 1121) Prior to joining the ED, Ethan completed a year of work experience working with the HEMS in London. (CAS: "Bad Timing")
Arrival and conflict with Cal
Ethan had his first shift in the ED on 11 January 2014. On his first day, he arrived late due to the fact he was waiting for his brother to arrive to be with their seriously ill mother, Matilda. He helped treat a school teacher with Lily in an attempt to find out what was really wrong with her. Lily was appointed by Clinical Lead Zoe show Ethan the basics and introduce him to everyone. During his shift, Ethan received a call to tell him that his mother had died. When he went to visit her, he found that his brother had been there by her side as she died. This left Ethan distraught due to the fact he had been caring for her for a long time, whilst he brother was elsewhere. (CAS: "Bad Timing")
The following week, his brother Cal started working at the ED as a locum registrar. He attempted to avoid Ethan for the day, due to the fact that they still didn't get along. When they eventually faced each other, they both expressed their shock and annoyance. Both dealing with the death of their mother in different ways, Ethan realised that Cal's patient was a 17-year-old that he'd slept with the night before. Following an argument in front of the patient, they both assured Zoe that their personal life wouldn't get in the way of their work. (CAS: "Brothers at Arms") The following week, Cal convinced Zoe to keep him on as a locum, much to Ethan's annoyance. (CAS: "Keeping Schtum")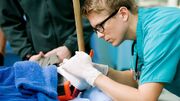 In February, Ethan and Cal finally managed to work together on a difficult case, but this quickly proved to be a one off. (CAS: "Once in a Lifetime") Later in the month, Ethan and Cal attended a meeting with their mother's solicitor to discuss her will and how the property and money was to be divided. However, Cal was left furious when their mother had written in the will that even though the property value was to be shared equally, his share would be left in a trust fund under Ethan's name until he was sure that Cal wouldn't spend the lot on gambling, drink and women. (CAS: "Valentine's Day Mascara") The following month, Ethan was left angry with Cal when he began flirting with Jenny, the nurse who cared for their mother before she died. Rita later encouraged Ethan to step out from under Cal's shadow and stand up for himself more. (CAS: "Survivor's Guilt") Later in the month, Ethan was irritated when Cal turned up once again as the ED's locum registrar, unhappy about his frequent visits. (CAS: "The Lies We Tell")
In June, Ethan was upset when Cal asked Lily out on a date, purely to get in the way of him and Lily. However, Lily later confided in Ethan about how she'd heard Cal badmouthing her to Fletch. This caused the brothers to once again grow apart, as Ethan told him that he didn't care about himself but wouldn't let Cal hurt the people he cared about. (CAS: "Falling - Part One") Lily was furious with them both for making her private life everyone's business. However, she later reconciled with Ethan after he apologies, despite the fact a reconciliation with Cal was a long way off. (CAS: "Falling - Part Two")
In July, Ethan was forced to step in when Cal forgot to finish a patient's treatment. Connie was furious with Cal for his error, which gave Ethan a feeling of satisfaction that he'd done the right thing. (CAS: "First Impressions") The following month, Connie asked Ethan and Cal to come up with some cost-cutting strategies for the ED. However, when Ethan left his laptop open, Cal read his proposal and took is as his own. (CAS: "The Sicilian Defence") With some help from Lily the following week, Ethan was able to expose him. (CAS: "A Life Less Lived")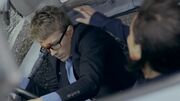 In September, Charlie sent out Ethan and Robyn to the scene of an accident where a floor had collapsed at a wedding party. (CAS: "Go Out and Get Busy") In October, the minibus Ethan was driving with several of the ED's staff was crashed into by a car, causing it to tip over. Ethan had serious injuries, and was treated and saved by Cal back at the ED. This accident ultimately brought the two brothers closer together. When the rest of the staff returned from the scene, they discovered that Jeff had been killed in an explosion, something which had a huge impact on them. (CAS: "Born Lucky") Ethan attended the funeral the following week although he was still recovering and shouldn't have been out of bed. (CAS: "The Last Call")
Ethan was discharged from hospital a week after the funeral, and Cal was helping him with the move into his new flat. Cal was also taking advantage of the spare room in the process, which Ethan soon realised. (CAS: "The Index Case") Ethan arranged a viewing at a local apartment the following week, but Cal failed to turn up, as he had no intention of moving out. (CAS: "Return to Sender")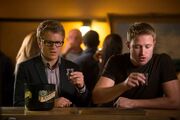 During a shift in November, Ethan bonded with coffee shop barista Honey. That evening, Cal persuaded Ethan to join him on a night out at a strip club. Ethan uncomfortably entered the club, and immediately discovered that Honey worked as a pole dancer at a club at night to earn more cash, which left her embarrassed. (CAS: "Losing Grip")
Cal's financial theft
In January 2015, Cal booked a week-long holiday for Ethan at a party resort in Magaluf, so he could have the flat to himself to woo Taylor, his new girlfriend. (CAS: "Muddling Through") Meanwhile, Ethan became more involved with Honey when she called him asking for assistance at the club when she injured her ankle. He brought her back to the hospital and just as they were about to kiss, Honey's father Noel walked in. (CAS: "The Last Goodbye") The following week, he attempted to distance himself from her, but before long Lily gave Honey some advice on how to reconnect with him. (CAS: "What a Difference a Day Makes") In February, Honey decided to leave the ED to move to Manchester, to look after her grandmother. Before Honey left, she and Ethan shared a kiss in reception. (CAS: "Sweetie")
In April, Ethan discovered that £15,000 was missing from his bank account. Upon speaking to Cal, he quickly admitted that he'd taken it to give to his girlfriend, Taylor Ashbie, for her charity. However, Cal later discovered that Taylor's charity was a scam, and she was just after him for the money. (CAS: "Something Borrowed, Something Blue") Later in the month, Cal annoyed Ethan even more when he turned up to work in a flash car, and asked for more money. He also refused to report Taylor to the police, and continued to undermine Ethan during their shift. Eventually, Ethan had enough and asked Cal to move out of the flat. (CAS: "Under Pressure")
A week later, Ethan received a phone-call from Cal who was with Taylor in a public toilet. She had been stabbed in the leg, and Ethan reluctantly agreed to bring some medical supplies with him. After they'd treated her, Ethan made an agreement with her that she'd get out of Cal's life once and for all and run away. When she did, she was promptly apprehended by the police who stopped her in her path. After her arrest, Cal found out that Ethan was the one who told her to and was furious, leading to a fight in the middle of the street. However, Cal soon realised that Ethan was simply looking out for him and they reconciled once again. (CAS: "The King's Crossing") The following week, Ethan asked Cal to move back into the flat with him. (CAS: "The Rita Supremacy")
Relationship with Honey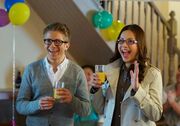 In July, Lily asked Ethan out to dinner but they never made it after they clashed over a patient's treatment during the shift. On the same day, Honey also returned to the department from Manchester. (CAS: "The Next Step") The following week, Cal and Lily gave him conflicting advice about what he should do about his feelings for Honey. Eventually, Ethan decided to go with Lily's idea to study towards his FCEM exams instead of focus on a relationship. However, he didn't realise that Lily only said this as she had feelings for him too. (CAS: "Dark Horses") Ethan treated Charlie's son Louis the following week, who was admitted following a heroin overdose. However, Ethan accidentally pricked himself with a needle containing Louis' blood and had a brief HIV scare, before Louis was given the all-clear. Nevertheless, the eventful day made Ethan realise his true attraction to Honey, and he let Lily down gently. (CAS: "The Long Haul")
Ethan asked Noel if he had permission to date Honey, and he said yes. Luckily for Ethan, Honey overheard the conversation and they shared a kiss in reception. (CAS: "Knock Knock Who's There?") The following week, Ethan and Cal got their results back from the FCEM exams and discovered that they'd failed. However, Lily passed her exams to become a registrar, although Ethan and Cal didn't agree with her new authoritarian attitude. (CAS: "Forsaking All Others - Part One") He attended Zoe and Zoe's wedding later in the month, and was one of the people who attempted to extinguish the fire which broke out. (CAS: "Forsaking All Others - Part Two")
The following month, Honey began to have concerns about her relationship with Ethan. (CAS: "Objectum Sexual") She broke up with him a week later, and left the ED to study holistic healing. (CAS: "Cradle to the Grave") In October, Taylor returned once again with a baby she claimed belonged to Cal. After looking after the baby and staying with Cal for a short while in the hospital, Taylor ran off again.[1] The following week, Ethan encouraged Cal to take a paternity test to see if the baby was his or not. (CAS: "Flutterby") Cal eventually agreed to do a paternity test, but only to prove to Ethan that Matilda was his. (CAS: "One Shot")
Huntington's disease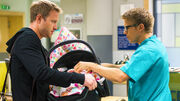 Cal brought Matilda into the ED in November when she had a high temperature, and Ethan was forced to remove Cal from resus when she started fitting. Later that day just as Matilda was recovering, Cal discovered that he wasn't her biological father. (CAS: "Strangers") Cal also realised that his blood group wasn't possible upon looking at his mother's, and realised that he could have been adopted. Cal got his own blood group tested, and discovered that he was in fact adopted. Nevertheless, he decided to keep the news from Ethan. (CAS: "Estranged") Cal later visited their birth mother and discovered that she had Huntington's disease and that he and Ethan had a 50 percent chance of inheriting it. (CAS: "Home for Christmas") Cal tried to find an appropriate time to tell Ethan, but in the new year, Ethan's own state of mind was going downhill, and Cal didn't think he could cope with hearing his news too.
In 2016, he realised that he failed to see the signs of abuse on Jess' young daughter Olivia. He was left feeling guilty, but everyone tried to convince him that is wasn't his fault, including Lily. In mid-January when a black alert was called in the hospital, Ethan was forced to discharge a suicidal man at the start of the day. However, he later recognised a man who had died in the ED as him, and that when he left the ED he had presumably killed himself. With his emotions clearly in a mess, Cal prepared to finally tell him the truth, but just at the wrong time. (CAS: "Black Alert") The following week, many noticed that he was emotionally unstable after the events over the past couple of weeks, which caused him to lash out at Zoe during a meeting. Towards the end of his shift, he had a letter in his hand for Connie. He told Lily that he was tired of the job and that he was going to quit. (CAS: "Shame") However the following week Connie told Ethan that they'd already found a replacement who would be starting immediately and that it would be Ethan's final shift. She did this to shock Ethan who eventually reconsidered following Lily's attempts to get him to stay. (CAS: "The Good Life")
In February, Ethan climbed atop a Ferris wheel to rescue an autistic girl, something which was praised by the rest of the team. However, he was also treating Emilie back at the ED, not knowing she was his birth mother. At the end of his shift, he went back to check on her and Cal told him the truth. (CAS: "Step Right Up") The following week, Ethan let his anger out and ended up punching Cal in the stomach in the staff room. A small fight ensued but Zoe quickly broke it up by telling them both off. At the end of the shift, Ethan told Cal that he was done with him, and that he wasn't his brother anymore. (CAS: "Hearts and Flowers")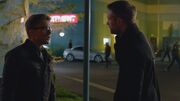 Over the following weeks, Cal attempted to make things right with Ethan but it was clear he had no intentions of doing the same. When Emilie was admitted at the end of February 2016, Ethan grew more attached to her and they bonded. She later told Cal her wishes to go to an old holiday destination of theirs, and was later diagnosed with pneumonia. (CAS: "Fatal Error - Part Two") In early March, Cal and Ethan travelled with Emilie as she was going to somewhere more peaceful due to her wish not to die in a hospital. On the way there, they hijacked the ambulance leaving Iain and Andrews stranded. They narrowly avoided being arrested when a suspicious policewoman interrogated them at the roadside after they veered off into the shrubbery. They eventually arrived at Conleth Bay and prepared to open their test results. Ethan was oblivious to the fact that Cal had sent off his blood, and Cal told him that he took a sample back in January when Ethan demonstrated receiving an injection in order to put a patient at ease. Emilie died shortly after they told her that they were both negative, but after her death Ethan revealed that he had in fact inherited the disease, which left Cal in shock. (CAS: "High Tide") Towards the end of the month, Cal and Ethan had an argument outside the ED, as Ethan had been pushing Cal away following his results. (CAS: "Sweet Child of Mine")
In the following weeks, Ethan became distracted from his work as a result of his recent news. At the beginning of April, Ethan told Lily about his Huntington's news and that she wished Cal had got it instead. Cal overheard and went missing but Ethan knew that he would have gone to Conleth Bay. There, they had a conversation in Cal's car and Ethan apologised and said he would try to be more like Cal, leading a more adventurous life. After their conversation, they both ran along the beach and into the sea, just as Emilie said they had done as kids. (CAS: "Buried Alive")
In June, Cal persuaded Ethan to flirt with a patient who worked at a local delicatessen. Although he initially messed it up, she later dragged him into the storage cupboard but he soon asked her to stop and she fainted soon after. Ethan called for Cal to help him and it soon transpired that she was just trying to use Ethan to get pregnant as she wanted a child but her husband didn't. (CAS: "The Best Day of My Life")
Relationship with Alicia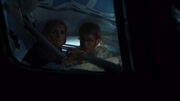 Towards the end of August 2016, Ethan was among the staff members who attended Charlie's 30th-anniversary party at The Hope & Anchor across the road from the ED. He attempted to flirt with Alicia who'd returned to the department earlier that day following her brief time of working there in 2015. However, his attempts failed and Cal encouraged him to show his vulnerable side. It wasn't long after that Connie was admitted to the ED following her crash and the news got back to the department. Whilst Connie was being treated and Grace on her way via air ambulance, Ethan went to talk to Alicia who was waiting outside the ED. However, the helicopter carrying Grace was hit by a drone and it crashed down near the entrance of the ED. It pushed an ambulance forward towards the scaffolding which collapsed on Ethan and Alicia. Ethan sustained a leg injury, but Alicia was able to help at the same time Ethan revealed the source of his nickname "Nibbles", something which Alicia wasn't even aware of. After, they grabbed a long pole and managed to turn on the siren of the ambulance to alert everyone that they were in there. Cal promptly came to the rescue but was relieved when he realised how minor their injuries were. As night drew in, Alicia and Ethan were carrying food over from the pub and he told Cal that showing his vulnerable side backfired. However, he disagreed and told Ethan how Alicia was looking at him. (CAS: "Too Old for This Shift")
The following week, Ethan assisted in treating Alicia's mum Jackie who'd been admitted to the ED. When it transpired that she had an STD, Alicia and Ethan shared a deep conversation together on the roof of the hospital about how they'd almost died the previous week. After their shift at the pub, Ethan told Alicia that he'd been able to secure her a place with Jez and Max in their flat. However, he was distraught when another man came along and left with her. (CAS: "Fall on Me")
Later in the month, Ethan and Alicia were once again thrown into work together when Elle requested that they go along together to the scene of a fall. They arrived to find that they'd have to be lowered into a confined dark underground cave system together, something which Alicia showed apprehension about. However, Ethan was able to calm her down when some rubble started to fall down and as they were being taken to the surface the pair almost shared a kiss. After work, Alicia suggested that they went back to her place, where they opened a bottle of wine. Despite Ethan's hopes that they would be spending a quiet night in, Alicia drank too much and ended up being sick and Ethan was left to get her into bed. (CAS: "Pride Comes Before a Fall")
Just days later, Gaynor was re-admitted to the ED following a fall through a greenhouse wall. However, as Ethan dug through her records he discovered that she was suffering from early symptoms of dementia. On the same day, he was busy planning Alicia's party but overheard her saying that she was enjoying being single. This prompted him to inform her that he couldn't make it. Later in the day following Gaynor's issues being resolved, she spoke to Ethan and encouraged him to make every second count as he'd said when he told her about his Huntington's. He went to the party, but saw Alicia kissing Cal from outside which resulted in him leaving the party heartbroken. (CAS: "Party Pooper")
In the following weeks, Ethan made it clear to Cal that he didn't care about what had happened with Alicia. At the end of October, Elle gave Ethan two tickets to the hospital's awards night and prompted him to take Alicia. During their shift, Cal tried to get the tickets from Ethan with the intention of taking Alicia himself, but Ethan rejected his request. Although she accepted, he later gave the tickets to Cal after all and he took her instead. Elle was confused, but Ethan had made the decision after a chat with a patient earlier in the day. (CAS: "Night of the Loving Dead")
In November, Cal decided to take Ethan's phone for the day after encouraging him to set up an online dating profile. Cal eventually gave Ethan his phone back towards the end of the day and was surprised to see that he had some messages. However, he soon noticed that this was as a result of Cal putting that he wasn't looking for a serious relationship in his bio. Alicia encouraged Ethan on what to put and soon he came to realise that she knew him better than anyone else. (CAS: "Not in Holby Anymore")
In early December, Ethan was still bottling his feelings for Alicia, and things weren't getting any better whilst he could frequently hear her and Cal together in the next room. Alicia encouraged Ethan to meet up with a woman named Penny who he'd been talking to on his online dating app, and she even invited her to the Christmas party that evening for him. During his shift, Ethan got hit in the face by a patient when he tried to break up an argument, which in turn worked to his benefit as Connie let him go home early due to his unprofessional look. At the party, Ethan and Penny shared a kiss but she soon left when she realised that he kept looking at Alicia. That evening, Ethan finally admitted to Alicia that he was in love with her. (CAS: "All I Want for Christmas Is You") The next day it was Christmas Eve, and they decided to both try to forget about it. (CAS: "Bah Humbug")
On New Year's Eve, Elle told Ethan and Cal of an opportunity for a research post in South Africa, and asked for their research proposals by the end of the day if they wanted to go. Cal asked to borrow Ethan's tablet so he could upload his holiday pictures from The Bahamas, in an attempt to show Alicia what a good time he had; something which annoyed Ethan. Whilst looking at Ethan's proposal, Elle walked in and assumed it was Cal's. In the moment, Cal submitted it to Elle, claiming it to be his. When Ethan found out he was furious, and he turned up at Alicia's house demanding to see Cal. She told him that he'd gone to London, but when Ethan began telling her about all the bad things Cal had done to him, she began to sympathise. Eventually, Ethan kissed Alicia, not caring about what his brother wanted anymore. (CAS: "New Year, New Me, New You")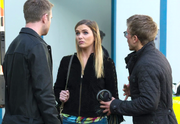 The following day, Ethan and Alicia woke up together but were disturbed when Robyn knocked on Alicia's door asking for something. In the commotion, Ethan injured his knee on a radiator which Alicia treated when they got to work. They narrowly avoided being caught kissing by Duffy, and she soon began to catch onto the fact they were seeing each other during the day. Ethan and Alicia discussed the fact they'd have to tell Cal the truth, but just as they were about to Alicia backed out and pretended they wanted to speak to him about the South African proposal. That evening, Cal found a cuff-link on Alicia's bedroom floor. (CAS: "What Lurks in the Heart")
In February, Cal found a secret phone in Alicia's locker and when he told Ethan, he too was confused, especially when they found messages to a suspected lover. They agreed to meet the mystery man outside the ED later that day, and were both surprised when Max turned up. In anger, Ethan punched him in the face, but Alicia diffused the situation and revealed that she was just pranking Max, pretending to be a woman he'd met on a dating site. Later that evening, the cuff-link fell out of Cal's pocket, and he was shocked when Ethan claimed it as his, therefore confirming for Cal that his brother had slept with Alicia. (CAS: "Crazy Little Thing Called Love")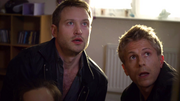 On the stag night, Cal pushed Ethan over and broke his glasses, but Ethan mistook it for an accident. However, Cal's anger with Ethan was pushed aside by the next morning when they were unable to find Charlie. Cal had also woken up with a briefcase handcuffed to his wrist, and retracing their steps Ethan was able to get it open. Eventually the man whose briefcase it was threatened them and was about to hurt Cal, but Ethan intervened and saved him. Realising how much Ethan cared about him, Cal managed to forget about what had happened, although Ethan and Alicia remained oblivious that Cal knew of their fling. (CAS: "The Stag, the Dog and the Sheep")
At the beginning of April, Ethan was upset to learn that Alicia had spent the night in Sam's bed. Although they hadn't slept together, Alicia and Ethan mutually decided that a relationship between them wasn't going to happen. (CAS: "Sleeping With the Enemy") Later in April, Cal proposed to Ethan, Lily and Alicia that they start a work-to-rule protest, in an attempt to stand in solidarity with the consultants following the budget cuts. Cal confronted Sam in the ED after the shift, and although Ethan was willing to go through with it, he was surprised at Cal's confrontation. (CAS: "When the Whistle Blows")
Cal's murder and seeking revenge
The following week, the day of the strike arrived. However, Cal soon became frustrated with Ethan and Alicia for not taking the strike as seriously as he had hoped. Matters were only made worse when Robyn turned up with Charlotte, as this was another distraction. When Cal confronted them about it, they told him that they thought the protest had been made into too much of a personal act against Sam. In anger, Cal told them that he knew Ethan had slept with Alicia whilst they were going out and stormed off. (CAS: "Reap the Whirlwind - Part One")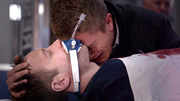 When Ethan and the others noticed Lily being taken into the ED, they soon abandoned the strike to help her. However, when Roy Ellisson's condition began to deteriorate, and he later died whilst under Ethan's care. To make matters worse, the Ellisson family had already left the realtives room and discovered Roy's body before Ethan could find them. Their son, Scott was angry with Ethan, and Cal advised Ethan to leave the ED with Alicia to get out of harm's way. Cal saw Scott giving Ethan death stares, and became worried when he hadn't heard from Ethan after he left with Alicia. As a storm hit Holby and night fell, Cal fought Scott in the rain, in an attempt to protect Ethan. However, Scott pulled out a knife and stabbed Cal in the chest. Although he was found by Dylan and brought into the ED, the bleeding was too severe and he died. Max went and got Ethan and Alicia from the pub across the road, and when Ethan got back to the ED he was shocked and distraught to discover that Cal had died. (CAS: "Reap the Whirlwind - Part Two")
In early May, Ethan returned to work, still in shock from the events of Cal's death. During the shift, Charlie urged him to listen to the voicemail that Cal had left him on the night of his murder. In the voicemail, Cal warned Ethan that Scott could be after him, which led them to realise that Scott was likely responsible for Cal's death. Ethan spoke to the police, but still wanted to get back to work as a distraction. After his shift, Ethan almost ran Alicia over in the car park. She sensed that he was still in shock, and they shared a kiss, as she promised that they'd both get through it. (CAS: "Break Point")
In June, Ethan was shocked when Mickey Ellisson was admitted to the ED alongside his mother, Denise, who instantly accused Ethan of being the doctor who let Roy die. However, Ethan's shock soon turned to horror when Scott turned up, as he had become face-to-face with Cal's potential murderer. Ethan confronted Scott in the relatives' room, which led to a small fight breaking out. Back in resus after the situation was under control, Ethan taunted Scott by telling him that he'd only save Mickey if he admitted to killing Cal. Ethan ultimately saved Mickey anyway, despite Scott's refusal to take the blame. After his shift, Scott apologised to Ethan for their run-in earlier, and wished him the best of luck in finding Cal's killer. (CAS: "Swift Vengeance Waits")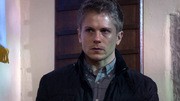 The following week, the day of Cal's funeral arrived and Ethan attempted to distract himself by heading into work. However, he ended up on the receiving end of a father's anger, after he hinted confidential information to his son. As a result of the stressful day, Ethan arrived at the church drunk, giving a heartfelt eulogy to the guests. After the funeral, Ethan took some time to mourn at Cal's grave, at which point he spotted Scott watching him from across the grounds, before driving off in his car. (CAS: "Do Not Stand at My Grave and Weep")
A week after the funeral, Alicia became concerned about Ethan when he wasn't getting enough sleep due to his obsession with getting justice for Cal's death. He was adamant that Scott was responsible for killing Cal, and Alicia only grew more concerned when she discovered that Ethan had been spending his evenings keeping watch outside Scott's flat. (CAS: "It Had to Be You")
In July, Ethan discovered that Jez was in a relationship with Mickey. He was irritated that Alicia knew about it and hadn't told him. Ethan pleaded with Jez to let him talk to Mickey, which he agreed to, although Mickey refused to help Ethan find out anything about Scott. As a last resort, Ethan threatened to tell Mickey's family about his relationship if he didn't comply. Jez later agreed to get some information on Scott for him, but instructed him not to tell anyone. Alicia was irritated that Ethan had blackmailed Jez, but was still willing to support Ethan if he didn't carry on his stalking of Scott. She confessed her love to him outside the ED, but informed her that he had to go ahead with his own investigation and kissed her goodbye. (CAS: "Man Up")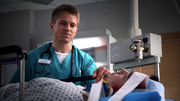 Later that month, Scott turned up in the ED to visit Mickey, who'd been injured after falling off his motorbike. Ethan quickly discovered that they'd been involved in a violent robbery at a local shop. When Scott threatened the shopkeepers wife into not making a statement, Ethan became angry and revealed that Mickey was sleeping with Jez. A fight ensued on the second floor balcony and Scott ended up falling over the railing, sustaining severe injuries. (CAS: "Somewhere Between Silences - Part One") Ethan immediately came to Scott's aid, but Lily took charge of his treatment. Once stabilised and recovering, Scott taunted Ethan about Cal's death, saying that he deserved it. Moments later, Scott began choking on his own vomit and instead of helping, Ethan left resus in shock. Scott later died, with Ethan left feeling guilty and Connie fearing an official inquiry into his death. (CAS: "Somewhere Between Silences - Part Two")
At the end of July, Charlie noticed that Ethan was struggling at work and notified Connie. She became frustrated with him when he ran tests on a patient he was told to discharge. The following day, the patient was readmitted to the ED suffering from an ectopic pregnancy which Ethan failed to test for. (CAS: Episode 1049) Two weeks later, the results of the inquest in Scott's death were published; his death was ruled as accidental. Ethan was shaken by the news and his mental state began to worsen. He froze in resus when his patient's condition reminded him of Scott's and stormed out. Later, Ethan wrote a letter to Connie admitting to letting Scott die and expressing his desire to hand in his resignation. Connie found Ethan on the department roof and ordered him to get back to work, pretending that she didn't read the letter. (CAS: Episode 1051) To help clear his mind, Connie suggested that he should revise for his consultancy exams and allowed him to use her office to study. (CAS: Episode 1052)
Supporting Connie
In September, Connie continued to help Ethan by allowing him to lead a session with a group of student paramedics. Later, Connie gave him an echocardiogram and an image of a CT scan and asked for his professional opinion; unbeknownst to him, they were her scans. (CAS: Episode 1054) Ethan had a keen interest in the scans and continued to offer advice for treatment the following week. When he suggested that the patient's hesitance to pursue surgery may have been caused by fear, Connie took umbrage and asked him to let the case go. (CAS: Episode 1055)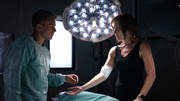 In October, Ethan noticed anti-coagulant medication in Connie's bag and witnessed her struggle with her right hand in resus. After she mentioned that her cardiac patient was experiencing intermittent loss of sensation in their dominant hand, Ethan realised that the patient didn't exist - Connie was showing him her scans. He confronted her and told her that she should speak to someone like Charlie about her condition if she wasn't planning on seeking treatment. Later, when her arm became ischemic, Connie begged him to perform an embolectomy on her in private. When he hesitated, she revealed that she did read his letter regarding Scott and threatened to report him. When she became desperate and promised to keep his secret, Ethan reluctantly agreed to perform the procedure in an empty theatre. After Ethan successfully removed the embolus, he gave it to her and implored her to have it tested for signs of malignancy. (CAS: Episode 1056)
In November, Ethan became paranoid after a note was left in his locker insinuating that someone knew about his involvement in Scott's death. He soon discovered that Max left the note as a joke and pushed him. Ridden with guilt, he went to Kate Wilkinson to confess, but Connie interrupted them with news about her patient. After performing a complex procedure independently, Connie complimented his skills. Outside the ED, Ethan agreed to not hand himself in if she promised to seek treatment of her cancer. (CAS: Episode 1060)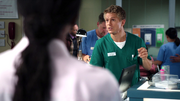 Later that month, Connie attended her first chemotherapy session and placed Ethan in charge of running the department. Eager to impress her, when Jacob offered to help run the department, he declined. Ethan's decision to vet junior doctors' patients before discharge soon created a backlog, and his refusal to tell waiting patients to consider going to another hospital forced the team to treat patients in the corridors. His problems compounded after a patient's brother stole a responsible vehicle and crashed into the nearby estate agency. After a frank conversation with Duffy, he bit the bullet and organised the team. By the end of the day, the strain of the ED began to ease. (CAS: Episode 1062)
In December, the day of Ethan's practical consultancy exam arrived. However, due to Connie forgetting about it, he arrived late. Later, Ethan returned to the ED and took over the treatment of one of Connie's patients after she failed to take them for a scan. Later, Ethan pressed her to take better care of herself for both her sake and the department's sake. (CAS: Episode 1063) On Christmas Eve, Ethan encouraged Connie to go home when she was forced into work by Henrik. Later, she collapsed in resus, and Ethan was forced to disclose her cancer to the team. In the evening, he visited her on the wards after she called Grace to tell her that she wouldn't be spending Christmas with her. (CAS: Episode 1065)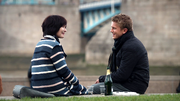 In January 2018, Connie asked Ethan to take her to St. Eugene's Hospital in London to have an operation on her tumour. When they arrived, she was deemed too weak to endure surgery and was turned away. Ethan argued with her outside, and he disclosed that he had Huntington's. Connie empathised with his plight and decided to stay in London overnight with him. During the afternoon, Connie tried to kiss Ethan, but Ethan didn't feel the same way about her. Connie left him in tears and returned to the hotel. In the evening, he rushed back to St. Eugene's upon hearing that Connie had collapsed and was taken into theatre. He waited in the corridors overnight and was disappointed when Connie didn't want him to visit her the following morning. (CAS: Episode 1066)
Tenure as acting Clinical Lead
The following week, Ethan became anxious when Connie returned to the ED to conduct his consultancy interview. During the interview, when asked for an example of him going above and beyond for a patient, he brought up her cancer diagnosis. Afterwards, he thought he had failed, but he was elated when Connie informed him that he got the promotion. He later went to The Hope & Anchor to celebrate. (CAS: Episode 1068) Later that month, after Dylan had resigned as acting Clinical Lead, Ethan assumed the role. He clashed with Connie when he believed that she was giving an elderly couple false hope by suggesting an alternative cancer treatment. He later confronted Dylan after Louise suggested that he may have been working whilst drunk. Dylan suggested that he should take a few weeks off to sort himself out, and Ethan agreed. In the evening, Ethan visited Connie on the wards where she gave him some words of encouragement. The two also agreed to put what happened in London behind them. (CAS: Episode 1069)
In February, the hospital was at capacity and was put on red alert. Alicia suggested hiring locums and nurses, but Ethan decided that wouldn't be necessary and asked her to supervise Bea Kinsella, a new F1. As the situation worsened, Ethan was forced to juggle patients in and out of the department's corridors and, consequently, Alicia's patient - an injured chef with sepsis - was allowed to contract necrotising fasciitis in the back of an ambulance. In the staff room, Ethan tried to convince Alicia that he tried his best, but Alicia told him that his 'best' wasn't good enough. After a complaint against Bea for making crude remarks about a patient was dropped, Ethan decided to take over as her clinical supervisor. At the end of the day, the stress on the department began to alleviate. (CAS: Episode 1070)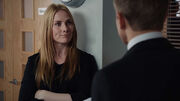 Weeks later, the hospital came under scrutiny when it was revealed to be the subject of a blog called 'Rage in Resus' which highlighted the weaknesses of the ED. To curb the department's capacity issues, Ethan decided to set up a new Clinical Decisions Unit, but it soon became full of elderly patients from a care home who were all suffering from cardiac problems. He became frustrated once a new blog post was published which discussed the faults of the new unit, and the board ordered him to find out who was responsible for the blog. Later, Ethan started to question his judgement, but Alicia supported him. That evening, they shared a kiss. (CAS: Episode 1072)
Later that month, Ethan became frustrated when the hospital's management team asked Connie to make a decision about moving patients from CDU. Despite her objections, Ethan was adamant to keep the unit. He is later informed that he had overspent the department's budget and was forced to make savings. His decisions soon started to compromise the care of his patients when he told Alicia not to order blood for a transfusion; she ultimately disobeyed his order. Once he realised the severity of the situation, he decided to close CDU down and cancelled all leave, angering his staff. Alicia tried to change his mind, but he reminded her that, despite their relationship outside of work, he was still her boss. (CAS: Episode 1073)
In March, Ethan began to suspect that Bea was the author of the blog and closely monitored her work. When Bea logrolled a patient without knowing for certain that they did not have a spinal injury, he reminded her of the importance of asking for help. Later, she denied being responsible for the blog. At the end of her shift, Ethan informed her, to her delight, that he recommended her for a major trauma course. (CAS: Episode 1074) The following week, Ethan learned from Jac Naylor that he had until the end of the day to find out who the blogger was, otherwise he would be fired. Upon reviewing the notes of patients mentioned in the posts, he concluded that Rash was responsible. However, Alicia eventually confessed that she was the blogger. When Jac returned, Ethan told her that he had agreed to protect the author's anonymity if they agreed to permanently shut the blog down. Alicia was thankful to him, but he exploded, ordering her to get out. After announcing that he would be resuming the standard locum policy and that all leave would be approved, he told Alicia that he wanted nothing to do with her anymore. (CAS: Episode 1075)
Meeting Leigh-Anne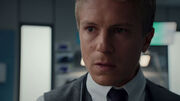 In April, Ethan treated a pregnant woman named Leigh-Anne who was taken into the ED after her waters broke at a bus stop. Following a difficult delivery, Ethan was left stupefied when she told him that the father of the baby was Scott Ellisson. She asked him if she could stay at the hospital overnight as she had just been evicted, prompting Ethan to find a new place for her and her baby Kiegan. Later, he visited Leigh-Anne and Kiegan on maternity, and she was thankful when he told her that he found a new home for them. He offered to help her look after her child, but she declined the offer. (CAS: Episode 1079)
The following week, Ethan found Leigh-Anne at the department's pharmacy and insisted on treating Kiegan who was presenting with a high temperature. Although he initially suspected that it was the result of a common viral infection, upon finding a rash on Kiegan's head, he realised that he was suffering from chickenpox. After Kiegan developed pneumonitis and was forced to remain at the hospital for a few days, Leigh-Anne told Ethan to go away when he offered them financial support out of guilt for not saving Scott. Back in the ED, Ethan berated Bea for compromising the care of a patient after she missed a life-threatening injury. That evening, Ethan and Leigh-Anne reconciled and grew closer to each other. (CAS: Episode 1080)
The following morning, Ethan returned to work and was surprised to discover that Bea had been admitted to the ED after a drunken fall. In the staff room, he unintentionally upset Robyn when he questioned whether she was fit to work, prompting her to throw away a present from her deceased husband Glen. Feeling guilty, he personally retrieved the gift from the hospital's bins and gave it back to her. When he returned to his office, he found Bea's letter of resignation. Later, wanting to return to "the simple life", he resigned from the role of acting Clinical Lead and decided to focus on his relationship with Leigh-Anne. (CAS: Episode 1081)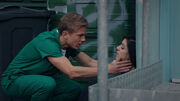 Later that month, on the anniversary of Cal's death, Ethan visited the spot where he was murdered to pay his respects. He soon bumped into Leigh-Anne and gave her a lift back to her flat to set up Kiegan's breathing apparatus. However, soon after he left, she struggled to cope with Kiegan's constant crying and, out of desperation, she left him in the back of an ambulance. When he was discovered and taken into the department, Ethan tried to prevent social services from getting involved. He soon found an anaemic Leigh-Anne outside and took her in for treatment. He later told her that Kiegan was taken into temporary foster care. On his way out, he was offended when Connie suggested that the trauma theatre she was pitching could have saved Cal. The following day, Ethan vouched for Leigh-Anne during a meeting with social services, and Kiegan was returned to her. In her flat, the two shared a kiss. (CAS: Episode 1082)
In May, Ethan decided to pit Bea and Eddie against each other to see who could treat and discharge the most patients in a single shift, and he asked Alicia to be Eddie's mentor. During the shift, their relationship began to rebuild, and they later decided to be friends again. Alicia invited him to The Hope & Anchor for a drink with her, but she was devastated to learn that he was already seeing someone. (CAS: Episode 1084) The following day, Leigh-Anne returned to the ED to have Kiegan taken off oxygen, and she asked Ethan to accompany her. On the paediatric ward, consultant Jonathan Barling witnessed them sharing a hug, and he warned him about the potential consequences of their relationship. Later, after Alicia fainted in resus, Ethan treated her. As she tried to tell him about her traumatic night with Eddie, Elle interrupted to tell him that Leigh-Anne wanted a second opinion from him. Leigh-Anne had taken Kiegan to the ED after he had become cyanotic, but Ethan confirmed that there was nothing wrong with him. Feeling that their relationship was a mistake, he decided to break up with her. That evening, Ethan visited Alicia to confess his love for her, and Alicia attempted to open up about her experience with Eddie. However, he soon found a note from Eddie and left, believing that Alicia was in a relationship with him. (CAS: Episode 1085)
In June, Leigh-Anne returned to the ED, fearing that Kiegan had meningitis. When Alicia told her that it was just a typical infection, she interpreted her swift diagnosis as Ethan trying to remove her from the department and decided to lodge a formal complaint against him. Later, Alicia managed to persuade her not to report him and promised to get her more support. In the peace garden, Ethan left Alicia horrified when he confessed his involvement in Scott's death, and she told him to leave her alone. (CAS: Episode 1088)
Proposing to Alicia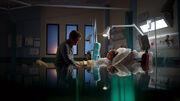 In July, Ethan became concerned when Connie told him that Alicia was ill and Eddie had been arrested. Once the department received word that Alicia's ambulance had been involved in an accident, and Connie denied his multiple pleas to help out. After she arrived at the ED, he treated her in resus and, during a scan, he asked her why she didn't reach out to him for support. After Duffy told him that she needed his friendship and not pity, he visited her on the wards and promised to be there for her. (CAS: Episode 1093) In September, she kissed him after she joked about his suggestion of going to The Hope & Anchor together to celebrate Sam's life. (CAS: Episode 1096) Later that month, Alicia told Ethan that she wasn't ready for another relationship. When she mentioned that she hadn't slept in her own bedroom since her night with Eddie, he decided to help her by painting her room. (CAS: Episode 1097)
In October, Ethan asked Alicia to help him get Gem back together with Rash. After Alicia agreed to give her ticket to the medic's ball to Gem, they shut her in the cupboard with Rash so they could make amends. However, their plan failed when Jamila burst in, and Rash accidentally spilt coffee on Gem's shirt. Later, Ethan and Alicia took Gem to the ball, but, when she began to have second thoughts, she asked if they could go to a restaurant first. After Rash found Gem and got back together with her, Ethan and Alicia shared a kiss and decided to spend the night together. (CAS: Episode 1103) In November, Ethan asked her if he could go over to her house in the evening, but she told him that she was going out to get toy donations for the paeds waiting room. (CAS: Episode 1104) Later that month, Alicia was grateful to Ethan when he bought and donated a large number of toys. (CAS: Episode 1106)
In January 2019, Ethan disagreed with Alicia's decision to perform an umbilical catheterisation on a newborn baby with sepsis and claimed that they were not qualified. She ignored his objections and went ahead with the procedure, which ultimately ended in success. Afterwards, Alicia asked him why he tried to impose his "play it safe" mentality onto her, and he reminded her that he was a consultant. Later, she told him that it seemed like he still saw her as a junior doctor and decided to spend the night on her own. (CAS: Episode 1111)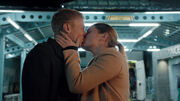 The following week, Ethan planned to propose to Alicia, but, unbeknownst to him, she had been offered a paediatric fellowship in Manchester. She soon told him the news, and he questioned her decision to remain in Holby. Wanting Alicia to be happy both personally and professionally, Ethan told Connie that he wanted to resign, but she refused to let him go. Later, outside the department, Alicia told him that she was going to accept the fellowship. Ethan subsequently got down on one knee and proposed to her, but she told him that it wasn't the right time. That evening, Elle told Ethan that, if he wanted his relationship with Alicia to work, he had to fight for it. He found Alicia leaving the ED and told her that he was going to resign and accompany her to Manchester, but she reminded him that they had let things come between them countless times. Alicia told him that she had the opportunity to do something amazing with her life and needed to do it on her own. They shared one final kiss, and Alicia left Holby. (CAS: Episode 1112)
Later that month, Ethan tried to call Alicia, but she didn't answer. While out on a run, he heard a woman named Anna calling for help after falling off her horse in a field. At the ED, he told her that he was concerned about damage to her spine, but she refused to have an operation as she couldn't bear to face the uncertainty. However, after Ethan praised her for how much she had achieved following the amputation of her leg, Anna decided to have surgery and thanked Ethan. Later, Alicia called Ethan back, but he deleted her phone number. (CAS: Episode 1114)
Market attack
On 17 August, Ethan participated in some training exercises with the Wyvern Air Ambulance Service's Advanced Trauma Team. However, he and HEMS doctor Albert "Big Al" Layne were dispatched to the scene of a major incident where someone deliberately drove a lorry through Holby Market. There, he treated father and daughter Andy and Jenny Grifith who were both crushed by a coffee van. He assessed Andy's condition and believed that he required more urgent attention, but he insisted on having Jenny freed and treated before him as they were aware of the possibility of a second attack.
When the building started to teeter, Ethan decided to have Andy extracted first so the walls could be secured before any attempt was made to release Jenny. Once the rescue services lifted the van and saved Andy, Ethan and the paramedics turned their attention to his daughter. However, a sniffer dog indicated the presence of an explosive device, and the market was evacuated. Despite being forcefully withdrawn by police, Ethan maintained that he needed to stay with Jenny, but Al told him that he could not. Powerless, he promised Jenny that he would come back to her, but the device detonated, instantly killing her and burying Ethan and Al under a large pile of debris.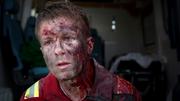 Trapped and injured, Al encouraged Ethan to shout for help, but Ethan quickly became concerned when Al fell silent. Once the emergency personnel returned to the site, Jan heard Ethan shouting, and he was soon freed from the rubble. He was relieved as he feared that he and Al were going to die, but he was devastated to learn that Al bled out and died on top of him. At the ED, Marty cleaned Ethan's wounds and decided to find someone more qualified for him to discuss his trauma with. Later, Ethan visited Andy in HDC, and the latter immediately realised that Jenny had been killed and sobbed. Ethan tried to assure him that her death was instantaneous, but he berated him for not prioritising her and told him to get out. (CAS: Episode 1139)
Relationship with Effie
The following week, Ethan was instructed to leave the department to recuperate mentally from the attack, but he was informed that Theo Laurence, a friend of his from university, wanted to speak to him. Theo explained that he heard that the hospital was starting a cystic fibrosis trial and asked if he could potentially get his daughter Effie accepted on it, but Ethan told him that cystic fibrosis was not in his remit. Regardless, he greeted her outside and offered to assess her inside. In cubicles, Theo expressed his hope that she could be a candidate for a drugs trial if she remained in good health, but Effie told Ethan in confidence that her lungs were failing. Ethan was not comfortable with lying to her father about her condition, but he eventually caved and advised that she keep on top of her health regime, leading Theo to believe that she was in relatively good health.
Once he finished accessing Effie, Ethan allowed her and Theo to leave, but he soon reconsidered and suggested that she have an X-ray. He insisted to Effie that, if he was going to be complicit in her deception, he needed to know the full extent of her condition, but she ignored him and went to The Hope & Anchor. At the pub, Ethan opened up to her about how the market attack reminded him of someone close to him who died suddenly and suggested that they "work on [Theo] together", but she suddenly started coughing up blood and was taken to resus. Theo soon rushed to his daughter's side, and Ethan was forced to disclose Effie's worsening condition to him. In his office, Ethan explained to Theo that Effie did not tell him the truth as she did not want him worrying about her. Theo asked him if her coughing up blood would have made her ineligible for a cystic fibrosis trial, but Ethan claimed that he was not sure. Despite Dylan reminding him that CF sufferers with sub-40% lung function and haemoptysis would be rejected from trials, he vowed to get Effie onto the trial and amended her medical notes to hide any mention of haemoptysis or the specifics of her lung function. (CAS: Episode 1140)
On 31 August, Ethan guided F1 Mason Reede through anaesthetising a patient's abscess, but he was forced to step aside to help out with another patient and discuss Effie's case with the CF trial's principal investigator Juliet Chen. When he left to have some medical notes sent upstairs "as a matter of urgency", Mason, fearing that his patient was at risk of breaching, decided to drain the abscess himself and accidentally caused it to explode. Later, Jacob reprimanded Ethan for leaving Mason alone, and Ethan assured the junior doctor that he would make more mistakes in the future. (CAS: Episode 1141)
In September, Effie returned to the ED for an interview with the trial staff and was pessimistic about being accepted due to her haemoptysis. However, Ethan instructed her to refer the staff to her medical history and to him. She became agitated when Juliet started inquiring about her admission in August, and Ethan admitted that he was "inexact" when writing up her notes. Later, he discussed her admission with Gerry Lamb, one of the trial's organisers, who suggested that he had a "special interest" in her case, but Ethan asserted that, as he was already aware of the trial, he decided to refer her directly instead of sending her back to the CF clinic. Gerry highlighted Effie's lack of clarity regarding the details of her admission and contended that they needed to be rigorous about eligible candidates, but Ethan claimed that he did not want to overburden her and was aware of the bleak acceptance rates. At reception, Effie informed that she had been accepted onto the trial, and she hugged and thanked him for his help. (CAS: Episode 1143)
On 23 September, Effie approached Ethan for his "impartial" thoughts on the trial; he told her that, as she was the one who had to experience life as a CF sufferer, she should not let anyone make decisions about her participation for her. Two days later, Effie was admitted to the ED presenting with shortness of breath, but Ethan deduced that she was only having a panic attack. Once she had stabilised, wanting Effie to have a good life and a future, Ethan told her that she should take part in the trial. (CAS: Episode 1145)
On 12 October, Effie was invited to spend a day with her friends on their boat and asked Ethan to come along. Ethan accepted the invite and tried to lie to Dylan about feeling ill, but Dylan refused to let him go and told him to "gird [his] loins". Later, it transpired that Ethan's patient Daryl was Marcus Hopewood — a man who was responsible for the murder of Lily Hammond in the 1990s — and Ethan was reprimanded by Dylan after he argued with Robyn who felt uncomfortable with treating Daryl. After apologising to Effie, Ethan joined her for supper at her house. As Ethan prepared to leave, Effie tried to kiss him, but Theo returned home. As Ethan saw Theo out, he warned Ethan to stay away from Effie or else he would "ruin" him. (CAS: Episode 1146)
The week after, Theo demanded that Ethan find out which test group Effie was in or else he would report him. Ethan expressed his frustration with constantly being threatened, but he eventually agreed when Theo told him that the trial had made Effie more optimistic about her long-term prospects. In a meeting, Ethan asked Juliet Chen which test group Effie was in, but she reminded him that it was a double-blind trial and felt that Ethan was getting too involved with Effie. Afterwards, Ethan lied to Theo and told him that Effie was in the active group; Theo thanked him and apologised for being "a bit full-on". Not wanting to worsen the situation, Ethan decided to stop contacting Effie. (CAS: Episode 1147)
On 26 October, after Rash nearly crashed his bike into Ethan and soaked him in coffee, Ethan was further frustrated by his lack of contact with Effie and Dylan piling administrative tasks onto him. After Rash's patient Mickey Pratchett nearly died of a pulmonary embolism, Ethan questioned Rash's competency and warned him that he would not sign him off for his CT1 placement if he found out that he had been negligent. Later that day, when Ethan confronted Rash again, Rash criticised him for offloading his workload onto him and leaving him to supervise Mason. When Ethan told him that he needed to move from the grief of losing his mother, Rash punched him in the face. (CAS: Episode 1148)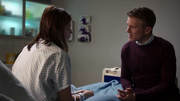 On 2 November, Effie was admitted to the ED after collapsing in Juliet's clinic. After learning that Ethan neglected to mention Effie's haemoptysis in her medical notes, Theo insisted on informing Juliet. As more of the CF trial patients arrived in the department with similar symptoms, Ethan admitted to Theo that he lied about knowing Effie was in the active test group; the issue was later confirmed to be an outbreak of Legionnaires' disease. Privately, Ethan told Effie that, after she was discharged, he would not be seeing her again. However, Effie soon began experiencing haemoptysis, and Ethan was forced to disclose the previous incident. As a result of the outbreak and Effie's haemoptysis, the trial was terminated. Later, Ethan visited Effie and, after she asserted that he did not understand how it felt to know that her condition was only going to worsen, informed her that he had Huntington's. (CAS: Episode 1149)
On 16 November, Ethan offered Effie a key to his apartment, but she wanted to figure out what she wanted to do with her life. She expressed an interest in an online advert for a house share; Ethan felt that she was rushing into things, but Effie was adamant on living a fulfilled life while she still could. Feeling that his lack of spontaneity would impede on Effie's desires, Ethan decided that he did not have a future with her, and the two parted ways on good terms. (CAS: Episode 1150)
Volunteer programme in Costa Rica
The following week, Ethan treated a girl named Abigail who was suffering from genital herpes. After she mentioned that her father died saving others in the market attack, and her cat was named "Tallulah", Ethan was shaken when he discovered that she was the daughter of Big Al. Ethan told Abigail that Al saved his life on the day of the attack and explained that he was with him when he died. To Ethan's surprise, Abigail felt comforted by the revelations and wanted him to be there when she returned from surgery. Feeling inspired, Ethan began searching for opportunities to practise medicine abroad. (CAS: Episode 1151)
On 28 December, Ethan was accepted onto a volunteer programme in Costa Rica and was set to travel there in a few days, but he was informed by Will that Mason had been found dead in a store cupboard. On-call manager Marina Kovac questioned Ethan about Mason's mid-attachment report and him only being signed off on two procedures; after she brought up Ethan's upcoming trip to Costa Rica, Rash accused him of being "completely absent" and choosing to volunteer to "play some big saviour". (CAS: Episode 1155) On 15 February 2020, Ethan returned from his trip to Costa Rica, but Rash was still angry with Ethan about his treatment of Mason. However, Ethan later apologised to Rash for not being there for him, and Rash apologised for his hostility towards him. (CAS: Episode 1162)
One-night stand with Fenisha and unplanned pregnancy
On 22 February, Ethan met a woman named Fenisha as he was struggling to use a hospital vending machine. That evening, Ethan met Fenisha again at The Hope & Anchor; after sharing a drink together, Fenisha invited him to spend the night together. (CAS: Episode 1163) However, Ethan was disappointed when Fenisha did not contact him again. On 14 March, Ethan was surprised when he found out that she was working for the Holby Ambulance Service as a paramedic, but Fenisha was not as pleased. Later that day, Fenisha went out on a date with Will. (CAS: Episode 1166)
On 28 March, Ethan suggested to Fenisha that they have another night out at some point, but Fenisha told him that she was seeing someone and recommended that he find someone who matched what he wanted. Later, Ethan found out that she was seeing Will. (CAS: Episode 1168) However, later that month, Fenisha discovered that she was pregnant with Ethan's child. (CAS: Episode 1170) After Will told Ethan the news of Fenisha's pregnancy and him not being the father, Ethan confronted Fenisha about informing Will of the truth; she maintained on keeping his paternity private. However, Will overheard them and later violently confronted Ethan. (CAS: "Code Orange")
After the incident, Ethan tried calling Fenisha several times to discuss the matter of her pregnancy, but she consistently ignored his calls. On 25 April, when Ethan approached her in the ED for a discussion, Fenisha told him that she was having an abortion later that day. However, she later decided to cancel the termination and keep the child. Later that day, Ethan told Fenisha that he believed she made the right decision to go through with the termination, but she did not correct him. (CAS: Episode 1171)
In June, Ethan attended Holby Comic Con with some friends from university and was surprised to find Fenisha there distributing leaflets about climate change. When a van crashed into a stall, Ethan managed to overcome his trauma from the terror attack and took charge of triaging the wounded. Fenisha was impressed as Ethan successfully performed a clamshell thoracotomy on a young boy and began to see Ethan in a new light. Ethan suggested that they put their one-night stand behind them and still be friends; Fenisha agreed. (CAS: Episode 1176) Later that month, Fenisha overheard Ethan as he declined the opportunity to complete his HEMS rotation and urged him to reconsider. Ethan later changed his mind and told Connie that he was interested. (CAS: Episode 1178)
In October, on his last day working in the ED, Will found out that Fenisha was still pregnant and still had feelings for Ethan, so he encouraged Ethan to talk to her. After defending Fenisha from a violent gang member, Ethan decided to seize the opportunity and told her that he wanted to be with her. Fenisha agreed and wanted to discuss her pregnancy with him, but Ethan discovered a discharge letter for her midwife while collecting her from the ambulance station. Fenshia explained her reasons for keeping the baby, but Ethan branded her a "liar" and a "coward", and immediately abandoned the idea of being with her. (CAS: Episode 1184) The next day, Fenisha contended that the two of them could have made the situation work if he wanted to, but Ethan asserted that it was not that simple. Later, Ethan told Fenisha that he did not want to be a part of their baby's life and offered to set up a trust to support her and the baby, but Fenisha was mortified by his proposal. (CAS: Episode 1185)
Fatherhood
In December, when homeless patient Amber Kensit slipped out of the ED while suffering from a subarachnoid haemorrhage, Fenisha publicly called Ethan out on his lack of responsibility regarding both Amber's care and his baby. After Fenisha went searching for Amber down Sheepwash Lane and began experiencing Braxton Hicks contractions, Ethan grew concerned and followed her there. Once he arrived at the wood, Fenisha called Ethan, telling him that she had fallen down a hill and that her waters had broken. Ethan managed to find her and attempted to negotiate the slope, but he lost his footing and got his leg caught in a trap. Ethan guided Fenisha through her labour and managed to free himself once the paramedics arrived, but Fenisha had already given birth. Once Fenisha and the baby had been taken to the ED and stabilised, Ethan told Fenisha that he had changed his mind and wanted to help her raise the baby, but Fenisha claimed that she did not trust him to stay around and that she and her baby did not need anyone else. (CAS: Episode 1188)
The following week, the baby, now named Bodhi, was taken to the ED with pneumonia. After Connie treated Bodhi's condition, Ethan apologised to Fenisha for his harsh words towards her and urged her to reconsider his role in Bodhi's life, but Fenisha still did not trust Ethan to be fully committed to being a father. Ethan wanted to know whether or not he had passed the Huntington's gene onto Bodhi, but Connie argued that knowing would have deprived Bodhi of a happy childhood and made Fenisha even more stressed, and urged him to just be the father Bodhi needed. Despite Fenisha's reservations, Ethan proclaimed that he was "100% in", so Fenisha finally decided to "reset" their parenting arrangement and allowed Bodhi's middle name to be "Caleb". (CAS: Episode 1189) In March 2021, when Fenisha began having visions of Bodhi being harmed, she eventually opened up to Ethan about her struggles, prompting Ethan to suggest that she and Bodhi move in with him; she agreed. (CAS: Episode 1192)
In April, Ethan revealed to Fenisha that he carried the Huntington's gene and warned her that there was a 50% chance of Bodhi having inherited it. Fenisha feared the prospect of losing both Ethan and Bodhi and castigated Ethan for not telling her about his condition sooner, but Ethan claimed that he wanted to spare her from the burden of knowing. After coming to terms with the revelation, Ethan and Fenisha agreed to face their uncertain future as a team. (CAS: Episode 1197)
Personal life
Ethan has had several romantic encounters whilst working at the ED, including Lily Chao and Honey Wright. In August 2015, Ethan began a relationship with Honey but it ended the next month. (CAS: "Cradle to the Grave") Honey later admitted to Noel that she only dated Ethan because he was a doctor, although Ethan never discovered this. There was also something between Lily and Cal at one point, which left Ethan feeling awkward. Outside of work, Ethan likes to spend time with his family and friends, and will often join his colleagues after their shift at The Hope & Anchor, the pub located opposite the ED.
In March 2016 whilst in a tourist cafe with Cal and Emilie, a waitress named Kate gave Ethan her number on a napkin. (CAS: "High Tide") Later in the year, a romance blossomed between Ethan and Alicia, but at every opportunity something went wrong, notably her and Cal kissing at her birthday party. (CAS: "Party Pooper") After the staff Christmas party in December, Ethan confessed his love for Alicia. (CAS: "All I Want for Christmas Is You") On New Year's Eve, Ethan kissed Alicia and they spent the night together. (CAS: "New Year, New Me, New You")
Cal discovered that they'd slept together when he found Ethan's cuff-link on Alicia's bedroom floor the following day, but he decided to keep it to himself. (CAS: "What Lurks in the Heart") Over three months later in April, Cal finally confronted them about it and told them that he knew, leaving them embarrassed. (CAS: "Reap the Whirlwind - Part One") Despite this, Cal later gave them his blessing to date, shortly before his sudden death later that day. (CAS: "Reap the Whirlwind - Part Two") The following week with Ethan still in shock, he shared a kiss with Alicia as she promised him they'd get through it together. (CAS: "Break Point")
Alicia stood by Ethan in the following weeks, but eventually became concerned upon discovering he was stalking Scott. (CAS: "It Had to Be You") She eventually confessed her love for him and urged him to stop stalking Scott but he insisted that he had to do it for Cal. This effectively ended their relationship. (CAS: "Man Up")
In autumn 2017, Ethan formed a bond with Connie when he supported her following her cancer diagnosis. In January 2018, Connie tried to kiss Ethan, but she was anguished when he didn't feel the same way about her and told him to never speak to her again. (CAS: Episode 1066)
Trivia
Caleb Knight is his brother. (CAS: "Brothers at Arms")
Strengths: Naturally gifted medic, strong bedside manner, makes people laugh.[2]
Fears: Forever being seen as second best.[2]
Ethan was adopted. (CAS: "Home for Christmas")
Ethan reluctantly used rock, paper, scissors with his brother to settle disputes and more than often lost.[2]
Ethan punched Cal when he was 9 and broke his thumb.
His childhood nickname is 'Nibbles' – something which Cal took great delight in calling him.[2]
Cal once shot Ethan with an air rifle by accident.
Ethan is scared of crabs.
He's allergic to jam doughnuts.
Ethan had a brief romance with Honey, Noel's daughter.
Ethan hates public speaking and had developed a stutter in the past.
He discovered in 2016 that he had inherited Huntington's disease from his birth mother, Emilie. (CAS: "High Tide")
Cal and Ethan's father was a Lothario medical man like Cal, and he hated the man so he took his mothers maiden name of Knight. Ethan remained close with his parents and kept the name Hardy.
Ethan is scared of heights. (CAS: "Step Right Up")
Ethan was distraught when Cal was murdered in April 2017. (CAS: "Reap the Whirlwind - Part Two")
Behind the scenes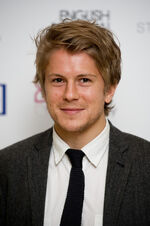 George Rainsford currently portrays Ethan on Casualty. He made two guest appearances as Ethan on Holby City in June 2016. Since his arrival on the show, Ethan has become a fan favourite character.
Fans through social media have often criticised the low prominence which Ethan has in most episodes, noting that Cal has become a more prominent character. In series 30, Ethan's birth name was revealed to have been Michael and Cal's Steven. This was possibly inspired by actor Michael Stevenson who plays paramedic Iain Dean.
Appearances
See also: Ethan Hardy - list of appearances
Ethan first appeared in the series 28 episode "Bad Timing" at the beginning of 2014.
References