This article is missing important information. You can help Holby Wiki by expanding it.
Henrik Love Hanssen (né Lövborg) is a consultant general surgeon who works at Holby City Hospital. He joined the hospital in October 2010 as the new joint director of surgery, serving alongside cardiothoracic surgeon Connie Beauchamp.
Biography
Medical career prior to Holby
When Hanssen was promoted to consultant, he was the youngest to do so in the United Kingdom in 25 years. (HC: "Shifts") During his career, he developed an interest in liver disease. Prior to 2011, he served as the director of general surgery at Colchester Royal Infirmary and All Saint's Hospital in Southampton. (HC: "Open Your Heart") He was also largely involved in elevating two hospitals to foundation trust status. (HC: "Shifts")
Transfer to Holby City Hospital
"
Leaving the past behind is difficult. It can be bewildering — frightening even — but it's also vital. It's what keeps us alive. So we must look to the future; we must move forwards. It isn't going to be easy, but it's time for a change.
"
— Hanssen's first speech to his new staff. (HC: "Shifts")
In October 2010, Connie Beauchamp was appointed as Holby City Hospital's new director of surgery, and the Holby City Hospital board decided, following the tenures of Ric Griffin and Michael Spence as joint directors of surgery, that having two directors was beneficial. However, the strategic health authority saw Connie as an "unknown quantity" and issued the hospital with an ultimatum — accept Hanssen as their choice for joint director of surgery with Connie Beauchamp and make efficiencies or close half of the hospital's wards and merge them with St James' Hospital.
Ultimately, Hanssen was selected, and he and Connie were faced with making at least 5% of the hospital's staff redundant (HC: "Shifts") in order to save around £200,000. Hanssen proposed making Ric Griffin redundant, but Connie was vehemently opposed to the idea and wanted to avoid cutting staffing levels. However, Connie eventually conceded that redundancies were essential, and Hanssen allowed her to make the final decision on who was let go; she ultimately decided to spare Ric and dismissed six nurses instead. (HC: "The Short Straw")
In November, while Connie was in London visiting her sick father, Hanssen carried out operational audits and devised a new discharge policy that would halve the number of used ward beds in order to save money. (HC: "Betrayal", "The Most Wonderful Time of the Year") He also found that Elliot Hope was underperforming; he warned Connie that, if Elliot failed to improve, he would be made redundant. Connie was keen to show Hanssen that Elliot was still at the top of his game, but Hanssen later learned that Elliot had lied to one of his patients about their child still being alive. (HC: "Betrayal")
On 7 December, Elliot was scheduled to perform a Nuss procedure — a highly expensive operation — but Connie's patience started to wear thin when Elliot refused to discharge a patient named Emily who he deemed as being vulnerable. When Elliot walked out of the Nuss procedure and prioritised Emily when she was readmitted as an emergency, Connie voiced her concerns to Hanssen about the effect of Elliot's job on his health and suggested that "the kindest thing to do [would] be to reconsider his position". (HC: "Losing Game") Consequently, Hanssen arranged for Elliot to undergo a stress test. (HC: "The Lying Kind")
As a result of the new discharge policies, Connie's father William was discharged (HC: "The Most Wonderful Time of the Year") and readmitted on Christmas Day with a pleural effusion; he was later diagnosed with stage-four lung cancer. Later, Hanssen confronted Connie after she pressured the family of a patient into agreeing to organ donation and went against protocol; sick of the cuts and redundancies, Connie promptly resigned and warned Hanssen that it would have been a "huge" mistake to get rid of Elliot. (HC: "Snow Queens")
Despite Connie's words and resignation, the hospital's consultancy report indicated that additional redundancies were necessary, particularly in consultant salaries, or Holby City would be at risk of being downgraded to a community hospital. Consequently, Hanssen was faced with potentially having to make both Ric and Elliot redundant. However, Mark Williams — the hospital's chief executive officer — discovered that the strategic health authority's projections were based on the previous CEO's performance, and the current data painted a much brighter picture of the hospital. In order to spare Ric and Elliot's jobs, Mark decided to resign; the roles of director of surgery and CEO were consolidated, and Hanssen was promptly made Mark's successor. (HC: "Don't Go Changing")
Ric Griffin's cancer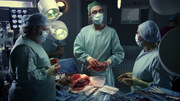 On 22 March 2011, Hanssen informed Ric that all upper gastrointestinal services were being outsourced to St James' Hospital as a cost-cutting measure; Ric demanded that Hanssen reverse his decision, or he would mobilise his staff to undermine him. Ric ultimately decided to defy Hanssen and covertly performed an upper GI procedure, culminating in Ric being relegated to an advisory position on Keller. Later that day, after learning that Ric's liver cancer prognosis was worse than he was led to believe, Hanssen offered to perform a high-risk hemihepatectomy and potentially save his life. (HC: "Clash of the Titans") While Hanssen was confident that he could successfully complete the procedure, Ric was uncomfortable with Hanssen being his surgeon, but Ric eventually consented. Despite a series of complications, Hanssen managed to successfully removed the entirety of the tumour. (HC: "Second Coming")
Working relationship with Sahira Shah
In February 2011, Sahira Shah — an old friend and colleague of Hanssen's — was employed by the hospital to work on Darwin Ward as a registrar. (HC: "Blue Valentine") Not long after her arrival, rumours of Sahira being a "spy" for or romantically involved with Hanssen began circulating around the hospital, but Hanssen was soon reconsidering his decision to appoint Sahira after she performed unnecessarily-risky beating heart surgery. Sahira managed to persuade Hanssen to allow her to stay at Holby City but not share a "special relationship"; Hanssen agreed, but he took a less considerate tone towards her request for flexible working and her familial commitments. (HC: "Open Your Heart") On the day of the Darwin consultancy interviews, Hanssen was unimpressed when Sahira failed to attend her interview and later withdrew her application after leaving the panel waiting for over an hour. (HC: "Coming Second")
Cardiothoracics merger and the plastics scandal
On 19 April, when Sunil Bhatti, an old friend of Michael Spence and a reknowned plastic surgeon, appeared on AAU with a patient in tow, Hanssen agreed to fund a plastics procedure on AAU if Michael managed to bring the Bhatti Clinic to the hospital. Sunil agreed to work with Michael at Holby City, so Hanssen asked Michael to outline his plans for a plastics unit to the board. (HC: "Rebound")
Hospital shooting
On 5 December 2017, Hanssen oversaw the transfer of the equipment of the eminent neurosurgeon and close friend John Gaskell to a basement-level wet laboratory after appointing him as the hospital's director of surgical innovation. (HC: "Group Animal - Part One") Later in the day, after Gaskell introduced Hanssen, Sacha and Essie to Laszlo Furz, whose motor neuron disease he claimed to have cured, they were informed of a power outage and a gunman on AAU, and Hanssen ordered for the hospital to be put on lockdown. Outside the lab, the medics discovered that Jac had been shot in the back, and they were forced to use basic equipment to treat her. Despite Sacha's objections, Hanssen supported Gaskell's suggestion of using a haemostatic patch to fix one of Jac's major blood vessels.
As Hanssen attempted to have equipment delivered to the basement, Gaskell informed Hanssen that Fredrik had been identified as the shooter. Determined to stop his son, Hanssen left his colleagues and proceeded to search for Fredrik. On Darwin, Hanssen was horrified to discover that Fredrik had shot Ollie in the head as he was operating on David, and Roxanna urged him to stop Fredrik before he could harm anyone else.
On Keller, Hanssen managed to prevent Fredrik from breaking into the theatre room where the ward's occupants were hiding and confronted him. Once an armed police unit arrived at the scene, Hanssen attempted to negotiate with his son, but Fredrik asserted that he did not want anything from him anymore and loudly declared that he would decide how the situation ended. As the two began sizing each other up, with Fredrik asserting that Hanssen was not a part of the hospital's "family" and proclaiming that he was there to "end it", the police shot Fredrik in the chest, instantly killing him. A hysterical Hanssen, desperate to save his son, rushed Fredrik into theatre and demanded the lifts be turned back on, but he eventually realised that Fredrik was dead and wept. (HC: "Group Animal - Part Two")
Personality
When Hanssen was appointed as Holby City Hospital's joint director of surgery, his affectless and clinical approach to management provoked resentment from some of his new-found colleagues. Following the death of popular surgeon Linden Cullen, Hanssen viewed his funeral as an excuse for some to malinger. (HC: "Shifts") When Hanssen was tasked with selecting a consultant for redundancy, he favoured Ric Griffin due to him not practising as a surgeon at that time, despite his idleness being a result of him receiving cancer treatment. (HC: "The Short Straw") He had a tendency to not mince his words and be incredibly scathing towards senior colleagues of his. (HC: "Shifts")
Conversely, outside of professional relationships, Hanssen sometimes showed a softer side. For example, sister Donna Jackson warned her niece Mia that Hanssen "eats children" and told her to hide from him. However, when Hanssen later discovered Mia, he fixed her teddy bear's loose eye. (HC: "Queen's Gambit")
Relationships
Professional
Connie was unaware of the decision to split the role of director of surgery and appoint Hanssen as her peer, so she was galled when she found Hanssen in her office uninvited. Her feelings of resentment towards Hanssen only intensified when he took over the care of one of her patients and harshly criticised her expenditure proposal as being financially unrealistic. (HC: "Shifts") On the orders of the strategic health authority, Connie and Hanssen were tasked to save around £200,000 in expenditure. Hanssen saw redundancies as a "clear option" and proposed letting go of Ric Griffin, but Connie vehemently opposed the suggestion. Despite fruitlessly searching for alternatives and requesting a delay, Connie conceded that redundancies were the only viable means of meeting hospital budget cuts and volunteered to make the decision. However, instead of making one consultant redundant, she decided to target six nurses. (HC: "The Short Straw")
When Hanssen arrived at Holby City Hospital, he accused Michael of attempting to "fleece vulnerable patients" out of their money by encouraging them to opt for treatment on Holby Care. Following the death of consultant Linden Cullen, Michael volunteered to take his place on AAU, (HC: "Shifts") but Hanssen immediately took issue with him neglecting his duties on the ward to concentrate on private practice; Michael argued that the revenue generated by Holby Care was helping alleviate hospital budget cuts. However, after Michael failed to diagnose a tumour in his private patient, Hanssen pointed out that his mistake would cost the trust more than the revenue the patient's surgery generated. (HC: "The Short Straw")
In November 2010, Michael convinced administrator Sheena Clore to access Hanssen's personal files to uncover details about his hospital deficit strategy; she was caught and promptly suspended. (HC: "My No. 1 Fan")
When Hanssen and Connie were faced with making redundancies to meet budget cuts, Hanssen proposed making Ric redundant due to him not carrying out his surgical duties on the grounds of him receiving cancer treatment; Connie was completely opposed to the idea and ultimately decided to let go of six nurses instead. (HC: "The Short Straw") In November 2010, after Ric treated a young girl who was later admitted with suspected measles, Hanssen forced Ric to receive precautionary treatment due to his weakened immune system. After Ric tested negative, he informed Hanssen that he had decided to go on sick leave and urged him to spare Keller "if [his] axe [had] to fall". (HC: "Tough, Love")
After making a joke about Hanssen while he was in earshot of her, Jac believed that Hanssen "hated" her. (HC: "Tough, Love") After Ric Griffin went on sick leave, Jac became Keller's acting consultant. However, the position was not permanent, and Jac was aggrieved at Hanssen appointing Keira Balfour as the locum consultant; Jac demanded Mark Williams to interview all of the prospective candidates, including her. Despite describing her as "arrogant, aggressive, stubborn, obstinate and obnoxious", Hanssen saw Jac as the more cost-effective candidate and gave her the locum consultant post. Jac was initially delighted, but Michael Spence warned her that her position at the hospital was no longer secure. (HC: "Queen's Gambit")
Trivia
When Hanssen first arrived at Holby, he earned nicknames such as "The Angel of Death", "Horrid Henrik", "Henrik the Heron" and "The Slasher". (HC: "The Short Straw", "Snow Queens")
He detests tomatoes and considers them "the Devil's fruit". (HC: "Tough, Love")
Behind the scenes
Guy Henry initially portrayed Henrik Hanssen in Holby City from October 2010 to October 2013.
Community content is available under
CC-BY-SA
unless otherwise noted.