Iain Dean (born 1983/1984)[1] is a paramedic for the Holby Ambulance Service. He joined the service in August 2013 as a student paramedic[2] and remained in that position until April 2014 when he left to go travelling.[3] He rejoined in October that year following Jeff's death, after becoming a fully qualified paramedic.[4]
An ex-corporal, Iain had previously encountered Sam Nicholls during his time in the armed forces where she worked as a medic. She had an affair with him whilst still married to Dylan Keogh, and Iain was distraught when she left the army to go to work in the same hospital as him.[5] Since retraining as a paramedic, he  wants to take his action-man status from the battlefields of Afghanistan to the streets of Holby. Following Sam's departure, Iain has slowly managed to put his past experiences in the army behind him, whilst still upholding the important lessons he learned from being on the front line. He was in a relationship with staff nurse Rita Freeman from 2015 to 2016.
Early life
Prior to joining the ambulance service, Iain Dean worked as a corporal in the army alongside Sam Nicholls. In July 2011 they were positioned in Afghanistan together which led Sam to have an affair with him whilst married to Dylan. Sam was due to leave in 2011 but the medic who was due to replace her broke his leg so she decided to stay on for a bit longer.
However, an incident occurred during a bombing where Sam mistook an injured man's inhaler for a bomb and shot him. This left her feeling guilty and she told Iain that she was going to leave after all to go and work at Holby ED. Knowing this was where Dylan worked, he realised she wanted to get back to her husband after all.[5]
At another point during Iain's time with the armed forces in Afghanistan, he came to trust another man who was originally not a part of his squadron. One day he asked Iain to wait away from the rest of them and to trust him, which he did. However, the man then ran towards the other members revealing a bomb, blowing himself and the rest of the men up. Iain blamed himself for trusting him, and not running over to warn his fellow soldiers when he saw he had a bomb.[6]
In April 2012 after Sam had started working at the ED, Iain was called to give a statement after she had forcibly restrained a man and he had presented with a neck injury. He had been called to give evidence against her during the GMC hearing, which brought back some painful memories for her. At some point after the date of the hearing, Iain left the army.[7]
Time with the Ambulance Service (2013-)
In August 2013, Iain began working with Jeff and Dixie as a student paramedic. It was clear that he was extremely confident and may have needed to be kept in line. However, he soon got a chance to prove his worth when the team were alerted to a terrifying bus crash. Iain managed to rescue one of the patients, Anna, just moments before there was an explosion on the wrecked vehicle. However, Iain later found himself in hot water with Jeff for not following instructions and endangering a patient. Iain also enquired to Tom about whether Sam was still single, and was surprised when he revealed that she was going out with him.[2] The following week, Jeff and Iain's relationship didn't improve as they were put together to help two brothers who were involved in a stabbing incident with a screwdriver.[8]
In November, Iain was deeply affected when two police officers were involved in an attack which made him recall experiences from his past in the army.[9] He was later asked to go to a hospital where his old army friend Kenny was being treated and he managed to persuade Sam to accompany him. However, they were surprised to discover that he wasn't in a veterans' hospital but a rehabilitation centre for veterans suffering from PTSD.[6] Iain was upset when Sam got married to Tom in December and leave the ED, but it also gave him the chance to have a fresh start.[10] The following year in February, Iain once again defied orders from Jeff when he ran into a burning building after a man who had gone in after his fiancée.[11]
In March Beth Archer, the wife of one of his ex army colleagues, messaged Iain to tell him that they were staying at a B&B Holby. Shortly after, Iain and Big Mac received a call out to a local B&B after a woman received burns to her hands during a fire. When they arrived, it turned out to be Beth, who injured herself trying to put a fire caused by a candle when her husband Kenny threw her coat across the room. They got her back to the ED, but Kenny was insecure and suspicious that Beth had been cheating on him. Later on, Big Mac inadvertently mentioned to Kenny that Iain received a phone call from a woman and when Kenny asked what day it had happened, it coincided with the time he suspected Beth had seen another man. He returned to the B&B with Beth and confronted her, smashing a mirror in the process and storming out leaving Beth to phone Iain for help. He arrived there to help at the same time Kenny turned up at the ambulance station in search of Iain.[12]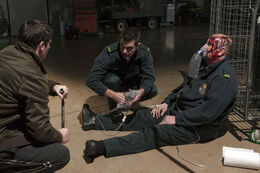 Iain left a message with Big Mac to tell him he was on his way back to the station, however Kenny had accidentally knocked him unconscious by pushing him over onto the oxygen cannisters. Kenny listened to the message instead and when Iain arrived, he kept them both hostage. Iain tried to explain that he wasn't having an affair with Beth but Kenny failed to believe him, and with Beth arrived at the station and revealed that they'd been together after Kenny stormed out, his suspicions only increased. When Dixie and Jeff arrived, the police were called and eventually Iain told Kenny that he was also affected by the events in Afghanistan due to the fact he felt responsible for the bomb as he didn't intervene when he saw the man with the bomb heading towards the rest of the unit. Kenny told him it wasn't his fault and that he also believed that he wasn't having an affair with his Beth. Iain opened the doors and Kenny was apprehended, and Dixie told Iain that he'd have to make a statement to the police the next day.[13] Iain departed later in March 2014 and went travelling as Big Mac had suggested.[3]
Iain returned to Holby for Jeff Collier's funeral in October 2014. He went to help Dixie as she had avoided the funeral by attending the scene of an accident. Together they managed to save a man before heading off to the funeral. Tamzin left later that day as a result of Jeff's death, leaving Dixie as the only paramedic. She offered Iain his old job back, to which he agreed at which point he was fully trained as a paramedic.[4]
That December, Iain attended a call out with Dixie, Ash and Charlie to the scene of a chandelier collapse at a church.[14] In February 2015, Dixie and Iain attended a call out to a caravan hanging loosely off a cliff. With a boy still trapped inside, Iain climbed in to rescue him, much to Dixie's annoyance due to the fear that he would die like Jeff.[15] In April, Iain applied for a new job opening of a rapid respondent.[16]
In September 2015, Iain was accused of assault by a traffic warden who fell over at the back of the ambulance whilst him and Dixie were on a call out. The case was resolved in the ED as Rita discovered that traffic wardens couldn't clamp cars on private property and therefore the man took back his threats to go to the police.[17]
At the beginning of October, Iain and Dixie were required to attend a HART training course. As the anniversary of Jeff's death approached, Iain attempted to keep Dixie's mind off of it. After returning to the ED after their respective shifts, Iain and Rita shared a kiss outside The Hope & Anchor following flirtation in the previous weeks.[18] The following week, Iain and Rita had a moment alone in cubicles when he was injured during a collapse at an office in a warehouse.[19] Later in the month, Dixie opened up to Iain about her rejection from the adoption board, and asked him to keep quiet about it from other members of staff.[20] He also learned of when Dixie and Rita kissed back in 2013.[21]
In November, Dixie and Iain attended the scene of an accident in a woodland where a patient had fallen down a deep hole. Upon arriving there, they realised it was Jess Cranham from HART who had fallen and was accompanied by her partner Nikki and daughter Olivia. Iain was able to use a harness to lower himself into the hole to rescue Jess. Dixie later became worried upon discovering that Jess was taking anti depressants but Iain was convinced that it was just down to her jealousy of Jess being in a relationship.[22]
In December, Iain and Dixie didn't help matters in the busy ED when the ambulance skidded on its side outside the ED. Connie and Jacob were among many to help all of those involved.[23] Later in the month, Iain was flirting with Rita over text when he accidentally sent a flirtatious text to Robyn, shocking her.[24]
In January 2016, Iain and Dixie helped Jess and her family after an accident in the house caused by Nikki. Soon after, Nikki became infuriated and a fire was started when she threw lit birthday cake across the room. Dixie and Iain managed to get them all out safely and back to the ED.[25] The following week during a black alert, Dixie and Iain were called out to the scene of a car accident to find that Jess was also there on the job. They worked together to save the couple in the car before it exploded, but Dixie was still annoyed at the fact they were still going ahead with the investigation after she filed a complaint against her.[26]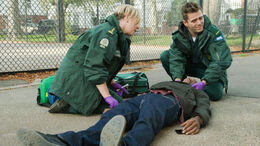 Later in January, Dixie and Iain attended the scene of Noel's attack in the park. They accompanied them back to the ED and were concerned for both him and Big Mac who was with him at the time. At the end of their shift, Dixie made Iain clean the ambulance in his underwear due to the fact he couldn't cheer her up but he instead just wore an apron, and was embarrassed to discover that several other members of staff had also arrived and saw him.[27] After Dixie's departure at the end of January,[28] Iain got Scott "Rocker" Rosher from HART to come in and cover to help out. However, he soon became angry when Rocker began flirting with Rita, and ultimately Iain phoned Rocker's boss at HART and asked for him to be placed elsewhere.[29] Later in the month, Iain attended the scene of a pride festival with Lily and were required to help after part of the staging collapsed injuring a teenager.[30]
In March, Iain finally found a permanent replacement for Dixie, a newly qualified paramedic Jez Andrews. On their first day, they were travelling with Cal, Ethan and Emilie to a place more comfortable for her to spend her final days. However on the way down a country lane they asked Iain to stop the ambulance and whilst him and Jez were distracted outside, Cal and Ethan hijacked it to take Emilie to her favourite holiday destination. Iain blamed Jez initially, but when a dangerous driver caused Iain to jump out of the road and injure his ankle, he was thankful to have Jez there to give him a piggyback until they were able to get a ride with some women back to the ED.[1]
At the beginning of April, Iain and Jez attended a call out to an unstable building where Connie and Jacob had become trapped in the basement that was quickly filling with sand. Iain eventually convinced the fire chief to let them in to help, fearing for their lives. Eventually they broke through the wall freeing them just in time.[31]
Later in the month, Iain became confused when he saw Jez kissing a man outside the ambulance station but then continued to flirt with women all day. Towards the end of the shift, Iain confronted Jez but he turned the joke round on Iain by starting to flirt with him. At The Hope & Anchor, Jez told Iain that it was a joke, but that he was bisexual but questioned why he should have felt the need to reveal his sexual orientation as Iain didn't. Whilst Iain was distracted with Jez's personal life, Rita had her own issues when her ex-husband Mark returned to the ED following a car crash. Although Iain attempted to help, Rita told him her day was too long to explain, so he remained oblivious to her day's events.[32] The following week when Rita noticed her ID badge had gone missing and suspected Mark, she told Iain about Mark being there the previous week. He told her to get him if she was worried again.[33]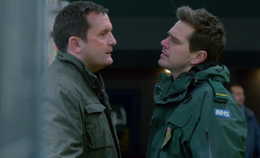 At the end of the month, Iain confronted Mark outside the ED and told him that he would get his old army friends to sort him out if he kept bothering Rita. Despite her earlier instructions to Iain not to intervene, Mark told her that he came to apologise and walked off. Although Rita was thrilled that Iain had got Mark away, he was left wondering whether he still wanted to be with her.[34] In May, Rita continued to text Iain constantly throughout his shift. Jez tried to make Iain realise that it may not be the best thing for him, but after his shift, Rita confronted him in the pub which resulted in Iain deciding to keep quiet.[35]
Later in May, Iain offered Rita his spare room for a while until she was able to get settled somewhere. However, he soon realised that she was becoming controlling and he felt as though she was running his life. He spoke to Jez who advised him to break up with her before it's too late but he dismissed him, and argued that it wouldn't be that simple. At the end of the day, Iain told Rita that he was going to the pub although she thought they'd be going straight home. Just as Iain left, the nurse whom he'd been flirting with earlier went over and kissed him before they left together, leaving Rita heartbroken.[36]
Rita ignored him the following week, although he tried to talk to her. However, after her shift she returned to her car to find that someone had slashed all of her tyres which resulted in her going straight back to Iain for support. He offered to make sure she got home safely.[37] The police phoned Rita the following week to inform her that Mark wasn't responsible for slashing her tyres, and also presumably told her who was. Despite this, she told Iain that it was Mark. They later shared a kiss and walked home together.[38]
Towards the end of the month during a night shift, Rita went looking for Iain at the ambulance station. As he went to get away, he walked into some equipment and injured his genitalia and was admitted to the ED where Rita treated him. Intimidated by the large needle she was holding he told her that he did want to be with her after all which left her feeling delighted. However after their shifts Rita went to see Iain whilst he was recovering in the staff room at which point he told her he didn't want a relationship anymore. Although she accepted it well to his face, she was secretly distraught.[39]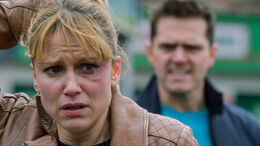 By the beginning of July, Rita continued to ignore Iain and in doing so, accidentally banged her eye on a parked car's wing mirror after she ducked to hide from him. When Louise noticed her black eye, she informed her that Mark was responsible and although Iain knew, he hadn't done anything about it. The lies eventually got back to Iain, who drove off after Mark. When Rita heard about this, she stopped him outside the ED and admitted to her lies in front of Iain and other staff including Louise. Iain was furious with her, and told her that she needed help, labelling her as insane.[40]
She took the following week off work to Iain's relief.[41] She returned to work midway through the month and was met with an overwhelmingly bad response from her colleagues. She attempted to talk to Iain, but he ended up shouting at her in reception and told her to leave. After a chat with Charlie, she eventually decided to do exactly that. Iain had a chat with Jez who persuaded him to cut Rita some slack. Rita confronted Iain once again in reception, and they shared a friendly goodbye.[42]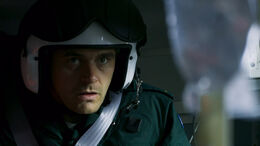 In August on the day of Charlie's anniversary party, Iain and Jez attended a call out to an accident where Steph Sims had been hit by a car and were able to resuscitate her. They brought her into the ED and Jacob recognised her and made the paramedics take him to the scene after Jez described the state of Steph's car. They arrived at the scene and Jacob got them to keep driving and they eventually reached tyre marks on the road at which point they discovered the scene of Connie's car crash. Jacob rushed over to Connie but Jez and Iain couldn't find Grace in the car. They eventually found her and she was suffering from breathing difficulties. Iain requested an air ambulance and helped Grace to leave a voice message for Connie on her phone. Iain accompanied Grace in the helicopter, however it was hit by a drone just as it was approaching the ED and it crashed outside causing severe damage and blocking the entrance. Iain managed to climb from the helicopter and tried to help the wounded, but Lily later insisted that he take it easy and get a head scan. He ignored her instructions which annoyed her as she didn't want him getting more injured. Later on, Lily informed Iain that his scan showed no significant head injury.[43]
In the weeks following the crash, Iain found his injuries affecting his work but decided to ignore his symptoms. When Iain and Jez attended a call out to the scene of a lightning strike injury, he accidentally hit the patient's wife with the ambulance door when he didn't hear her. At the ED, she presented with a broken rib and pneumothorax which Lily was left to treat. She later visited Iain at the ambulance station and he let her give him another examination, after which she discovered that he had a perforated eardrum. She advised him to take some time off work to recover from his injuries before he begun having other accidents.[44]
He took just over a week off work to recover, by which time he was fit to work again. The day after returning to work, he comforted Lily after she was humiliated after turning up to Alicia's birthday party in fancy dress.[45] In the following weeks, Iain confronted Alicia for lying to Lily, although he wasn't aware that her intentions were never malice, she was simply trying to deter Lily from going. Later in the day, Alicia dropped Lily a hint that she thought Iain liked her.[46]
In January 2017, Iain was shocked when his estranged sister Gemma turned up. His shock turned to horror upon learning that it was the day of their grandfather's funeral and that Gemma was on day-release from a young offenders institute. Gemma admitted to Iain that she'd hit her support worker over the head with a pan which was why she was in the ED when Jez discovered that she'd called the ambulance. Gemma made a run for it to go to the funeral but had a pneumothorax. Iain and Jez were able to track her down and take her back for treatment. Meanwhile, Lily discovered that the support worker, Belle, had been abusing Gemma and she called the police, also condemning Gemma's actions. The police took Gemma away shortly after they returned, and Iain was angry with Lily for calling them.[47] Lily attempted to reconcile with Iain the following week, but he refused to when she made a blunt comment about Gemma.[48] The next day, they made up when Lily got a visiting order for Iain to go and see Gemma.[49]
Later in February, Gemma failed to show up for Iain's scheduled visit, having been released the day before and not let him know. However, upon returning home the next day, she found their mother Kim's house trashed. Kim and Gemma attempted to flee the men whom she owed money to, but in the scuffle Kim fell down the gap between the stairs in the flats. Iain was shocked to find them on the call out and Kim was admitted to the ED. Lily discovered that Kim had chirrosis of the liver from excessive drinking, but Iain was preoccupied with finding Gem even when his mother went into surgery. Gemma called him saying she was in danger, and Iain and Jez rushed over to the flat where they discovered the two men attempting to get to her. Eventually they reached a compromise that Iain would pay off Kim's debts, and they both headed back to the hospital. Whilst their mother recovered, Iain offered up his spare room to Gemma.[50]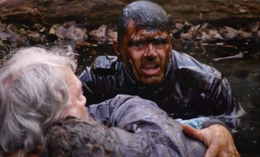 The following week, Iain was shocked when Gemma attempted to run away and take some of his possessions. However, he was intent on getting her a job and asked the manager of the ED's coffee shop. Although she told him that Gemma would have to apply like all other applicants, Iain later saved her from sinking in a bog and she reconsidered giving Gemma the job. However, when the manager told Gemma that she'd have to fill in an application form, Gemma wasn't happy and stormed off. Nevertheless, Iain managed to convince her to give Gemma the job anyway.[51]
In April, Gemma convinced Iain to let her spend the day observing with them in the ambulance. When Gemma reversed a car from on top of a patient, freeing her, Iain was furious. Although Jez helped him realise that Gemma prevented them from having to call the fire crews, Iain was more angry that Gemma has ignored his instructions. However, she redeemed herself later that day when she helped to catch a snake which had got loose in the ambulance.[52] Later in the month after some edited photos of Alicia were posted online, Iain discovered that Gemma was responsible for posting them. She claimed that it was out of jealousy, which resulted in Iain telling her to move out. Lily went to meet with Gemma in the car park later to provide support, but Gemma accidentally ran her over.[53]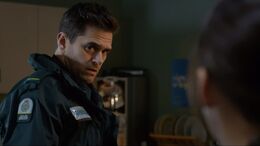 Shortly after the accident, Gemma requested an ambulance, after having fled the scene. Iain and Jez were shocked to find Lily in the car park. They took her into the ED, and her scan came back clear, much to everyone's relief. Whilst Lily was recovering, Iain told her that once she got better, they'd make a proper go of a relationship. Iain was furious when he discovered that Gemma was responsible for Lily's crash. He was willing to see if Lily would lie to the police to spare Gemma, but Gemma soon realised that she couldn't get out of what she'd done and decided to hand herself in. Iain and Gemma shared an emotional farewell, as she handed herself in.[54]
Personal life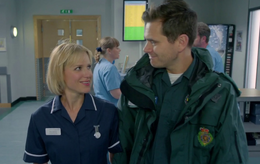 During his time in the army, Iain had an affair with Sam despite knowing she was married to Dylan. Sam ended the relationship when she left the army, leaving Iain heartbroken.[5] Iain never truly got over her even after returning to the ED as a student paramedic in 2013,[2] and was clearly left feeling sad when he saw her marry Tom.[10]
In 2015, Iain and Rita entered a relationship after kissing outside a pub one night.[18] Although they hadn't officially announced it by the new year, some staff members such as Zoe and Jack caught on by the way they had been speaking with each other at work. When Rita's ex-husband Mark returned to Holby in April, Iain tried to provide support for Rita but found it hard.[32] He eventually confronted Mark outside the ED which made her even more attached to him.[34] After a chat with Jez, Iain was thinking of breaking up with her in May but he gave into her charms.[35] In June, he broke up with her which resulted in her lying to him and other members of staff in order to trick him into thinking that Mark was harassing her.[40] She was eventually caught up in her own lies and Iain was furious, but when she decided to leave the ED, they shared a kind farewell.[42]
Trivia
Iain had an affair with Sam in Afghanistan.[5]
His platoon was blown up by an Afghan he trained and was close to.[6]
He suffered from PTSD in the past.
Iain loves banter and is always up for a challenge.
Iain and Rita were in a relationship for around nine months.
Iain's idea of fun is going down the pub with some friends, getting smashed and grabbing a kebab in the early hours of the morning.[30]
He has a younger sister named Gemma.[47]
Behind the scenes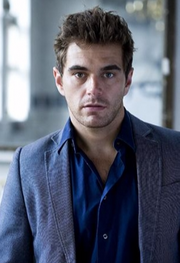 Michael Stevenson has portrayed Iain Dean on Casualty since his first appearance in 2012. In 2012, his two appearances, one a special episode, were both guest appearances as part of Sam's storyline. However, he returned as a regular character in the 2013 episode "Waiting for a Star to Fall" when he joined the Ambulance Service as a student paramedic. He left in March 2014 and returned that October as a fully trained paramedic, and has remained on the show since.
Iain's role in the show isn't as prominent as Dixie's was prior to her departure, due to the fact he hasn't had any main storylines to date apart from his brief encounter with his old army friend in March 2014. Despite this, he is the only character to appear in every episode of series 30. Stevenson made a guest appearance as Iain on Holby City on 30 August 2016 alongside Lloyd Everitt who portrays Jez Andrews.
Appearances
See also: Character appearances and Category:Iain centric.
Iain made his first appearance in Casualty in the series 26 special episode "Under Fire", with his first full episode appearance in "Appropriate Force". He arrived as a regular in the series 28 episode "Waiting for a Star to Fall". He had a temporary departure after this episode to his full return in the October 2014 episode "The Last Call". To date, Iain has only had 0 centric episodes.
References
Community content is available under
CC-BY-SA
unless otherwise noted.