Leonard "Lenny" Lyons is a forensic pathologist and former junior doctor in emergency medicine who worked at the emergency department of Holby City Hospital from 2009 to 2012. Whilst in the department, he completed his F2 and CT1 years and departed midway through his CT2 training.
Early life
In August 1991, Lenny was taken away from his parents due to the fact they were unable to care for him. This was a contributing factor to his laid back approach to his career in later life. Lenny was considered old for an F1 Doctor since he only started training in his 20s.
Time in the emergency department (2009-12)
When he first started in the ED Lenny's attitude was somewhat immature and he preferred to focus on the blood, gore and exciting procedures rather than on the patients as individuals. As time went on Lenny realised that he did genuinely care for people and wanted to be the best ED doctor around. Lenny loved to talk, but had a tendency to be inappropriate as he rarely engaged his brain before opening his mouth. Lenny formed an unrequited romantic attachment to Mads and also developed a close friendship with Linda, helping her to care for her niece and nephew. When a young boy died in the ED in suspicious circumstances, Lenny helped to unravel the cause of death and rediscovered an interest in forensic medicine. Much to the disappointment of Jordan, Linda and the team, he decided to leave the ED and retrain as a forensic pathologist.
Charlie's anniversary (2016)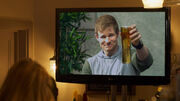 In August 2016, Lenny recorded a video message for Charlie for his 30th anniversary celebrations. He congratulated Charlie and told him that he deserved a drink.
Behind the scenes
Steven Miller portrayed Lenny Lyons on Casualty from 2009 to 2012. Miller returned for a guest appearance in the 30th anniversary episode as Lenny in 2016.
References