Lev Malinovsky (died 31 July 2021) was a paramedic for the Holby Ambulance Service. He joined the service in September 2019 as a replacement for Iain Dean.
Biography
Early life
Lev was born in Samara, Russia. During his childhood, Lev grew close to another boy named Sergei, but his brother Dimitri noticed and told him to stop behaving like a "pansy". When Sergei was forced to move to Plyos to stay with his mother's family, Lev was heartbroken, but his internalised homophobia pushed to punch Sergei and malign him as a "homosexual". (CAS: Episode 1175) During Lev's adolescence, he was pressured into joining Nevidimyye, a neo-Nazi "Football Army", by Dimitri who had become an infamous murderer. He later managed to leave the group and reform himself. (CAS: Episode 1151)
At some point, Lev married Faith Cadogan and had two daughters named Natalia and Ana together. In November 2012, Faith gave birth to their third child - a boy named Luka. (CAS: Episode 1158)
Joining the Holby Ambulance Service
On 14 September 2019, Lev was late for his first shift with the Holby Ambulance Service, and he was caught attacking a thug outside the ambulance station by operational duty manager Jan Jenning and paramedic Ruby Spark. Jan initially mistook him for a drug dealer, but Lev revealed that he was a paramedic, and he was stopping the thug from throwing a sack of kittens into a bin. (CAS: Episode 1144)
On 23 November, Lev and Ruby treated a drunk patient named Johnny with a head laceration. Johnny began touching Ruby inappropriately, and Lev forced him off the ambulance. When Johnny noticed a tattoo on Lev's chest, he backed away. At the ambulance station, Lev explained his actions to Ruby and told her about his time as a member of Nevidimyye; after researching the group and despite Lev's insistence that he had changed as a person, Ruby no longer felt comfortable working with him. Although she later reconsidered after witnessing Lev's tender care of Johnny's son Freddy, Ruby maintained that they would only work together as colleagues but not friends. (CAS: Episode 1151)
Luka's cancer
On 18 January 2020, Faith took Luka to Holby City Hospital's emergency department after he fell off Ana's bed. After his initial injuries were treated, consultant Dylan Keogh became concerned about Luka's clumsiness and eyesight issues and had him undergo a CT scan; Lev and Faith were horrified when it showed the presence of a brain tumour. (CAS: Episode 1158) The tumour was later determined to be malignant and growing around his brain stem. Whereas Faith was fearful for Luka's future, Lev was optimistic that the tumour could be removed through surgery. (CAS: Episode 1160)
In February, Lev and Faith were delighted when Dylan contacted Zsa Zsa Harper-Jenkinson — an eminent neurosurgeon and his old tutor — and she agreed to speak to Luka's consultant; Zsa Zsa eventually agreed to operate on Luka. (CAS: Episode 1163) Zsa Zsa managed to remove the tumour, but she soon found additional malignant tissue and was unable to remove any of it. Lev was furious and accused Zsa Zsa of failing Luka; he later apologised. (CAS: Episode 1164)
In March, Luka started undergoing chemotherapy. Faith disagreed with Lev over their approach to Luka's situation; Faith believed that it should not be "all doom and gloom" and wanted Luka to continue attending social events, whereas Lev insisted on focusing on the chemotherapy and even reprimanded Luka for wanting to play instead of resting. To Faith's delight, Lev later changed his perspective on Luka's illness and even got Luka's favourite graffiti artist to meet and play with Luka. (CAS: Episode 1167)
Confronting his sexuality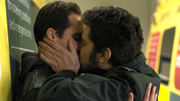 In May, Lev signed up to the LGBTQ dating app Villager and began talking to a man named Xander. (CAS: Episode 1175) He also became increasingly distant from Faith and continued to insist that Luka will eventually recover. (CAS: Episode 1176) In June, Sian Bowen, Luka's neurologist, informed Lev and Faith that Luka's cancer was terminal and that he was ineligible for proton beam therapy. Feeling helpless, Lev asked to meet up with Xander and confided in him before having sex. After Lev had deleted his Villager account and accidentally left his wallet in Xander's car, Xander visited him at the ambulance station and suggested that Lev just wanted meaningless sex. Lev rebuked and kissed him, but Xander urged him to "decide who [he was]"; unbeknownst to Lev, Dylan had witnessed the encounter. (CAS: Episode 1177)
The following week, after recognising his patient's partner as Xander, Dylan confronted Lev with he saw. Despite his initial denial, Lev begged Dylan not to tell Faith and insisted that he still loved her. (CAS: Episode 1178) In July, Dylan was forced to tell Faith about Lev and Xander, but Faith refused to believe Dylan and accused him of acting on a crush. (CAS: Episode 1179)
Disintegration of his marriage
In July, as cases of COVID-19 began to rise, Lev agreed to continue working and live elsewhere to prevent Luka from contracting the disease. (CAS: Episode 1182) In October, when Lev moved back in, Faith noticed that he was acting suspiciously after she brought up Dylan's accusation, and Lev tacitly admitted that he had slept with a man. Lev insisted that it was a mistake and that he was not thinking straight, but Faith was devastated at the prospect that her relationship with her husband was built on a lie. Lev begged Faith not to "give up on [their] family". (CAS: Episode 1183)
The following month, Faith and Dylan were involved in a crash which resulted in the ambulance they were riding in being left teetering over the edge of a bay. Lev grew concerned when Faith failed to return his calls and reluctantly used a phone-tracking app to locate her. Upon arriving at the scene, Lev managed to rescue Faith from the back of the ambulance seconds before it fell into the water. At the ED, after Faith started asking for Dylan, to whom she had admitted her love, Lev punched him in the face. (CAS: Episode 1185)
While Faith recovered at the hospital, Lev suggested that they move on, but Faith argued that, as he slept with another man, he did not know who he really was, and nothing was going to change until he did. Having overheard Lev and Faith's conversation, staff nurse Marty Kirkby, who was openly gay, found Lev sobbing in the hospital chapel and assured him that he did not have to hide his sexuality anymore, but Lev insisted that he wanted his family and asserted that he did not want to "be anything like" Marty. However, after Faith was treated for a pulmonary embolism, she informed Lev that she was going to stay with her mother while she recovered. (CAS: Episode 1187)
In December, Lev implied to Faith's mother that their children had been crying themselves to sleep because of Faith's absence, prompting her to force Faith to move back home. When Faith gave Lev the opportunity to explain his actions, he insisted that he was not gay and that their marriage was genuine; Faith reluctantly decided to attempt to save her marriage. (CAS: Episode 1188) Later that month, Lev caught Dylan booking viewings for family homes for him, Faith and her children, and threatened to kill him, but Faith intervened and ordered Lev to apologise to Dylan. (CAS: Episode 1190)
In March 2021, Lev and Faith began attending marriage counselling sessions, but Faith continued to struggle with her lack of trust in Lev and suspected that he arranged to go on a date with a "hunky" male firefighter. At the ambulance station, Faith began undressing and demanded that Lev prove his heterosexuality by having sex with her there and then; when Lev refused to, Faith declared their marriage to be over. That evening, Faith visited Dylan's houseboat (CAS: Episode 1192) and slept with him. The following evening, after Lev's daughter Natalia took synthetic cannabinoids after Faith pocket-dialled her from Dylan's houseboat, Lev was relieved when Ollie Hide managed to move her off the tracks moments before the arrival of a train. At the ED, Lev learned about Faith's one-night stand with Dylan. (CAS: Episode 1193)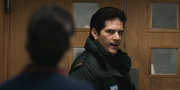 In April, Lev and Faith agreed to a divorce, but Faith took issue with Lev allowing their children to believe that Faith's one-night stand with Dylan was the sole cause. When Lev coldly dismissed Faith's concerns about the safety of her patient named James who was admitted to struggling with paedophilic thoughts, Faith asserted that Lev's bitterness was a result of "years and years of denial" and publicly urged him to accept his homosexuality, inadvertently outing him to their colleagues. Faith was consequently put on mandatory leave for her conduct. (CAS: Episode 1196)
Trivia
Behind the scenes
Uriel Emil made his first appearance as Lev in Casualty in the sixth episode of series 34 in September 2019.