Lily Chao (born 23 November 1988) is a registrar in emergency medicine who worked in the emergency department of Holby City Hospital from 2013 to 2017. She joined the department in 2013 as an F2, and became a registrar in 2015 following a successful exam result. Although she initially had trouble with adopting a more caring attitude when dealing with patients, with some help from the other staff she was able to improve her bedside manner.
Despite originally being disliked in the ED, she managed to develop friendships with other staff members, especially after her promotion to registrar in August 2015. She had tough times whilst working in the ED including being involved in a minibus crash along with four other staff members, having a motorcycle accident due to Connie Beauchamp increasing the work hours, the death of her father and being hit by a car. Despite this, Lily continued to work hard, determined to complete her five-year plan to become a consultant. In 2017, she had a romantic relationship with Iain Dean. However, when the opportunity to lead a research project in Hong Kong arose, she decided to prioritise furthering her medical career and, in November, she left Iain and Holby behind.
Early life
Lily grew up with her parents Feng (CAS: "Strangers") and Li Na Chao (CAS: "Flutterby") in a family where education was considered to be of great importance. Despite the fact she was the first of her family to go to university, her father would tell her that hard work and dedication was the key to success.
At some point after graduating, Lily devised a 5-year plan, consisting of her two years as a foundation doctor in an emergency department. Upon joining Holby ED, she quickly realised that she may have set her goals too high. She has origins from Hong Kong. (CAS: "Best Served Cold") Prior to joining the department, Lily completed a six month rotation in gerontology. (CAS: "Bedside Manners")
Time in the emergency department (2013-17)
Lily Chao joined the emergency department in August 2013 in her second year of foundation training. Initially, she found it hard to fit in with the team, primarily due to the fact she was bossy, strict, and had complete disregard for her bedside manner when dealing with patients, something that Martin Ashford picked up on. Ash was one of the first staff members to have met Lily after he told her she couldn't park her motorcycle outside the ED, but she refused to move it. After first meeting Zoe, Lily told her and Ash that after completing her training and doing a couple of hospital jobs, she hoped to be living in the countryside with her future husband specialising in dermatology. (CAS: "Bedside Manners") Later in the month, Zoe gave Lily a stern talk after she refused to treat a patient whose politics she disagreed with. (CAS: "Once There Was a Way Home - Part Two")
Three weeks after her arrival, Lily accompanied Ash out to the scene of an incident at the docks where two teens had jumped into the water, one of whom was severely injured. Lily was amazed when she witnessed him save the drowning boy, and later reassured him when she realised that she's mistakenly accused him of being hesitant to perform a life-saving procedure. Ash was annoyed that Lily, a junior doctor, had dared appraise him and he verbally abused her in public, which left her mortified. (CAS: "What You Believe")
Towards the end of the month with no signs of her behaviour improving, she was paired up with Rita in an attempt to help her improve her bedside manner once and for all. When this failed to work, it became clear that Lily was only determined to progress her career, and had no time for going above and beyond with patients. (CAS: "Waiting for a Star to Fall") Although Rita thought she'd made progress with Lily, they clashed over a patient's treatment just two weeks later, when Lily was keen to contact social services about a teenage girl. (CAS: "Gloves Off") By the following week, the nurses were growing tired of Lily's method of work, especially when she failed to handle a mentally vulnerable patient correctly. (CAS: "The Longest Day")
In November, Lily attempted to remove some broken wood from a patients leg which almost caused him to bleed to death. Although no serious harm was done, Ash was furious with Lily for ignoring his direct orders. (CAS: "Badge of Honour") In order to teach Lily a lesson, Ash restricted Lily to a series of minor cases the following week, although Zoe soon demanded that Lily be reinstated as a fully working doctor. Later in the shift, Lily suspected that a man who was admitted had been taking steroids, and voiced her concerns to Ash. Although the two disagreed about the patient's treatment, they eventually reached an understanding. (CAS: "Rock and a Hard Place")
Later in November, she discharged a distressed patient without taking her mental state into consideration, although Jamie had concerns about the woman earlier. Lily did some research into the patient's notes, and the paramedics were able to rush her into the ED just in time. (CAS: "Between the Cracks") In December, Lily showed a different side to herself at the staff Christmas party, as she took to the stage to take part in some karaoke. (CAS: "What a Wonderful Life")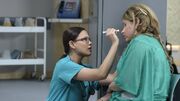 In January 2014, Lily was paired up with new registrar Ethan Hardy. Zoe asked Lily to teach him the ropes of the department, and they worked together in figuring out a patient's illness when she displayed unexplained symptoms. Lily was frustrated with Ethan when he displayed a distracted attitude, but she only learned later that his mother had died. (CAS: "Bad Timing") In February, Ash's daughter Ella was spending the day in the department ofr work experience with Lily. However, Lily struggled to get her to do what she was told. (CAS: "Once in a Lifetime") At a Valentine's Day party the following week, Lily threw a drunken kiss at Ash. He rejected her advances, which resulted in her leaving the party early due to embarrassment. (CAS: "Valentine's Day Mascara") Ash was worried that things would be awkward between them the following week, but Lily showed up for work like nothing had happened. (CAS: "The Great Pretender")
By March, Lily had begun to show a softer side when she treated a woman admitted to the ED, after spending a day out with the paramedics. However, Ash had a harsh word with her after she failed to follow all of his instructions back in the ED. In anger, he told her that he put her errors down to stupidity, and even lied to her and said the patient she had been treating had died. As a result of this, Lily decided to file a formal complaint against him work workplace bullying. (CAS: "The Last Chance Saloon") The following week, things were frosty between her and Ash after her complaint. Zoe was keen for them to sort it out internally and even asked Ash to apologise to her. However, Lily made it clear that she wished to go all the way. (CAS: "Survivor's Guilt") Two weeks later, a disciplinary hearing took place involving Lily, Ash and some of the hospital's board members, including Guy Self. Ash expressed genuine remorse for what he had done, and was issued with a formal written warning. Following the hearing, Lily made a request to stay on longer, with Ash backing her up. (CAS: "The Lies We Tell")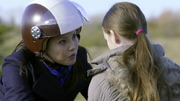 Lily was keen to show the team that she was a changed doctor, but she struggled to change their opinions of her. (CAS: "Valves to Vagrants") In April, Lily rescued a young girl with ADHD from being hit by a lorry along a busy motorway after she went missing from the ED. After the shift, her efforts to turn over a new leaf proved to make making an impact when she was invited to the pub for drinks. (CAS: "The Quiet Man") However, Lily's treatment of a morbidly obese patient the following week left Rita furious. To make matters worse, Lily took credit for noticing that the patient had a heart condition, when actually it was Rita's discovery. Rita's frustration later got the better of her, and she confronted Lily in front of Zoe and Connie. Nevertheless, at the end of the shift, Connie offered to take over from Ash as Lily's mentor. (CAS: "Only the Lonely")
In May, Lily interfered with one of Cal's patients by sending them upstairs for a psychiatric review without consulting him first. However, Lily was later left even more embarrassed when it transpired that the patient had a brain tumour, which was causing her uncharacteristic behaviour. At the end of the shift, Cal made a move of Lily and they went on a night out together. Despite this, Lily remained unaware that Cal had made a bet with Fletch that he could sleep with her. (CAS: "To Yourself Be True") Lily soon realised that Cal was using her when it turned out to be nothing more than a one-night-stand. (CAS: "The Dying Game")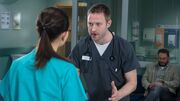 In June, Cal asked Lily out again, purely to get in the way of Ethan's feelings for her. However, Lily later overheard Cal badmouthing her to Fletch, saying that she was easy to get, which left her heartbroken and angry. She confided in Ethan about what Cal had said, which resulted in Ethan punching Cal outside the ED. (CAS: "Falling - Part One") Lily was furious with both of them for making her private life everyone's knowledge. However, she soon softened to Ethan when he apologised, although a reconciliation with Cal was still a long way off. (CAS: "Falling - Part Two") In August, Lily helped to expose Cal for stealing Ethan's ideas on cost cutting and blood transfusions. (CAS: "A Life Less Lived")
In October, Lily was in a minubus with several other members of staff when it was hit by a rogue car and tipped over. Lily complained of severe arm pain at the scene, and became frantic about Ethan's condition when he was unresponsive. Despite the paramedics concerns at the scene due to her pain, Robyn later told her at the ED that her injuries were low priority. (CAS: "Born Lucky") Lily attended Jeff's funeral the following week after his death at the scene of the minubus crash. (CAS: "The Last Call")
In January 2015, Lily gave coffee shop barista Honey some unexpected advice on how she could get closer to Ethan. (CAS: "What a Difference a Day Makes")
In March when Connie greatly increased the training doctors' workloads, Lily worked the hardest, losing sleep in her efforts to impress Connie. As a result of this, Lily fainted at work whilst treating a patient, but Connie ignored the warning signs. Dylan eventually persuaded Lily to go home, but against his judgement she decided to make her own way on her motorcycle scooter. (CAS: "Excess Baggage") On her way home exhausted, Lily accidentally hit a teenage girl with her motorcycle, who had walked out into the road. Although Lily was okay, the girl was left with a dislocated shoulder and a leg injury, and her father threatened to sue. The girl also admitted that she had purposely stepped out in the road, therefore getting Lily off the hook. However, Lily had already attributed the accident to her own carelessness, and left Connie her letter of resignation. Connie initially refused to take responsibility for Lily's exhaustion, but after a chat with Rita, Connie rejected her resignation. She told Lily that she was a good doctor, and instructed her to take a couple of days off work to rest. (CAS: "Toxic Relationships")
In May, Lily connected with a Chinese mother who wanted to die in order to give her daughter a better life. Lily helped her realise the other options, and also helped reconnect the mother with her daughter. Following the emotional shift, Lily was left wondering about the relevance of her ambitious five-year plan. (CAS: "Against the Odds") In July, Lily started to look at Ethan in a different light, and considered him the perfect match for her. (CAS: "Heart Over Head") Later in the month, Lily finally plucked up the courage to ask Ethan out on a date. However, they failed to make it to the restaurant after they clashed about a patient's welfare during the shift. (CAS: "The Next Step")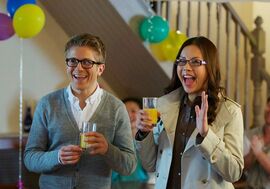 In August, Ethan asked Cal and Lily for advice on his feelings for Honey. He eventually listened to Lily, who advised him to focus on his FCEM exams instead of starting a relationship. However, he didn't realise that Lily only said this because she wanted him to herself. (CAS: "Dark Horses") The following week, Ethan realised that he needed to pursue his feelings for Honey, and he let Lily down gently. (CAS: "The Long Haul") Later in the month, Lily passed her test in order to become a registrar, while her friends Cal and Ethan didn't pass their's to become consultants. Upon telling her father, he wasn't as pleased as she had thought he would be, which lead her to start a quest for approval at work by turning to Connie, who lets her run the ED for the day. However, her friends and colleagues in the ED didn't approve of her new authoritarian attitude. (CAS: "Forsaking All Others - Part One") The following day, Lily was tasked with treating Zoe after her and Max's wedding disaster. (CAS: "Forsaking All Others - Part Two")
In September 2015, Lily was paired up with new F2 doctor Alicia Munroe to be her mentor. Lily took the opportunity to assert her authority as a registrar, and even began advising Alicia based on her own choices. However, Lily soon became jealous when Alicia was praised by Connie and Jacob, and went out to the pub with everyone after work. (CAS: "Cradle to the Grave") The following week, Lily was furious with Alicia when she performed a risky procedure on Roy Ellisson, a patient during the terrorist takeover of the department. However, Lily was irritated that Connie wasn't bothered due to the fact the patient pulled through. (CAS: "Belief")
The following month, Lily was struggling to hide her dislike for Alicia, and it began to become noticeable to other members of staff. (CAS: "All the Single Ladies") The following week, things only got worse for Lily when she received a phone-call from her mother, telling her that her father had died. Alicia soon noticed that she was upset, but Lily refused to open up to her. It was only at the end of the shift that Lily finally informed Connie of her loss. (CAS: "Rules of Attraction") After the funeral the following week, Lily threw herself into work once again upon hearing that the ED was understaffed. She assured Connie that work would help take her mind off things, but when Lily ended up endangering a patient's life, Connie was forced to send her home. Lily later took her anger out on Alicia after she asked if she was okay. At this point, it was becoming evident to Louise that Lily was bullying Alicia. (CAS: "Flutterby")
Just a week after the funeral, Alicia was forced to fetch Connie after Lily made a mistake whilst realigning a patient's broken ankle bone. Lily soon became more jealous when it was Alicia's quick thinking that saved the patient. (CAS: "One Shot") At the end of October, Connie encouraged Alicia to take her MCEM exams as soon as possible. The only issue was that she asked for a senior member of staff to also write a report on her, and it was Lily who took charge. During the shift, Alicia performed an unfamiliar procedure on a patient to relocate his shoulder which annoyed Lily. Towards the end of the shift, Connie asked Lily if everything was okay, at which point Lily told her that she thought Alicia was overconfident and not ready for the exams. (CAS: "Best Served Cold")
In November, Lily was furious with Alicia for misdiagnosing a patient and walking out of the ED in search of a relative. However, Lily was unaware that Alicia had saved a young man's life in the back of a van. In spite of Alicia, Lily reported the incident of the misdiagnosis to Connie and she launched an official investigation. Alicia quit later that day, claiming that she had been bullied out of her job by Lily. (CAS: "Avoidable Harm") When Alicia's departure was announced to the staff the following week, Louise was soon to blame Lily for bullying her. Soon, several other members of staff picked up on this, including Ethan, who said that he couldn't take her side as what she had done was wrong. However, Lily found comfort in an unread email sent to her from her father before he died, in which he said he was proud of her. (CAS: "Strangers")
In January 2016, Lily was shocked when she noticed Ethan looking online for jobs in Australia. She took matters into her own hands, and tried to persuade Connie not to accept Ethan's resignation. At the end of the day, Ethan decides to stay anyway. (CAS: "The Good Life") The following month, Lily was paired up with Iain as they attended a pride festival. It became clear to her that Iain was missing Dixie, but Lily surprised him by suggesting that they return to the event after their shift. (CAS: "Fatal Error - Part Two")
The following month, Lily grew concerned about Ethan's behaviour, but decided to go along with his 'be more Cal' plan. (CAS: "Hopelessly Addicted") A few weeks later, Lily was on hand to help out when Jacob's fear of spiders got the better of him. (CAS: "Tangled Webs We Weave") In July, Rita once again helped Lily out with her bedside manner just as she had done three years before when they had first joined the department. (CAS: "The Fear")
In August[1] with Charlie's 30th anniversary approaching that evening, Lily was shocked to discover that Alicia had returned for a locum shift in the ED. Trying to put the past behind her, Lily made an extra effort to be nice to Alicia, something which didn't go unnoticed. When Alicia discovered that Lily had a phobia that was affecting her work, she was forced to perform an eye procedure. Later in the shift, Lily tried to strike up a friendly conversation with Alicia. Despite this, Alicia informed her that although she could get over the past, they were never going to be friends. (CAS: "Sticks and Stones")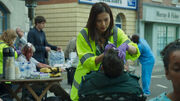 Later in the day, a grumpy elderly patient named Sally Hodge was admitted to the ED following a fall and Charlie and Lily began treating her. They initially concluded that she likely had a urinary tract infection, but later discovered that she had a lithopaedion as a result of an attempted abortion when she was a teenager. They sent her off for surgery, but not before she inadvertently ruined the surprise of the party for Charlie. Lily later joined the party at The Hope & Anchor and began updating Charlie on Sally's condition, but he was clearly preoccupied with his celebrations. Following the helicopter crash outside the ED, Lily was straight on the scene assisting with the other medical staff. She primarily took care of Iain and his leg injury as he was inside the helicopter, and was angry when he kept getting up to help in the fear that he would make his condition worse. Later in the day, Lily performed a head scan on Iain and found that there was no significant injury, and he was relieved to hear that Grace had also pulled through. (CAS: "Too Old for This Shift")
In September, Lily was treating an elderly couple in the ED and was shocked when the woman told her that she had been hit by one of the ambulance doors. Lily went down to the ambulance station to examine Iain as she believed that his injuries from the crash were still affecting him. It transpired that he had a perforated eardrum which was affecting his hearing, hence why he didn't hear the woman behind the door earlier in the day. She prescribed him some antibiotics and advised him to take some time off work which he later did. (CAS: "Strike Three")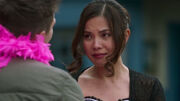 Later in the month, the anniversary of her father's death arrived and Lily threw herself into work. She soon found herself working with a teenage girl who didn't want anything to do with her father and tried to persuade her to reconcile with him. However, when the father's condition worsened and his daughter became worried, Lily found it all too close to home and had to leave. To make things worse, Alicia had lied to Lily and told her that her birthday party was fancy dress in an attempt to deter her from coming. Lily borrowed the girl's pole dancing outfit to go to the party desperate to try something new. She was humiliated when she turned up in the outfit and found comfort in Iain. (CAS: "Party Pooper")
In the following weeks, Alicia tried to contact Lily to apologise but she wasn't answering her phone. Towards the end of her shift one day, Lily turned up to work and let Alicia off the hook for what had happened. However, Alicia told Lily that Iain had stepped in to defend her and hinted that he may have feelings for her. (CAS: "Too Much Love Will Kill You") In November, new F1 Seb's father Archie Grayling visited the ED whilst organising a brain operation for a teenage boy. Lily told Alicia that Archie was his type and Alicia asked him if he'd be interested in going out with her. He accepted and they went out together after their shifts. (CAS: "Thirty Years") Two weeks later, Archie visited the ED whilst treating a young boy and arranged to meet up with Lily for a coffee. However, at the end of the shift Lily felt betrayed when he revealed himself as the undercover inspector for the ED that day. (CAS: "About My Mother")
At the staff Christmas party in December, Lily met Archie there, clearly having forgiven him for not telling her about being the inspector. They had a drink and she headed back to his house after. (CAS: "All I Want for Christmas Is You") The following day on Christmas Eve, Lily gave Seb a gift for him to give to Archie. (CAS: "Bah Humbug") On New Year's Day, Lily saw Archie again and tried to organise another meetup. However, she turned to Iain after he rebuffed her. (CAS: "What Lurks in the Heart")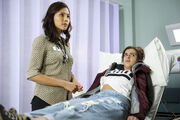 In January, Iain's sister Gemma ended up in the ED after a fall. However, her carer from the young offenders' institute, Belle, had also been admitted and Lily soon made the connection when she saw the two talking. Lily later made a more alarming connection, as she noticed that the marks on Gemma's abdomen matched the shape of Belle's rings. Lily confronted Belle about the suspected abuse, but Belle soon revealed that Gemma was the one who assaulted her, hence why she was in the ED. Although Lily didn't want to upset Iain, she had no choice and had to ring the police on Belle, inadvertently handing Gemma over too. (CAS: "Little Sister") The following week Lily attempted to make amends with Iain, but he became frustrated again when she made a blunt remark about Gemma. (CAS: "Crazy Little Thing Called Love") The next day at Charlie and Duffy's wedding reception, Lily and Iain made up after she was able to get Iain a visiting order for Gemma. (CAS: "The Stag, the Dog and the Sheep")
Gemma didn't show up for the visit with Iain, but the next day Gemma and her mother Kim were involved in an accident. Kim was admitted after she fell down some stairs, but Lily later made a shocking diagnosis that she had cirrhosis of the liver. Lily attempted to support Iain through the stressful situation, but he was more concerned about looking after his family. After the shift, Iain offered to go for a drink with Lily but she rejected his offer claiming that she had work to do. Nevertheless, Gemma told Iain that it was obvious that they'd eventually get together. (CAS: "Binge Britain")
In March, Lily attempted to tutor Gemma but Gemma's short temper soon put a stop to the lessons. Gemma was keen to learn, and persevered by showing Iain her spellings. (CAS: "The Good Samaritan") Later in the day, a young girl was admitted and Lily was furious with Gemma when she began accusing her father of giving her drugs. However, both the man and Lily forgave her, and Lily even decided to give Gemma another chance at tuition. (CAS: "Mobile") In April, Lily was apprehensive to follow through with Cal's proposed work-to-rule protest, after Sam began to make budget cuts. At the end of the shift, Lily had agreed to stay on and work overtime, which irritated Cal. (CAS: "When the Whistle Blows")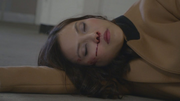 The following week, Lily continued to help out Sam in the ED, even though the other junior doctors had begun their strike outside the ED. However, Lily eventually realised that Sam had gone too far, especially when he ordered that an elderly patient whom she was treating would have to wait in the corridor. At the ambulance station, Iain realised that Gemma was the one who leaked the edited photos of Alicia the previous week. Although Gemma turned to Lily for support, Lily told her that she was on her own. However, Lily later agreed to meet with Gemma for support in the hospital's underground car park, something which angered Sam as Lily walked out on her shift. Lily arrived in the car park to find Gemma drunk and speeding around the car park in Iain's car. Lily attempted to get Gemma's attention, but as she stepped out from behind a parked van, Gemma accidentally hit Lily with the car, leaving her unconscious with blood pouring from her nose. (CAS: "Reap the Whirlwind - Part One")
Gemma made a quick escape from the scene in the car, but later pulled over and called for an ambulance. Iain and Jez were shocked to find Lily, and took her into the ED, where the doctors soon abandoned the strike to help her. Connie later announced to the team that Lily's scan was clear, but she'd fractured her sternum and a couple of ribs. Dylan later helped Iain to realise that Gemma was responsible for the crash. Although Iain considered talking Lily into covering for Gemma, she decided to hand herself in. Just before she did, she went to visit a forgiving Lily, who assured Gemma that she had nothing to be sorry for. Lily was unaware whilst recovering that Cal had been stabbed in the car park and later died in the ED. (CAS: "Reap the Whirlwind - Part Two")
Lily returned to work in May, much to everyone's surprise. Louise soon realised that she had only returned to work in order to get closer to Iain, but even he was concerned about her welfare. When Lily missed signs of drug injections in a teenage girl, Louise raised concerns with her, although she simply passed it off as prioritising the patient's injuries. After her shift, Sam spoke to Lily about the impending consultant interviews which were due to take place in three weeks. He encouraged her to interview for the role and take her fellowship exams beforehand. (CAS: "End of the Road")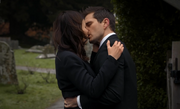 A few weeks later, Lily was met with hostility in the ED when Denise Ellisson turned up again. Lily was also clearly still struggling in the aftermath of her accident and despite Iain's attempts to comfort her, she rebuffed him. (CAS: "Swift Vengeance Waits") However, the following week on the day of Cal's funeral, Lily discovered that she'd passed her FCEM exams. She and Iain bonded later that day at Cal's funeral and shared a kiss outside the church. They even missed the funeral service to have sex in the hearse. (CAS: "Do Not Stand at My Grave and Weep") Later in the month, the day of Lily's consultancy interview arrived. She and Iain began the shift with spring in their step, but things quickly changed when they disagreed over the treatment of a case involving two elderly patients who had attempted suicide. They ended up having a heated argument in the ambulance station, throwing various hurtful insults at each other. (CAS: "It Had to Be You")
In July, following Scott Ellisson's fall from the ED's first floor balcony, Lily was assigned as his doctor. She successfully treated him for his initial injuries, but he deteriorated whilst recovering. Unbeknown to her, Ethan was in resus at the time and had the chance to save him but chose not to due to the fact he'd earlier accepted responsibility for Cal's death. Lily rushed back into resus and her attempts to resuscitate him were unsuccessful and he later died. Connie urged Lily to carefully put the case notes together, as early preparation for the potential inquiry. (CAS: "Somewhere Between Silences - Part Two")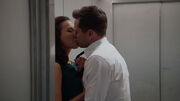 Later in the month, Ethan agreed to accompany Lily to her cousin's wedding in August as her date. (CAS: Episode 1050) On the day, after Ethan stood her up, Iain agreed to go with her. On their way to the wedding, Iain momentarily lost focus on the road and crashed into a field of cattle, forcing them to continue their journey on foot. When they arrived at the venue, they lied to Lily's aunt Ling and claimed that Iain was a doctor. Although Ling was initially impressed by Iain, the facade was shattered when Ling's husband Lee began to choke and Lily performed a cricothyroidotomy rather than Iain. When Lee was taken into the ED, Lily stood up to Ling, telling her that she loved her job and Iain. In the hospital lift, she and Iain shared a passionate kiss. (CAS: Episode 1051) The following week, Lily wanted to make her relationship with Iain public and decided to organise a meeting in the staff room. She felt embarrassed when her colleagues appeared indifferent, but Iain restored her confidence when he told her he did him proud. (CAS: Episode 1052)
In September, Lily didn't recognise Sam Nicholls when she returned to Holby as a paramedic. When she learned that Sam previously cheated on Dylan with Iain, she became concerned. (CAS: Episode 1053) The following month, Lily started to become jealous of Iain and Sam's friendship. (CAS: Episode 1055) Elle informed Lily of a residential post researching geriatric neurology. Given her relationship with Iain, she was initially disinterested. However, when Iain had qualms about her playing poker with Sam, she decided to apply. (CAS: Episode 1056)
The following week, Archie Grayling informed her that her application for the research post had been accepted, but she was hesitant to accept it. She decided to spend the day observing Iain and Sam on shouts. Initially, Lily and Sam began to clash when the former started instructing her and Iain through patient treatment, but they later began to cooperate with each other. After her confidence in her relationship had been restored, she declined the research post. However, after a misunderstanding between her and Sam, Lily told Iain that, given their history, she didn't trust him working with Sam. Offended, Iain broke up with her. Upset, Lily informed Archie that she was interested in the research project and was surprised when told that it was based in Hong Kong. (CAS: Episode 1057)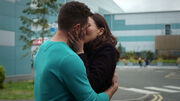 In November, Lily prepared to pitch the research project. Connie asked her to mentor new F1 Rash and sent them to the scene of an RTC. There, she apologised to Sam for her actions the previous month, and she reprimanded Rash after he barged into Iain, causing him to cut his wrist on shards of broken glass. When they arrived at the ED, Sam got Lily to see to Iain's injury and Lily told him that the research project was based in Hong Kong. After some words of encouragement from Sam, Iain caught Lily shortly before the presentation and confessed his love for her. When she became distracted during the pitch, she believed that she wouldn't get the place. However, she was surprised when she was asked to lead the project instead of Archie. Later, when she went to The Hope & Anchor, Iain tried to win her over with a song but Lily chose to focus on her career. After bidding an emotional farewell to Iain, she left Holby. (CAS: Episode 1059)
Personal life
Throughout her time in the ED, Lily had been shown to have a romantic interest in co-worker Ethan Hardy. Despite this, many things got in the way including studying for exams to become a registrar and the arrival and return of Honey Wright, the ED's coffee shop barista. She also had a brief fling with Cal in the summer of 2014.
In early October 2015, Lily's mother phoned her to tell her that her father had died. (CAS: "Rules of Attraction") Her father's funeral took place on 17 October 2015. (CAS: "Flutterby")
Following the helicopter crash in August 2016, a potential romance blossomed between Lily and paramedic colleague Iain Dean, something which Alicia noticed. (CAS: "Too Much Love Will Kill You") However, in November she began dating Archie Grayling. (CAS: "Thirty Years") They broke up in January after he rebuffed her. (CAS: "What Lurks in the Heart")
Trivia
Lily's mother owns a restaurant.
She originally lived by her five-year plan, but after a couple of years in emergency medicine she decided that it was the speciality for her.
Lily doesn't even like funfairs.
Lily aspires to be like Connie one day.
Behind the scenes
Crystal Yu portrayed Lily in Casualty from August 2013 to November 2017. The character has been generally well received by critics favouring her sound medical skills and poor bedside manner. However, Duncan Lindsay writing for newspaper the Metro accused the character of being one-dimensional. From her arrival, Lily had been a prominent character on the show through the 28th and 29th series. However, after the start of series 30, Lily's role in the show became less prominent throughout the series.
Crystal Yu attended the NTA Awards in January 2016 along with several other cast members. Casualty was nominated for the best drama, however it lost out to Downton Abbey.
Appearances
See also: Character appearances and Category:Lily centric.
Lily made her first appearance in the 2013 series 28 episode "Bedside Manners". Her final episode, Episode 11", aired on 4 November 2017. During her time on the show, there had been 12 Lily centric episodes.
References
↑

Events partially took place in an episode that aired in July, but took place in-universe in August.