Lisa "Duffy" Fairhead (née Duffin, formerly Bower; 11 March 1961 - 1 February 2020) was a senior ward sister who worked in the emergency department of Holby City Hospital until 2019. She initially worked in the ED from 1986 to 1993, and later rejoined the department in 1998. She left again in 2003, but visited the ED multiple times during her time working as an agency nurse after this. In 2016, she made a permanent return to the department following the catastrophic helicopter crash. During her time working at the ED, her roles included that of a staff nurse, senior staff nurse, ward sister and senior ward sister.
Over her time in the ED, she witnessed many significant events as well as entering a relationship with Andrew Bower, whom she later had three children with. Following his death, she began a relationship with Ryan Johnson and they left to live in New Zealand in 2003. At some point before 2006, Duffy had split up with him and was working in Cambodia in a clinic which she had set up. They later got back together, returned to New Zealand, and got married. Despite her busy married life, she still travelled to the UK occasionally to perform agency nursing work until 2016, when she made a permanent return to Holby. Duffy divorced Ryan at the end of 2016 after falling in love with Charlie. On Christmas Eve, she and Charlie got engaged. They got married the following year.
Biography
Joining the emergency department
Duffy joined the department in or before 1986. In October that year, the staff were faced with two problems; the threat of the closure of the night shift and Duffy's stand against pornographic films. Eventually her demonstration outside the cinema led to several members of staff being involved with scuffles with the police. (CAS: "High Noon") The following week, Duffy was accidentally punched in the mouth when a punch up occurred between two aggressive patients. (CAS: "Professionals")
In November, Charlie was furious that Duffy had turned up late for work again, unaware that she'd been raped. She didn't go to the police but soon regretted it. (CAS: "Drunk") The following week she confided in Megan about her rape ordeal who provided her with much needed emotional support. (CAS: "Quiet")
In September 1987, Duffy was left distraught and shocked when she recognised a patient with a stab wound who had been admitted as the man who raped her the previous year. He later died in the ED. (CAS: "A Drop of the Hard Stuff") By October, Duffy was suffering from other issues in the workplace, primarily as a result of her clash with doctor Mary Tomlinson. (CAS: "Anaconda") The following week Duffy was promoted to ward sister which only made things between her and Dr Tomlinson worse. (CAS: "Lifelines") Duffy later attempted to use her new authority for the better but it soon went wrong and Megan was forced to intervene to restore peace. (CAS: "The Raid")
Later in October, Duffy entered a relationship with Peter Tranter. (CAS: "Cross Fingers") However the following month he revealed to her that he was HIV positive. She confided in Mary who later advised her to be tested. (CAS: "Hooked") The following week her test results came back and she discovered that she hadn't contracted the virus to her relief. However, she was still left wondering where Peter was. (CAS: "Fun Night") He eventually turned up the next week and Duffy informed him that her test was clear. (CAS: "Peace, Brother") Despite their relationship ending around this time, he continued to phone her and when she didn't pick up, he turned up drunk in the ED causing a commotion. (CAS: "Burning Cases")
In September of the following year, Peter's sister turned up at the ED with a letter and pressed flower from him. His sister explained to Duffy that Peter was dead, and that he'd died after driving his car into a river. (CAS: "Welcome to Casualty") In October, Duffy froze when she saw a patient who looked like Peter in reception and she had to ask Cyril to take over. Charlie reprimanded her but after she explained the situation, he took her to his grave to give her some closure. (CAS: "Absolution")
In September 1989, Duffy once again clashed with one of the doctors, this time Lucy Perry. Valerie later shocked both Charlie and Duffy when she revealed that they could be sent back to the department for porters' jobs as a result of all the complaints. (CAS: "Chain Reaction") By this time, Duffy had also entered a relationship with Andrew Bower but she started to have doubts about his commitment. She was also surprised to discover that she was pregnant with his child, and although he was happy she told him she didn't love him and that she'd bring the baby up by herself. He left the department at the end of the month and although some other members of staff expected that Duffy would go with him, she eventually decided not to. (CAS: "Day Off")
She gave birth to a baby boy, Peter, in mid-1990. By that September, she was starting to have sleepless nights and was relieved to hand him over to the child-minder. (CAS: "Results") In October, her child-minder let her down and she was forced to bring Peter into work with her and was grateful that Helen was able to look after her. However before long Duffy's mother Kate was able to visit the ED and collect Peter. (CAS: "Love's a Pain") The following week her mother took Peter away temporarily to give her a break which left Duffy relieved. (CAS: "A Will to Die")
In September 1991, Duffy was forced to discipline student nurse Kelly Liddle after she let Jimmy Powell perform first aid on her in resus without permission. (CAS: "Hide and Seek") Just a week later, Duffy reprimanded Kelly again for giving a patient a tetanus jab without permission. (CAS: "Joy Ride") Later in October, Duffy was left angry with Kelly yet again when she turned up late for her shift. (CAS: "Beggars Can't Be Choosers") The following week, Duffy and Charlie both spoke to Kelly together about her lax attitude to work but she simply snapped back and walked out. Duffy's boyfriend Paul Slator also tried to get her to quit nursing. (CAS: "Living in Hope")
In early November, Kelly Liddle committed suicide (CAS: "Making the Break") which shocked all of the department, but especially Charlie and Duffy. Duffy was left thinking she was too critical. Duffy's day only got worse when her babysitter called in sick, so she had to get Paul to look after Peter for the day. After their shift, they argued as he wasn't able to get any work done. (CAS: "Sins of Omission") The following week, Duffy put her foot down and refused to quite nursing and broke up with Paul. (CAS: "The Last Word")
In September 1992, Duffy was instantly angered by new health care assistant Maxine Price when she wore a bum bag and chewed gum whilst on her shift. (CAS: "Rates of Exchange") The following month, Duffy was left scared when a smear test proved inconclusive. (CAS: "One Step Forward") At the end of the month she went for a biopsy. (CAS: "Body and Soul") After a long wait, the biopsy results came back negative, much to Duffy's relief. (CAS: "Making Waves")
In January 1993, Duffy was annoyed when Charlie informed her that her ex-boyfriend Andrew had been hired as the new locum consultant. (CAS: "The Ties That Bind") The following week, Andrew picked Peter up in reception, unaware of their relationship until he saw Duffy looking at them together. (CAS: "Life in the Fast Lane") A couple of weeks later Duffy and Andrew went for dinner after their shift and ended up kissing. (CAS: "Getting Involved") In February, Duffy was there to support Charlie after he was diagnosed with depression and he broke down in front of her. (CAS: "Child's Play") At the end of the month, Duffy and Andrew revealed their plans to get married. (CAS: "Boiling Point")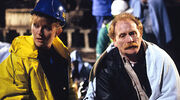 By September that year, they'd got married and their relationship was still going strong. Later in September, Duffy was called out to assist at the scene of a train crash where several passengers had become trapped. She managed to work calmly and efficiently and was able to get the rest of the medical crews calm. (CAS: "Cat in Hell")
In November, Duffy and Andrew decided to try to have another baby together, (CAS: "High Rollers") and the following week she was so keen to that she rushed out of work when she heard Andrew's sperm test results were back. (CAS: "Deceptions") Shortly after she discovered that she was pregnant again and was planning to leave work, but found herself unable to tell Charlie. (CAS: "Give Us This Day") She eventually ended up leaving him a letter informing him of her leaving. (CAS: "Wild Card") Although he was distraught that she was leaving, they parted on good terms as she bid farewell to all her friends in the department and left Holby with Andrew. (CAS: "The Good Life")
Return to Holby
Duffy and Andrew returned to Holby just over four years later in February 1998, just in time for Charlie and Baz's wedding. However, on the day of the wedding Duffy confessed her marriage problems to Charlie and told him that she thought Andrew was having an affair.
In September, Duffy returned to work at the ED temporarily as an agency nurse. (CAS: "Internal Inferno - Part One") She later applied for a full time position there as a senior staff nurse, and later got the job. Charlie was happy to be working with his old friend again. (CAS: "Eye Spy") In November, Duffy confided in Charlie about her home troubles; Peter was being bullied at school and Andrew was still seeing his girlfriend. As Charlie headed off for a weekend with Baz at the end of the shift, he accidentally left the flowers that he'd bought her with Duffy. (CAS: "One from the Heart") The following week, a diabetic prisoner was admitted and Duffy was keen to get rid of him. However, Max insisted on giving him thorough treatment like any other patient when it turned out that he was being beaten up by drug addicts for his needles. He tried to throw himself out of a window so he'd be allowed to stay in hospital, but Duffy managed to stop him and keep him in. (CAS: "Trust")
A year later in 1999, Duffy discovered that Adam Osman was HIV positive and wanted a job as a nurse in the ED. (CAS: "Calm Before the Storm - Part One") Although she wasn't against the idea, she feared that patients wouldn't be happy being treated by a HIV positive nurse. She also expressed concern that he wouldn't be able to work as effectively as a person without it and was therefore also thinking about the strength of the department as a whole. (CAS: "Crossroads") Adam later did well to help out a patient, but Duffy stressed that there's a big difference in helping out and becoming a full time staff member. (CAS: "Lost Souls") On the day of his interview, he asked Duffy to wish him luck, but she simply told him that the best man would win. (CAS: "Everybody Hurts") He later got the job and Duffy told him that she wasn't prejudice like he might have thought but informed him to be careful either way. (CAS: "Seeing the Light")
A couple of weeks later, Duffy was interviewed for the role of a ward sister by Charlie and Max. However, before the interview Charlie told Max not to give her preferential treatment just because she was an inside candidate which offended him. Max was then extra harsh in the interview and when Duffy went to speak to him about it after, they ended up kissing on his desk after he informed her that she'd got the job anyway. Charlie oversaw the kiss, and later hinted it to Duffy and reminded her about her marriage and children. (CAS: "Benny and the Vets - Part One") Although Max wanted to meet up with her again and take her to a concert, she declined his offer and told him that she needed to see her family. (CAS: "Sins of the Mother") Max was later angry at Charlie and ignored Duffy, but she asked him to stop ignoring her and apologise to him. (CAS: "Free Fall")
On the new year's shift, Charlie asked Duffy if she wanted to go for dinner with him, but he knew by her look that she was declining and they both laughed it off. (CAS: "The Morning After") Duffy was later annoyed in the new year when staff nurse Tina Seabrook started dating Max, and she eventually confronted her. However, they all pulled together for support when they found out the Max's son had died. (CAS: "Untouchable")
In September 2000, Duffy was struggling without Charlie in the ED whilst he was recovering from his pulmonary embolism. In his absence, Duffy hired a new health care assistant named Spencer to help in the department. (CAS: "Phoenix") Charlie soon returned to work, but Duffy was still worried about his health. (CAS: "Accidents Happen") He also confided in her by telling her that Baz and his son Louis were moving to Canada. (CAS: "Getting to Know You") At the start of November, Duffy returned back to work after a romantic break away with Andrew, but was shocked to discover that he was returning to work at the ED and that she was the last to know. (CAS: "States of Shock") Upon his arrival, he made a good impression on the ED but Duffy wasn't pleased about his arrival. (CAS: "Starting Over") She later told Colette that she thought she might be pregnant, but also told her to keep it a secret as she didn't know how Andrew would react to the news. (CAS: "Coming Clean") Duffy took a day off sick a couple of weeks later due to morning sickness, and Colette did her best to cover for her. (CAS: "Chinese Whispers") She later decided to tell Andrew about her pregnancy, although his reaction wasn't what she had hoped for. (CAS: "A Turn of the Scrooge")
By January 2001, Duffy had decided that she was having the baby either way, and Andrew's attempts to smooth things over only made things worse. (CAS: "Girl Power") The following month, Colette found Duffy in the toilets losing blood and instantly worried that she'd had a miscarriage. She was later admitted to the wards and it transpired that she hadn't had a miscarriage. The incident also made Andrew realise that he wanted the baby after all. (CAS: "Scent of the Roses")
In March, Duffy discovered that Andrew was moving to another hospital to work, after having turned down the consultant post at Holby. Although she was initially angry with him, she came to the realisation that he was putting their marriage first for once. (CAS: "Allied Forces") Just before Duffy went on maternity leave, her and Andrew managed to sort out all their differences. (CAS: "Heroes and Villains") In April when Holly went missing and her stalker Tom was believed to be around, Andrew went to get something from his car but bumped into Tom, who then pushed him down a flight of steps. He was rushed into the ED where the team were unable to save him. Charlie was then forced to inform Duffy that Andrew had died which left her distraught. (CAS: "Breaking the Spell - Part Two")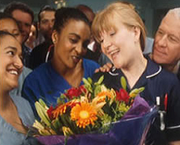 That September, Charlie went to visit Duffy at her house when she unexpectedly went into labour. Charlie was forced to deliver her her baby boy with a few complications, but it was an overall success. (CAS: "Holding the Baby") The next month, Duffy went to visit the ED with her new baby son Paul and was surprised to find the ED running smoothly with Colette in her place. (CAS: "Bringing Up Baby") In November, Duffy was welcomed back to work by the rest of the staff although she wasn't happy as Colette had made changes in her absence. Later in the shift, Duffy broke down in front of Charlie due to the fact she was missing Andrew, but he assured her that he'd be there for her. (CAS: "It's a Family Affair") However, she was left annoyed the following week when she realised she didn't know about Charlie and Jan's relationship. (CAS: "The Morning After")
In December, one of Duffy's old colleagues, Susan Crown, caused a stir in the ED when she refused to help out on certain procedures in the department. She also tried to persuade Duffy to go into agency nursing. (CAS: "Someone To Watch Over Me") Later in the month a young boy, Scott, was brought into the ED by his mother after he broke his arm after falling off a stage during a dress rehearsal for his nativity play. However, whilst treating him Scott revealed to Duffy that it was her son, Jake, who pushed him off the stage. Duffy spoke to Jake when he arrived in the ED, and he told her that Scott was making fun of him about his father's death. Charlie later comforted Duffy after she suspected her family weren't coping. (CAS: "Life and Soul")
In January 2002, Duffy arrived in late but was soon called away after her mother called to say she was unwell and couldn't look after the children. She tried to flag a taxi outside but hairdresser Viv pushed her aside and took the taxi, but the taxi driver ended up attacking Viv and she was admitted to the ED. Jan gave Duffy a warning after she once again brought Paul into work with her, but Duffy soon shouted back and claimed she had no option. Max later shouted at her too, at which point she broke down in tears upon realising that it could have been her in the hospital bed, not Viv. (CAS: "Only the Lonely")
In June, Duffy was on her way to her mother's to drop off Paul when she almost ran over a confused pregnant lady, Melanie. Duffy discovered that she'd been raped and brought her into the ED. Lara and Duffy began treating her and Lara decided to call the police just in case she wanted to make a statement. However, Melanie's police officer husband David arrived and complained to Harry about Lara, claiming she got too emotionally involved. When David mentioned injuries which were unknown to Lara, she discovered from Melanie that he'd raped her. Lara urged Melanie to get help, but Duffy later accused Lara of getting too emotionally involved. (CAS: "Denial") A week later, Lara kept dropping hints to David that she knew the truth when he turned up in the department to question a witness about a shooting. However, after the shift he pinned her to the floor outside and she hit him on the head with a brick. (CAS: "Taking It All Back to the Streets") He suffered from a severe head injury which eventually resulted in his death, and Lara was later arrested. (CAS: "Code Red")
In September, Duffy confided in Charlie about Andrew's life policy money that she received following his death. She told him that she didn't want it, but Charlie tried to persuade her that it's what he would have wanted. (CAS: "Déjà Vu") Later in the month, Duffy's mother Kate was admitted to the department with cancer and her condition soon deteriorated. Kate informed Charlie she wished not to be resuscitated. Although Duffy was initially angry with Charlie for letting her make that decision, her mother later died and Duffy came to terms with the realisation that it was what her mother wanted.. Also that day, Duffy was caught up in the court trial for Lara regarding the death of David Collier. Although Duffy defended Lara, the jury passed a guilty verdict after Melanie denied that David had raped her. (CAS: "Judgement Day") The following week, Lara was sentenced to three years in prison (CAS: "Thicker than Water") but Melanie eventually came forward about David and Lara was set free after an appeal. (CAS: "Innocence") By November she had begun a relationship with one of the security guards, Ryan Johnson, and when Charlie discovered this he was left wondering why he was the last to know. (CAS: "Return of the Native")
In December on the day of the Christmas party, Duffy asked Ryan to move in with her and complete the family, to which he accepts. However, the mood was soon killed when a car crashed into the entrance of the ED causing major damage. Duffy was one of the first on the scene, and shock soon turned to horror when Josh crawled out from the car shortly before it exploded. Much like Duffy had done at previous disasters, she put her mind to work. (CAS: "Some Comfort, No Joy, and a Bit Too Much Love")
In the new year, Duffy revealed her plans to Charlie about marrying Ryan, and asked him to give her away. However, she soon discovered that he'd betrayed her by stealing all her money and running away, which resulted in Charlie offering for Duffy to stay with him for a while. However, in April Ryan returned and apologised to Duffy, and requested that she go with him to New Zealand, something which displeased Charlie. Despite this, Duffy made the hard decision to go with him to New Zealand. Ryan found a way to pay Duffy back and the pair were reconciled as they left Holby for a fresh start in Auckland with her three sons. (CAS: "The Point of No Return")
Time away from Holby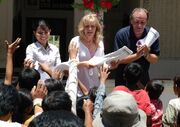 Three years after she left the ED to go to New Zealand, Duffy had set up a clinic in Cambodia. Charlie, Guppy, Abs and Comfort headed out to Cambodia to help Duffy. However, Charlie began to have concerns about the clinic's surgeon and Duffy's boyfriend, Mike, who claimed not to be able to do the surgery on a young boy as he had a glass of wine. When Charlie brought this up, it caused an argument between him and Duffy. (CAS: "Different Worlds - Part One") Charlie's suspicions were later confirmed when he rang up Sam back in England to check Mike's background. Duffy was left upset that he went behind her back, but Mike later revealed - after having suffered a stroke - to Charlie and Guppy that he was struck off after helping his ill mother die and as a result of this he was unable to return to the UK. Charlie and the others later returned to Holby. (CAS: "Different Worlds - Part Two") At some point after this, Duffy reconciled with Ryan and they married in New Zealand.
In August 2015 Duffy, by then an agency nurse having moved back to the UK, returned to the emergency department to assist on a busy shift. She saw Charlie once again for the first time in 9 years, but not how she had hoped to. She went to his rescue after he suffered a heart attack in the ED after he had jumped in a lake to rescue Zoe from the freezing water just hours before. As she went to help, she was pushed out the way when Cal went to help. Duffy was relieved when Charlie later started to show signs of life following over half an hour in resus. As Charlie was recovering, she spoke to Louise outside the ED and encouraged her to go back into nursing, something which later influenced her choice to do so. (CAS: "A Child's Heart - Part One") (CAS: "A Child's Heart - Part Two")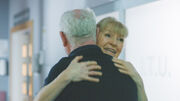 At some point after her visit to the ED in 2015, she went into specialising in midwifery. In June 2016, she was working temporarily in the obstetrics and gynaecology department of Holby City Hospital and was required to go down to the ED to assist Elle Gardner with a pregnant patient. She arrived to help but ultimately they were able to save the baby and not the mother after they'd been forced to perform and emergency c-section. This left Louise feeling bad as she'd had issues in the past with a pregnant patient, but Duffy reassured her of her work that day. She later bumped into Charlie in the corridor and they reunited once again. She explained to him that she was only temporarily in Holby and still lived in New Zealand. Before she left for the day, she waved goodbye to Charlie outside the department. (CAS: "History Repeating")
Charlie's anniversary and second return
In August, she recorded a video message for Charlie congratulating him on his 30th anniversary of being in the department. When she later turned up for the party at The Hope & Anchor, she just found Josh sitting there who explained to her the events which had occurred with Connie's car crash. Things only got worse when the helicopter carrying Grace crashed outside the department, and Duffy was quick to lend a hand. She assisted in organising the temporary closure of the department and with Grace's treatment. As night drew in, she finally celebrated Charlie's anniversary with him and the other staff as they prepared to stay the night to help repair the damage. (CAS: "Too Old for This Shift")
Duffy returned to the ED in September for another agency shift but Jacob offered her the vacant position of band 7 sister. Although she declined his offer, Charlie bet her £20 that she would apply for the position by the end of the day. During the shift, Duffy went the speak to Louise in the relatives' room after she'd been sent there by Elle. In anger, Louise had kicked a hole in the wall. Duffy made sure she was okay, but Louise broke down in front of her, revealing her concern for Grace and how deeply the crash had affected her. She told Duffy that she wanted her to stay on in the department. At the end of the day, Elle spoke to Duffy and she agreed to stay on in the department and have a word with Jacob. (CAS: "Fall on Me")
The following week, Duffy had her first official shift in the department. She was among the staff members worried about Grace upon hearing that she had to have another operation. After their shift, she headed over to the pub where the news of the successful procedure got back to the staff. Duffy later shared a conversation with David who opened up to her about his son and ex-wife. Duffy encouraged him to get in contact with him, which he later did. (CAS: "Strike Three")
Later in the month, Duffy received news that her eldest son Peter was expecting a child. She also attended a school reunion with Charlie after successfully persuading him to go. However, they bumped into Charlie's old school bully Allan, and when he got angry Charlie punched him in the face. As he lunged at Charlie, he moved out the way and Allen fell over a table and dislocated his shoulder. After being admitted to the ED, Allan suffered a stroke and after a chat with Duffy, his wife and Charlie's old crush Gloria broke up with him. Allan was devastated, and Gloria tried to get Charlie to call her, but he threw her card away. (CAS: "Schoolboy Crush")
Proposal and marriage to Charlie
In November, Duffy got a phone-call from Tanya, Peter's wife who was in labour. Although she was planning to have a cesarean at St. James Hospital the following day, Duffy instructed her to go into the ED for a checkup beforehand. Once there, Duffy was startled when Tanya tried to leave and eventually realised it was because of another patient. Upon investigating further, it transpired that the other patient was a woman named Karen who was Tanya's mother who neglected her. As Peter and Tanya were about to leave later in the day, Karen threw away the keys for the ambulance, locking them inside. Eventually Charlie broke the window and they got inside to successfully deliver Tanya's baby girl. Once the fire crews had arrived, they were all brought inside to safety. Later on after an emotional visit from Karen, Duffy became overwhelmed with emotions and retreated to one of the storage spaces. Charlie found her there and as they reflected on the last 30 years, the two shared a kiss. (CAS: "Thirty Years")
Two weeks after their kiss, Duffy revealed to Charlie that she'd asked Ryan for a divorce. (CAS: "About My Mother") The following week, the ED's inspection report came back and Jacob was using assertiveness to control the staff. However, Duffy and Charlie made a bet with him that they could get the staff to improve more through encouragement. He agreed to it, and at the end of the shift he was prepared to keep up his end of the deal to buy them breakfast. However, he was irritated when Duffy reminded Charlie that they'd had their own secret agreement that if she could stop Jacob from acting like he was, she'd buy him breakfast. (CAS: "Not in Holby Anymore")
In December, Jez caught sight of Charlie and Duffy kissing during the shift but decided to keep it to himself. At the Christmas party after work, Charlie and Duffy were asked to leave due to reckless drunk behaviour at which point they revealed the news of their relationship to the rest of the staff. Shortly after leaving the pub, Duffy was shocked to see that Ryan had flown over from New Zealand as he got out of a taxi and wished her a merry Christmas. (CAS: "All I Want for Christmas Is You")
Caught up in the moment, Duffy went along with Ryan who revealed that he'd also brought her son Paul along with him. The next day, it was Christmas Eve and Ryan was admitted to the ED after being involved in a collapse at a department store. She became worried about his condition, which prompted him to fake fainting in reception to get her attention. They carried out multiple tests and a CT scan when Charlie confronted him and he admitted to faking it. Paul spoke to Duffy and insisted that she did whatever would make her happy, but that he wanted her to go back to New Zealand. She agreed to go to dinner with Ryan but realised that she couldn't stay with him and he agreed to sign the divorce papers. She left the restaurant and headed for the ED, where she proposed to Charlie outside as it started to snow. (CAS: "Bah Humbug")
In January 2017, Duffy provided support for Alicia when she was unsure about how she felt about Ethan or Cal. (CAS: "What Lurks in the Heart") In February, Duffy was surprised to find Noel and Max modelling wedding dresses in the staff room. She approached Charlie, irritated that he'd become over-involved. Understanding what she wanted, he brought the wedding forward from July and cancelled the fancy hotel. He revealed that he'd booked the hospital chapel for the next day and that he would be going on his stag party that evening after the shift. (CAS: "Crazy Little Thing Called Love")
The following day, Duffy was working a morning shift before the wedding. However, when news of Charlie's disappearance got back to the ED the staff tried their hardest to prevent Duffy from finding out. However, David inadvertently revealed it to her. Although she wasn't particularly upset or angry, she was left doubting whether Charlie actually wanted to go through with the wedding. Eventually, the others found that Charlie had been arrested the night before for resisting arrest, and Dylan was able to drive them all back to Holby in time for the wedding. Duffy and Charlie later got married in the hospital chapel. (CAS: "The Stag, the Dog and the Sheep") Two weeks later, Duffy and Charlie returned from their honeymoon from Tenerife and went straight into work after missing their next plane. (CAS: "Binge Britain")
In March at Duffy's 56th birthday party, the staff became increasingly concerned about David's erratic behaviour. When he began behaving inappropriately, Robyn took it upon herself to intervene and told him to take her for a drive in his new car. (CAS: "The Good Samaritan") However, David went off the rails and ended up driving Robyn to a graveyard where his brother was buried, and throwing her phone away. Duffy, Charlie and Max eventually tracked them down, and Robyn and her newborn baby were admitted to the ED. (CAS: "Mobile")
During Robyn's time on the recovery unit with her baby in intensive care, Duffy and Charlie both provided support for her. Duffy even offered her a place to stay with her and Charlie, who had only just moved in together. Later in the week, Robyn angrily pushed Charlie over in reception in a rage to confront David, but they still stood by their offer. (CAS: "Five Days")
In February 2018, Charlie ordered a table at a fancy restaurant for himself and Duffy to celebrate their one-year anniversary as a married couple. However, after an emotionally draining shift, Charlie decided to cancel the table and agreed to a quiet night at home with Duffy. (CAS: Episode 1070) Later that month, she disagreed with Ethan when he decided to set up a new Clinical Decisions Unit. (CAS: Episode 1072)
In March, Duffy and Charlie helped Robyn prepare for her and Glen's wedding and, as a wedding present, booked them a cottage in Devon for the weekend. After the wedding, she and Charlie agreed to take care of Charlotte whilst they were on their honeymoon. (CAS: Episode 1077) After the couple were involved in a car crash, Duffy and Charlie offered to look after Glen with Robyn during his final days. His condition deteriorated further, and Duffy and Charlie kissed him goodbye before he peacefully passed away. (CAS: Episode 1078)
Affair with Bill Crowthers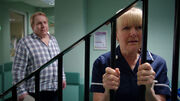 In August, Duffy had been invited to her granddaughter's birthday party and decided to take Charlie with her. However, he insisted on staying in the ED to clean up after a group of children made a mess in his office. Later, as she left the party, she was delighted to see her old friend Bill Crowthers, and they decided catch up over a drink. (CAS: Episode 1095) The following month, Duffy asked Robyn to cover for her at the beginning of a shift so she could attend a doctor's appointment. (CAS: Episode 1098) The subsequent week, she was left devastated after she was diagnosed with clinical depression. At the ED, she met Bill again when he arrived to see his daughter Rachael who had been taken into resus. The two of them started arguing loudly, and Duffy tried to deescalate. However, Bill accidentally pushed her and triggered a panic attack; outside, she opened up to him about her health. Later, Rachael began to deteriorate, and Duffy encouraged Bill to be there for her. That evening, Charlie asked her why she was late to work that morning, and Duffy told him that she needed to have a jab. (CAS: Episode 1099)
In October, due to staff shortages and a limited budget, Charlie called Duffy, who had just finished a night shift, into work. He asked her to administer a local anaesthetic to a patient, but she failed to inflate the cuff before attempting to do so. Charlie managed to stop her just in time, and he told her that she was not fit for duty; she took umbrage and left. Later, Bill found her alone in a pub and gave her a shoulder to cry on. (CAS: Episode 1102) The next morning, she woke up in a hotel bed and was horrified when she realised that she had slept with Bill. As she left for work, she stopped to help a woman who was found unconscious in the hotel's swimming pool. After she arrived at the ED in an ambulance, Charlie apologised to her for his treatment of her the previous day. Throughout the course of the day, he became increasingly concerned about her behaviour and checked her phone for suspicious messages; he found nothing. Later, Duffy confronted Bill outside the department after she spotted him waiting for her, and she told him to never contact her again. At the end of the day, Duffy broke down in Charlie's arms, and he admitted that he hadn't been there for her recently. (CAS: Episode 1103) The following month, Duffy became concerned when Charlie started answering her phone for her. (CAS: Episode 1105)
In December, Duffy called Charlie for help after she fell down the stairs, and he sent an ambulance. Upon arriving at the ED, she was embarrassed by the attention she was garnering, and when Ethan suggested fast-tracking her X-ray, she insisted on waiting like a normal patient. While she waited, Charlie gave her a tablet and suggested using the diagnosis application on herself. Eventually, she inputted her psychological symptoms, and she was shaken when it suggested that she had dementia. Later, Charlie apologised to her for not being fair to her and promised to spend more time with her. (CAS: Episode 1107)
The following day, with their relationship rekindled, Charlie planned to take Duffy on a romantic hot-air balloon flight. However, Bill was soon admitted to the ED after he had collapsed, and, unaware that Charlie was her husband, he told him about his one-night stand with Duffy. Once Duffy learned that Charlie had found out about her affair, the two talked in a corridor. She insisted that her night with Bill was a mistake, but, before she could explain herself, David asked him to treat Bill whose condition had worsened. Later, Charlie assured her that they were still a team, and they agreed to go out for dinner together. However, after he spotted her holding Bill's hand, he told her that he didn't trust her. When she tried to tell him about the possibility of her having dementia, he cut her off. She then decided to move out. (CAS: Episode 1108)
In January 2019, Duffy and Charlie decided to keep the news about their separation private. Robyn presented them with a doily she made in an arts and crafts class, and, when Duffy couldn't bear to keep it, Charlie threw it away. Later, Charlie told Robyn about his and Duffy's separation. (CAS: Episode 1110) The following week, Duffy visited her GP and booked a memory test for later that day. At work, she refused to help Jade and Marty and encouraged them to be more independent. However, this approach resulted in a young boy's care being compromised and Marty being threatened with a complaint. Later, the news of her and Charlie's separation had spread throughout the department, and Robyn implored her to talk to him. Duffy asserted that their relationship was not fixable and admitted that she cheated on him. That afternoon, Duffy took the memory test, and she was distraught when she couldn't remember one of the three words she was told to remember. (CAS: Episode 1111) Later that month, Duffy forgot that it was Charlie's birthday and worried that she wouldn't have been to get him a card and present in time. Later, she became increasingly concerned about her memory when she found out that she had already bought him a present. (CAS: Episode 1114) In February, Duffy tried to move an appointment she had booked with a neurologist forward, but she was told that it wouldn't be possible. (CAS: Episode 1115)
Dementia diagnosis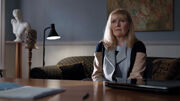 In March, Duffy attended her neurology appointment and was left devastated when he told her that he believed she was in the early stages of vascular dementia. At work, as she tried to make sure that her work was thorough, Charlie told her that she needed to free up one of her patients' beds. Duffy told him to back off, prompting him to ask her what was wrong. In his office, she told him about her diagnosis, leaving him speechless. He asked her if anybody else knew, but she assured him that only he knew and left him to decide whether or not he should make her condition public. Later that day, Charlie informed Duffy that he had taken her off night shifts. She implored him to tell the rest of the team about her dementia, but he insisted on keeping it private. (CAS: Episode 1120)
The following week, concerned about her symptoms manifesting, Charlie tasked Duffy with handling paperwork. That evening, he thanked her for her work, but she told him that he was making her look incompetent. (CAS: Episode 1121) In April, David had realised that there was something wrong with Duffy and confronted Charlie in the staff room. In anger, Charlie repeatedly pushed David, prompting him to retaliate and push him to the floor. (CAS: Episode 1122) The next day, Charlie informed Duffy that he had reported David to Fletch for aggression in the workplace and got him suspended to prevent him from taking her out of admin. Feeling guilty, she publicly announced that she was living with dementia. (CAS: Episode 1123)
Later that month, in a bid to make the department more accommodating to vulnerable patients, Duffy unveiled her new dementia-friendly cubicle. Charlie asked her if there was any way that he could help out, but she coldly inquired about the completion of the off-duty rotas. In his office, he found a selection of old photographs and a scarf that Duffy thought she lost and suggested putting them on display in the cubicle, but she turned down his suggestion. That afternoon, Charlie watched her as she prepared the cubicle, and he pondered whether he was worthy of being remembered by her. (CAS: Episode 1124)
Reconciliation with Charlie
On 11 May, on her way into the department, Duffy argued with her landlord over the phone about problems with her boiler. Charlie offered her a coffee and a blueberry muffin as a "peace offering", but she declined. He asked her if they could talk at some point, but she asserted that there was nothing for them to discuss. In admin, she presented her colleagues with stickers, badges and a money collection box for her campaign to make the ED more dementia-friendly. Charlie praised her idea, but she told him that, if he wanted to help, he could stop giving her special treatment and allow her to tackle more challenging cases.
In cubicles, Duffy treated a girl named Katy who was injured whilst boxing. Her father Andy soon arrived, and she told him that she slipped at a party. Duffy assessed her and found that she had equal air entry, and Katy told her that she had not been taking any medication apart from some paracetamol. Whilst waiting for a doctor to check his daughter over, Andy donated money to Duffy's campaign, and she explained that she had dementia. As Duffy asked Ethan to assess Katy, Charlie assured Andy that Duffy was the best nurse he ever worked with and claimed that she had more knowledge and experience than some of the doctors. When Ethan examined Katy, he found reduced air entry on one side, leading Andy to accuse Duffy of incompetence on account of her condition. In a corridor, Andy complained to Ethan about Duffy being allowed to work and brought up Charlie's comment about her expertise. He assured Duffy that he had nothing against her and that he felt sorry for her, but she told him that she did not want his pity.
In the staff room, Charlie apologised to Duffy for interfering. She insisted on dealing with the fallout from making her diagnosis public herself, and she ordered him to stop controlling her. That afternoon, Katy's health began to deteriorate, and she was taken into resus. There, it transpired that she was suffering from the effects of an overdose, and Andy accused Duffy of giving her too much medication. Overwhelmed, she ran out of the room. Later, she confided in Ethan and explained that she felt like people would be unable to look past her condition, and he assured her that the problem was their prejudices. She soon realised that Katy had taken something else before she gave her codeine, and Katy admitted to secretly take her father's prescription tramadol.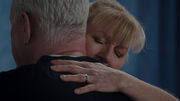 As Katy was taken up to the wards, Andy told Duffy that he hoped that she would be able to work for much longer and that he should have listened to Charlie's high praise of her. David then presented her with the blueberry muffin that Charlie bought for her and recounted the battle he fought for it, remarking that it was an act of "true love". Afterwards, Duffy told Charlie that she slept with Bill because she wanted to feel like herself again, and she did not feel that way with him. She suggested that, since her dementia diagnosis, he had been treating her like a patient. She told him that she wanted to be his wife and that they needed to make the most of their remaining time together; they then shared a loving embrace. (CAS: Episode 1126)
The following week, Duffy and Charlie anticipated their first day off together since "what [felt] like [their] marriage". Charlie claimed that he would happily marry her again, leading David to suggest renewing their vows. They showed interest in the idea while insisting on not doing anything extravagant, but David recommended throwing a party at The Hope & Anchor, and Noel volunteered to call the owners to see when it was available. That afternoon, he informed Duffy and Charlie that the pub was only available that night, and he offered to step in as their celebrant. Charlie reluctantly agreed. Noel continued to prepare for the ceremony, but Duffy and Charlie's hesitance continued to build.
At the end of their shift, Charlie decided to take Duffy to the place where he used to have a cigarette and realised that he loved her. They took each other's hands, and Charlie vowed to remain by her side. Duffy vowed to love and cherish him "till death [did them] part", and she acknowledged that it could "come sooner than [they'd hoped]". However, she insisted that she was complacent as she knew that she would love every minute they had left together, and the two shared a kiss. That evening, they arrived at the party in The Hope & Anchor and apprised the guests of their private ceremony. (CAS: Episode 1127)
"Plan B"
On 22 June, on Duffy's way to work, a girl named Carrie ran into the side of the bus she was riding. Duffy was hesitant to offer assistance because of her own doubts about her competency, but she was forced to help when another passenger recognised her uniform. Whilst waiting for an ambulance, she managed to relocate Carrie's open fracture and gave her some of her sports drink when she became hypoglycaemic due to her type 1 diabetes. Upon their arrival at the emergency department, troubleshooter Ciaran Coulson took issue with Duffy's decision to intervene and pressed her to back away from the case as she could have been found liable if Carrie declined. However, when Carrie's foster mother Emma asserted that Duffy saved her life, he backed down and allowed her to continue treating her.
In cubicles, Duffy and Emma found Carrie having a seizure, and she was rushed back into resus. Ciaran instructed Charlie and Ethan to take over treating her and asserted that they could not afford any more mistakes. Duffy maintained that she gave Carrie the correct concentration of glucose, but Ciaran dismissed her and ordered her to remain nearby so Emma would not become suspicious. Later, he suggested that working with memory issues was "tricky" due to a lack of insight into one's own behaviour and recommended spending the rest of the day rationally considering her future in the department; Duffy refused to be "bullied into resigning".
Upon examining the mess in Carrie's cubicle, Duffy deduced that Carrie had deliberately emptied the glucose solution into her pillow and went to speak to her in resus. However, she was nowhere to be found. Duffy subsequently found her in a toilet cubicle and confronted her about getting rid of the glucose and using insulin to help her lose weight. When Carrie claimed that nobody cared about her, Duffy quickly retrieved Emma from the coffee shop, and they decided to let Carrie decide to let them in to help her. Emma managed to convince Carrie that she cared for her and would never leave her, and she opened the cubicle door. Outside resus, Ciaran apologised to Duffy for jumping to conclusions and commended her for her "tenacity and patient care". Regardless, he maintained that the hospital was no place for sentimentality and reminded her that she was "suffering from" dementia, but Duffy corrected him and stated that she was "living with" the condition.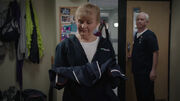 In the staff room, Duffy told Charlie about her reluctance to help Carrie and posited that it was time for "Plan B". He offered to inform the rest of the team, and she kissed and thanked him. Duffy watched nearby as, in admin, Charlie told the nursing staff that she was leaving nursing and assumed a non-clinical role in the department. She told him that she loved him, and the two left the department hand in hand. (CAS: Episode 1132)
Scapegoating and resignation
On 13 July, Duffy assisted Dylan with treating Stan Villiers, a prisoner suffering from asthma. Despite her and prison officer Matt Davies' words of encouragement, he refused to receive treatment and insisted on returning to his cell. After she noticed that he had finger clubbing, she notified Dylan who then concluded that he had lung cancer. However, Stan informed him that he already knew that he had it and continued to refuse treatment. Matt urged him to reconsider and think of his family, but he belittled and branded him as a "joke". However, after Duffy and Matt showed him photographs of his family, and she told him how the support of her friends and family helped her live with her dementia, he began to reconsider, but he started coughing up blood.
She escorted him to resus, where he ultimately agreed to receive treatment for his cancer. Connie subsequently asked her to flush the cannula of prison officer Liz Gage with saline; Duffy reluctantly agreed despite no longer being qualified to treat patients in resus. As there were two unlabelled syringes, Connie instructed her to use the one closest to her, and she administered the injection. However, Liz's speech began to slur, and she went into cardiac arrest; Duffy had unknowingly used the syringe containing lidocaine. (CAS: Episode 1135)
The next day, after witnessing Duffy forgetting her bank card in the coffee shop's card reader, Connie took Duffy into a storage cupboard to discuss the incident. Duffy claimed that she "checked [herself] continually", and Connie indicated that the saline syringe was the one closest to her. However, when Connie asked her if she checked its label, a bewildered Duffy began to question her memory of the incident.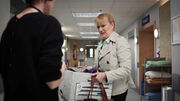 Following a conversation with Connie, Charlie called Duffy into his office and informed her that there was going to be an investigation, and Connie was planning to resign. When he mentioned the label, she opened up to him about her recent memory issues. In HDC, she told Ciaran that she did not trust herself and suggested that she may have picked up the wrong syringe. He warned her that, if she admitted to making a mistake and blamed it on her mental deterioration, it would be "a sad end to an impressive career", but she maintained that Connie could not have made the mistake. In Charlie's office, she told him that "[it was] time" and resigned. After collecting her belongings and forgoing bidding farewell to her colleagues, she profusely apologised to Connie for nearly killing a patient and expressed her thankfulness that she stopped before inflicting any lasting damage. Devastated, Connie urged her to stay, but she insisted on leaving. (CAS: Episode 1136)
On 28 July, whilst reversing out of a parking space, Duffy hit a girl named Shanti. She claimed that she had a broken arm, but Duffy insisted on her been seen by a medic and drove her to the ED. Robyn triaged Shanti and found no bone tenderness, suggesting that she did not sustain a fracture, but Duffy decided to humour Shanti's request for a second opinion and got consultant Will Noble to assess her. In the staff room, Charlie pointed out that Shanti's injuries were not consistent with those of an impact and suggested that she was faking them. When he posited that, as she had a "stressful" morning, she may not have been able to see what was truly happening, she insisted that she had not forgotten how to drive and accused him of treating her "like some fragile little thing that [needed] her hand holding". He claimed that he did not want her taken advantage of, and she asked him if, before the dementia diagnosis, he would have given her the benefit of the doubt "as a functioning, intelligent adult".
In cubicles, Will informed Duffy that he did not believe Shanti needed an X-ray and submitted that she was a "chancer" who was potentially exploiting her dementia to sue her for compensation. Duffy argued that her condition was not obvious without prior knowledge, and she did need neither him nor Charlie "protecting" her. Noel gave Duffy a poster from 2017 declaring Shanti missing, and she revealed that she was always aware that she was trying to scam her. After offering her a cup of tea, Duffy asked Shanti why she ran away from home, but she panicked and tried to run away. However, Duffy intercepted her and told her that she knew that she faked her injuries. Shanti asserted that she had no idea about her decision to run away, but Duffy managed to convince her to have a proper conversation with her. In the relatives room, Shanti lamented on her childhood and believed that she lost her chance of a good life, but Duffy assured her that people can "rebuild". On her way out of the department, Duffy gave Shanti the details for some local women's shelters, and she hugged and thanked her; she posited that she "must have been a really good nurse". In the staff room, Duffy told Charlie that the situation with Shanti made her realise that she did not have to be a nurse to help people. She thanked him for his support and kissed him before leaving for home. (CAS: Episode 1138)
Rapid deterioration
On 24 August, Duffy's power of attorney forms arrived, and she insisted on filling them in whilst Charlie was at work. However, when she struggled to complete them, she repeatedly called him. Once he returned home, she apologised and asserted that she needed a job to help keep her mind active whilst she still could. (CAS: Episode 1140)
The following week, she began volunteering at the Middleshill Grange care home. Whilst helping Maisie, a "fiesty" resident with advanced dementia, feed herself, Duffy noticed that she had wet herself and alerted the staff, but she subsequently fell and was taken to the ED. After finding out that the home often laced her food with medication, Duffy requested to review her notes, and she discovered that Maisie once had a child. With Will's help, she managed to calm Maisie down by allowing her to cradle a doll. However, Duffy later confronted the home's manager Sue Bainford after finding pressure sores on Maisie's body. Sue explained that, as Maisie seemed "content in her own little world", she was not viewed as a priority, and Duffy offered her assistance. Later, Duffy told Charlie that she wanted him to support her once she became unable to fight for herself, and he promised to take care of her. (CAS: Episode 1141)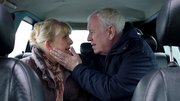 On 12 October, Duffy suffered a transient ischaemic attack and forgot how to turn right while driving. Consequently, Duffy asked Charlie to inform the care home that she would not be able to volunteer there again. However, after Duffy managed to deescalate a confrontation in the ED between a bereaved mother and her child's killer, Dylan offered Duffy a voluntary position there. (CAS: Episode 1146) On 26 October, Duffy began her first shift as a volunteer, but her colleagues noticed that she was exhausted and struggling. Later that day, Charlie found Duffy asleep in the relatives' room and allowed her to go home. (CAS: Episode 1148)
On 9 November, in the wake of a surprise CQC inspection and a shortage in nursing staff, Charlie asked Robyn to help out in the ED and convinced her to allow Duffy to babysit Charlotte. However, at Coliscliffe Park, Duffy became disorientated and returned to the ED without Charlotte. After it was feared that Charlotte had been involved in a road accident, Robyn soon found her safe at the park. Knowing that Duffy was Charlie's priority and feeling that she let Charlotte down badly, Robyn told Charlie that it was just "[her] and Charlotte" from that point onwards. (CAS: Episode 1150)
Three weeks later, Charlie became concerned when Duffy could see Jinny — their pet cat that had been killed two years prior — in their garden and brought her to the ED for treatment. However, registrar Archie Hudson diagnosed Duffy with a urinary tract infection and told her that it was responsible for her hallucinations. Realising that they needed more support and wanting to maintain their independence, Charlie and Duffy decided to trial a home care package. (CAS: Episode 1152)
On 7 December, Duffy's carer Sian arrived at her and Charlie's house, but Duffy had completely forgotten who she was and was preparing for a shift in the ED. However, Sian was forced to leave due to her child falling ill at school, leaving Charlie to deal with caring for Duffy. At home, Duffy believed that Charlie was having an affair with Sian and became aggressive, ordering him not to allow the replacement carer in. After Charlie had a public breakdown at work, Robyn and the other nurses devised a timetable to help Charlie with taking care of Duffy. (CAS: Episode 1153)
On 21 December, Charlie prepared a Christmas dinner for him and Duffy, but she was convinced that she was going to the cinema with Bill Crowthers. While eating, Duffy chastised Charlie, telling him that she would rather be alone than spending the rest of her life with him, and asserted that he was "nothing next to Bill". However, in the evening, Robyn gifted Duffy with a photo album, cheering her up and helping her bond with Charlie. (CAS: Episode 1154)
In January 2020, Duffy began repeatedly calling the house where Bill used to live believing that they were attending a concert. After reluctantly meeting up with Bill, Charlie agreed to allow Bill to visit Duffy. However, Bill was shaken by how much Duffy had deteriorated and left prematurely. (CAS: Episode 1158) Later that month, Charlie and Duffy decided that the latter should move to the Edwalton Mansions care home, and she was moved there on the 25th. However, after finding that Duffy had been sat waiting in her room for him to return, Charlie decided to take Duffy home. (CAS: Episode 1159)
Death
"
It's a funny old thing, time, isn't it? One minute, you've got so much of it that you don't know what to do with it. And the next... We wasted a lot of time, you and me. We're here - together. Exactly how it was supposed to be. You're the love of my life, and it's alright now. I'll be alright. You can go now, sweetheart. You can go.
"
— Charlie's final words to Duffy (CAS: Episode 1160)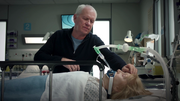 On 1 February 2020, Duffy became disorientated and — believing that it was 1989 — left the house in her uniform while it was snowing; she later collapsed in the street as a result of hypothermia; Charlie soon found her and had her rushed to the ED where it was discovered that she had a bleed on the right side of her brain. After Duffy suffered a seizure, Charlie was informed that it had exacerbated the bleed and caused near-irreversible brain damage. Charlie initially demanded the hospital to continue treating Duffy, but he eventually came to accept the graveness of Duffy's condition and gave his permission for her organs to be donated; he later accompanied her to the transplant team. (CAS: Episode 1160)
Personal life
She was in an on-off relationship with Andrew Bower which started in 1989. In 1990, she gave birth to his first child, Peter, but by this point, she had dumped him. During their time apart, Duffy dated Paul Slator who tried to get her to give up nursing. (CAS: "Living in Hope") She eventually dumped him, and reconciled with Andrew in 1992 and married him the following year. They tried to have another child and were successful, and Duffy later left Holby with Andrew and Peter.
Duffy later returned to Holby in 1998, still together with Andrew. She discovered she was pregnant again in 2001. Andrew died later that year whilst Duffy was heavily pregnant, which left her distraught (CAS: "Breaking the Spell - Part Two") but she still had the baby that September. (CAS: "Holding the Baby") In 2003, she had found a new partner, Ryan Johnson and planned to marry him. Although he attempted to steal her money, he later paid her back and apologised. That April Duffy left with Ryan and her three sons for Auckland, New Zealand. (CAS: "The Point of No Return") They were married as of 2016, although Duffy told Charlie that he was away a lot. (CAS: "History Repeating")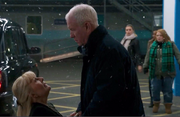 In November 2016, Duffy revealed her marriage troubles to Charlie, on the same day that her first grandchild was born. They also shared a kiss later in the shift. (CAS: "Thirty Years") Two weeks later, Duffy asked her husband Ryan for a divorce. (CAS: "About My Mother") In December, they announced their relationship to the rest of the staff, only for Ryan to turn up outside the pub. (CAS: "All I Want for Christmas Is You") The following day it was Christmas Eve and Ryan finally agreed to sign the divorce papers. Duffy later went out and proposed to Charlie, and he accepted. (CAS: "Bah Humbug") Charlie and Duffy got married in February in the hospital's chapel. (CAS: "The Stag, the Dog and the Sheep")
Trivia
Her first boyfriend, Peter, was diagnosed with HIV. (CAS: "Hooked") They split up and he later died in a car crash. (CAS: "Welcome to Casualty")
She suffered a cervical cancer scare but her test results were negative. (CAS: "Making Waves")
Her third child was delivered at home by Charlie. (CAS: "Holding the Baby")
Throughout their time working together, other staff members often thought that Duffy and Charlie's friendship may have grown into something more.
She first worked at the ED from 1986 to 1993.
She rejoined the department in 1998 and left again in 2003.
Duffy was working at a clinic in Cambodia in 2006, (CAS: "Different Worlds - Part One") and at some point after this went into agency nursing after returning from New Zealand.
Behind the scenes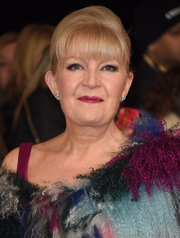 Cathy Shipton initially portrayed Lisa "Duffy" Duffin on Casualty from 1986 until 1993. She reprised her role from 1998 to 2003, with guest appearances in 2006 and 2015. It was confirmed in June 2016 that she'd make an appearance in the 1000th episode and make a full return later in the year at the start of series 31 as a series regular again. She returned to replace Rita Freeman as senior ward sister following her departure at the end of series 30.
In October 2019, Shipton announced that she was filming her final scenes as Duffy. Her final episode was broadcast in February 2020.
Appearances
See also: Character appearances
Duffy appeared in the first episode of the first series, "Gas". She remained on the show until series 8, and later returned in series 13 following some guest appearances at the end of series 12. She departed in the series 17 episode "The Point of No Return" which aired in April 2003. She returned for guest appearances in 2006, 2015 and 2016, and made a full return at the start of series 31. In 2020, she died in the 22nd episode of series 34.