This article is missing important information. You can help Holby Wiki by expanding it.
Matthew Afolami is a registrar in paediatric emergency medicine who worked in Holby City Hospital's emergency department from 2021 to 2022.
Biography
Engagement to Fenisha Khatri
Circa 2013, Matthew became engaged to Fenisha Khatri. However, on their wedding day, Fenisha jilted Matthew at the altar and stole their tickets for their honeymoon. Fenisha's decision devastated Matthew and his family; when Matthew's father Tony died of COPD, Matthew's mother Lucy believed that Fenisha contributed to her husband's deterioration. In spite of his mother's feelings, Matthew soon forgave Fenisha. (CAS: Episode 1203)
Experiences overseas
Following his and Fenisha's separation, Matthew decided to join the Overseas Emergency Care Programme, which saw him occasionally working in war zones, (CAS: Episode 1203, Episode 1205) and travelled the world. (CAS: Episode 1203)
In March 2015, while Matthew was working in Africa, a woman was seriously injured in an explosion. Despite warnings of nearby militias from his colleague Justine Steiner, Matthew insisted on taking the woman to the nearest village to help increase her chances of survival. However, Matthew's convoy was discovered by a militia and promptly shot at, leaving him as the sole survivor. In the aftermath, Matthew felt tremendous guilt for his role in the massacre and began to collect the names of patients who had died in his care and the dates of their deaths. (CAS: "Balancing the Scales")
Brief reunion with Fenisha
In June 2021, Matthew was due to begin working locum shifts in Holby City Hospital's emergency department. However, after arriving at the hospital to hand in preliminary paperwork, Matthew was reunited with Fenisha, who had since become a paramedic and brought his mother Lucy into the ED following a heart attack. After Lucy received treatment, Matthew and Fenisha's mutual feelings quickly reemerged, (CAS: Episode 1203) and the two began seeing each other. (CAS: Episode 1204) However, shortly before her first date with Matthew in years, Fenisha began to feel conflicted about her feelings for Ethan Hardy — the father of her son Bodhi and a vocal advocate of her and Matthew's relationship — after Rash Masum told her that Ethan still loved her. (CAS: Episode 1206) After overhearing Fenisha suggest that she might not want to be with him, Matthew confronted Fenisha and expressed his feelings of betrayal.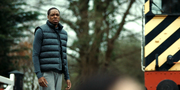 Shortly after Matthew and Fenisha broke up, Fenisha proposed to Ethan, and the two became engaged. (CAS: Episode 1208) On Fenisha and Ethan's wedding day in July, Matthew helped strengthen the relationship between a mature university student named Liza and her younger boyfriend Jimmy. Feeling inspired, Matthew decided to make a romantic gesture to Fenisha and offered her a lift to the wedding venue when she was late. (CAS: Episode 1210) Matthew admitted his love for Fenisha and encouraged her to run away with him, but Fenisha reaffirmed her love for Ethan. Matthew eventually accepted Fenisha's choice and agreed to drive her to her wedding. However, Matthew crashed his car onto a railway line. A mostly unscathed Matthew and Lev Malinovsky managed to release Fenisha from the car seconds before it was hit by a train, but Fenisha was hit by shrapnel from the collision, and Lev was unexpectedly hit by a second train. Lev died of his injuries shortly after arriving at the ED for treatment, and Fenisha developed fatal haemopericardium that could not be treated successfully. (CAS: Episode 1211)
In August, following Fenisha's funeral, Matthew returned to work earlier than expected to cover for Ethan who he believed needed more time off to grieve than him. (CAS: "Begin Again") When Ethan returned to work, he refused to speak to Matthew and demanded that he keep his distance. (CAS: "Same Old, Same Old") Matthew confronted Ethan after finding out that he had given Bodhi to Fenisha's parents and accused him of abandoning his son. The tension between the two escalated to a physical confrontation that required the intervention of clinical lead Dylan Keogh. Eventually, Matthew assured Ethan that Fenisha did not love him and urged him to take Bodhi back, but Ethan refused. (CAS: "Short Fuses")
Post-traumatic stress
In October, while Matthew was stuck in traffic on his way to his first permanent shift at the ED, an injured woman ran into his car and left a bloody handprint on his windscreen that brought back memories of a massacre he had witnessed during his time on the overseas programme. Shaken by the experience, Matthew found himself distracted by his flirting with new consultant Stevie Nash who grew concerned about Matthew's state of mind when he promised a seriously ill patient that they were not going to die. After leading a clamshell thoracotomy and saving the patient's life, Matthew was praised for his work, and he and Stevie decided to meet up and have sex. (CAS: "Warning Signs") The pair subsequently started a sexual relationship. (CAS: "Two Tribes") As their relationship continued into the new year, Stevie frequently witnessed Matthew experiencing "full-body nightmares" which he refused to discuss, but Stevie did not inquire further on account of their lack of emotional commitment. (CAS: "Close Encounters")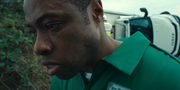 In February, Matthew and Stevie broke up after Matthew struck her during a nightmare and branded her "selfish". At work, Matthew attended the scene of a prison bus crash and treated a Christian prisoner named Nathan Alstrong who had been incarcerated for accidentally running over a child. Nathan believed that his trauma from the incident was his penance, but he soon decided that he did not want to die and got Matthew to pray with him. Battling with his trauma from the massacre, Matthew was keen to intubate Nathan in the bus when he lost consciousness, but Matthew ultimately conceded that it was unwise, and Nathan was freed. In resus, Matthew volunteered to perform a thoracotomy on Nathan and successfully treated his cardiac tamponade. Stevie praised Matthew's work and offered him emotional support for his problems, but Matthew coldly turned her away. On a ward, Nathan told Matthew that God had redeemed him by sparing his life and believed that he could compensate for the accident by helping others. Influenced by Nathan's words, Matthew crossed out one of the names in his notebook. (CAS: "Balancing the Books")
On the anniversary of the massacre, Matthew attempted to repair a patient's popliteal artery in resus, but his decision left vascular surgeons battling to save the patient's leg and Matthew seconded to minors. Matthew opened up to Rash Masum about the massacre but claimed that he had found a coping mechanism. In cubicles, Matthew believed his patient Rhys Beavin's claim that he had fallen off a wall and only diagnosed Rhys with a fractured distal radius. When Rhys deteriorated, it became known that Rhys had hit his chest after falling through a floor, and he had developed a haemothorax. Matthew refused to give up on Rhys, but Stevie declared Rhys dead after 40 minutes of resuscitation attempts. Matthew defended his decision to not examine Rhys' chest on the grounds that Rhys had lied about his injuries, but Dylan was unimpressed with Matthew's conduct throughout the day and issued him a warning. In the staff room, Rash realised that the notebook was Matthew's way of coping and tried to talk sense into him, but Matthew politely declined a conversation and refused Stevie's concerned suggestion of taking leave. (CAS: "Balancing the Scales")
In March, Stevie found Matthew's notebook and took it hoping that it would explain his behaviour. After learning from Rash that it contained the names of patients Matthew had lost, Stevie confronted Matthew. Matthew explained that his notebook was a reckoning to make up for the deaths he had caused with his mistakes; Stevie told him that his methods were dangerous, but she empathised with him and offered him her support before kissing him. After intervening in a stand-off between Matthew and Curtis Hinch over Michelle Savini's test results, Stevie gently encouraged Matthew to speak to Dylan about his problems, but Matthew instead reported Stevie for stealing his notebook and sexually harassing him, leading to her suspension. When confronted, Matthew stood firmly by his accusations, prompting Stevie to ensure him that she would make all of his colleagues aware that he was not fit to practise. Stevie followed Matthew into resus and ordered him to stand down as he attempted to treat a fitting Michelle, but Dylan ordered Stevie out of the department. (CAS: "Trigger")
Behind the scenes
Osi Okerafor portrayed Matthew in Casualty from May 2021 to April 2022. His casting was announced weeks prior to his first apperanc.[1]
References