Michael "Mike" Barratt is a former consultant in emergency medicine who worked in the Emergency department of Holby City Hospital from 1992 to 1996. He later worked as a consultant in General Surgery from 1999-2001 up on Keller.
Time in Emergency Department (1992-1996)
Mike joined the A&E department back in series 7. He was a popular and devoted consultant who relished in helping people. He left in series 10 after a reconciliation with his wife, only to return a few weeks later. He soon resigned after a disagreement with the board. Mike moved to Somalia to do voluntary work with Rachel.
Charlie's anniversary (2016)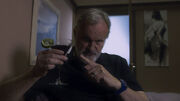 In August 2016, Mike recorded a video message for Charlie, congratulating him on his 30th anniversary of working in the department. In his message he hinted towards Charlie retiring and assured him that the hospital would go on without them.