Robyn Miller is a nurse who currently works at Holby City ED. She started working at the ED as a student nurse alongside three others. The ED were willing to hire two of them for the job depending on how they performed in the department leading up to their inspection. When got the job, she became a staff nurse, and remains so.
Early life
She's the oldest of four siblings and also volunteered to care for her beloved Nan as a teenager, and grew up knowing she wanted to be a nurse. People have always told Robyn that she's a 'born nurse'.
Time in the Emergency Department (2013-)
When she was training at the ED in 2013 alongside Jamie Collier and Aoife O'Reilly, Linda Andrews was her mentor.
As far as the "care" part of the job goes she's one of the best but she does worry about the academic side of the job – maths, chemistry and biology have never been her best subjects!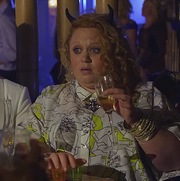 Robyn is determinedly positive and extremely chatty. She makes friends easily and is able to charm patients and get them on side with her down to earth talkative charm. However, this can sometimes be her downfall as she loves a good gossip but isn't the best at keeping secrets!
Trivia
Her mentor was Linda.
Robyn loves social networking sites like Facebook and Twitter and is a whiz with computers.
She gets on well with old people and hates to see them neglected or marginalised.
Behind the scenes
Amanda Henderson portrays Robyn in Casualty.
Appearances
Main article: Appearances of Robyn Miller.
Community content is available under
CC-BY-SA
unless otherwise noted.