This article is missing important information. You can help Holby Wiki by expanding it.
Ruth Winters (born 18 October 1984) is a trust doctor who worked in Holby City Hospital's emergency department from 2007 to 2011. She joined the department in September 2007 during her second year of foundation training, and following this she was appointed as a trust doctor in the ED.
Biography
Early life
Ruth grew up on the Farmead housing estate. (CAS: "Farmead Menace - Part One") When Ruth was a teenager, her father Ted drove her mother to suicide. (CAS: "Inappropriate Behaviour"; "Take It Back"; "Took a Long Time to Come")
First months at Holby ED
On 8 September 2007, Ruth worked her first shift at Holby City Hospital's emergency department. Within hours of her arrival, a bomb had exploded on a coach, and the hospital declared a major incident. (CAS: "My First Day") Despite the chaos, she relished the opportunity to shadow cardiothoracic consultant Connie Beauchamp and observed as she performed an anterolateral thoracotomy on a tamponading patient. However, senior charge nurse Charlie Fairhead took issue with her disrespectful attitude towards the nursing staff, and, following the evacuation of the entire department, he instructed her to learn all of the nurses' names and "some manners". (CAS: "Charlie's Anniversary")
On 6 October, Ruth treated a woman named Bunmi Adasida who vehemently denied being pregnant. Nurse Nadia Talianos urged Ruth to perform a HCG test, but Ruth was confident that it was not necessary and later diagnosed Bunmi with appendicitis. However, Bunmi soon became screaming in agony and was taken to resus. When it transpired that Bunmi had an ectopic pregnancy, Ruth told consultant Harry Harper that she based her diagnosis off the information provided to her by Nadia. (CAS: "Core Values")
On 13 October, Ruth was horrified when her estranged father Ted was admitted to the ED following a road accident and tried to pass his case onto Toby, but Nadia pressured her into treating him. Ted tried to convince Ruth to switch samples to cover up his drink-driving and attempted to hit her when she refused to help. He later apologised and claimed that he tried to get in touch with her, but she was convinced that he was lying. However, Ted presented Ruth with a card that he claimed to have written years prior and acknowledged that it was too late for him to make up with her. Upon reading it, Ruth decided to oblige Ted and swapped his blood sample with hers. After agreeing to have a coffee with Ted, Ruth decided to get a card from a charity collector outside the hospital; she was devastated to find the card Ted had given her and tore it up. (CAS: "Inappropriate Behaviour")
After Ruth failed to find a free surgical placement, Adam Trueman tricked her into visiting the histology department. However, despite the department being full of "geeks", she expressed an interest in volunteering there. On 23 October, Ruth delivered test results to a woman named Rachel without realising that she was the patient, and they showed that she had breast cancer. (CAS: "Sex and Death")
On 17 November, Adam allowed Ruth to take the lead in resus, and Ruth decided to retrieve and administer prilocaine to the patient herself. She later realised that she had given them the wrong drug by mistake. However, as Ruth attempted to cover up her error, she noticed someone filming her and had the tape destroyed. After being called into Adam's office, Ruth feared that he had found out about her mistake, but he instead praised her work and suggested that she could be a consultant within a few years. (CAS: "Strangers When We Met")
On 8 December, executive director Marilyn Fox informed Ruth that she was being considered for a surgical rotation and wanted her to perform an intricate procedure and show her worth. When a patient's foot was amputated and deemed unviable, Ruth was eager to clip and tie the wound, but Adam wanted to give the opportunity to Toby De Silva who had recently resigned. Ruth protested and claimed that she needed to perform the procedure, but Adam told her that she had been "in a world of [her] own" for the entire day and ordered her to take a break. That night, after Toby had withdrawn his letter of resignation, Ruth allowed him to share the on-call room with her. She asked him if everyone hated her, but he was fast asleep. (CAS: "Behind Closed Doors")
On Christmas Day, Ruth was delighted to learn that Dominic Bidwell, a histologist that she had grown fond of, had recommended her to surgeon Sarah Evans and got a spot assisting in Rachel's surgery. (CAS: "Sex and Death")
On New Year's Eve, a young woman named Orla was admitted to the ED following a car accident. Ruth reviewed her neck X-ray and ruled that there was nothing wrong with her, so she instructed Nadia to remove Orla's neck collar and discharge her. However, Orla soon collapsed and could not move her limbs. After noticing a potential C7 fracture on the X-ray, Ruth told clinical nurse manager Tess Bateman that Nadia was instructed to remain with Orla while she asked for a second opinion. (CAS: "Take a Cup of Kindness Yet") Tess confronted Nadia who insisted that Ruth was lying, and Tess warned both of them that there would be a formal investigation if they could not agree on what happened. Feeling that she was an inadequate nurse, Nadia decided to take full responsibility for the incident and resigned. Ruth overheard and admitted her fault, but Nadia insisted that she did not belong at the hospital and wished Ruth luck with her career. (CAS: "For Auld Lang Syne") Following the incident, Ruth visited Dominic in the histology department and made a pass at him, but she was heartbroken when he told her he was married and stopped volunteering there. (CAS: "Sex and Death")
On 5 January 2008, as the nurses had declared a work-to-rule, Ruth volunteered to attend an entrapment. Despite being warned that paramedic Greg Fallon had already administered morphine, a pressured Ruth pled ignorance and gave the patient named Clare a second dose. In the ambulance, Clare lost consciousness, and consultant Zoe Hanna diagnosed her symptoms as those of a morphine overdose. Later, Ruth treated Clare's partner Aiden and believed that his hand injuries were sustained while abusing Clare, but Aiden showed Ruth a series of bruises on his back, and she realised that Clare was responsible. Believing that Clare's violent behaviour was the result of pregnancy hormones, Ruth encouraged Aiden to help Clare through the pregnancy, and the two reconciled. (CAS: "Broken Homes")
Suicide attempt
"
I tried to be a good doctor. Really, I did. But it was too hard; it beat me, and I am so ashamed. I never wanted anything else out of life, so there is no life. I am so sorry to the patients I caused suffering; to their families, my sincerest apologies. I don't belong here.
"
— Ruth's suicide note (CAS: "Before a Fall")
Two weeks later, Ruth treated a man named Pete who had taken an overdose. Although his prognosis was initially optimistic, Pete began to experience severe chest pains, and his X-ray and ECG suggested that he was suffering from hypertrophic cardiomyopathy. Pete soon went into VF, and, despite Ruth's best efforts, he was pronounced dead. Ruth tried to inform Pete's wife Suki of his death, but she refused to believe that Pete was dead. Ruth revealed to Suki that her mother committed suicide when she was a teenager, and she assured Suki that Pete's overdose was a cry for help and not meticulously planned. (CAS: "Take It Back")
On 2 February, Ruth struggled to stay awake at work and was forced to take caffeine pills to remain alert. In cubicles, she treated a man named David and dismissed him as a drunk. Nurse Kelsey Phillips pointed out that his breath did not smell of alcohol, and Ruth agreed to check him again; she was sure of her original diagnosis after David became incoherent and grabbed her. However, he later suffered a seizure and was rushed into resus; his patient notes revealed that he had been diagnosed with cancer. David soon went into asystole and was later performed dead.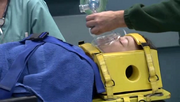 Feeling guilty about David's death, Ruth volunteered to perform the last offices, but Harry Harper assured Ruth that David's condition - Wernicke's encephalopathy - could present as intoxication, and she would learn from her mistakes. Upon discovering that David was the father of a severely autistic patient named Joe, Ruth decided to speak to Joe herself. In admin, Ruth publicly apologised for her error and promised that it would not happen again. (CAS: "Before a Fall") Elsewhere in the hospital, Ruth was devastated to discover that Rachel had died. (CAS: "Sex and Death") Later that day, Toby and Abs decided to surprise Ruth at her apartment, but they instead found her hanging. She was taken down and rushed to the ED. (CAS: "Before a Fall")
The week after her suicide attempt, Ruth was taken off sedation and woke up from her coma. (CAS: "Thicker than Water") In March, Ruth was discharged and agreed to stay with Maggie. (CAS: "Diamond Dogs")
Return to work
On 5 April, Ruth returned to work on non-clinical duties and tasked with helping a confused old man named Emmanuel carrying a baby doll. Ruth reviewed his notes and suggested that his symptoms were indicative of hypercalcaemia, but Toby, who had treated him the previous week, insisted that he merely had an abscess. When another patient set off the fire alarm, Emmanuel took Maggie's granddaughter Lana, and the team discovered that five infants had died in a Tanzanian hospital he worked at. Once Emmanuel was found, Ruth explained to him that his hypercalcaemia and lesions were symptomatic of myeloma. Emmanuel promptly returned Lana, and Ruth and Abs led him back inside the building. (CAS: "Bricks and Daughters")
The following week, Ruth was allowed back on clinical duties after correctly diagnosing a young girl with osteogenesis imperfecta, but she struggled to treat her due to her hands trembling. (CAS: "Someone's Lucky Night") On 19 April, Ruth lost her concentration in resus, and she was upset when her patient died. In cubicles, Ruth continued to struggle with her tremors and, as a consequence, allowed an alcoholic patient to discharge themself and potentially exacerbate their injuries. (CAS: "Walk the Line")
On 26 April, Ruth failed to reduce the shoulder of a patient named Gordon after an hour of unsuccessful attempts. Toby was called down from orthopaedics to assess Gordon's condition, and he managed to calm Gordon down enough to perform the reduction. Toby also suggested that Gordon could be suffering from an aortic dissection; Ruth insisted that it was a waste of time, but their senior colleagues decided to side with Toby. In resus, Ruth agreed to assist Maggie in an escharotomy, but she lost her confidence and ran out mid-procedure. In the staff room, Ruth accused Toby of enjoying watching her struggle and trying to talk her into feeling better, but Toby argued that he should not feel guilty for having a good day. Overwhelmed, Ruth wept in an empty cubicle. (CAS: "The Great Pretenders")
On 3 May, feeling depressed, Ruth went for a jog and ran into a woman named Rose who had Down syndrome. When Rose ran into the road, Ruth pushed her out of the way of an oncoming motorbike which hit her mother Gill; Ruth managed to control the situation and reduce Gill's open fracture. At the ED, Maggie was impressed when Ruth realised that the sternotomy wire from Rose's atrioventricular septal defect closure operation had punctured her pericardium. In resus, Ruth reluctantly aspirated Rose's pericardium, and she was delighted when she completed the procedure without any complications. (CAS: "Love Is...")
In August, Ruth was disappointed when a journalist named Kyle Rutherford wanted to write an article about Toby and his life as an F2. (CAS: "This Mess We're In - Part One") However, after Ruth was approached for an interview, she terminated it and demanded the tape when Kyle began asking her about her suicide attempt. Ruth and Camille Windsor confronted Toby, and Ruth accused him of selling her personal life to Kyle and revealed that he had made a medical error that had potentially crippled his patient. Later that day, Ruth urged Toby to not break the rules and perform corrective surgery on the patient alone, and she assured him that, no matter what mistakes he could make, he could never mess up more than her. Toby began to break down and apologised for his actions surrounding the journalist; Ruth comforted him and told him that, after everything they had been through, he could not leave her on her own. (CAS: "This Mess We're In - Part Two")
Involvement with Nick Jordan and Ben Harding
On 20 September, consultant Nick Jordan arrived at the emergency department as its new Clinical Lead. Ruth was in awe of his leadership skills and contended that he was a "valuable addition to the ED". (CAS: "Interventions") The following week, after assisting Nick in performing a fasciotomy on a patient with compartment syndrome, Ruth expressed her enjoyment in working him, and Nick encouraged her to socialise with her colleagues, prompting her to join them for a drink. (CAS: "Guilt Complex") Impressed by a paper she had written, Nick asked Ruth to write up a report for him. (CAS: "Hurt")
On 1 November, Nick had Ruth lead the treatment of a young boy named Ronan who had suffered a severe asthma attack. When Ronan developed a pharyngeal oedema and required a surgical airway, Nick — ignoring objections from his colleagues — had Ruth perform a cricothyroidotomy. (CAS: "The Line of Fire") The following week, following a multiple vehicle collision, Ruth was disappointed when Nick allowed Toby to assist him instead of her. However, she later had the opportunity to impress him with her diagnostic skills. (CAS: "Impact")
On 9 November, Ruth assisted Nick in performing a closed mitral valvotomy on a patient named Malachy in resus. The procedure was a success, and Nick praised Ruth's talent and told Marilyn Fox that Ruth was "going places". Later that night, Nick gave Ruth a taxi ride home, but, after sharing a passionate kiss, Ruth decided to spend the night with him. (CAS: "Own Personal Jesus") The following morning, Ruth woke up in Nick's bed. Despite Toby's warnings that she could "get hurt", Ruth believed that she had started a new relationship and dismissed his concerns. In his car, Nick told Ruth that he did not want to put her career at risk and effectively asked for them to put their night together behind them; Ruth misinterpreted his suggestion and believed that he still wanted to pursue a relationship. Later, Toby confronted Ruth after she repeatedly made snide comments at him and reckoned that Nick had dumped her, but Ruth accused him of being jealous and asserted that "no woman with a brain" would ever fancy him. That night, Ruth accompanied Nick home and prepared to have sex with him, but Nick told her that their night together was a mistake. At home, Ruth tried to apologise to Toby, but she instead found him sleeping with psychiatrist Ben Harding. (CAS: "Reality Bites")
The next day, Ruth told Toby about her finding him and Ben in bed together, but he asserted that he did not know what she was talking about. In resus, after Ruth publicly rebuked Nick in theatre when he was proposed giving a patient requiring propofol propranolol, Nick told her not to allow her private life to affect her work. (CAS: "A Slip in Time") On 6 December, after Toby got drunk and spent a night in a prison cell, Ruth felt that his reckless behaviour was a result of his one-night stand with Ben and asked Toby if he was pressured into sex; Toby insisted that he could handle the situation. Ruth confronted Ben about his night with Toby, but Ben suggested that she was projecting her frustrations with her experience with Nick onto him and Toby. Later that day, Ruth expressed her intent to apply for the next general surgical rotation and reported Ben for sexual harassment. Aware of the potential consequences for Ben's career, Nick asked Ruth if her accusation was related to their one-night stand, but Ruth insisted that she was solely concerned about Toby's wellbeing, prompting Nick to make the complaint official. (CAS: "Happiness")
On 7 December, after learning that Ben had been suspended, a furious Toby confronted Ruth who asserted that Ben had taken advantage of him. She later attended her interview for the surgical rotation, but she was nonplussed when Nick and Henry Williams asked how she would personally deal with the death of the patient. Ruth accosted Nick about his conduct during the interview and accused him of stitching her up; Nick assured her that she would make an "excellent" surgeon "when the time [was] right". Later that day, Toby asked Ruth for her help with resolving the situation with Ben, but Ruth asserted that Ben was manipulating him, and she was trying to encourage him to stand up for himself. (CAS: "Doing the Right Thing")
On 20 December, the board decided not to accept Ruth onto the surgical rotation; she confronted Nick about his involvement in the decision, but Nick contended that she was not ready. After Toby was approached by Kelsey who thought he was gay, he believed that Ruth had spread rumours around the department and told her that she could never be a good surgeon "if [she couldn't] even manage to be a human being". (CAS: "This Will Be Our Year") On New Year's Eve, Toby withdrew his allegation against Ben. In the staff room, Ben berated Ruth and Toby for causing him to lose his job and told Ruth to "stop throwing other people into the path of the car crash that [was her] life". At a party, Ruth apologised to a drunken Toby about making the accusation against Ben on his behalf, but Toby told her that "real man don't say sorry" and publicly tendered his resignation; Toby obliged her and managed to find out that Katie was the daughter of the dead train driver. (CAS: "My Last Day - Part One")
The following day, feeling as though she was responsible for Toby choosing to quit, Ruth began searching for jobs elsewhere — even junior posts. Following a train crash, Ruth and Toby were instructed to lead in cubicles. Struggling to deal with the immense workload and difficult patients, Ruth told Toby that she was sick of "carrying" him, and she should have walked away from him the moment she met him; Toby asserted that he should have left her hanging. However, as Toby was leaving the department, Ruth followed him and desperately asked for his help with getting through to a young girl named Katie who was refusing treatment. Later, Toby found out that Ruth had applied to join the histology department and assured her that her bedside manner would improve in time. After Toby thanked her and left, Ruth expressed her gratitude for him not leaving her hanging. (CAS: "My Last Day - Part Two")
On 10 January 2009, wanting to honour her "pact" with Toby, Ruth asked Nick to mentor her to help her become a surgeon; Nick decided to allow her to take the lead in resus. When both of her patients died, Nick felt that Ruth showing more concerns about her career trajectory showed that she was not ready for surgery, but he agreed to mentor her nonetheless. (CAS: "Crush") The following week, they treated a patient with Marfan syndrome named Lila who required surgery for an aortic dissection; Nick decided to perform the operation himself and allowed Ruth to observe. However, Nick's mind went blank when complications arose, forcing Ruth to recommend a method of stopping a bleed. (CAS: "No Going Back")
Personality
When Ruth arrived at the emergency department, Ruth was highly ambitious and solely focused on her medical career. (CAS: "Sex and Death") Her medical expertise amazed her peers, (CAS: "Core Values"; "Before a Fall") and she relished any opportunity to impress and put her skills to the test. By the end of her first month at the ED, despite the heavy workload, she found herself loving the experience. (CAS: "Sex and Death") However, Ruth lacked basic manners towards her colleagues, especially the nurses, (CAS: "My First Day"; "Charlie's Anniversary") and she was prone to scapegoating. (CAS: "Core Values") Ruth often lacked compassion for patients (CAS: "Inappropriate Behaviour"; "Where's the Art in Heartache?") to the point where she recommended getting the police to stop a woman with Alzheimer's disease from constantly calling for an ambulance. (CAS: "Strangers When We Met")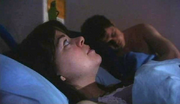 However, despite Ruth's cold exterior, she was very sensitive. As a result of her troubled relationship with her father Ted, Ruth had very low self-esteem and saw herself as a "miserable, stuck-up, too-big-for-her-boots, cold fish". (CAS: "Sex and Death") She took issue with her colleagues calling her "Chuckles" due to her classmates mocking her mother's death by calling her "Bambi", (CAS: "Finding the Words"; "Sex and Death") and she was hurt when a graffiti artist produced a piece depicting the department's staff and drew her without a face, suggested that she was an emotionless automaton. (CAS: "Where's the Art in Heartache?") She tried to open up about her issues to registrar Maggie Coldwell, but, having had enough of being involved in her colleagues' personal lives, Maggie turned her away. When she shared the on-call room with Toby, Ruth asked him if everyone hated her. (CAS: "Behind Closed Doors")
After being rejected by histologist Dominic Bidwell, Ruth's self-esteem worsened dramatically. She began to believe that neither she nor anything mattered and that God hated her. When Rachel, a terminally ill patient Ruth had befriended, claimed that she wanted to overcome her fear of dying, Rachel became concerned when Ruth told her not to worry about death. On 2 February 2008, Rachel died. Coupled with a mistake she had made earlier which resulted in the death of a patient, Ruth saw her death as "the straw that broke the camel's back". Upon returning to her flat, Ruth prepared a suicide note and tied a noose. Later that day, Toby and Abs found her hanging and had her rushed to the ED. (CAS: "Before a Fall"; "Sex and Death") When Ruth woke up for the first time since the incident, she was disappointed that she was not dead. (CAS: "Diamond Dogs")
Upon Ruth's return to the ED, she was unsatisfied with being put on non-clinical duties and felt that nobody trusted her. Later that night, her confidence was boosted when she retrieved Maggie's granddaughter Lana from a confused patient who believed he was saving her from a burning Tanzanian hospital. (CAS: "Bricks and Daughters") The following week, Ruth was relieved to be allowed to treat patients after she correctly diagnosed a young girl with osteogenesis imperfecta, but she was unable to perform a cannulation due to her hands trembling. (CAS: "Someone's Lucky Night") Her self-esteem continued to decline when Toby managed to complete a medical procedure that had eluded her and correctly diagnosed the patient with an aortic dissection. After running out of resus and having an argument with Toby, Ruth wept in an empty cubicle. (CAS: "The Great Pretenders")
Feeling depressed, Ruth told herself that she did not want to be "Ruth Winters" anymore and had "failed on every level". However, while out on a run, Ruth saved a woman named Rose and reduced her mother Gill's open fracture after she collided with a motorbike. Furthermore, when Rose's condition started to deteriorate, Ruth correctly deduced that the sternotomy wire from her atrioventricular septal defect closure surgery had migrated and punctured her pericardium. Ruth's confidence in her own abilities was restored after she successfully aspirated the pericardium. In the evening, when Ruth failed to respond to her calls, Maggie feared that Ruth had attempted suicide again. Fortunately, Ruth answered and agreed to look after Lana for a while; once Maggie was gone, Ruth shared a tender moment with Lana. (CAS: "Love Is...") Later in May, Ruth shadowed Abs to work on her people skills, but she ended up reprimanding an elderly woman for missing an appointment. However, later that night, Ruth felt guilty and made her night by giving her a book of puzzles. Ruth told Abs she felt that building connections with patients was "a step too far" and decided to start with her colleagues. (CAS: "Saturday Night Fever")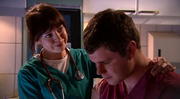 Under Abs' mentorship, Ruth began to show more consideration and compassion towards her colleagues. Later in May, Abs encouraged Ruth to help Noel Garcia at reception after he was swamped with paperwork following the introduction of the Minor Injuries Unit. When Marilyn Fox blamed Noel for a filing error that resulted in a patient receiving the wrong medication, Ruth defended him and proposed a new filing system to streamline admissions. (CAS: "Opposing Forces") Her sensitivity also started to extend to patients. In July, Abs' friend Stacey Merrick was admitted to the ED following a car crash and mistook Ruth for Ellie due to alcoholic hallucinosis. He insisted that he had not drunk any alcohol for ten days; given Ruth's experience with the effects of alcoholism, she believed him. (CAS: "I Can Hear the Grass Grow") In August, Ruth comforted Toby after he potentially crippled his patient and told him that, after everything they had been through together, he could not leave her on her own. (CAS: "This Mess We're In - Part Two") In October, Ruth empathised with her patient who was living with severe depression and had attempted suicide. (CAS: "The Evil That Men Do") At the recommendation of new Clinical Lead Nick Jordan, Ruth began joining her colleagues at the pub to socialise. (CAS: "Guilt Complex")
Trivia
Behind the scenes
Georgia Taylor portrayed Ruth on Casualty from September 2007 to December 2011.