Tags: apiedit, Visual edit

m

Line 27:
Line 27:
 
 
 

==Episodes==

 

==Episodes==

−

{| class="wikitable plainrowheaders article-table" style="font-size: 13.333333969116211px; border-color: rgb(170, 170, 170); color: rgb(255, 255, 255); font-family: sans-serif; line-height: 19.19999885559082px; width: 99%; height: 99%;"

+

{| class="wikitable plainrowheaders article-table" style="font-size: 13.333333969116211px; border-color: rgb(170, 170, 170); color: rgb(, , ); font-family: sans-serif; line-height: 19.19999885559082px; width: 99%; height: 99%;"

 

! scope="row"|<span style="font-weight:bold;">Episode</span><br />

 

! scope="row"|<span style="font-weight:bold;">Episode</span><br />

 

#

 

#
---
Revision as of 11:25, 10 August 2015
This article is not part of the Holby universe.
This article covers a subject that is part of the real world, and thus should not be taken as a part of the Holby universe.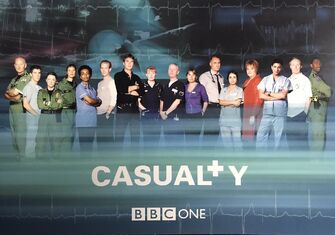 Series 15 is the fifteenth series of Casualty from 16 September 2000 and finished on 28 April 2001.
Cast
Charlie Fairhead
Max Gallagher
Patrick Spiller
Holly Miles
Josh Griffiths
Penny Hutchens
Adam Osman (Episodes 1–6)
Lisa "Duffy" Duffin
Andrew Bower (Episodes 12–36)
Chloe Hill
Finlay "Fin" Newton
Melanie "Mel" Dyson
Spencer
Barney Woolfe
Amy Howard (Episodes 1–29)
Tom Harvey (Episodes 13–30, 35–36)
Dan Robinson
Colette Kierney
Anna Paul (Episode 28 onwards)
Jack Vincent (Episode 31 onwards)
Leona (Various)
Reuben Hurst (Episodes 1–6)
Episodes
Episode


Series


Episode
Original airdate
285
1
"Phoenix"
16 September 2000
Charlie, recovering from his pulmonary embolism meets a young mother and her baby, Phoenix. When the mother tries to commit suicide, Charlie springs into action, doing just what he knows best. Return of Spencer  and arrival of Senior Staff Nurse Colette Kierney. 
286
2
"Accidents Happen"
23 September 2000
287
3
"Getting to Know You"
30 September 2000
288
4
"Too Tight to Mention"
7 October 2000
289
5
"Choked (Part 1 of 2)"
14 October 2000
The press have found out about Adam – He's HIV positive. Can the staff convince the public there's nothing to fear, or is it curtains for Adam's career as an A&E Nurse? 
290
6
"Choked (Part 2 of 2)"
15 October 2000
Josh has been caught in a mudslide and Adam decides to make a statement to the press. Deciding to quit, Adam and Reuben get married and drive off to the sound of salsa. Meanwhile, Leona  is back in the department. Final appearances of Staff Nurse Adam Osman  and Reuben Hurst 
291
7
"Travelling Light"
21 October 2000
292
8
"Sympathy for the Devil"
22 October 2000
293
9
"No More Mr. Nice Guy"
28 October 2000
Patrick  spends a day with paramedics Josh  and Fin. Deliberately winding them up, Patrick is not the most popular of passengers 
294
10
"States of Shock"
4 November 2000
295
11
"Marking Time"
11 November 2000
296
12
"Starting Over"
18 November 2000
Andrew Bower , Duffy's husband has returned to the department following Broadway General's closure. Can Duffy  pull herself together and be able to work amicably with Andrew or are the couple heading for a fall? 
297
13
"If You Go Down to the Wards Today"
25 November 2000
298
14
"Coming Clean"
2 December 2000
299
15
"Chinese Whispers"
9 December 2000
300
16
"A Turn of the Scrooge"
16 December 2000
301
17
"Merry Christmas Dr. Spiller"
23 December 2000
Holly  has taken Patrick  to a christmas meal but is met with snide remarks and sarcasm from the ever moody registrar. On the way back to the department for their shifts, Patrick's car breaks down in the snow and the two medics are forced to seek shelter in a disused barn where more than a few secrets are going to be told. 
302
18
"Epiphany"
30 December 2000
Barney  and Spencer  must put aside their differences to rescue a patient from danger. While Max over steps the mark in his treatment of a drug addict. 
303
19
"On the Edge"
6 January 2001
304
20
"Girl Power"
13 January 2001
305
21
"Heart of Gold"
20 January 2001
Patrick  and Spencer are taken hostage by an ex-navy officer who doesn't want his daughter to see one of Spencer's old shipmates. Will Holly be able to figure out Patrick's coded message and save them before it's too late? 
306
22
"Better Safe Than Sorry"
27 January 2001
307
23
"Something from the Heart"
2 February 2001
308
24
"Big Mistake"
3 February 2001
309
25
"Ambulance Chaser"
10 February 2001
Josh , Fin , Barney and Tom have only one thing in mind – they must transfer a critical burns patient to another hospital before he dies of his injuries. Little do they expect a teenager to try to flag them down on their way... 
310
26
"Scent of the Roses"
17 February 2001
311
27
"Breaking Point"
24 February 2001
312
28
"Lost and Found"
3 March 2001
313
29
"Kindness of Strangers"
10 March 2001
314
30
"Only You"
17 March 2001
Tom has finally achieved his goal. He's got Holly alone with him in his house. Can Dan figure out the truth behind Holly's mysterious stalker and save her before it's too late? 
315
31
"Allied Forces"
24 March 2001
316
32
"Heroes and Villains"
31 March 2001
317
33
"The Long Road Home"
7 April 2001
318
34
"Mix and Match"
14 April 2001
319
35
"Breaking the Spell (Part 1 of 2)"
21 April 2001
Tom has been released on conditional bail and makes a beeline for A&E. When Holly hears her car alarm going off, she goes outside to investigate – discovering that the glass has been smashed and Tom is right behind her... 
320
36
"Breaking the Spell (Part 2 of 2)"
28 April 2001
Tom has kidnapped Holly and is holding her in a disused area of the hospital. Elsewhere Patrick, Dan and Spencer work together to save Holly but Andrew proves to be the biggest casualty of the night...Final appearances of Anaesthetist Tom Harvey, Locum Consultant Andrew Bower, Staff Nurse Barney Woolfe, Paramedics Penny Hutchens and Melanie Dyson, Directorate Manager Dan Robinson and SHO Holly Miles. 
Community content is available under
CC-BY-SA
unless otherwise noted.