Series 26 was the twenty-sixth series of Casualty and commenced airing on 13 August 2011. The series marked the end to filming the show in Bristol, with episodes airing in 2012 being filmed at BBC Roath Lock Studios in Cardiff.
Cast Changes
Due to the move of production to Cardiff, both Series 25 and Series 26 feature an unusual number of cast changes.
Unexpectedly for viewers, Series 25 episode "Thanks For Today" saw the final appearance of Hasina Haque as nurse Madiha Durrani. Mads' departure from the department went unexplained for several weeks, with only a casual reference by the characters. An explanation was finally given in "A Pound Of Flesh", in which former love Lenny Lyons and the rest of the ED receive a letter from Mads announcing her marriage in Pakistan.
Series premier "Partners" saw the arrival of two new paramedics: Tamzin Bayle, portrayed by Gemma Atkinson, and Omar Nasri, portrayed by Dhafer L'Abidine. The duo, however, did not remain on the show for long, making their final appearance in "Wild Horses".
"Starting Out" introduced junior nurses Lloyd Asike and Scarlett Conway, portrayed by Michael Obiora and Madeleine Mantock.
Army medic Sam Nicholls, portrayed by Charlotte Salt, first appeared in "Mea Culpa", on loan to the hospital.
Final Bristol-filmed episode "Next Of Kin - Part 2" saw the final appearance of Georgia Taylor and Ben Turner as Ruth Winters and Jay Faldren.
Production
Series 26 marked the start of high-definition filming of the show. From "Next Of Kin - Part 1", the show was filmed in high-definition[1]. However, it was not until "Duty Of Care" that the show was broadcast in such a format.
The series also sees Oliver Kent step down as Series Producer of the show. From "Next Of Kin - Part 1", he is replaced by Nikki Wilson.
Move to Cardiff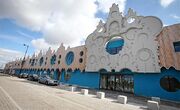 In October 2008, the BBC first announced proposals to move the production of Casualty from Bristol to Wales, as part of the BBC's plan to "achieve half of all network output outside London by 2016".[2] The move was met by great opposition by both fans of the show and the people of Bristol. Derek Thompson, who portrayed Charlie Fairhead, was also opposed to the move.[3]
In March 2009, it was announced that the show would move production to Cardiff in mid-2011. Although not finalised at the time, the BBC also announced plans to develop a "sustainable centre of excellence for drama" in Wales.[4]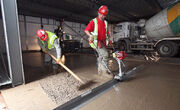 Work started on the new drama village in June 2010.[5] At the it's topping-out ceremony, it was announced that the site would be called Roath Lock.[6] Construction of the first phase, including the Casualty lot, was completed a few months later.[citation needed]
Production of the show moved to Cardiff in August 2011.[7] As filming was about four months ahead of airing, the first episodes filmed at Roath Lock commenced airing at the start of 2012. "Next Of Kin - Part 1" and "Next Of Kin - Part 2" served as transition episodes, with a fire destroying the ED. This allowed the change of set to be explained in-universe.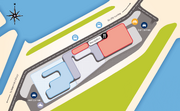 The new set featured a larger, more open department interior, and, for the first time on the show, an integrated exterior entrance. Previously, interior scenes of the hospital were filmed in a warehouse, while exterior scenes of the ED entrance was filmed at a separate location. The new set allows for more dynamic shots, with the camera able to follow characters in an out of the hospital without cutting.
Airing
Unlike previous series, Series 26 aired straight after Series 25, with no break between the two. Instead, a mid-season break took place, between the final Bristol-filmed episode "Next Of Kin - Part 2" on 10 December 2011, and the first Cardiff-filmed episode "Duty Of Care" on 7 January 2012.
Due to the London Olympic Games being aired on the BBC, Series 26 only featured 41 episodes - the least number of episodes since Series 17.
Episodes
Episode #
Series #
Episode
Original Airdate
779
2
"Partners"
13 August 2011
Dixie and Jeff come up against stiff competition when they are introduced to two new gorgeous paramedics, and Jordan's brain tumour rears its ugly head - is this the beginning of the end?
780
3
"Starting Out"
20 August 2011
Lloyd and Scarlett are Holby's newest nurses - with so much to prove on their first shift, will Lloyd's confidence and Scarlett's nervousness be a help or a hindrance?
781
4
"Common Vector"
27 August 2011
When several seemingly-unrelated patients are admitted, all displaying similar symptoms, Dylan is faced with a race against time to find the common link. Is the ED up to the challenge?
782
5
"Memory Games"
3 September 2011
Lloyd puts his life in serious peril after he refuses to break his moral code to lie to a patient. A terrified woman believes she's being pursued.
783
6
"To Have And Have Not"
17 September 2011
Lloyd has to make a choice between his morals and the life of his patient. Can he give an old man his wish and allow him to die?
784
7
"Fixed"
24 September 2011
After a punch-up at a wake, a huge family secret comes to light. Will the truth come out? And can Charlie justify the existence of the drugs clinic?
785
8
"Wild Horses"
1 October 2011
Jeff and Omar butt heads over what makes a good paramedic, while Linda is forced to choose between breaking the law and saving Annie.
786
9
"Charlie's Angels"
8 October 2011
Scarlett doubts her nursing abilities, and her resolve is tested during her shift. When faced with a stab victim, does she have what it takes to save their life?
787
10
"Mea Culpa"
15 October 2011
New ED doctor Sam Nicholls arrives at Holby, on loan from the army and dead set on bringing her battlefield attitude to the hospital. Meanwhile, Noel feels the angry public are getting too close for comfort.
788
11
"Sanctuary"
22 October 2011
Linda is faced with a moral dilemma: will she help a drug-addicted prostitute in a war against her abusive pimp, or should she simply walk away?
789
12
"A Pound Of Flesh"
29 October 2011
A young boy is seriously hurt after being caught in the cross-fire between two warring families, and Lloyd's perseverance pays off when he discovers that an elderly timewaster has real health problems.
790
13
"Natural Selection"
5 November 2011
Dixie is forced to take a call during her break, only to become frustrated by what appears to be a hoax. Unhappy with her working conditions, she complains to ambulance controller Louise, but their feud has fatal consequences.
791
14
"No Goodbyes"
19 November 2011
Sam helps a teenager realise she is not a terrible mum and Ruth enables a woman to come to terms with her husband's terminal illness.
792
15
"The Ties That Bind"
26 November 2011
Dixie gets her mojo back by rescuing a man from a garage fire, and a drunken gambler with cancer reunites with his sister after seven years apart.
793
16
"Next Of Kin - Part 1"
3 December 2011
Ruth finishes with Jay just as they are looking forward to having a baby, Linda comes face to face with an old adversary who threatens her job and the ED catches fire.
794
17
"Next Of Kin - Part 2"
10 December 2011
As fire ravages the ED, the team pulls together and surprising truths are revealed. Zoe, Dylan, Ruth and Jay are trapped in the hospital - will they make it out alive?
795
18
"Duty Of Care"
7 January 2012
The doors open at the brand new emergency department, but are the team ready to respond when an explosion rocks Holby?
796
19
"Death And Doughnuts"
14 January 2012
In the aftermath of the Silverton explosion, Sam tries to reconcile a dying Marston with his ex-wife and Tom finds himself investigating a mystery on his first day in the ED.
797
20
"Trust"
21 January 2012
Linda's sister Denise, on the run from social services, arrives at Holby ED with her teenage daughter Britney and young son Joe, and turns her sibling's life upside down.
798
21
"Hero Syndrome"
28 January 2012
Linda is faced with a problem when Denise fails to return for Britney and Joe, and Dylan meets his match when he treats an acerbic homeless man involved in a traffic accident.
799
22
"The Only One You Love"
4 February 2012
A woman learns she cannot cope with the challenges of looking after her beloved mother, who has Alzheimer's.
800
23
"Confidences"
11 February 2012
Sam throws herself into treating a patient she believes has been sexually assaulted as a way of distancing herself from her own problems with Keith Parr, much to the worry of Zoe and Dylan.
801
24
"Love Is"
18 February 2012
When a mysterious new paramedic turns up in Holby, Dixie thinks he seems too good to be true. Could there be more to this wonder-paramedic than meets the eye?
802
25
"Grand Canyon"
25 February 2012
Sam is told to keep her head down by Jordan after a formal complaint is made to the GMC, and Linda is distressed when Britney runs away from her foster home.
803
26
"Ricochet - How To Save A Life"
3 March 2012
A five year old boy is accidentally caught in the crossfire in a drugs shooting.
804
27
"Ricochet - Damage Control"
10 March 2012
The ED reaps the fallout from the shooting of Jacob Broker when Stevie's girlfriend Jade is brought in, injured as the result of a Farmead Crew attempt to ensure Stevie's silence.
805
28
"Ricochet - What Goes Around Comes Around"
17 March 2012
Tensions reach boiling point when Anton's Farmead Crew run riot in the ED. Can Jordan and Yvonne restore order to the chaos?
806
29
"Lest Ye Be Judged"
24 March 2012
Sam throws herself into helping an old soldier and his son in an effort to distract herself from the GMC interviews.
807
30
"Saturday Night Fever"
31 March 2012
Jordan's date with Yvonne is put on hold when a former ED patient nearly dies in the cells, but who is at fault, and can Jordan and Yvonne's relationship survive the investigation?
808
31
"When The Gloves Come Off"
7 April 2012
Dylan and Sam are forced to confront the problems in their relationship when they are both sent to assist at a dramatic cave rescue.
809
32
"Fools For Love"
14 April 2012
A woman takes extreme action after living next door to nightmare neighbours for years.
810
33
"Desperate Remedies"
21 April 2012
Sam attempts to treat an injured young woman and her drug addict sister, but is the looming GMC hearing putting her off her game?
811
34
"Appropriate Force"
28 April 2012
The date of Sam's GMC hearing has arrived, and things aren't going well. Will new evidence reach the panel in time?
812
35
"Happily Ever After"
5 May 2012
A patient's injuries cause strife between Jeff and Dixie, and Zoe urges Sam to tell Dylan the truth before she hurts him further.
813
36
"Home Truths"
12 May 2012
Dylan and Sam are finding it hard to work together and Lloyd's protectiveness of Scarlett is causing problems. Lenny has a decision to make.
814
37
"Teenage Dreams"
19 May 2012
A high school roof collapses, and a jealous boyfriend doesn't want Tom treating one of the casualties. Britney drops a bombshell on Linda's attempts to bond with her and Joe.
815
38
"All In A Day's Nightmare (Part 1 of 2)"
2 June 2012
After being suspended from school, Britney arranges to meet with a man she's met on the internet after getting the hospital wi-fi password from Lenny. A man who is being harassed by loan sharks is brought into the ED. Scarlett meets Lloyd's family for the first time
816
39
"All In A Day's Nightmare (Part 2 of 2)"
8 June 2012
A family searches for a bone marrow donor for their sickle cell son, Linda and Lenny search for the runaway Britney, Lloyd and Scarlett continue to clash over Lloyd's racist family. Lenny leaves Holby for a job in London.
817
40
"Zero Sum Game"
7 July 2012
Sam fluffs a training exercise, ending her dreams of returning to active duty in Afghanistan. She later has to decide whether or not to tell the truth and destroy a former colleague's career. New nurse Fletch joins the team.
818
41
"Do The Right Thing"
14 July 2012
Wesley Royce, who's just been released from prison is brought into the ED after being tased by the police during a loud argument with his girlfriend, Faith. His death causes Nick and Yvonne's relationship to become strained as the blame falls on her officers. Dylan and Sam are still arguing over their divorce.
819
42
"[[

HolbyRiot Part One]]"

21 July 2012
Faith continues to blame the police for Wesley's death. Lloyd and Scarlett attend a vigil for Wesley, which turns into a riot. Jeff and Dixie struggle to get a patient in anaphylactic shock through the rioters who are reluctant to let them pass.
820
43
"[[

HolbyRiot Part Two]]"

22 July 2012
The riot is still going strong. Scarlett is swept along, and ends up helping an injured rioter. Yvonne is mistaken for a rioter and stabbed and pushed down a flight of stairs by a scared shopkeeper. Nick has to operate on her in Jeff and Dixie's ambulance as the way back to the ED is blocked. Scarlett hands herself into the police for her actions during the riot
Community content is available under
CC-BY-SA
unless otherwise noted.