This article covers a real-world subject which should not be taken as part of the Holby universe.
Series 30 is the thirtieth series of Casualty. It aired from 29 August 2015 until 30 July 2016. It contained 43 episodes. The series featured the arrival, departure and return of foundation doctor Alicia Munroe, portrayed by Chelsea Halfpenny. In December, it saw the arrival of new receptionist Jack Diamond, portrayed by Alistair Brammer. In 2016, Lee Mead as Ben "Lofty" Chiltern left the show, after joining in 2014. In January 2016, Jane Hazlegrove made her final appearance as Kathleen "Dixie" Dixon after almost 10 years on the show. In May, Sunetra Sarker made her final appearance as Zoe Hanna after over 8 years on the show.
The thirty-ninth episode of the series, "History Repeating", is also the show's 1000th overall. Series producer Erika Hossington revealed in 2015 that an old character would return for the occasion, and this was later revealed to be Lisa "Duffy" Duffin. In addition, she said that for the show's 30th anniversary, there would be multiple crossovers from Holby City characters, but this occasion would fall at the beginning of series 31. In 2016, Casualty was short-listed for the NTA Awards, and various cast members including Michael Stevenson, Charles Venn, Azuka Oforka, Tony Marshall and Hannah Spearritt acted in promotional videos to encourage viewers to vote for Casualty.
Three brand new cast members joined in series 30, setting them up for series 31; one in March 2016, one in April, and the final in May. These are a paramedic, nurse and consultant. The paramedic (Jez Andrews) replaced Dixie, and the nurse (David Hide) replaced Lofty. As for the consultant (Elle Gardner), she replaced Zoe. In the summer trailer released in May 2016, it was revealed that Alicia and Lisa "Duffy" Duffin would return once again. In June 2016, Charles Dale made his final appearance as MacKenzie "Big Mac" Chalker after almost 9 years on the show. The 42nd episode of the series saw the final appearance of Rita Freeman, portrayed by Chloe Howman, after almost three years on the show.
Series guest appearances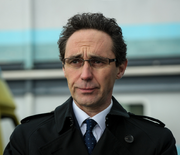 The two-part series opener saw the guest appearance of long serving character Lisa "Duffy" Duffin (Cathy Shipton), as she returns to Holby as an agency nurse. On her return, Shipton commented "I was surprised and delighted to be asked to recreate the role of 'Duffy' to launch the 30th series – especially as Paul Unwin, one of the original creators, was not only writing but also directing." Ben Harding (Mark Letheren), a counsellor who has appeared on-off since 2007, reappeared in episode 4 as Dylan's OCD storyline continued. Sarah Jayne Dunn, who appeared for five months in the previous series as con artist and Cal's ex-girlfriend Taylor Ashbie, returned in episode 7 as well as appearing in a special episode following it.
Kerry Bennett made her first recurring appearance to the show in episode six, and along with Anna Acton and Grace Doherty, who made their first appearances in episode twelve, were part of a storyline which saw Dixie take centre stage. The dramatic domestic abuse storyline conclusion saw events get out of hand and Jess and Olivia see Nikki for who she really was. After a hostage situation and dramatic fire scene, Nikki was arrested, as well as suffering severe burns. Episode sixteen saw the first recurring appearance of Cal's birth mother, Emilie Groome, portrayed by Carol Royle. It was also teased in Casualty's Christmas trailer that a few familiar faces would return, including Sam Strachan (Tom Chambers), Henrik Hanssen (Guy Henry) and Grace Beauchamp (Emily Carey). Guy Henry appeared as Henrik Hanssen in episode 19.
Hannah Spearritt made her first appearance as Mercedes Christie, a drug addict who beat up Noel in episode 20. She remained in the show as a recurring guest star for just over three months, making her final appearance on 7 May. In this time, her son and ex-partner were also introduced, as well as her drug baroness boss.
In March 2016, a new trailer was released for Spring. In the trailer, characters such as Duffy and Henrik Hanssen can be seen to be returning after previously appearing earlier in the series. Additionally, Rita's ex husband Mark Richie returned following previous appearances in series 28 and 29. In episode 35 Dylan's father Brian Carroll and his girlfriend Hazel Leyton returned for another guest appearance after appearing towards the end of series 29 in August 2015. Episode 37 saw the first appearance of a love interest for Robyn, Glen Thomas portrayed by Owain Arthur.
Cast
For a listing of character appearances in this series, see Character appearances#Series 30.
Main characters
Guest characters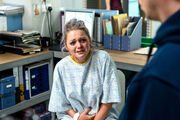 Episodes
Episode




Series



Episode
Centric character
Original airdate
962
1
"A Child's Heart - Part One"
Charlie
29 August 2015
Zoe lies under the depths of the freezing water in the lake, dragged under by the weight of her dress. Dylan arises from the boat, having survived the explosion, and makes his way to shore. Realising that Zoe is drowning, Charlie dives into the water to save her, and gets her out. Zoe suffers hypothermia, while Charlie escapes safely. However, later in the ED, Charlie suffers a huge heart attack. At the same time, Duffy returns to the ED as an agency nurse. The team pull together to save Charlie, but he remains systolic. Louise becomes passionate about a couple whose baby could be about to die. A gang of thugs shoot a targeted member of the public at a nightclub, giving Jacob the perfect opportunity to prove that his new gun policy is a success.

Note: Guest appearance of Lisa "Duffy" Duffin (Cathy Shipton).

963
2
"A Child's Heart - Part Two"
Charlie
30 August 2015
Charlie lies in Resus, his cardiogram showing little signs of life. Rita convinces Connie to give up on Charlie, but Connie is determined to save her friend. Just as Charlie is about to go for his operation, Dylan persuades Connie to let his patient have life-saving surgery first. However, complications in the surgery room lead to a longer wait than expected - but after a long, lengthy battle Charlie's life is successfully saved. The gang violence gets out of hand when two more casualties are admitted after being stabbed by OJ, the gang leader. It's up to Jacob to institute emergency protocol and save the ED but with the violence getting out of hand, he is forced to take action. After a heart-to-heart with Duffy, Louise reconsiders a nursing career again. Zoe and Max kiss, but he refuses to forgive her for her unfaithfulness.

Note: Guest appearance of Lisa "Duffy" Duffin (Cathy Shipton).

964
3
"Objectum Sexual"
Louise
5 September 2015
Louise's nursing career begins, and nerves begin to get the better of her in Resus, forcing Zoe to ask her to leave. A man is crushed under a ceiling when a condemned building being demolished is stopped by a woman who claims to be in a relationship with the building. Later in the ED, Cal discovers she has Objectum Sexuality, and it isn't long before she falls in love with the hospital. Honey is left hungover following her night with Ethan, before telling a patient they aren't in a relationship. Iain has an assault charge lodged against him when a traffic warden falls to the floor after attempting to clamp the Ambulance on private land.
965
4
"Cradle to the Grave"
Alicia
19 September 2015
Alicia Munroe, a new F2 junior doctor, is teamed up with Lily for her first shift in the ED. Her first case is a mother-to-be who crashes her car escaping a man who she hit over the head with a candlestick. When in the ED secrets soon unfold as the man appears to be her social worker for depression as well as the daughter's father and the mother fakes her name. With help from Jacob, the trio manage to persuade the mother to get help. Dylan returns to work following his temporary departure and teams up with Lofty to treat a terminally ill cancer patient. But Dylan soon finds himself losing it with Lofty again when he disregards the patient's wishes and phones for a relative to visit. After later realising that Lofty asked for the patient's dog to spend its final few hours with the patient, Dylan confides in Lofty. Honey and Ethan break up, prompting Honey to set up a new business elsewhere. Jacob is rejected by Connie after asking her out on a date.

Note: First appearance of Alicia Munroe (Chelsea Halfpenny) and final appearance of Honey Wright (Chelsee Healey).

966
5
"Belief"
Connie
26 September 2015
When a Muslim smashes a bottle of acid on a table seated with a room full of racist supporters, the perpetrator is also soon brought into the ED after coming off his motorcycle. With the racists and the perpetrators in the ED, it isn't long before innocent lives are being put in danger, particularly when Jacob puts his life on the line to save Connie but is shot after convincing one of the perpetrator's to hand over a gun. Connie fights to save Jacob's life, while armed police officers also enter the building, adding to the chaos and Alicia successfully performs a risky procedure on a patient amidst the crossfire.
967
6
"All the Single Ladies"
Dixie
3 October 2015
Iain and Dixie have a night of mayhem at a paramedics training course. Dixie tries to take her mind off things as the anniversary of Jeff's death approaches. Dylan and Lofty treat a patient that believes she is unlucky and has had very major injury's over the past few months and is having troubles in a custody battle. Lily continues to be mean to Alicia as they are both trying to help a man in the ED. Rita is running out of beds and is very stressed whilst Zoe begins trying to speak to Max again.
968
7
"Rules of Attraction"
Cal
10 October 2015
Lily struggles to hide her emotions when she receives a phone call from her mother who reveals her father has died. Dixie is left heartbroken when she discovers she's been rejected by the board to be eligible for adopting. Iain and Rita get a moment to themselves when Iain sustains minor injuries as a platform collapses at a warehouse onto an office, trapping a male underneath. Later in the ED Ethan discovers he has heavy metal poisoning as a result of smashing up household electronics. Dylan and Lofty continue to bond as they help a woman speak out about her domestic abuse. Cal befriends a young woman, Ruby, after she saves him from a collapsing crate, but just before he can take her out on a date Taylor returns unexpectedly.
969
8
"Flutterby"
Lily
17 October 2015
Lily throws herself back into work just hours after the funeral of the father, but it's clear that her emotional barriers are affecting her work performance, particularly when she fails to consider a patient's wishes of not having a chest drain because she has a rare medical condition. Dixie opens up to Iain about her rejection by the adoption board. Charlie helps a father and young girl come to terms with the loss of their mother. Cal decides to name the baby after his mother and calls her Matilda, while also agreeing to take a paternity test to prove to Ethan the child is his.
970
9
"One Shot"
Jacob
24 October 2015
Jacob is back up fit and fighting, but while training in the forest a man suffering anaphalactic shock is discovered in a tent. Once back in the ED, he manages to persuade Connie he is ready to return to work, where he begins treating a teacher and schoolboy who have suffered an accident in a Design Technology classroom. The teacher claims he is being harrassed and his job stomped on by some bullies, but Jacob discovers he is suffering withdrawal symptoms from alcoholism. Lily's anger builds up inside of her, and it is Alicia who feels the wrath of her. Later, when Lily is trying to realign a male's broken ankle she makes a mistake, leaving Alicia with no choice but to get Connie in. Lily soon becomes jealous when Alicia is praised for her quick thinking in order to save the man's ankle from further complications. Iain learns of Rita and Dixie's kiss, while Connie continues to fall for Jacob.
971
10
"Best Served Cold"
Charlie
31 October 2015
Jacob is infuriated over the lack of justice he receives as a result of him being shot from the crossfire and decides to take action of his own against the officer who shot him, by finding out his name and hunting him down. Connie is optimistic regarding Alicia's progression in the medical industry, and encourages her to take her MCEM exams as soon as possible. She asks for a report on Alicia from a senior member of staff, and it is Lily who takes charge. When a male named Eddie is admitted after being run over in a scam which has gone wrong, Alicia performs an unfamiliar procedure to help relocate his dislocated shoulder, which irritates Lily. Then, later on, two anglers are admitted after a violent fight over a fish which has resulted in a gaff embedded in the head of one of the anglers, and a knife embedded in the arm of another. Alicia once again shows her instinct and is correct, which causes Lily's jealousy to peak. When Connie asks Lily if everything is okay, Lily claims that she think Alicia is overconfident and not ready for her exams. Cal continues to grow closer with Matilda, and his fatherly instincts become more and more evident throughout the day.
972
11
"Avoidable Harm"
Charlie
14 November 2015
Alicia suffers a traumatic and tough day, and it begins with her treating a teenage boy who claims to have fallen over while playing football. Alicia offers to take the teenager's little brother to go and buy some food, but when she turns her back on him for a minute she finds he's gone missing. Deciding to go searching for him, Alicia ends up at the ambulance station, where she is nearly run over by a car. A man flees the car drenched in blood, with his sixteen year-old girlfriend by his side. Another car immediately pulls up behind, the father of the man's girlfriend, and he has a crowbar. Alicia is forced to take the injured man into the back of a van to treat him while the violent father smashes the van repeatedly, and she copes well under the pressure. The father eventually leaves the man, but as he gets in the car and goes to reverse he accidentally runs over his daughter - she later dies from her injuries. Alicia proves she's an exceptional doctor, but Lily is not happy, and bullies Alicia to a whole new level. With both Connie and Lily furious at Alicia's actions, Alicia decides to hand in her resignation and leaves Holby City, emotionally overwhelmed and distraught as she reflects on her time in the ED and how she's been driven out as a result of Lily's intensive and unnecessary bullying.

Note: temporary departure of Alicia Munroe (Chelsea Halfpenny).

973
12
"Strangers"
Cal
21 November 2015
Dixie and Iain are called to a woodland where they find Jess, from the HART team, has suffered a fall down a deep hole. They successfully rescue her, but Dixie grows concerned when she discovers Jess has started taking anti-depressants. Iain is convinced that Dixie's concerns are simply down to her jealousy over Jess's new relationship, and so she ignores her instincts. Cal is full of life as he enjoys a day with Matilda, but things take a dark turn when Matilda's temperature rises and a rash is discovered on her. Cal rushes her into the hospital, but his paranoia over the child causes him to breakdown. Cal receives the paternity test results – and he is heartbroken to learn he is not Matilda's father. Lily faces the wrath of other members of the team as they blame her for Alicia's departure, leading her to convince Ethan to be on her side as she claims Alicia was never fit to be a doctor in the first place.
974
13
"Estranged"
Cal
28 November 2015
Cal is in disbelief and decides the only way to prove the paternity test wrong is to discover his blood group. But when the results come in Cal receives an even bigger shock as he learns that he's adopted. He hands Matilda over to social services and flees to sleep with a girl as he struggles to take the day's events in. A wedding day for a young gay couple is ruined when the venue collapses and an unsupportive father follows closely behind. Dylan treats the pregnant young girl and she gives birth, but complications soon follow. Connie is impressed by Jacob when Louise hands over a uncooperative patient to him. Later in the staff room they have an arm wrestle, and it's evident there's a spark for the pair.
975
14
"Maybe This Year"
Connie
5 December 2015
Winter ensures its presence is felt at Holby City as the harsh and freezing conditions secure a number of casualties, including Iain and Dixie when the ambulance skids on the ice and falls onto its side. As the team pull together to treat those involved in the accident, Connie and Jacob are brought even closer together, and after a dramatic day they end up sleeping together. New receptionist Jack Diamond arrives at the Emergency Department and his Christmas spirits are high. Cal and Louise help bring a mother and son closer together, but a shocking secret is soon revealed. Dixie's concerns continue to grow over the welfare of Jess's daughter Olivia when she is admitted but Jess's girlfriend, Nikki, is present instead of Jess.

Note: First appearance of Jack Diamond (Alistair Brammer).

976
15
"Silence Speaks"
Connie
12 December 2015
Connie is determined not to allow her love life to intervene in her clinical duties, but when a patient with advanced Motor Neurone Disease is brought in and Jacob shows his instincts - Connie is unimpressed and inadvertently reveals they slept together. Lofty, Robyn and Dylan work together when a son and mother are admitted after a car crash, and truths are soon exposed when Lofty discovers it was the son who was driving which resulted in the crash. Dixie meets up with Jess as she tries to work out what's happening to Olivia, but things don't quite got to plan. Robyn and Lofty both prepare to apply for a Band Six nursing position, unaware each other are going for the job.
977
16
"Home for Christmas"
Cal
19 December 2015
Cal is full of festive cheer as he goes with Charlie to visit his biological mother, but his happiness is soon crushed when it appears his mother has Huntington's Disease, is seriously ill and he has a fifty percent chance of inheriting the condition. An infuriated mother is admitted when she falls from her roof whilst cancelling Christmas, but with a little help from a neighbour, the Christmas spirit is reignited. Rita and Iain flirt by text, but Iain accidentally sends a text to Robyn. Dixie learns her superiors are looking into Jess's complaint about her - but instead of apologising Dixie promises she's going to do what's right for Jess and Olivia and promises to see her plan through. Dylan and Lofty spend Christmas together on Dylan's boathouse, while Jacob decides to spend Christmas with Connie.
978
17
"A Life Less Ordinary"
Cal
2 January 2016
Cal treats an elderly same-sex couple, Evelyn and Hester, who are struggling to come to terms with the recent discovery that Evelyn needs life-saving surgery immediately. Despite this, the couple flee the hospital and Connie blames Cal for allowing them to go. After work, Cal goes to a nightclub where he meets a girl. The next morning her angry husband locks her in the boot of his car and escapes, with Cal following closely behind. However the cars lose control and fly across the road, and as one of the cars slide across the road they hit Evelyn and Hester's car. Cal manages to save all the lives but aware he may still be over the limit Connie stands in and covers for him. Evelyn later dies before she manages to get surgery and Cal breaks the news to Hester. Just hours later, Hester dies from a broken heart. Despite the day's dramatic events, Cal still refuses to tell Ethan of his two recent life-changing discoveries.
979
18
"Lie to Me"
Dixie
9 January 2016
A row is sparked on Olivia's birthday and Jess comes into the Emergency Department with an injury, accompanied by Nikki and Olivia. The scales fall from Jess's eyes and she sees Nikki for who she really is. Meanwhile, Charlie brings up the subject of genetic testing, but Cal is still in denial. He realises he needs to tell Ethan what he's discovered, but when he witnesses Ethan's own mental crisis, he thinks he would only be making things worse. Elsewhere, campaigning for a promotion, Lofty fails to impress Rita and feels he has let himself down.
980
19
"Black Alert"
Ethan
16 January 2016
The Emergency Department is pushed to the limit, but the team pull together under difficult circumstances. Feeling guilty and mentally exhausted after what happened with Olivia, Ethan is determined to give everyone the care they deserve - even though a black alert is called. Stretched to the limit, he fails to deal with a forced marriage and accidentally leaves a patient to die in the corridor. It's the day of Lofty's interview and he's on the verge of bottling it. Jess comes to see Dixie to say thank you, and that she's rescinded her complaint. She also asks Dixie out, but Dixie decides to do the right thing, and reluctantly refuses. Cal's head is in a mess and Charlie encourages him to go and see Ben. Meanwhile Big Mac passes his motorbike test.
981
20
"Shame"
Big Mac
23 January 2016
Office prankster Murray makes use of a fake scratch card to trick his colleague Claire into thinking she has won £100,000. Buoyed by her supposed success, Claire quits her job and prepares to claim her winnings, but a nasty mishap takes her to the ED, where she eventually discovers the truth, and decides to take advantage of her situation to get her own back. Meanwhile, Noel is mugged by a mysterious assailant, while Big Mac cowers nearby. When Noel regains consciousness relatively unharmed, he assumes Mac drove the attacker away, and proclaims him a hero. Elsewhere, Ethan's frustration over the restrictions placed on him by the system causes him to take drastic action.
982
21
"The Good Life"
Dixie
30 January 2016
The day of Dixie's disciplinary hearing arrives, but things get off to a bad start when she is held up by an incident, and when Jess asks her to move to Cornwall with her and Olivia, the paramedic must decide whether to follow her head or her heart. Lily desperately hopes to re-establish her bond with Ethan by trying to convince him to stay, Connie tries to come up with a meaningful gift to make up for missing Jacob's birthday, and Robyn's appearance on the cover of Holby Pulse only serves to increase Big Mac's feeling of shame over abandoning Noel to his mystery mugger.

Note: Final appearance of Kathleen "Dixie" Dixon (Jane Hazlegrove).

983
22
"Step Right Up"
Ethan
6 February 2016
Ethan is back in full swing. He and Lily work well together and help an autistic girl to get the family support she needs, but Ethan's world is about to be shaken. Emilie comes into the Emergency Department with an injury and Cal panics as he tries to conceal her from Ethan. As Cal realises it wasn't her fault and her depression was down to her illness, he forgives her for giving them up. When Ethan catches Cal bonding with his mother, he can't conceal the truth any longer and is forced to tell Ethan everything.
984
23
"Hearts and Flowers"
Connie
13 February 2016
Grace and Sam are back in Holby. It transpires that Sam's girlfriend Emma hasn't been well and it's now down to Connie to save her life. Grace develops a new respect for her mother when she sees her performing an impressive operation to save Emma, but it's not enough, and Sam arrives to take Grace back to New York. Ethan is furious with Cal for his deception, and the anger brews as they are forced to work together on a case. A punch-up erupts in resus, and Ethan says what Cal has been dreading. Elsewhere Big Mac becomes an overnight celebrity, Lofty struggles with the management element of his job and Max sets up a date with a Zoe look-alike - but it doesn't go to plan.
985
24
"Just Do It"
Connie
20 February 2016
Threatened by Shelle, Mercedes is forced to sell drugs. But while being chased by the police she swallows the drugs and falls - ending up in the Emergency Department. Big Mac talks to her about taking responsibility and she threatens to hurt her son Connor, before agreeing to take the help she needs. Meanwhile the police discover that it was Mercedes who assaulted Noel. Noel buys Big Mac a motorbike to say thank you for saving his life, but his secret is exposed and Big Mac has to come clean, resulting in Noel moving out. Zoe and Max sleep together and flirt the next day - until Max decides that people don't change he can't trust her.
986
25
"Fatal Error - Part One"
Lofty
27 February 2016
Lofty struggles with the pressures of his new position when he is asked to run the nursing team for the day. Lofty calls for the assistance of an agency nurse, but a mistake in a lift causes her to receive a shock from a defibrillator and die. Meanwhile, a miserable Big Mac tries to apologise to Noel for his deception, but when Louise attempts to get to the bottom of his troubles, he misses another opportunity to tell the truth.
987
26
"Fatal Error - Part Two"
Lofty
5 March 2016
In the aftermath of the incident that saw agency nurse Diana receive a shock from a defibrillator, Lofty must decide how to explain what occurred in the Emergency Department's official statement. Dylan tells him clarify it was an accident, but Lofty must decide whether he himself should carry the burden. Meanwhile, Cal falls while looking after Emilie, and the pair are admitted to the ED, forcing Ethan to face his birth-mother for the first time. When it becomes clear that Emilie has pneumonia, and doesn't have long to live, Ethan and Cal must make a life-changing decision together.
988
27
"High Tide"
Ethan
12 March 2016
Iain is dumped with yet another paramedic partner, Jez. He doesn't make a great first impression, turning up on the wrong day, but Iain agrees to take him out on rounds. Cal aims to take Ethan and Emilie to a hostel, but Emilie tells her sons that she wishes she could go to a particular bay one last time. Cal decides to hijack the ambulance to take her there, leaving Iain and Jez at the side of the road. They manage to make it to their old holiday destination at the beach and as Emilie takes a turn for the worse, they decide to open their results from the genetics lab. Lofty arrives at work despondently and has to attend a panel to discuss what happened with Diane. He comes face to face with the consequences of his actions and decides to miss the hearing to help Lana instead.

Note: First appearance of Jez Andrews (Lloyd Everitt) and final appearance of Ben "Lofty" Chiltern (Lee Mead).

989
28
"Sweet Child of Mine"
Connie
26 March 2016
On a terrifying day, Connie realises how much Jacob means to her as he puts himself in danger to save her. She's ready to say 'yes' to love, but is reluctant to tell Grace about their relationship. Before she gets a chance to break the news, Grace catches them kissing and is furious, giving her mother an ultimatum. Mercedes comes in with her son Connor. She's having drug-induced fits and Connor's dad, Vince, comes in and is furious with her. Big Mac helps her see the error of her ways, while Vince agrees to come home with them. Ethan is distressed, but he shuts Cal and everyone out. Louise and Jack lock Big Mac and Noel in the stationery cupboard to sort out their differences once and for all. Slowly, they come to an understanding, and their friendship is cemented once more.
990
29
"Buried Alive"
Connie
2 April 2016
After a terrifying day, Connie gets some perspective when she's faced with the prospect of never seeing Grace again. Connie tells Jacob that they can't be together as she has to focus on Grace. Distancing himself from her, Jacob spends a day out with the paramedics and ends up in a partly-collapsed building. When Connie hears Jacob is in trouble, she races to the scene to help. As they treat the patient they both get trapped in the basement. In a rage, Ethan tells Lily his devastating Huntington's news and tells her he wishes it could have been Cal. His brother overhears it all and goes AWOL. With trouble at home, Connor turns up at the department and begins to follow Max around. Max decides to take him under his wing and show him how to be a porter for the day. Zoe can't help swooning over the cute duo.
991
30
"Hopelessly Addicted"
Connie
9 April 2016
Jacob has reverted to being an alpha male and takes it upon himself to track down a dangerous drug dealer in Holby. With several patients suffering from the same symptoms, he skilfully persuades an unlikely person to comply. Big Mac is more reliant on his painkillers than ever. He tries to get Zoe to write him another prescription, but to no avail. Starting to suffer from withdrawal symptoms and more desperate than ever for relief, Big Mac offers to help Robyn unpack the drugs delivery, and after a brief crisis of conscience, pockets a few packs. Connor falls in a bin and hurts himself. He calls Max instead of Mercedes to help him. She is annoyed and suspicious, but Zoe steps up to defend him.
992
31
"Survivors"
Rita
16 April 2016
Rita receives the surprise of her life when her ex-husband Mark arrives at the ED, and as old ghosts come back to haunt her, she struggles to keep her emotions in check. Iain spots Jez leaving the house kissing a guy, leaving him very confused. Throughout the day when Jez continues to flirt with girls, Iain tries to hint to him that he doesn't have to hide his true sexuality, but this is all lost on Jez. When he realises what Iain thinks, he decides to mess with Iain even further by flirting with him! Mercedes comes into the ED looking for Jacob, trying to get her drugs back, but he can't help her. She spots Big Mac stealing from the pharmacy and takes the opportunity to blackmail him to steal drugs for her - Big Mac's shame increases.
993
32
"A Clear Conscience"
Big Mac
23 April 2016
Big Mac's secret is getting on top of him and he's not the only one who's reached their limit today. Painkillers are reported missing and suspected stolen. Big Mac's addiction is starting to affect his health. Mercedes threatens him to steal more drugs, but Big Mac eventually has to come clean to Noel and admit he has a problem. Noel is supportive and encourages him to go to an NA meeting, but will Big Mac bottle it last-minute? Rita suspects Mark's stalking her when Charlie informs her that a number of complaints have been made against her. When she looks into it, the patients don't exist. She feels safe with Iain, but when she goes home she discovers her bedroom has been trashed, and she's terrified. Jack has the day from hell and decides to leave to pursue his dreams in the travel industry.

Note: Final appearance of Jack Diamond (Alistair Brammer).

994
33
"Tangled Webs We Weave"
Zoe
30 April 2016
Mercedes comes into the Emergency Department with Vince and Connor, having been beaten up by Shelle. Max sees Connor being bundled into a car by Shelle and makes Vince follow them to the house. Meanwhile a poisonous spider is loose in Holby. When Zoe discovers that both Connor and Max could be in danger, fate forces them to work as a team. Zoe and Max relish their success, but will Zoe be able to avoid the trigger for her unwanted emotions? Rita is bothered by her ex-husband. Seeing her so scared, Iain promises to help her but Rita is reluctant to get the police involved. Iain refuses to let it go and confronts Mark - her knight in shining armour. David Hide starts at the Emergency Department, but the quietest man in the world finds it hard to make a good first impression. While Connie is impressed by Jacob's work, and she wishes things could be different between them.

Note: First appearance of David Hide (Jason Durr).

995
34
"Hello, I Must Be Going"
Zoe
7 May 2016
Elle Gardner starts at the Emergency Department and she's about to get a baptism of fire. A chaotic Mum who's been out of the game for a few years, she struggles initially, but the team welcome her brilliant instinct although her friendship with Hanssen is slightly odd. Zoe wakes up next to Max on cloud nine and reveals she's been offered a job in America. Max agrees to go with her and she couldn't be happier. But Robyn warns Max he'll just get his heart broken and she makes Zoe promise never to hurt him again. Iain keeps getting texts from Rita and Jez starts ribbing him about it. Is Iain starting to realise maybe he's in too deep? While David is still struggling to fit in and Dylan warns him he needs to pull his socks up. Shelle comes into the Emergency Department looking for Vince, but ends up taking Elle and Zoe hostage.

Note: First appearance of Elle Gardner (Jaye Griffiths) and final appearance of Zoe Hanna (Sunetra Sarker).

996
35
"Chain Reaction"
Elle
21 May 2016
Dylan receives a nasty surprise when Brian turns up at the ED, having cut his hand smashing a window after locking baby Rihanna in his car. While Bryan apologises for his past behaviour, Dylan is not so sure he can ever change. Connie discovers Jacob and Elle are old friends, and the pair are given a chance to catch up while dealing with injuries at the scene of a factory accident. However, when Elle starts asking strange, probing questions about the status quo at Holby, it becomes there is an ulterior motive behind her recent arrival. Meanwhile, Charlie encourages David to be more confident, and Big Mac lies to Noel about seeking help with his addiction.
997
36
"This Life"
Big Mac
28 May 2016
Big Mac struggles to hide the toll his addiction is taking and steals some painkillers from a patient's bag. He becomes angry when a young boy catches him in the act of taking some, and his change in behaviour starts to become noticeable. Charlie notices his odd behaviour, and demands to know the truth, prompting the troubled health care assistant to confess the truth. Connie takes the day off to go to Grace's school's sport's day and discovers that Grace has called her a witch when another mum jokingly drops it into conversation. Robyn is determined to bring David out of his shell and Dylan tries to befriend Max. Rita needs somewhere to stay and Iain suggests she take up residence in his spare room, but when Jez warns him he is getting in too deep, he begins to have second thoughts about his offer.
998
37
"The Best Day of My Life"
Connie
4 June 2016
Hanssen piles pressure on Elle to find out who's been stealing drugs from the Emergency Department. Elle is forced into a corner after a shocking discovery, but will she make a decision for the good of the department - or the people in it? Robyn and David are rushing to set up their morality café. Something that is a success in more ways than one, culminating with Robyn meeting Glen and getting his number. Rita is being icy with Iain, until she arrives at her car and finds the tyres have been slashed. Plagued by her past, she runs back to Iain for support. Ethan is being pushed by Cal to be a Lothario. Cal encourages him to chat up a patient, only for it to backfire when she comes on too strongly for him - before fainting.
999
38
"You Make Me Sick"
Big Mac
11 June 2016
As Big Mac lies about his addiction, can he overcome his demons and help a young girl in need? Feeling guilty about Charlie getting suspended, Noel corners Big Mac - he knows it was him who stole the drugs and if he doesn't come clean, he'll do the job for him. Big Mac finally becomes the hero and tells his story, and is ultimately fired due to the severity of his actions. But will Charlie's suspension get revoked? Robyn continues with the Mortality café and tries to comfort Glen. They end up kissing, but Robyn pulls away, thinking it's too soon after his wife's death. Rita is still angry with Iain, until he shows he cares and makes the effort to check up on her. Rita is thrilled by his attention and tells him that Mark was the criminal who slashed her tyres. Iain comforts her and Rita relishes it. Meanwhile Elle is given a frosty reception by her colleagues and is ostracised from the team.

Note: Final appearance of MacKenzie "Big Mac" Chalker (Charles Dale).

1000
39
"History Repeating"
Elle
25 June 2016
Duffy pops down from the obstetrics and gynaecology department and reveals to Charlie that she's back working as an agency nurse in Holby. Elle enters the hospital with her head held high, but with the Emergency Department still bitter towards her, the team slyly send all the worst cases her way. Can she earn their respect by saving a mother and her unborn child? Rita is telling everyone that she and Iain are back together, and Iain is freaking out. He decides to come clean, and tells her he doesn't want a relationship. Glen visits the mortality café again, and a romance blossoms between him and Robyn.

Note: Guest appearance of Lisa "Duffy" Duffin (Cathy Shipton).

1001
40
"What Lies Beneath"
Connie
3 July 2016
Jacob shows some uncharacteristic nerves as he gives a presentation on his 'gun-shot wound' policy to the heads of trusts. Connie goes with him, but on the way, they come across a man stuck in a drain and work together to save him. They turn up to the presentation late and soaking wet, but Jacob eventually gives his presentation with Connie's support. Rita turns up to work with a black eye, and when Iain assumes it was Mark's doing, she doesn't deny it and gets caught up in her own lies. Robyn is completely loved up and gets some flowers sent to work from Glen, while Max and Dylan play chess and become unlikely friends.
1002
41
"Where the Truth Lies"
Dylan
9 July 2016
A cigarette spark develops into a fire at Dylan's father's flat. Unaware, Hazel is sleeping in the bedroom and becomes stranded with her baby Rihanna. Rescued by the emergency services, they are rushed in to the ED and Dylan works professionally to treat his family. As he discovers the fire was caused by Brian, Dylan tells him he's not fit to be a father and offers to support Hazel and Rihanna. David thinks Glen is reliving his wife's last moments in the hospital. He asks Noel to find details of the doctor that treated her, and David discovers that Glen's been lying to Robyn. He questions why there aren't any photos of his wife online and Glen admits he lied and there is no 'Emma'. He tries to explain his actions but Robyn ends things between them. Connie and Jacob are in honeymoon period and Charlie guesses they are back together. She asks him to keep it to himself because of Grace.
1003
42
"The Fear"
Rita
16 July 2016
Rita receives a frosty reception from her colleagues in the Emergency Department after her lies to Iain were revealed. Elle is offered the permanent position of cosultant in the ED and appointed as the department's new Deputy Clinical Lead. Meanwhile, Jez is so busy showing off that he forgets to fill the ambulance with petrol, Jacob and Connie are happy together, and Robyn is gutted after her break-up with Glen. After a difficult day, Rita decides that it's best if she takes some time away from the hospital, and shares a heart to heart talk with Charlie outside the Hope & Anchor, before walking off to go travelling.

Note: Final appearance of Rita Freeman (Chloe Howman).

1004
43
"Sticks and Stones"
Connie
30 July 2016
Grace's friend Carmel injures herself while playing on a trampoline, and when Grace rushes home to seek Connie's professional aid, where she then discovers the truth about her mother and Jacob. Jacob is offered the position of clinical nurse manager.

Alicia returns to the ED and is wary about working with Lily again after what happened. Meanwhile, Glen is admitted to the ED having apparently been found drunk out on the street, but when it becomes clear he hasn't been drinking, a more devastating prognosis comes to light.

As everyone heads to A&E with Carmel, Connie works to make amends with Grace, while also trying to get to the bottom of a mysterious set of scratches found on young Carmel's stomach. When social services are called, Steph pursues Connie in her car and ends up resulting in Connie driving off a cliff.

Note: Return of Alicia Munroe (Chelsea Halfpenny).
Specials
A special episode aired as a red button episode on 10 October 2015, straight after "Rules of Attraction".
Special



Episode
Original airdate
1
"On Call"
10 October 2015
An unwanted visitor comes to Holby this week - and she definitely leaves her mark! Cal gets more than he bargained for when Taylor presents him with a baby.