This article covers a real-world subject which should not be taken as part of the Holby universe.
Series 31 is the thirty-first series of Casualty and aired from 27 August 2016 to 29 July 2017. The current series producer Erika Hossington revealed that they had big plans for the show's thirtieth anniversary, which fell at the beginning of this series. It was later revealed that the 30th anniversary episode was to air on 27 August, 10 days before actual anniversary. The series comprises 44 episodes - an increase from the previous series. The series featured a single-shot episode, something never done by Casualty before.
This series introduced a brand new title sequence and a slightly modified theme tune, although the changes to the latter were minimal. Richard Winsor left the show in episode 33 when his character, Caleb Knight, was killed off.
Series guest appearances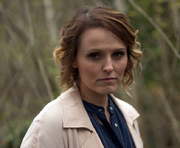 The series opener saw a variety of guest appearances from former cast members including Ian Bleasdale and Suzanne Packer as Josh Griffiths and Tess Bateman, respectively. Charles Dale also returned for a brief cameo in the episode as MacKenzie "Big Mac" Chalker who departed just two months earlier. Some Holby City regulars also guest starred in the 30th anniversary episode, including Jac Naylor, Henrik Hanssen and Adrian Fletcher, the latter having been a series regular on Casualty from 2012 to 2014. Continuing into series 31 was also be Robyn's love interest Glen Thomas as well as Steph Sims who appeared in episode 1. (CAS: "Too Old for This Shift") Emily Carey also continued her role as Grace Beauchamp, furthering her recurring role which began in the 29th series. (CAS: "Losing Grip")
In August, Josh Griffiths' guest appearance was officially announced as well as the news that Ben Turner had reprised his role as Jay Faldren for the 30th anniversary. On 16 August, it was revealed that Alice Chantrey, John "Abs" Denham, Mike Barratt, Comfort Jones and Lenny Lyons would all appear in episode 1 along with the other returnees. Poppy Jhakra and Pam St. Clement first appeared as Amira Zafar and Sally Hodge, respectively, and both reprised their role for an episode later in the series. (CAS: "Too Old for This Shift") James Gaddas and Tracey Wilkinson guest starred in episode 2 as Alicia's parents Howard and Jackie Munroe, respectively. (CAS: "Fall on Me") Rosie Marcel, John Michie and Tom Chambers all guest starred in episode 3 as Jac Naylor, Guy Self and Sam Strachan, respectively. (CAS: "Strike Three") Episode 5 of the series also saw the first appearances of Rosa and Oliver Hide, David's ex-wife and son portrayed by Lorraine Pilkington and Harry Collett, respectively. (CAS: "Schoolboy Crush")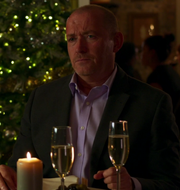 Episode 11 of the series saw the first appearances of Ricky Nixon as Peter Duffin and Sophie Austin as Tanya Duffin. Peter had last appeared in series 17, portrayed by a different actor as a child. Additionally, James Wilby made his first appearance as Archie Grayling, the father of Sebastian Grayling and a potential love interest for Lily. (CAS: "Thirty Years") Russell Boulter reprised his role as Ryan Johnson in episode 14, appearing for the first time since the show's 17th series. (CAS: "All I Want for Christmas Is You") His role continued into episode 15, in which Roly Botha also appeared in as Duffy's son Paul. (CAS: "About My Mother")
In the new year, episodes 17 and 18 saw a guest appearance from Holby City's Ric Griffin, portrayed by Hugh Quarshie, who was last seen on Casualty in 2005. (CAS: "What Lurks in the Heart") Episode 19 of the series saw the first appearance of Gemma Dean, portrayed by Rebecca Ryan. (CAS: "Little Sister") Additionally, Siân Reeves appeared as Kim Harrison, Iain and Gemma's mother, in episode 23. (CAS: "Binge Britain") Tonicha Lawrence also reprised her role as Steph Sims in episode 24. (CAS: "Slipping Under")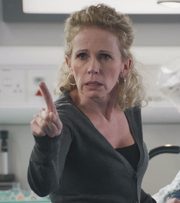 It was announced in March 2017 that the Ellisson family, from the series 30 episode "Belief", would be returning in late April. John Killoran reprised his role as Roy Ellisson, while Lucy Benjamin returned as his wife Denise. Although their appearance in the previous series was a standalone episode, it was confirmed that this time they would be appearing in a recurring capacity. Additionally, Will Austin and Mitch Hewer were introduced as their sons Scott and Mickey. In March 2017, it was announced via a tweet from Charles Venn, that Ian Bleasedale would appear again as Josh later in the series. Josh reappeared in episode 36.
Cast
For a listing of character appearances in this series, see Character appearances#Series 31.
Main characters
Recurring characters
Guest characters
Poppy Jhakra as Amira Zafar (episodes 1 & 22)

Pam St Clement

as Sally Hodge (episodes 1 & 26)
Guy Henry as Henrik Hanssen (episode 1)
Alex Walkinshaw as Adrian Fletcher (episode 1)

Raif Clarke

as Kai Swift (episode 1)

Daisy Douglas

as Charlotte Swift (episode 1)

Adam Foster

as Steve Swift (episode 1)
Tonicha Lawrence as Steph Sims (episodes 1 & 24)

John Hogg

as Harry Price (episode 1)
Ben Turner as Jay Faldren (episode 1)
Martina Laird as Comfort Jones (episode 1)
Suzanne Packer as Tess Bateman (episode 1)
Steven Miller as Lenny Lyons (episode 1)
Sam Grey as Alice Chantrey (episode 1)
James Redmond as John "Abs" Denham (episode 1)
Charles Dale as MacKenzie "Big Mac" Chalker (episode 1)
Clive Mantle as Mike Barratt (episode 1)

Holli Hoffman

as Debbie Phillips (episode 1)
Tracey Wilkinson as Jackie Munroe (episodes 2 & 20)
James Gaddas as Howard Munroe (episodes 2 & 20)

Laura Howard

as Carly Swinford (episode 2)

Mark Rice-Oxley

as Roddy Swinford (episode 2)
John Michie as Guy Self (episode 3)
Alan Williams as Roy Hills (episode 3)

Eileen Davies

as Jan Hills (episode 3)

Frances Grey

as Gaynor Lockford (episodes 4 & 6)

Zac Gabriel Werb

as Ben Lockford (episodes 4)

Elizabeth Edmonds

as Annie O'Shaunessy (episode 4)

William Scott-Masson

as Daniel Lockford (episode 4 & 6)

Jaimi Barbakoff

as Cheryl O'Shaunessy (episode 4)
Lorraine Pilkington as Rosa Hide (episode 5)

Sheila Reid

as Sheila Bobbins (episode 5)

Liza Goddard

as Gloria Francis (episode 5)

Terence Hillyer

as

Allan Francis

(episode 5)

Gail Kemp

as

Becky Lewin

(episode 5)

Charlotte Jordan

as

Lisa "Sambuca" Nichols

(episode 6)

Michael Higgs

as

Henry Nichols

(episode 6)

Alex Avery

as

Eli Brookes

(episode 7)

Zoe Hall

as

Angel Brookes

(episode 7)

Philippa Neeve

as

Pamela Brookes

(episode 7)

John Webber

as

Dr Roe

(episode 7)

Derek Barr

and

Tom Vallen

as

Rhys Ronson

(episode 8)

Frankie Fox

as

Joel Ronson

(episode 8)

Yemisi Oyinloye

as

Danni Reynolds

(episode 8)

Gabriel Lo Giudice

as

Paolo Brunetti

(episode 9)

Non Haf

as

Kara Lounds

(episode 9)

Gwenllian Higginson

as

Juno Lounds

(episode 9)

George Naylor

as

Ryan Dolarhyde

(episode 9)

Anita Reynolds

as

Mrs Carver

(episode 9)

Shobna Gulati

as

Preethi Chhabra

(episode 10)

Indira Joshi

as

Supriya Chhabra

(episode 10)

Basienka Blake

as

Elena Stanev

(episode 10)

Andrew Paul

as

Sid McCray

(episode 10)

Natalie Burt

as

Leanne Morgan

(episode 10)
Sophie Austin as Tanya Duffin (episode 11)
Ricky Nixon as Peter Duffin (episode 11)

Trudie Goodwin

as

Karen Bartley

(episode 11)

Rohan Gotobed

as

Rhys Morry

(episode 11)

Joy Blakeman

as

Julie Morry

(episode 11)

Derek Hicks

as

Jan Bickers

(episode 12)

Bethan Nash

as

Rebecca Bickers

(episode 12)
Tessie Orange-Turner as Keira Bradley (episodes 12 & 30)

Donald Pirie

as

Donald Reid

(episode 12)

Harry Taurasi

as

Dan Gibney

(episode 13)
Danny Szam as

Kyle Jenkyns

(episode 13)

Barney Taylor

as

Stu Jenkyns

(episode 13)

Adam Deacon

as

Nafeez

(episode 13)

Leonie Elliott

as

Natalie Stubbs

(episode 13)

Andy de la Tour

as

George Porter

(episode 13)
Russell Boulter as Ryan Johnson (episodes 14 & 15)

Claire Price

as

Annie McVie

(episode 14)

Sam Troughton

as

Sean Barnes

(episode 14)

Katie Griffiths

as

Livvy Minter

(episode 14)

Brenock O'Connor

as

Peter Barnes

(episode 14)

Leona Vaughan

as

Carly Fielden

(episode 14)

Louisa Connolly-Burnham

as

Penny Levitt

(episode 14)

Gary Finan

as

Bouncer

(episode 14)

Chris Ellison

as

Larry Niven

(episode 15)

Scott Frazer

as

Rob Cranitch

(episode 15)

Ryan Baker

as

Toby Cranitch

(episode 15)

Tanya Vital

as

Linda Rudd

(episode 15)

Zara Ramm

as

Irene Sweeney

(episode 15)
Roly Botha as Paul Duffin (episode 15)

Alice Henley

as

Chrissy Pearson

(episode 16)

Dominic Vulliamy

as

Pete Brooks

(episode 16)

Robyn Holdaway

as

Jodie Sims

(episode 16)

Tyler J Mitchell

as

Jake Watkins

(episode 16)

Neil Reidman

as

Will Watkins

(episode 16)

Jack Rowan

as

Sheldon Hawkins

(episode 17)

Elliott Rosen

as

Neil Ogden

(episode 17)

Charlene Salter

as

Kerry Bayton

(episode 17)

Amy Robbins

as

Lina Collins

(episode 17)

Daniel Adegboyega

as

Femi Magoro

(episode 17)
Hugh Quarshie as Ric Griffin (episodes 17 & 18)

Terence Maynard

as

Ray Thompson

(episode 18)

Bryony Afferson

as

Jessie Nichols

(episode 18)

Jordan Murphy

as

Nate Archer

(episode 18)

Tiffany Ceri

as

Rhian Matthews

(episode 18)

David Partridge

as

Tim Parkman

(episode 18)

Rachel Lumberg

as

Belle Cook

(episode 19)

Simon Chandler

as

Jamieson Francis

(episode 19)

Diana Dimitrovici

as

Kristina Boiko

(episode 19)

Martin Turner

as

Martin Ferguson

(episode 20)

Andre Nightingale

as

Chris Murray

(episode 20)

Yusuf Hofri

as

Scott Murray

(episode 20)

Jeremy Swift

as

Lionel Withers

(episode 21)

Shaun Williamson

as

Terry Boydell

(episode 21)

Ellie Goffe

as

Candy Brooke

(episode 21)

Rad Kaim

as

Sarvas Novak

(episode 21)

Tonya Smith

as

Jade Clarke

(episode 21)

Seeta Indrani

as

Zahira Tahar

(episode 22)

Brian Jackson

as

Gabriel O'Shaughnessy

(episode 22)

Danny McNamara

as

Jack Allcott

(episode 22)

Baz Patterson

as

Elliot Allcott

(episode 22)
Sian Reeves as Kim Harrison (episode 23)

Noeleen Comiskey

as

Karla Warrington

(episode 23)

Lauren Crace

as

Daisy Ashcroft

(episode 23)

Louis Tamone

as

Greg Hampton

(episode 23)

Scott Neal

as

Danny Mason

(episode 23)

Lynne Pearson

as

Patsy Gwyn

(episode 24)

Bill Fellows

as

Nick Gwyn

(episode 24)

Gideon Turner

as

Phil Sims

(episode 24)

Michelle Greenidge

as

Prison guard

(episode 24)

Elsie Fallon

as

Amy Blears

(episode 25)

Tupele Dorgu

as

Monica Blears

(episode 25)

Martin Jarvis

as

Martin Rawlinson

(episode 25)

Sarah Champion

as

Jacqui Taylor

(episode 25)
Jean Trend as

Maeve Rawlinson

(episode 25)

Paul Chequer

as

Arnold Letts

(episode 26)

Helen Daniels

as

Lauren Chapman

(episode 26)

Simone McAullay

as

Carol Carmichael

(episode 26)

Henry Miller

as

Peter Judds

(episode 27)

Amara Mughal

as

Neela Aggarwal

(episode 27)

Narinder Samra

as

Haresh Aggarwal

(episode 27)

Louis Krommenhoek

as

Raf Evans

(episode 27)

Caitin McKee

as

Drunk girl

(episode 27)

Michelle Holmes

as

Jude Rivers

(episode 28)

Rhona Cameron

as

Neeve Kelling

(episode 28)

Nicky Bean

as

Miriam Kelling

(episode 28)

Mark Jordon

as

Harry Beatty

(episode 29)

Juliet Howland

as

Susie Collett

(episode 29)

Holly Goss

as

Evie Collett

(episode 29)

Philip Brodie

as

Jeremy Warren

(episode 29)
Chizzy Akudolu as Mo Effanga (episode 30)
Percelle Ascott as Kalen Gardner (episode 31)

Tim Dantay

as

Jay Blakeson

(episode 31)

Luke de Woolfson

as

Stan Cullen

(episode 31)

Olivia Onyehara

as

Joanna Jenkings

(episode 31)

Sarah Ovens

as

Tamzin Cullen

(episode 31)

Siân Phillips

as

Bridget Haas

(episode 32)
John Killoran as Roy Ellisson (episodes 32 & 33)

Bayo Gbadamosi

as

Eamonn Atunde

(episode 32)

Susie Amy

as

Susan Beckett

(episode 33)

Andy Rush

as

Craig Heywood

(episode 34)

Ross Boatman

as

John Galloway

(episode 34)

Frankie Fitzgerald

as

Jack Woodfield

(episode 34)

Manpreet Bambra

as

Neysa Mehat

(episode 35)

Kiran Sonia Sawar

as

Riya Mehat

(episode 35)

Michael Greco

as

Phil Paterson

(episode 35)

Joanna Miller

as

Susan Conway

(episode 36)

Joel Francis-Williams

as

Bruno Garrido

(episode 36)

Michael Yale

as

Mr Kelman

(episode 36)

Danielle Harold

as

Georgie Manning

(episode 36)

Harry Rafferty

as

Kane Silmani

(episode 36)

Rayna Campbell

as

Cassie Stenson

(episode 36)

Mandip Gill

as

Nasreen Mahsud

(episode 37)

Sudha Bhuchar

as

Fadila Mahsud

(episode 37)
Lee Mead as Ben "Lofty" Chiltern (episode 38)

Oliver Stokes

as

Sean McKern

(episode 38)

Paul Loughran

as

Michael McKern

(episode 38)

Imogen Gurney

as

Sky Loates

(episode 38)

Tor Clark

as

Stella Loates

(episode 38)

Sam Barnard

as

Darren Tailor

(episode 39)

Alfie Stewart

as

Lee Tailor

(episode 39)

Eileen Nicholas

as

Nina Barnes

(episode 39)

Clive Barnes

as

David Forest

(episode 39)

Jodie McGregor

as

Helen Crompton

(episode 40)

George Potts

as

Steven Crompton

(episode 40)

Leena Dhingra

as

Sanjeedah Patel

(episode 40)

Kerry Norton

as

Judith Crompton

(episode 40)

Darcy Montgomery

as

Amy Crompton

(episode 40)

Joshua Riley

as

Danny Doyle

(episode 41)

Jamie Satterthwaite

as

Chris Goodwin

(episode 41)

Francesca Fowler

as

Rose Fowler

(episode 41)

Clarence Smith

as

Geoff Doyle

(episode 41)

Alice Nokes

as

Toni Dunn

(episode 41)

Fisun Burgess

as

Asma Petrossian

(episode 42)

Michael Franklin

as

Armen Petrossian

(episode 42)
Ariel Reid as Tara Jewkes (episode 42)

Catrin Mara

as

Pam Stubbs

(episode 42)

Bethan Mary-James

as

Maya Houlihan

(episode 43)

Will Rastall

as

Cooper Weiss

(episode 43)

Georgia Sandle

as

Diamond Whittaker

(episode 44)

Kassius Nelson

as

Chloe Robinson

(episode 44)

Sule Rimi

as

Dougie Cox

(episode 44)

Gordon Kennedy

as

Andrew Sully

(episode 44)

Dajay Brown

as

Chrissie Cox

(episode 44)

Aewia Huillet

as

Sun-Mi

(episode 44)

Trevor Cooper

as

Jerry Kennedy

(episode 44)

Jenna Boyd

as

Candice-Marie Kennedy

(episode 44)

Jenny Platt

as

Di Hawkins

(episode 44)

Pameli Benham

as

Rose Thomas

(episode 44)

Harry Lovell-Jones

as

Anthony Cleaver

(episode 44)
Episodes
Episode

Series

Episode
Centric character
Original airdate
1005
1
"Too Old for This Shift"
Charlie
27 August 2016
Following the crash, Steph speeds away in horror of what she has caused. However, when she finally decides to call for emergency services, she's hit by a car and ends up in the ED. Meanwhile, preparations are almost complete for Charlie's 30th anniversary surprise party. At the crash site Connie is distraught when the car, where she believes Grace is, explodes. Jacob notices something is wrong and when he travels with Jez and Iain to the scene Jez shows him the damage to Steph's car. They drive along and eventually find both Connie and Grace, the latter having been thrown from the car too. Connie is taken back to the hospital and Iain calls for an air ambulance helicopter for Grace. However, when a teenager who had received a drone as a present flies it up while the air ambulance is coming in to land, it collides with the helicopter's back propeller, causing it to spiral out of control. The helicopter crashes outside the ED, causing severe damage and leaving several dead, and finally breaks through the ED's entrance. Grace is eventually saved but they find a subdural haematoma and Hanssen informs Elle that she may not make it. Jacob later breaks the news to Connie who's recieved treatment herself for a torn liver, and in a poignant final scene, Charlie finally gets the chance to celebrate his anniversary in a subtle moment with Duffy, Josh and the rest of the staff following their chaotic shift.

Note: 30th anniversary special. 1 hour and 40 minutes in length. Return of Lisa "Duffy" Duffin (Cathy Shipton). Guest appearances of MacKenzie "Big Mac" Chalker (Charles Dale), Tess Bateman (Suzanne Packer), Josh Griffiths (Ian Bleasdale), Jay Faldren (Ben Turner), Lenny Lyons (Steven Miller), Alice Chantrey (Sam Grey), John "Abs" Denham (James Redmond), Mike Barratt (Clive Mantle) and Comfort Jones (Martina Laird).

1006
2
"Fall on Me"
Connie
3 September 2016
Duffy lends a hand in the wake of recent dramatic events and eventually agrees to apply for the vacant band 7 post. Meanwhile, Alicia's mum is admitted and it transpires that she's contracted gonorrhoea through Alicia's father's affairs. Robyn pledges to stand by Glen after his biopsy results reveal he has two years to live. As yet more emergency cases arrive at the ED, including a flipped car following a late stage pregnancy jumping from the vehicle, Elle does her best to rally the troops. Grace is still recovering and has had an ICP bolt successfully inserted, and Connie refuses to leave her bedside.
1007
3
"Strike Three"
Connie
10 September 2016
Jac Naylor comes down to the Emergency Department to perform an emergency operation and Iain finds his injuries affecting his work. Lily suspects he's not well and persuades him to be re-examined. She helps him see that he doesn't have to be 'Action Man' all the time, and a strange friendship is born between them. Robyn is wracking her brain to think of something special to do for Glen. But he surprises her by saying that the thing that would make him most happy is to do all the things that make her happy. She decides to take some time off work and they consider going to Euro Disney. Meanwhile, David tries to make contact with his son.
1008
4
"Pride Comes Before a Fall"
Ethan
17 September 2016
Ethan's efforts to avoid Alicia prove futile when the pair are dispatched to rescue a professor and her son after they fell into a cave while out jogging. As the pair descend into the fissure by winch, debris begins to fall, and sparks fly as Ethan tries to reassure a claustrophobic Alicia. Meanwhile, Louise is disheartened when the trust denies her funds request for a new relatives' room, so Noel helps her to seek donations from the public, and one of Holby's cleaners takes a tumble while trying to leave the hospital with a set of suspiciously full bags.
1009
5
"Schoolboy Crush"
David
24 September 2016
Duffy pushes Charlie into attending a 50-year school reunion, where he bumps into old crush Gloria, and former bully Allan, who just happens to be Gloria's husband - and hasn't gotten rid of his old schoolyard habits. As Allan's playground antics get the better of Charlie, a scrap ensues, leaving the old ruffian with more than just a bruised ego. Meanwhile, a very public argument between David and his ex-wife Rosa prompts their troubled son to act out in a very dangerous way, and Alicia tries to take her mind off her drunken antics with Ethan by helping a frail - but wily - elderly patient with a cat-based dilemma.
1012
6
"Party Pooper"
Ethan
1 October 2016
Ethan is avoiding Alicia, and turns down her invitation to her party. But when Gaynor returns to the Emergency Department, Ethan and Alicia are forced to work together, which only confirms in Alicia's mind that Ethan no longer likes her. Gaynor spots their connection and spurs Ethan on to tell Alicia the truth. He turns up at the party only to find Alicia kissing Cal. There's an uneasy tension between Lily and Alicia and the pair lock horns. Alicia slyly tells Lily that her birthday party is fancy dress. Lily embarrasses herself in front of everyone, but Iain also dresses up and comes to her rescue. Max and Jez wake up together, and Jez is horrified. They spend an excruciating paramedic shift together where everything Max says makes Jez think he has no regrets. Jacob panics about having to interview for the nurse field job, begging Elle to tell him who got it.
1011
7
"Too Much Love Will Kill You"
Robyn
8 October 2016
Robyn and Glen return from their European adventure on Cloud 9, and she plans a party to ask him to marry her. But Robyn's plans are thwarted when Glen takes a turn for the worst and Dylan's clinical skills are put to the test. Cal and Alicia convince themselves it was just a one-night-stand. Ethan is upset but assures Cal that he's fine and carries on as normal. Alicia apologies to Lily for making a fool of her, and suggests maybe Iain could be interested in her. Jacob and Elle support each other as they both find their feet as department leaders. Through Elle's teasing we also learn that Jacob used to be a fat kid!
1012
8
"The Big Day"
Robyn
15 October 2016
Elle questions whether Connie is ready to return to work or not when Connie makes an error recording allergy information on a patient's file, which results in her patient later suffering an allergic reaction to penicillin. Robyn and Glen's wedding day arrives and the pair decide to get married in the hospital. However, Robyn receives a shock when Dylan reveals that she is pregnant after she faints during her shift. Robyn is happy upon hearing her pregnancy news, and after her shift she waits in the hospital for Glen, but she is left heartbroken when David walks in and hands her a note from Glen, who ultimately decides he cannot go through with the wedding.
1013
9
"Night of the Loving Dead"
Robyn
22 October 2016
Robyn arrives at work in a state - she still hasn't found Glen. As she realises that Glen doesn't want to be found, she asks Dylan to help her get an appointment for termination. David finds Robyn in agony in the toilet and thinks she's having a miscarriage. Dylan and David check the baby for a heartbeat; it's tense and doesn't look good. David realises the volume is down on the Doppler as Robyn hears the heartbeat. Will this change her feelings about a termination? Elle offers Ethan two tickets to a hospital awards night. Caleb wants to take them off his hands as he's keen to take Alicia, but Ethan didn't think he was interested in her and refuses to give him both. Instead he plucks up the courage to ask Alicia to the awards himself... but will she accept?
1014
10
"Shock to the System"
Dylan
29 October 2016
A new F1 doctor, Sebastian, starts at work. His smarmy and cocky attitude instantly clashes with Dylan, but Elle decides he might be just what Seb needs, and assigns Dylan as his mentor. Dylan is distracted by a missing Dervla all day, leaving Seb to struggle in resus. Dylan is furious with him, especially when it turns out he knocked Dervla over on his bike. But when Seb shows his vulnerable side, Dylan thinks he may have been too severe, and gives him another chance. After waking up with Alicia, Cal has to admit his true feelings for Alicia, but she still isn't sure she wants to commit. Cal is determined to impress her and has a brilliant day, using his initiative and medical skill with a patient. Alicia decides to give Cal a shot at a relationship. What's better for a screw up than another screw up? David is doing everything he can for Robyn, determined to take good care of her.

Note: First appearance of Sebastian Grayling (Rik Makarem).

1015
11
"Thirty Years"
Charlie
5 November 2016
Charlie and Duffy are behaving like love-struck teenagers, and Charlie subtly asks whether Duffy's marriage is irreparable? Duffy isn't sure. But then Duffy's pregnant daughter-in-law turns up in the Emergency Department, and when something goes wrong, Charlie and Duffy are forced to deliver the baby, history repeating itself. Charlie and Duffy can't deny all that history and chemistry any longer, and they finally get together. Dylan is still wary of his new mentee, Sebastian, but when Seb's father Mr. Grayling comes downstairs as a surgical consult, it becomes clear that Seb is terrified of disappointing his strict father, and Dylan begins to sympathise with Seb.
1016
12
"About My Mother"
Connie
19 November 2016
Grace wakes up and is well enough to go home, but Connie is scared to face the reality of her condition, choosing to work rather than be with her. However, when Grace's young friend Hugo ends up in the ED after falling from a lorry, Connie finds herself lying to him about Grace's condition and starts to believe her own fabrications. Will Jacob convince Connie to take Grace home where she belongs? Elle warns the team they are expecting an undercover inspection and that a poor result will result in extra scrutiny for the department. After Elle and Jacob propose making the inspection a challenge between the doctors and nurses, the team is gutted when they find out the real identity of the inspector. Meanwhile, Duffy tells Charlie that she has asked her husband for a divorce, just as the department begin to suspect their relationship.
1017
13
"Not in Holby Anymore"
Jacob
26 November 2016
Charlie, Duffy and Jacob challenge the team following a disappointing review of the hospital, picking out their colleagues weaknesses and setting tasks for the team to complete throughout their shift. David goes out with the paramedics to a nightclub, where he finds himself jumping from a building onto a car to save a man suffering severe crush injuries during a crowd crush. Back at the ED, Louise works on her compassion, but she struggles to connect with a patient, who is high on drugs and has undiagnosed mental health issues. At the same time, Noel becomes irritated by the introduction of new self sign-in machines at the reception desk. As the trios shift ends, David, Louise and Noel overhear Charlie, Duffy and Jacob having a conversation, and soon realise the tasks they completed were only implemented to help them build on their confidence and communication skills.
1018
14
"All I Want for Christmas Is You"
Ethan
3 December 2016
Ethan is struggling to bury his feelings for Alicia, made worse by hearing Cal and Alicia giggling together in the room next door. Ethan tries to take his mind off her by inviting another girl to the Christmas party but he can't take his eyes off Alicia. Will Ethan finally confess his feelings for her? A very drunk and miserable Seb makes an ill-judged pass at Dylan and ends up mortified when he is rejected. Meanwhile, in the spirit of Christmas, Charlie and Duffy announce their love for each other at the party. However things get complicated when Duffy's husband Ryan turns up.

Note: Guest appearance of Ryan Johnson (Russell Boulter).

1019
15
"Bah Humbug"
Charlie
10 December 2016
Ryan declares he wants Duffy back and tears up the divorce papers. Not wanting to break his heart at Christmas, she agrees to spend the day with him, inviting Charlie along but he refuses to accept. However Duffy soon realises what she's missing and runs back to Charlie. Meanwhile, Seb and Dylan struggle to work together following an awkward Christmas party. Seb is briefly reassured when Dylan asks if they can put it behind them and never speak of what happened. However when Dylan's back is turned, Seb heads to Elle's office and makes a serious allegation against Dylan.

Note: Guest appearance of Ryan Johnson (Russell Boulter).

1020
16
"New Year, New Me, New You"
Dylan
31 December 2016
Elle tells Dylan about Sebastian's accusation and the rumour mill in the ED goes into overdrive. Dylan's anger soon builds and he publicly confronts Sebastian. Cal is determined to show Alicia he's uncommitted to their relationship and opportunistically steals Ethan's research proposal to go to South Africa for three months. As Ethan vents his frustration to Alicia, he decides he isn't going to let his brother walk over him anymore. Will Ethan's loyalty be tested? Meanwhile, Charlie offers to take care of his and Duffy's wedding plans – but how will he fare?
1021
17
"What Lurks in the Heart"
Dylan
7 January 2017
Dylan wakes up to the wreck of his houseboat he made in rage the previous night after Seb's allegation. With Max and Jez determined to help him after it becomes the gossip of the ED, they try to record Seb confessing his guilt, but to no avail. After a lengthy ordeal, Seb finally retracts his allegation and leaves the department. Ethan and Alicia wake up together in blissful happiness. When Ethan tells Alicia he wants them to be together, Alicia tentatively agrees to tell Cal, but later bottles it. However Cal soon finds a cufflink on Alicia's bedroom floor. Meanwhile Connie informs Elle she is reporting her to the GMC after spotting what she thinks is a mistake in Grace's medical notes. Elsewhere, Lily turns to Iain after Archie rebuffs her.

Note: Final appearance of Sebastian Grayling (Rik Makarem).

1022
18
"Back to School"
Jacob
14 January 2017
A scuffle at an illegal rave leads an over-enthusiastic sergeant causing serious head injuries to a 19-year-old man and later planting drugs in his belongings to corroborate his claim that he had been assaulted twice by his quarry. Jacob is dubious about the sergeant's story and takes a police constable to one side in an attempt to persuade her not be an accomplice to her superior's crooked ways. Elsewhere, Elle's career is on the line as Connie goes on the warpath, David struggles to connect with his son, and Cal suspects Alicia's infidelity.
1023
19
"Little Sister"
Iain
21 January 2017
Belle, a supervisor from a young offenders institute, is brought into the ED after being struck over the head with a wok by one of her charges, and Iain is dismayed to discover the assailant in question is his estranged younger sister Gem. However, there is more to Belle and Gem's conflict than first meets the eye, as the youth worker demonstrates a damaging attitude toward the young people in her care. Meanwhile, Connie treats Jamieson, who injured himself while exercising, and is claiming to be much younger than he appears. The case takes a more dangerous turn when the truth about his age is revealed, along with the motives of his much-younger fiancée.
1024
20
"Crazy Little Thing Called Love"
Cal
28 January 2017
Alicia is surprised to discover her long-estranged parents Howard and Jackie are planning to give their marriage another go. However, when old family friend Martin turns up at their surprise anniversary party, and seems to have a falling-out with Howard, it soon becomes clear there is a secret third wheel in their relationship. Meanwhile, Charlie balances his over-zealous wedding-planning with caring for a reluctant teenage football star, and Cal's trust in Alicia is tested when he discovers she has a secret phone hidden in her locker.
1025
21
"The Stag, the Dog and the Sheep"
Charlie
4 February 2017
The morning of Charlie's wedding arrives, and Cal and Ethan wake hung-over following a riotous the stag party. However, the pair have no memory of the previous night's events, Charlie is missing, and Cal seems to have acquired a mysterious suitcase, which is cuffed to his wrist. Retracing their steps takes them back to a B&B, a tattoo parlour and a strip club, leading to a deadly encounter with a criminal intent on reclaiming the suitcase. Meanwhile, Duffy worries that her groom has developed cold feet, Iain receives a visiting order from Gem, and Elle learns a second complaint has been made against her.
1026
22
"You Are Your Only Limit"
Connie
11 February 2017
The day of Elle's hearing arrives, and Connie makes sure Grace is present as a visual reminder of Elle's mistake. Giving her testament, Connie delivers an exaggerated version of her daughter's condition, and makes it clear she will stop at nothing in the pursuit of her vendetta. However, when Grace collapses in the bathroom, severely injuring herself on broken glass, it falls to Elle to save the girl's life. Eventually Connie withdraws the complaint and Elle steps down as Clinical Lead. After the hearing, Connie requests a visiting order for Steph Sims. Meanwhile, back in the emergency department, Robyn has doubts about whether she is fit to be a mother, after discovering her colleagues are placing bets on how she will manage.
1027
23
"Binge Britain"
Iain
18 February 2017
Iain is unexpectedly reunited with his sister when he is called out to an emergency involving his mother, but his efforts to make amends for his past have unforeseen repercussions. The hospital is inundated with binge drinkers, including a hen party that has ended with the bride getting shot with a bow and arrow. Dylan struggles to cope, but the experience gives him an idea. Grace recovers, but seems to have lost her ability to talk.
1028
24
"Slipping Under"
Connie
25 February 2017
Steph is rushed into the ED after attempting suicide in prison. The staff face an upward struggle in finding out what pills she has taken, one which is made all the more difficult by the patient's refusal to speak - and the cold distain of both Connie and Jacob. However, when it becomes clear Connie visited Steph in prison not long before she tried to claim her own life, things become even more complicated. Meanwhile, Iain helps Gem to get a job in the hospital coffee shop, and when Grace's continued silence is ruled as being a psychological issue, Sam decides it may be time to take her home.
1029
25
"It Starts With the Shoes"
David
4 March 2017
David prepares to hand Ollie over to his aunt, who will be taking him back to Rosa in Spain. With their separation imminent, father and son spend one last day together - in the ED. Iain suspects Gem is up to her old tricks when she short-changes a customer at the coffee shop, and Dylan presents himself to the board to pitch an idea to raise awareness of alcohol abuse. However, when his presentation fails to hit the mark, Louise takes matters into her own hands, and drags the board members into the corridors of the ED to witness firsthand the pressure binge drinkers are placing on the hospital's resources.
1030
26
"The Good Samaritan"
David
11 March 2017
The Holby staff become increasingly concerned about David's manic behaviour when he impulsively buys a fancy car on the way to work, and behaves inappropriately at the pub. Concerned for his safety, a heavily pregnant Robyn takes it upon herself to intervene, but ends up placing herself in jeopardy in the process. Meanwhile, back at the ED, a man with potentially fatal burns is admitted after rescuing a fellow driver, Sally Hodge, from her crashed car, and the gang prepares to throw a 60th birthday party for Duffy - even though she's actually 56.
1031
27
"Mobile"
David
18 March 2017
David takes a heavily pregnant Robyn to a graveyard, and makes a candid confession about his mental state while visiting his brother's final resting place. However, any further progress is halted when Robyn suddenly goes into labour. Max, Duffy and Charlie rush to save Robyn, and manage to get both her and her prematurely born baby daughter back to the ED. David is admitted for psychiatric treatment. Meanwhile, on the booze bus, Jez manages to impress Louise with his compassionate attitude toward an avid gamer who was mugged, losing the mobile phone on which he kept pictures of his late daughter. Back at the ED, Lily has serious concerns about a 12-year-old girl who seems to be exhibiting classic symptoms of drug withdrawal. She's furious with Gemma when she accuses the father of negligence, but later reconciles with her when she apologises to him. Elsewhere, Jez and Louise share a kiss after their shift on the booze bus.
1032
28
"Five Days"
Robyn
25 March 2017
Robyn is feeling positive following the premature arrival of her daughter Charlotte. However, it seems she is failing to grasp the seriousness of her baby's illness. As the child's condition worsens, Robyn struggles to decide whether to follow her head or her heart in authorising treatment. Eventually, the surgeons perform a risky operation on her, and she's given a temporary stoma whilst she recovers. Meanwhile, Cal tries to find a way to ease the passing of Miriam, an elderly woman with end-stage lung cancer, but trouble arises when Miriam's daughter Neeve registers a complaint against him for prolonging her mother's suffering. However, over the course of the five days Cal connects with Neeve, and eventually Sam realises that she's not in the best state of mind, and tells Cal not to worry about the complaint.
1033
29
"Sleeping With the Enemy"
Alicia
1 April 2017
Alicia wakes up in Sam's bed, while Iain and Gem's relationship is tested when they spend the day together on the rig and Iain is confronted with his biggest fear: snakes. Sam announces budget cuts are taking place in the department and that all consutlants will have to re-interview for their jobs. Alicia hits a violent patient with a fire extinguisher to protect one of her patients. Sam is dreading having to discuss the incident with the board, but informs a releived Alicia that they didn't actually sleep together.
1034
30
"Child of Mine"
Connie
8 April 2017
Connie makes an effort to show how much she cares for Grace, but she rejects her. When Grace finally speaks to tell Connie that she hates her, Sam decides that he should take Grace to live with him for a while. David returns for his first day back at work with his resignation letter for Jacob, but reconsiders his decision when Robyn makes amends with him. Meanwhile, Robyn worries there is something wrong with baby Charlotte, but Lily assures her that it is nothing major.
1035
31
"When the Whistle Blows"
Elle
15 April 2017
Sam announces further budget cuts in the ED, including having to postpone Cal's surgical rotation. Elsewhere, a woman is admitted to the ED when her husband sets a derelict building on fire, not realising that she is inside. Two police officers attend the incident at the scene, and one of them sustains major injuries during a collapse. She later dies in the ED, and the man responsible for the fire is arrested. However, Cal confronts Sam regarding the police officer who dies, claiming that it wouldn't have happened if there had been enough doctors on shift. Cal also accuses Sam of intimidating Lily into working overtime. Meanwhile, Jez wakes to find himself in the bed of Elle's 17-year-old son Kalen, resulting in a tense stand-off in the ED. However, Elle eventually calms down and apologises to Jez. However, Louise overhears the whole thing and breaks up with him.
1036
32
"Reap the Whirlwind - Part One"
Lily
22 April 2017
The first day of Cal's planned strike arrives, and while he and his allies set up their picket line, Lily struggles to decide where her loyalties lie. Inside the hospital, the industrial action causes trouble for Sam, who resolves to make up for staff shortages by manning the ED himself, despite his lack of experience. Meanwhile, Iain's pride over Gemma's recent achievements is dashed when he realises she was the one who leaked lurid pictures of Alicia online, and Roy Ellisson is admitted to the ED after a pub brawl. Jez soon gets to the bottom of the fight at the pub, and realises that Roy's son Mickey is entirely different from his father. Meanwhile, Gemma takes Iain's car keys and begins driving erratically around the hospital's underground car park. Lily abandons her shift to see Gemma, who has called her for help. However, when Lily steps out from behind a parked van, tragedy strikes as Gemma hits her with the car.
1037
33
"Reap the Whirlwind - Part Two"
Cal
29 April 2017
Sam's rash decision to man the ED himself during the staff strike comes back to haunt him when Roy Ellisson's condition deteriorates, just in time for a visit by his wife and​​ son. The Ellissons quickly prove that violent behaviour runs in the family, and when their actions on the ward become unacceptable, events begin to spiral out of control. When Scott seeks revenge on Ethan, Cal tells him and Alicia to leave the hospital, but not before telling them that they have his blessing to date. As Cal attempts to call his brother outside the ED, Scott emerges from the shadows armed with a knife. In a violent fight, Cal finally has Scott admitting surrender, but he then suddenly pulls out a knife and stabs Cal in the chest. Dylan finds Cal bleeding out outside the ED and he's rushed into resus, but the extent of his injuries are too severe, and he dies. Meanwhile, Iain and Jez find Lily unconscious in the car park, with blood pouring out of her nose. They take her up to the ED, and it's not long before the doctors on the strike get back to work to help Lily. Racked with guilt, Gemma hands herself in. Lily is eventually stabilised and is in the clear, although the repercussions for Gemma aren't as simple.

Note: Death of Caleb Knight (Richard Winsor).

1038
34
"Break Point"
Ethan
6 May 2017
Louise confronts Jez about his infidelity, but when he comes clean and reveals his secret squeeze is Mickey, she is left stunned. A revelation about the events of Cal's death leaves Ethan reeling, when he discovers that Cal died protecting him. Ethan speaks to the police, who inform him that they'll be able to bring Scott in for questioning. Ethan and Alicia share a kiss after their shift. Charlie makes it his personal mission to restore the spirits of everyone in the ED. Hugo pays another visit to Connie and she is shocked when he accidentally calls her mum.
1039
35
"End of the Road"
Connie
20 May 2017
Now that Grace is living with Sam, Connie and Hugo have become a contented family unit of their own. However, when Hugo's father Jim gets in touch, and tells Connie he is planning to take Hugo back, the troubled youngster runs away. Determined to keep him from harm, Connie, Jim, Jacob and Phil, a policeman receiving treatment in the ED, mount a search. Meanwhile, Lily returns to work to get closer to Iain, but proves she is still not quite at the top of her game when she fails to notice a patient rescued from the ruins of a collapsed building has tell-tale track-marks on her arm.
1040
36
"Roadman"
Jacob
3 June 2017
Elle agrees to deliver a career talk at her son Blake's school, but her speech is derailed when she discovers some unexpected truths about her child and his friends. Luckily, Josh and Jacob are on hand to help. However, after a violent confrontation, Blake is admitted to the ED with a serious head injury. Meanwhile, Alicia and Louise treat a young woman admitted to the ED who is relucant to let them help her. Louise's frequent visits to the chapel don't go unnoticed, and Alicia soon realises how much it's affecting her. However, Alicia is preoccupied when she receives an unexpected phone call from a refugee charity who want to speak to Cal.

Note: Due to the Manchester Arena bombing, this episode was aired earlier than scheduled. Originally, this episode was due to air as the series' 40th episode.

1041
37
"Swift Vengeance Waits"
Ethan
10 June 2017
Violence at a right-wing rally outside a local Muslim community centre brings plenty of patients in to Holby's ED, including Mickey, who Jez is dismayed to learn has still been supporting his racist family. Ethan discovers Scott Ellisson has been released from police custody without charge, and when he turns up at the hospital alongside his injured brother, Ethan spots a chance to confront him about Cal's death. Meanwhile, Iain worries Lily is overdoing it as she prepares for her consultancy exams, and Duffy tries to help Charlie process his grief, as he ignores his own emotions in an attempt to help his colleagues deal with Cal's untimely demise.
1042
38
"Do Not Stand at My Grave and Weep"
Ethan
17 June 2017
The day of Cal's funeral arrives, and Ethan delivers a drunken, heartfelt eulogy that leaves both Iain and Lily worried about his welbeing. Meanwhile, a school trip to France comes to an abrupt end when a scuffle on board the coach causes it to crash. As a result, the ED is inundated with teenage patients, including Sean, whose unusual vitamin tablets ring alarm-bells for the staff, and Sky, whose mother is a long-term advocate of alternative medicine, and is not happy about her daughter receiving an X-ray scan.

Note: Guest appearance of Ben "Lofty" Chiltern (Lee Mead).

1043
39
"It Had to Be You"
Connie
24 June 2017
It is the day of the consultants' interviews, but who is going to lose their job? Lily and Iain are loved up after a night of passion, but how long will it last? Alicia's concerns about Ethan escalate when she discovers he hasn't been sleeping, and has instead been keeping watch outside of Scott Ellisson's flat. Elsewhere, Iain and Lily begin the day with a spring in their step after their night together, and sparks fly between Connie and Sam.
1044
40
"War of the Roses"
Connie
1 July 2017
The ED staff are surprised when Sam shows up to work in scrubs instead of his usual suit. He reveals he has stepped down as medical director, and is now joining the department as a speciality doctor. Dylan struggles to cope in the wake of Cal's death, and ends up having a panic attack while trying to treat a feisty retired nurse who admitted herself to hospital with a self-diagnosed heart attack. Luckily, David is on hand to reach out to the difficult patient, and get to the bottom of what's bothering Dylan.
1045
41
"Man Up"
Ethan
8 July 2017
Ethan discovers Scott's brother Mickey is in a secret relationship with Jez, and he seeks to befriend the lad and turn him against his sibling. However, when Mickey proves to be too terrified to help, Ethan turns to blackmail instead, earning disapproval from both Jez and Alicia. Meanwhile, Connie pulls rank on Sam when he asks for time off to take Grace to a physiotherapy session and later, Sam spots a chance to undermine Connie while treating a bride who mysteriously collapsed at the altar.
1046
42
"Somewhere Between Silences - Part One"
Ethan
15 July 2017
Tensions between Jez, Iain, Mickey and Scott look set to reach fever pitch after Mickey is brought in to the ED, having been injured during a police chase following a race-related assault on a shopkeeper. Desperate to keep his relationship secret from his hard-line brother Scott, Mickey puts on a front and insults Jez, but when Iain realises Scott has intimidated the shopkeeper's wife into silence, he decides to make use of his knowledge to ensure justice is done. Scott goes to attack Mickey and Jez with a knife, but during the commotion Scott falls from the first floor balcony onto the floor of the admin area of the ED. Meanwhile, Max takes an interest in attractive mortuary assistant Tara during a speed-dating session at the Hope & Anchor, but the situation becomes complicated after Tara faints, resulting in an illuminating trip back to the hospital. It transpires that Tara is a trans-woman, but Max is still keeping up his end of the offer.
1047
43
"Somewhere Between Silences - Part Two"
Ethan
22 July 2017
Scott is admitted to the ED after taking a nasty fall during a fight with Mickey, and while Ethan is initially assigned to take care of him, the powers-that-be quickly realise this is a bad idea. Meanwhile, with both her sons in hospital, Ellisson matriarch Denise turns up on the ward, and it is not long before she discovers the reason her boys were scrapping. Denise disowns Mickey, vowing to stay by Scott. However, when Ethan goes to check in on Scott later and taunts him about Cal's death, before detiriorating. Ethan walks out of resus without helping him and a frantic Denise finds him lifeless. Scott later dies and Connie is worried of the prospect of a formal report. Connie delights in bringing Grace into the department to show off her recovery, but when the youngster gets in the way of her mother's work, it becomes clear their relationship still isn't on an even keel. Grace eventually decides to live with Sam, but realises that Connie still loves her and that it won't affect their relationship.
1048
44
"One"
Duffy
29 July 2017
Duffy has her hands full as she is shadowed by a pair of school-girls planning to enter the medical profession, and Jez is crippled by guilt after he manages to rescue a woman from a house fire, but did not realise he saved her at the expense of her baby. Meanwhile, Ethan throws himself into his work following the incident with Scott, and when the ailing leader of a marching band arrives feeling unwell, Louise is forced to leave him in triage, with disastrous consequences.
Specials
A special episode became available on 24 December 2016, and unlike other special episodes was only be available online, not on the red button.
Special

Episode
Original airdate
1
"The First Noel"
24 December 2016
The characters take on some roles for a special pantomime.
Trivia
This series' premiere marked the 30th anniversary of the show.
The series features the first main character death since series 29. Filming of a funeral took place in February 2017, and later that month it was officially announced that one of the main characters would be killed off. In episode 33 of the series, which aired at the end of April, Caleb Knight died.
The series premiere is the longest ever episode of Casualty, but not the first feature length episode.
References and notes