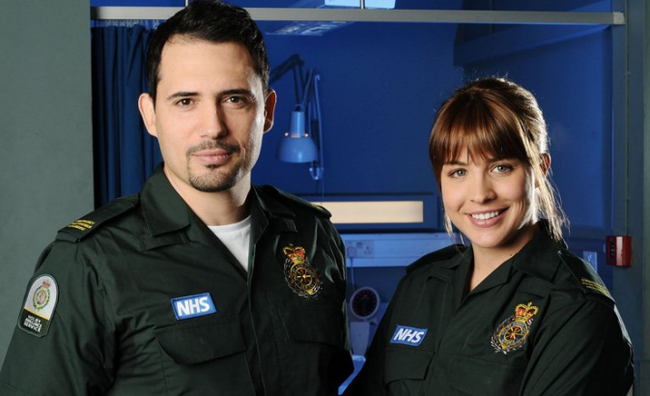 The BBC has announced today that Gemma Atkinson and Dhafer L'Abidine will be joining the cast of Casualty. The actors, who will portray Paramedics Tamzin and Omar respectively, started filming their first scenes for the show this month, and will first appear on-screen in Series 26, due to start airing this September.
Following is the official announcement from the BBC Press Office:
Actress Gemma Atkinson is pulling on a high visibility jacket and packing her medical kit to join the overworked paramedic team in BBC One's long-running medical drama Casualty.
Best known on the small screen for her role as Lisa Hunter in Hollyoaks and on stage as Miss September in the Calendar Girls, Gemma has also starred in a number of independent feature films. She joins Casualty as gorgeous new paramedic Tamzin, who ruffles the feathers of existing paramedics Jeff and Dixie (Matt Bardock and Jane Hazlegrove) and charms the rest of the staff at Holby City Hospital.
"I am absolutely thrilled to be joining Casualty and really looking forward to getting to know all the cast and crew," says Gemma. "I used to watch the series as a child so to now be involved is fantastic. I'm so grateful to be given the chance to play Tamzin and I hope audiences will enjoy her too!"
And scrubbing up to join Gemma on the rapid response team is Sex In The City 2 and Spooks star Dhafer L'Abidine as competitive paramedic Omar.
Tunisian-born London-based actor Dhafer starred alongside Sarah Jessica Parker and Kim Cattrall as Sheikh Mahmoud in Sex In The City 2 and has appeared in high-profile British dramas The Mark Of Cain, Wallander, Wire In The Blood, The Whistle-Blowers and Dream Team.
"We are delighted to welcome Gemma and Dhafer to Casualty," says series producer Oliver Kent. "Tamzin is going to bring a touch of glamour to the paramedic team and set some hearts racing in the Emergency department while Omar's melting roadside manner is going to raise the temperatures of Holby's female patients!"